Moscow under drone attack and other stories
Moscow under drone attack and other stories
From Zero Hedge
Major Drone Attack On Moscow Damages Several Apartment Buildings
A major Tuesday morning drone attack has damaged buildings in the Russian capital of Moscow, which the Kremlin has swiftly blamed on Ukraine. It's being widely described as the first attack to hit the capital's civilian areas.
Moscow Mayor Sergey Sobyanin said that multiple buildings sustained minor damage, but there have been no reports of fatalities after eight drones were inbound in the attack. "The Kiev regime launched a terrorist attack with unmanned aerial vehicles on targets in the city of Moscow," the Russian Defense Ministry (MoD) said.
Moscow building damage from drone attack, via AP
The statement went on to describe that five of the drones were shot down by Pantsir-S air defense systems stationed just outside Moscow, but drone-like fragments were found around a damaged building. The MoD also claimed another three had their systems jammed by electronic warfare measures.
Apartment buildings in the west and southwest of Moscow reportedly suffered explosions, and windows in several buildings and homes were blown out.
As quoted in The Hill, "Moscow Mayor Sergei Sobyanin said in a Telegram post that two people required medical attention as a result of the attacks but they did not need to be hospitalized."
"He said that the attacks caused minor damage to the buildings and that the residents of two high-story buildings were evacuated." At least three buildings were identified as damaged from the drones. However, he sought to downplay the whole incident as having caused "insignificant" damage.
BREAKING: Moscow was the target of a drone attack that damaged multiple residential buildings
The Russian Defense Ministry released a statement blaming Ukraine for the "terrorist attack" that was carried out using "unmanned aerial vehicles on targets in the city of Moscow."… pic.twitter.com/zxhzg1YC5s
BREAKING: Moscow was the target of a drone attack that damaged multiple residential buildings

The Russian Defense Ministry released a statement blaming Ukraine for the "terrorist attack" that was carried out using "unmanned aerial vehicles on targets in the city of Moscow."… pic.twitter.com/zxhzg1YC5s

— Rachel Blevins (@RachBlevins) May 30, 2023
A Ukrainian official representing President Zelensky's office denied direct involvement, telling NBC News that Ukraine "has nothing directly to do" with the attacks on Moscow – however he did say he is "pleased to observe and predict an increase in the number of attacks."
Zelensky earlier this month after a series of recent cross-border attacks claimed "we don't attack Putin or Moscow."
BREAKING: Footage of Russia air defense system in Moscow firing at drones, which local media say are part of a Ukrainian attack. pic.twitter.com/4sJV0839OQ

— The Spectator Index (@spectatorindex) May 30, 2023
President Putin in the hours after the attack did not issue public comment or acknowledgement of the drone strikes. But The New York Times reports:
Russian officials are mimicking the Kremlin's line in appearing to play down the drone attack on Moscow. A ruling party lawmaker, Andrei Gurulev, said Moscovites were more likely to get hit by an electric scooter than a drone in the city center. "We didn't do too badly today," he told state news media, referring to Russia's air defenses.
This significant incident comes after the Ukrainian capital of Kiev was pummeled by Russian drone attacks over the weekend.
https://twitter.com/BabakTaghvaee1/status/1663449963295125513?ref_src=twsrc%5Etfw%7Ctwcamp%5Etweetembed%7Ctwterm%5E1663449963295125513%7Ctwgr%5Edb40bf8f10f64990c8fc6d1626fbf38f45f94076%7Ctwcon%5Es1_&ref_url=https%3A%2F%2Fwww.zerohedge.com%2Fgeopolitical%2Fmajor-drone-attack-damages-several-buildings-moscow
Saturday into Sunday at least three waves of drone attacks were reported over Kiev.
Reuters called the overnight Saturday incident the largest drone attack on the city to date, coming as locals celebrated the anniversary of the Ukrainian capital's founding.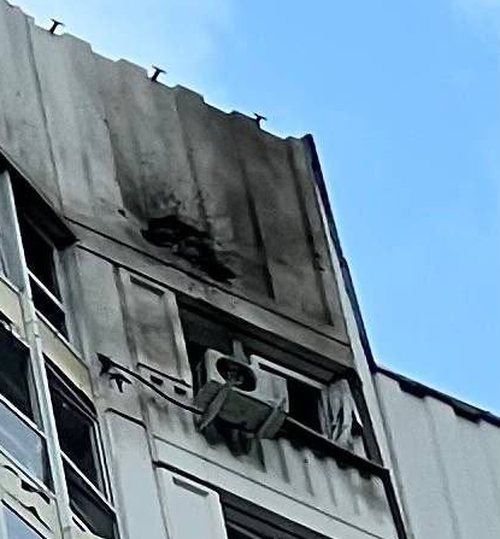 Aftermath of UAV attack and damage to Moscow apartment building.
Ukraine's air force said that most were Iranian-made "kamikaze" drones, and in a statements said that 58 of the 59 launched drones were downed by air defenses.
From Hal Turner
At least eight (8) military drones operated on behalf of Ukraine, have attacked Moscow, Russia this morning (Tuesday) with most being either hit with Electronic Warfare or shot down by PANTSIR-S air defense systems.
Several houses in the south-west of Moscow were damaged. There were no civilian casualties.
Footage of a UAV shot down over Rublyovka, Moscow pic.twitter.com/i9fbdMp49D

— Russian Market (@runews) May 30, 2023
Eight aircraft-type drones were involved in the attack. All Ukrainian drones were hit.
Three of them were suppressed by electronic warfare, lost control and deviated from their intended targets.
A further five drones were shot down by the Pantsir-S surface-to-air missile system in the Moscow region.
The current situation with the drone attack on Moscow:

– 13 UAVs shot down (Rublyovka, Krasnogorsk, Istra, New Moscow)

– 3 UAVs hit residential buildings (Leninsky Prospekt, Profsoyuznaya Street, Atlasova Street)

The attack is still reportedly ongoing pic.twitter.com/IH3QVKSYzI

— Russian Market (@runews) May 30, 2023
From RT
UAVs damaged several residential buildings, prompting evacuations, Sergey Sobyanin has said
One civilian was killed and two injured in the shelling of a shelter in Russia's Belgorod Region, according to local officials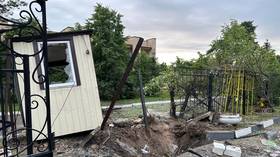 A shelter housing temporarily displaced people came under heavy artillery shelling in Russia's southwestern Belgorod Region on Wednesday. The attack killed a security guard and gravely injured two of its residents, local governor Vyacheslav Gladkov has said.
The facility, which used to be a recreation center before the beginning of the hostilities between Russia and Ukraine, housed residents of Sereda – a small village near the Ukrainian border. The village's residents ended up displaced over a year ago and have been living at the shelter ever since, according to Gladkov, who visited the location shortly after the incident to assess the damage.
The housing and an administrative building suffered three direct hits, the governor wrote in a Telegram post, sharing photos from the scene. The attack heavily damaged the buildings, while two road vehicles got pelted with fragments.
All the displaced were promptly transferred to another location, receiving all the necessary aid in the process, Gladkov stated. The two injured civilians, one with multiple abdomen and another one with chest wounds, ended up hospitalized and have already had successful operations.
Over the course of the ongoing conflict, Belgorod, as well as other Russian regions bordering Ukraine, have been subjected to repeated artillery, rocket, and drone attacks. The Ukrainian attacks have primarily affected residential areas, prompting the evacuation of multiple settlements along the border.
Kiev's continuing attacks on Russian soil are aimed at provoking a "mirror response" from Moscow, the president has said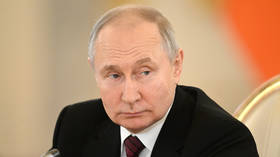 Russia has targeted the headquarters of the Ukrainian military's Main Intelligence Directorate (GUR) in Kiev, President Vladimir Putin confirmed on Tuesday. 
"We've been talking about the possibility of striking the 'decision-making centers.' Naturally, Ukraine's military intelligence headquarters falls into such a category, and it was hit two or three days ago," Putin stated.
The Russian president also acknowledged a Ukrainian drone attack on Moscow, which occurred earlier in the day. The main goal of such strikes is attempting to "intimidate" Russian citizens, which is a "clear sign" of "terrorist activity" on Kiev's part, he said.
Unlike Ukraine, which has been targeting "residential buildings" in Russia, Moscow is striking only military targets, such as ammunition dumps or fuel depots, with "high-precision" weaponry, he added.
Moscow's anti-aircraft defense fared "okay" in repelling the latest attack, Putin noted, admitting that there still was room for improvement.
Kiev's ultimate goal of indiscriminately striking Moscow and other Russian cities is provoking a "mirror response" from Russia, the president stated. 

"They are provoking us into taking mirror actions. We'll se what we can do about it. Yet, Ukrainian citizens, who of course have no say about anything now, since Ukraine has unleashed a total terror against its civilian population, must realize what the incumbent authorities are pushing for," Putin said.
He went on to say that the most grave threats include the continuous effort by Kiev to "disrupt" the work of the Zaporozhye Nuclear Power Plant, as well as potential attempts to use a "dirty" nuclear device.
From Canadian Prepper
Alexander Mercouris