Moves towards war in Ukraine/Russia
Moves towards war in Ukraine/Russia
The US State Department, responding to reporters questions about the evacuation of Diplomats and their families from Ukraine, made an utterly astonishing statement:
"If there is a decision to change our posture with respect to American diplomats and their families, American citizens should not anticipate that there will be U.S. government-sponsored evacuations," the @StateDept spokesperson said.
https://halturnerradioshow.com/index.php/en/news-page/news-nation/afghanistan-like-evac-for-ukraine-too
US Embassy Orders Evacuation Of Non-Essential Staff & Diplomats' Family Members From Ukraine
Fox News' Pentagon correspondent is reporting early Saturday that all family members of US embassy personnel in Kiev, Ukraine have been ordered to evacuate. "State Department orders families of U.S. embassy personnel in Ukraine to begin evacuating the country as soon as Monday: U.S. officials," Fox's Lucas Tomlinson reports.
It first emerged Friday that the Biden administration was mulling a plan to evacuate diplomats' family members from Ukraine as a "precautionary measure" amid the continued crisis wherein Washington has predicted some level of a Russian offensive on the Ukraine border. 
It's unclear whether this means US intelligence has picked up on a particular new "threat" from Russia near Ukraine's borders. 
As Tomlinson reports further, Russian fighter jets on Friday into Saturday began arriving in nearby Belarus, with US officials expressing alarm that Ukraine's capital is "now in the crosshairs". CNN and The Guardian are also reporting early Saturday: 
The US embassy in Ukraine has requested the evacuation of all non-essential staff amid increasing fears of an imminent Russian invasion and the arrival overnight of arms deliveries promised by President Joe Biden, according to a CNN report.

US evacuations are likely to start "as early as next week", the US cable news network said, citing a source close to the Ukrainian government. It marks the embassy's shift in focus towards "helping Ukraine bolster its defences in the face of growing Russian aggression".
At the same time, Russia's embassy in Washington D.C. has been calling on the West to "end the hysteria" – assuring that there are no plans to invade Ukraine. Earlier in the week it issued a message on Twitter, saying, "We stress once again: Russia is not going to attack anyone. The practice of moving troops on our own soil is a sovereign right."
Meanwhile…
During talks in Geneva on Friday between Antony Blinken and Russian FM Sergey Lavrov, there appeared to be positive signs that dialogue was opening up toward de-escalation. Just after, the US Embassy in Kiev posted photographs of newly arrived shipments of American-supplied lethal aid for Ukrainian forces.
The delivery was described as a sign of the Biden administration's commitment to assisting Ukraine in the face of "growing Russian aggression"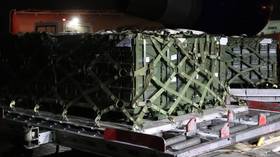 The first shipment of military aid promised to Ukraine by US President Joe Biden amid Western speculation about a supposedly imminent "Russian invasion" of the country has been delivered to Kiev.
Late on Friday, the US Embassy in the Ukrainian capital posted photos on Twitter of large green-colored crates being unloaded from a cargo plane.The crates held almost 100 tons of "lethal aid," including ammunition intended for "the front line defenders of Ukraine," it said. According to the embassy, the delivery was further proof of Washington's "commitment to helping Ukraine bolster its defenses in the face of growing Russian aggression." 
Earlier this week, the US announced that it was expediting the transport of five Russian-made Mi-17 transport helicopters to Kiev. Bought from Moscow and intended for the previous, Western-backed, Afghan government, the choppers were diverted from Kabul due to the Taliban takeover since last August.
Britain has also gifted anti-tank missiles to the Ukrainian government, while the defense ministers of the Baltic States have announced that they have received American approval to supply Kiev with Stinger air defense missiles and Javelin anti-tank missiles. German Chancellor Olaf Scholz made it clear on Tuesday that his country would not be exporting any lethal weapons to Kiev, however. 
Foreign munitions are being sent to Ukraine under the pretext of deterring a purported upcoming Russian "invasion," which Washington claims could happen at any moment. Moscow has been denying for weeks Western speculation that it is planning to attack its neighbor, describing the allegations as attempts to provoke "hysteria" and dismissing them as "fake news."
According to Russia, the West is to blame for the escalation in Ukraine, as its weapons shipment, and NATO's continued eastward expansion, will only encourage Kiev to look for a military solution to its 'frozen' conflict with the country's secessionist Republics in Donetsk and Lugansk.
Department of State sources also The Washington Post that the written US response will include US proposals in the security domain and will demonstrate the country's interest in maintaining the dialogue with Moscow.
© AP Photo/Andrew Harnik
WASHINGTON, January 22. /TASS/. US officials have asked their Russian colleagues not to publish Washington's written response to Moscow's proposal on security guarantees, The Washignton Post has reported.
However, according to the paper, "a senior State Department official acknowledged that the Kremlin may decide to publish it after the United States sends it next week."
Department of State sources also told The Washington Post that the written US response will include US proposals in the security domain and will demonstrate the country's interest in maintaining the dialogue with Moscow. At the same time, the document will not contain any commitments regarding NATO's open-door policy and accession of new members.
However, the US administration believes that providing a written response is important, because in this case the document can be read directly by Russian President Vladimir Putin.
"There's one decision-maker in Russia and it's President Putin," the paper quoted another Biden administration official as saying. "If this then allows the ultimate decision-maker in Russia to looks at these ideas and decide whether to move forward, it's in our interest."
"We don't want to be the ones who foreclose a potential diplomatic solution," he added.
Following Friday's meeting between Russian Foreign Minister Sergey Lavrov and US Secretary of State Anthony Blinken in Geneva, Washington agreed to provide written responses to Moscow's proposals on security guarantees. After that, the US Secretary of State and the Russian top diplomat plan to hold the next meeting. At a news conference after the meeting, Lavrov told reporters that, in his opinion, publishing the US response would be a right thing to do. However, Russia will request Blinken's consent to do so, he added.
On December 17, 2021, the Russian Foreign Ministry released a draft agreement on security guarantees between Russia and the United States, and a draft agreement on ensuring the security of Russia and NATO member states. The proposed measures include guarantees that NATO will not advance eastward, including the accession of Ukraine and other countries into the alliance. They also impose restrictions on deployment of serious offensive weapons, including nuclear ones.
Consultations on the issue took place in Geneva on January 10, followed by a meeting of the Russia-NATO Council in Brussels on January 12 and a session of the Organization for Security and Cooperation in Europe (OSCE) Permanent Council in Vienna on January 13.
Moscow is redeploying its S-400 missile system ahead of readiness checks
Russia is moving two divisions of its S-400 Triumph air-defense systems, designed to take down enemy warplanes, into neighboring Belarus to take part in military exercises, the Ministry of Defense confirmed on Friday.
In a statement, officials wrote, "two divisions of the surface-to-air S-400 'Triumph' missile complex … have completed their march to the loading station in Khabarovsk Krai," in Russia's Far East. The rockets will now be transported along railways to Belarus.
According to the report, once the missiles have arrived at the location of the military exercises, Russian forces will fortify the position as part of defense training.
Numerous former Ukrainian politicians have been cooperating with Russian intelligence services, according to London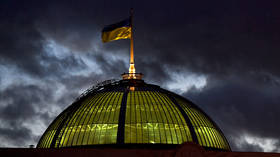 An embargoed UK Foreign Office release to media outlets, which has been seen and reported by RT in advance, claims that Britain has exposed a plan by Moscow to install a pro-Russian leader in Kiev as tensions continue to mount over an alleged threat of "invasion" by Moscow.
"We have information that indicates the Russian government is looking to install a pro-Russian leader in [Kiev] as it considers whether to invade and occupy Ukraine," reads the correspondence, which was sent to media representatives on the Foreign Office's mailing list on Saturday. No evidence was included to back up the assertions. 
Obviously timed to top the Sunday newspaper agenda, recipients were ordered not to carry the details until after 10.30pm London time the night before.
An air cargo jet operating under US Transportation Command, took off from Kiev, Ukraine after delivering 200,000 pounds of Ammunition.  It then violated the air space of Belarus, violated Russian Air Space and "disappeared" from flight tracking as it entered Kazakhstan.  Was it shot down?
The flight, National Airlines Charter Flight NCR574 for STATE/DOD, landed late last night in Kiev, Ukraine to offload two hundred thousand pounds of ammunition; part of the "lethal" aid being given to Ukraine by the United States.
But when the plane took off from Kiev this morning, instead of heading back toward Germany where it originated, the plane flew due north and violated Belarus air space.    
It then turned sharply eastward and violated Russia air space, and continued to do so for several HUNDRED miles!  It overflew the precise region of Russia where all the Russian troops are massed for potential action against Ukraine!  Spy much?
Shortly thereafter, the plane turned east again and entered the air space of Kazakhstan, where it "disappeared" from flight tracking.
Is this the "provocation" people have been waiting for which will be used as an excuse to drag the US into a war with Russia?