New Zealand's further descent into tyranny
New Zealand's further descent into tyranny
Seemorerocks
Mostly, my attention is fixed on the other side of the world but right now I am focused on the rapid descent of both Australia and New Zealand.
On Friday (NZT) there was a knife attack carried out by a Sri Lankan alleged to have had contacts with ISIS, in which he allegedly injured six people, three of them seriously.
I have always been averse to the idea of "false flag" and usually have to be brought, kicking and screaming, to a realisation that we are seeing false flag attacks in this country, and that the country I thought I lived in does not exist any more.
There were some aspects of this latest case that just leapt out at me.
As soon as I heard this I remembered Sadiq Khan's reaction to knife crime in Britain and mentioned it, almost tongue-in-cheek. 
However, I woke to the following:
Prime Minister Jacinda Ardern said the man was inspired by the ISIS terrorist group and had been under constant police surveillance.
New Zealand supermarket group Countdown said on Saturday it has removed knives and scissors from its shelves, a day after a man the authorities called an Islamist extremist stabbed six people in one of the company's stores.
"Last night, we made the decision to temporarily remove all knives and scissors from our shelves while we consider whether we should continue to sell them," said Kiri Hannifin, Countdown's general manager for safety.
"We want all of our team to feel safe when they come to work, especially considering the events of yesterday," she said in a media statement.
Other supermarket chains had also removed sharp knives from sale, local media reported.
***
And then there was this, for which I cannot find any evidence: 
However, one could be forgiven for jumping to that conclusion, as will become apparent. It seems to me that is not really what it is all about, and I think I know what it is
One person on Facebook made a very relevant comment.  He/she asked the question: "if this was an opportunistic crime whereby he just grabbed a knife and started stabbing people how did he get around the small problem that everything that is sold in a supermarket has copious amounts of plastic wrapping, making it hard to open?"  I have not bought any knives or scissors in some time, but I find it hard to imagine that knives are any exception.
The story I have is that police followed him to the store and managed to shoot him within 60 seconds. Were his pursuers unable to do anything while he presumably struggled with the plastic wrapping? But we are told:
"the reality is that when you are surveilling someone on a 24/7 basis, it is not possible to be immediately next to them at all times"
That has to be the one constant with every terrorist attack – it invariably turns out that the authorities knew about the perpetrator beforehand, but through some circumstances they were unable to stop the crime. The police, the FBI (whoever we are talking about) seemed to be unbelievably incompetent, but the truth usually turns out to be quite different.
Within a short period of time we were hearing that the present legislation we have is just not up to the mark and we need more legislation to deal with right-wing terrorism.
The New Lynn terrorism attack has prompted the Government to speed up changes to New Zealand's counter-terrorism laws.
The High Court was previously unable to convict the attacker as a terrorist, as planning a terror attack is not an offence.
The LynnMall terrorist attack started a nationwide conversation about New Zealand's counter-terrorism laws.
There is legislation currently before Parliament that would make planning a terrorist attack an offence.
The Counter-Terrorism Legislation Bill was introduced earlier this year as part of the ongoing response to the Christchurch mosque attacks, including a new definition for what constitutes a 'terrorist act'.
The government spent more than four years trying to deport the man responsible for the west Auckland supermarket terrorist attack.
***
Nobody shopping at Lynnmall Countdown on Friday afternoon could have known what was to come. But the Government and police knew the man behind the attack was a threat.
So much so, in late August they had discussed how to speed up changes to our terrorism laws, to reduce the risk he posed.
"Within 48 hours of these discussions, the Minister of Justice contacted the chair of the select committee with the intention of speeding that law change up," Prime Minister Jacinda Ardern told a press conference on Saturday afternoon.
"That was yesterday, the same day the attack happened."
In July the man was sentenced to 12 months' supervision after being convicted of possessing Islamic State propaganda.
The Crown wanted to try him as a terrorist, but that was shut down by the High Court: there is currently no offence for planning or preparing a terrorist attack.
Terrorism and counter-terrorism specialist Dr John Battersby says it shows our laws are outdated.
"Our current Terrorism and Suppression Act is not fit for purpose, and has not been for some time," he told Newshub.
While Dr Battersby says it's unclear if the attacker could have been stopped if the law were amended sooner, especially as a lone actor, change is still needed.
"It clearly is inadequate in a circumstance where the intelligence and law enforcement agencies have sufficient information to believe somebody is doing that," he told Newshub.
While he described the absence of the offence as an Achilles' heel before the trial, Justice Young had ruled "it is not open to a court to create an offence, whether in the guise of statutory construction or otherwise. The issue is for Parliament".
And it's an issue Parliament was well aware of.
The Counter Terror Legislation Bill currently before the house plans to plug that hole in our terror laws, making planning or preparing an attack an offence.
It was spurred on by the Royal Commission into the March 15 Christchurch attacks, and had passed its first reading in May.
Now the Prime Minister is speeding up the wheels of justice.
"As soon as Parliament resumes we will complete that work. That means working to pass the law as soon as possible, and no later than by the end of this month," she says.
One opposition party is onboard.
"I texted the Prime Minister last night and said 'look, if you want to get it through in urgency, we'll be happy to support it.' Obviously she can do that anyway, she has the numbers to do it, but we're very happy to help support that," says National leader Judith Collins.
But ACT says hasty changes won't fix bad laws.
"To rush them now that he's gone and the Police Commissioner says there's no other cases at his level is just political theatrics instead of good lawmaking," says leader David Seymour.
He's concerned public submissions to the law change won't be heard.
"People have had a say. MPs haven't considered what they've said yet. To rush this legislation through now is ignoring that public submission process."
Otago University law professor Andrew Geddis says the sentencing judge, Justice Fitzgerald, already had the power to keep the man in jail under existing Films, Videos, and Publications Classification laws, but chose to sentence him to supervision in the hope he could be rehabilitated.
"It was a judgement call that the judge made, and unfortunately it's led to this conclusion. But we only can see that this sort of thing would happen in hindsight," he explains.
Prof Geddis is also concerned over the law's rushing.
"Those kinds of difficulties and complexities may be brushed over in an effort to be seen to be doing something. That's never a good way to make law," he says.
Even the Prime Minister isn't sure the law change would have kept the attacker behind bars instead of in the community. Especially as it wouldn't have applied retrospectively.
"It would be speculative to say whether or not this law would've made that difference, but nonetheless we were pursuing it," she says.
Because while the law may not have prevented what happened on Friday, it hopes to make sure nothing like it ever happens again.
***
So, the government wants to introduce legislation, again under urgency, that would make the planning of a "terrorist attack" illegal. One has to wonder just how tight the definition of terrorism will be, whether it will apply only to "right wing terrorists" who stab people in supermarkets, or will the definition be so loose that dissidents like Vinny Eastwood and Billy te Kahika will be able to be identified as "terrorists" and prosecuted as "terrorists"?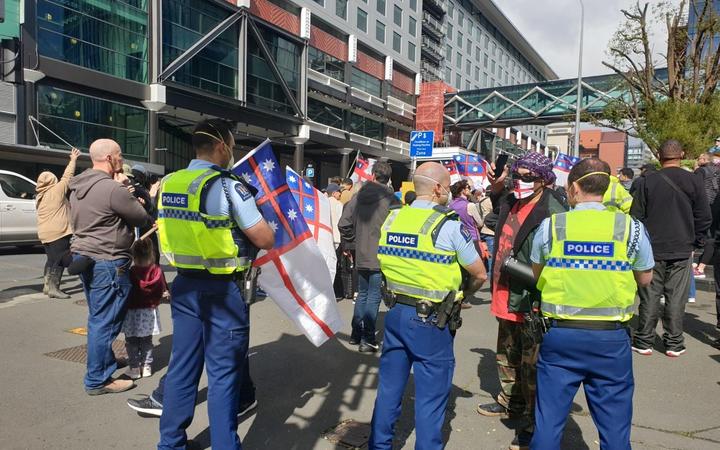 We will just have to wait and see what the small print of the legislation says. We shall also have to wait to see how long this legislation will take to be written up and go through parliamentary oversight (it takes about six months for legislation to come into force normally).
What follows is a brief historical review to show how we came to be where we are today.
A HISTORICAL BACKGROUND
New Zealand through much of my life has been a bit of sleepy backwater (we used always to describe it when I was young as '60 million sheep and 3 million people'). 
The trial of Bill Sutch
However, there are events that stand out in my memory. The first was not associated with 'terrorism': In 1974, when I was 18, then well-known public servant and scholar, Dr, Bill Sutch was put on trial for spying for the USSR.
He was acquitted but died soon after.
Bill Sutch (left) with his wife Shirley Smith and lawyer 
Until we reach the current post-9/11 period the only actual terrorist attacks were committed against us.
The 1984 Trades Hall bombing
In 1984 there was a bombing of the trade union headquarters in Wellington and one man, Ernie Abbott was killed
Then , a year later, in 1985 the French carried out a bombing of the Greenpeace ship, the Rainbow Warrior
The sinking of Rainbow Warrior, codenamed Opération Satanique,[1] was a bombing operation by the "action" branch of the French foreign intelligence services, the Direction générale de la sécurité extérieure (DGSE), carried out on 10 July 1985. During the operation, two operatives sank the flagship of the Greenpeace fleet, Rainbow Warrior, at the Port of Auckland in New Zealand on her way to a protest against a planned French nuclear test in Moruroa. Fernando Pereira, a photographer, drowned on the sinking ship.
France initially denied responsibility, but two French agents were captured by New Zealand Police and charged with arson, conspiracy to commit arson, willful damage, and murder. The scandal resulted in the resignation of the French Defence Minister Charles Hernu, while the two agents pleaded guilty to manslaughter and were sentenced to ten years in prison. They spent a little over two years confined to the French island of Hao before being freed by the French government.
Several political figures, including then New Zealand Prime Minister David Lange, have referred to the bombing as an act of terrorism[3] or state-sponsored terrorism.
The Urewera raids (2007)
Then in 2007 came the simultaneous raids on the Urewera village of Ruatoki, as well as on social justice and anti-war activists in Wellington, Palmerston North and elsewhere. Originally, charges were brought under the
Terrorism Suppression Act 2002 introduced after the 9/11 attacks and the War on Terror. 
The charges were dropped for all but two of those accused, and reduced to violations of the Firearms Act. 
I thoroughly recommend the following film about the events for an understanding:
Operation 8: Deep into the forest
What stands out for me is that government action back in 2007 was directed against the Left – the Maori sovereignty movement, anarchists, the social justice and anti-war movement.
The movie brings out points relating to the Left as ridiculous as those brought against the "Right".
Given what has followed I have to ask the question, what on earth has happened to the Left in the space of 14 years?
They seem to have morphed into a group that is anti-"right wing terrorism", something that is as much a chimera as the ridiculous charges brought then.  One thing is that the people involved back then, and probably frozen out  of activism by the charges brought against them, will now be at least in their 50's. 
There is a new generation now who are not so interested in the issues of yesteryear but have embraced Antifa and the Woke Agenda, and who are the opposite of what their predecessors were: they are pro-war, pro-intelligence agencies, pro-Establishment to the extent that almost without exception they are supporting the false agendas around Covid-19 and vaccination and are the main wearers of "face diapers".
The Kim Dotcom Police Raids (2012)
The next thing that happened were the police raids in 2012 on Kim Dotcom, carried out under the auspices of Chris Dodd and then U.S. vice president Joe Biden.  Kim Dotcom, this time associated with the Right, was not arrested for violating any New Zealand laws, but allegedly for violating US law – "breach of copyright". To this very day the charges still hang over Kim Dotcom as the Americans still want to extradite him.
Dotcom raid legal, FBI taking evidence not
Police raids on Kim Dotcom's mansion in 2012 have been declared legal, but FBI removal of electronic information seized in the search was an unauthorised breach, the Court of Appeal has found…..
The High Court ruled last June the search warrants executed on Dotcom's mansion at Coatesville in Auckland's rural north, were invalid because they were not sufficiently specific.
No offence was identified in the warrants which merely referred to "breach of copyright" – an offence in the United States, but there is no criminal offence of breach of copyright in New Zealand.
The warrants also did not stipulate which country's laws the alleged offence was committed under, Justice Winkelmann found.
The Christchurch mosque attacks (2019)
Then in 2019, under Prime Minister Jacinda Adern there was an attack by Australian Brenton Tarrant, that killed 51 people and injured 40 worshippers at two mosques in Christchurch.
The shooter released a video of the shooting, which was aggressively suppressed by the government.
Max Igan has done a careful video analysis that proves that Tarrant was not the "sole shooter" but had accomplices, which points to a false flag operation:
Max Igan on The Christchurch Shooting
This attack was used to justify the introduction of gun control legislation that allowed the government to confiscate firearms from the general public.
2 years later the gangs still have their weapons (the closest we have to criminal, if not "terrorist" use of firearms in this country) and gun crime is as high as it ever was.
***
It seems to me that this latest knife attack in Auckland has opened to gate to legislative changes that will mark New Zealand's descent into tyranny.