News from Niger
News from Niger
BREAKING: Following confirmation from officials in Niger Republic of the presence of Wagner PMC in that country, Wagner itself has just issued a press release confirming that its armed/combat division is present in the country to protect the new military administration against… pic.twitter.com/hMQ6swzxh0

— J. C. Okechukwu (@jcokechukwu) August 6, 2023
🇳🇪🚨| In a new statement published a few minutes ago, #Niger's junta asserts that ECOWAS has completed its intervention plans and that two Central African countries have begun the pre-deployment of their troops. pic.twitter.com/9O85IhvQla

— Casus Belli (@casusbellii) August 6, 2023
Close to 30,000 Niger coup supporters gather in Niamey

This has not been widely reported on but neither has it been shown to be incorrect
Earlier this week, Nigerian President Bola Tinubu, chairman of the ECOWAS Authority of Heads of State and Government, briefed the Senate on the regional bloc's emergency meeting, during which a military action plan against the leadership that recently took power in Niger was proposed.
Nigerian senators have rejected President Tinubu's 
request for permission
 to send troops to Niger as part of an ECOWAS force to reinstate the democratically-elected president and restore the constitutional order in the neighboring country, local media has reported.
The senators denied the request during an executive session on Saturday. It was noted that they decided to adopt a resolution condemning the military coup in Niger and welcoming the efforts of ECOWAS leaders to restore order. However, the senators ruled out any military 
intervention
.
"Almost all the senators spoke and totally ruled out the military options because of many factors and also because of the harmonious relationship that Nigeria and Niger has always enjoyed," one of the lawmakers told local media.
Instead of resorting to military options, the senators urged the president to intensify the negotiation process and send a high-level delegation to Niamey, the capital of Niger, to seek a diplomatic solution to the crisis.
The report also added that some senators stressed the need to focus on domestic security issues, including fighting terrorist groups, rather than interfering in the 
internal affairs
 of another nation.
"Senators opposed to military action pointed out that our military is highly ill-equipped and not prepared to fight any war. They said that we have fragile peace in Nigeria and that Niger is the highest arms market in Africa," they said. "Senators believe that the Federal Government should focus on solving the Boko Haram, banditry and ESN/IPOB menaces ravaging the country instead of contemplating going to war in a foreign country."
On July 26, members of Niger's Presidential Guard took over the country after ousting and detaining President Bazoum. The guard's commander, General Abdourahmane Tchiani, 
proclaimed
himself interim leader.
In response to the events in Niger, the Economic Community of West African States (ECOWAS) suspended all financial aid to the country and imposed sanctions. The bloc 
threatened
potential use of force if the military in Niger did not restore ousted President Bazoum by Sunday. West African defense chiefs, who convened for consultation in Nigeria, said they had drawn up a plan for military action.
From Italian alternative media.
by Gospa News Editorial Staff
Niger closes airspace due to 'invasion' threat
Niger's coup-imposed government has promised "a vigorous and instantaneous response" to any violation of the country airspace as it braces for a potential military intervention after the deadline, set by the Economic Community of West African States (ECOWAS) to return President Mohamed Bazoum to power, expired on Sunday.
"Faced with the threat of intervention which is becoming clearer from neighboring countries, Niger's airspace is closed from this day on Sunday… until further notice," the so-called National Council for the Safeguarding of the Homeland, which assumed power in a military coup last month, announced on Sunday night.
The statement further warned that "any attempt to violate the airspace" will result in a "vigorous and instantaneous response," as cited by AFP.
The National Council for the Safeguarding of the Homeland, which assumed power in a military coup last month, claimed that hostile regional forces have already conducted "pre-deployment in preparation for the intervention" in two unnamed countries of Central Africa.
"Any state involved will be considered co-belligerent," it added.
Originally published by Russia Today
---
Niger junta refuses to back down as ultimatum expires
The military putschists running Niger have refused to relinquish power, as an ultimatum set by the Economic Community of West African States (ECOWAS) expired on Sunday. The coup leaders have vowed to rid Niger of colonial influence, reportedly turning to Russia's Wagner private military company to achieve this.
ECOWAS issued a one-week ultimatum to the military leaders last week, demanding that General Abdourahamane Tchiani and his cabinet of generals step down and reinstate President Mohamed Bazoum. The generals deposed and arrested Bazoum late last month, with Tchiani then cutting off mineral exports to France and threatening to suspend military agreements with his country's former colonial master.
The ECOWAS ultimatum passed unheeded. "We will all stand and fight as one people," senior junta official Gen. Mohamed Toumba told a rally of supporters in the Nigerien capital Niamey on Sunday afternoon. "We are asking you to stay mobilized."
Led by Nigeria, several member states of the ECOWAS bloc have drawn up war plans and are preparing for an invasion. However, lawmakers in Nigeria have pushed President Bola Tinubu to seek a diplomatic solution before sending Nigerian troops across the border.
Jihadists and Nationalists are Driving Increased Persecution of Christians: 7.600 Murdered in Nigeria only
Backing the coup leaders are the governments of Mali and Burkina Faso, both of which seized power amid a wave of anti-French unrest over the last two years. Having ejected French troops – who were engaged in a decade-long counterinsurgent operation – from their territories, both governments have promised to treat any ECOWAS invasion as a declaration of war against them.
Bazoum has called for US military intervention, while the junta has reportedly asked Russia's Wagner private military company for assistance. Neither the Kremlin nor the Wagner Group have commented on the request, and although Wagner chief Yevgeny Prigozhin has called the coup a "justified rebellion of the people against Western exploitation," Moscow has called for "a swift return to constitutional normality" in Niger.
UPDATE. Wagner's Coup Attempt only for Money! FSB Investigations on Prigozhin Insurrection officially Dropped
The US and EU have imposed sanctions on Niger following the coup, and France has declared that it backs ECOWAS' efforts to bring Bazoum – an ally of Paris – back into power. However, the French government has not explicitly stated whether it supports direct military intervention.
The junta warned on Sunday night that "a foreign superpower" was preparing to intervene in Niger, according to Al Jazeera. However, no further details were given.
Originally published by Russia Today
---
Algerian President Tebboune rejects any possible military intervention in Niger
Algerian President Abdelmadjid Tebboune has rejected any external military intervention in Niger, where a military coup overthrew President Mohamed Bazoum last week, Anadolu reports.
"A military intervention could ignite the whole Sahel region and Algeria will not use force with its neighbors," Tabboune said in an interview with local media on Saturday.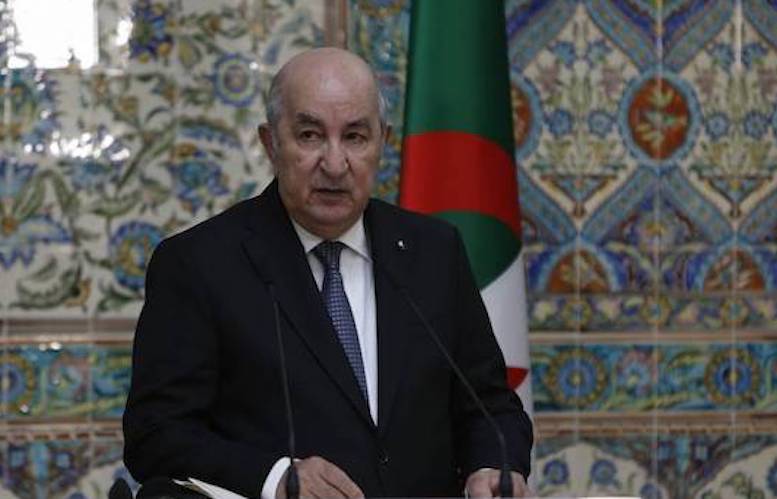 "No solution is possible in Niger without the participation of Algeria, as it is concerned by what is happening in this neighboring country," he said, adding: "Algeria is willing to help the Nigeriens restore the constitutional legitimacy."
On July 26, a group of soldiers calling themselves the National Council for the Safeguarding of the Country delivered a statement on Nigerien state television shortly after detaining President Mohamed Bazoum, saying they took the step due to the "deteriorating security situation and bad governance."
Bazoum was elected in 2021 in Niger's first democratic power transition since it gained independence from French colonial rule in 1960.
Originally published by Middle East Monitor
---
Algeria newspaper indicates UAE role in Niger coup
French-language Algerian newspaper Le Soir d'Algerie reported that the United Arab Emirates (UAE) may have played a role in the attempted coup against Niger's President Mohamed Bazoum.
The newspaper pointed out that all eyes were on the current Niger ambassador to the UAE, who was the army's chief of staff before Bazoum dismissed him.
The newspaper noted that the presence of the former chief of staff of the Niger army in the UAE may have given him the "boldness" to turn the table on Bazoum, especially if he was supported by senior officials in Abu Dhabi.
This report comes in the wake of an unprecedented attack by the Algerian media on the Emirati role in the region. Algerian newspaper El Khabar published information quoting so-called "reliable" sources.
It indicated that the UAE had committed "hostile acts" against Algeria, most notably providing Moroccan authorities with a spy programme to use on the country and making attempts to drag the countries of the Maghreb region towards normalisation with Israel to weaken Algeria. The newspaper described Abu Dhabi as "the capital of confusion" in its article.
Italy Halts Bombs for UAE-KSA used in Yemen. Years after Protests against BlackRock's Fundings
El Khabar wrote: "Emirati officials want, at any price and in any way, to impose their country's presence in the Sahel region."
The Algerian Foreign Ministry condemned the coup attempt, calling for an immediate end to what it described as an unacceptable assault on the constitutional order and a serious violation of the requirements of the rule of law.
A statement by the Ministry of Foreign Affairs indicated that Algeria follows with great concern the developments in the situation in the Republic of Niger and reaffirms its adherence to the basic principles guiding the collective action of African countries within the African Union, including the categorical rejection of unconstitutional changes of governments.
READ: Turkiye-UAE economic agreement to create 100,000 jobs in Turkiye: UAE envoy
Algeria noted the need for everyone to work to preserve the political and institutional stability of the Republic of Niger to guarantee its sustainability of security, which faces significant challenges in a region facing multidimensional crises with unprecedented severity.
Originally published by Middle East Monitor
---
Uranium: the balance of power in and around Africa
Extract by article published on Russia Today by Andrey Maslov, Director of the Centre for African Studies, HSE University and Vsevolod Sviridov, expert with the Centre for African Studies, HSE University
Niger is an important but not a key player in the global uranium market. In 2022, it produced 2,000 tons of uranium (representing 4% of global production and placing it 7th in the world, just below Russia with its 2,500 tons). In recent years, uranium production in Niger has declined as the Akuta mine (operated by the French company Orano) depleted its reserves and finally closed in 2021. The major uranium assets in Niger are divided among four joint ventures. Orano is the largest shareholder in three of them, while Chinese companies (the state-owned CNUC and the private investment group ZXJOY Invest) control the fourth. There are also joint ventures with Spanish (ENUSA) and South Korean (KEPCO) companies. The Nigerien government is represented in the joint ventures through the state-owned company SOPAMIN.
For Niger, the sale of uranium is the main source of export revenue and hard currency. Uranium exports account for about $200 million annually (up to 30% of Niger's total export value). Most of this (up to 100% in some years) is shipped to France, with some shipments also going to Canada, Spain and Japan. 
Putin is Winning the Military Warfare alongside the Economic one. New BRICS Members will Boost Multipolarity in the Russia-China Group
Along with Russia, Kazakhstan and Canada, Niger is a key supplier of uranium concentrate to France, providing about 25% of its annual consumption (France consumes approximately 8,000 tons per year). On July 31, the media reported that Niger had suspended uranium and gold exports to France. The rebels' decision, if it was indeed taken, was a political gesture: with closed borders, exports are technically impossible, as Niger has no access to the sea: if the border with Benin is closed by ECOWAS decision, the export reorientation needs time, effort, and international negotiations.
On the one hand, the prospect of France losing up to a quarter of its uranium supply threatens to intensify its ongoing energy predicament, a situation already complicated by the persistent two-year energy crisis sweeping across Europe. On the other hand, the rebels will struggle to find an alternative market for the 2,000 tons of uranium.
Putin: "Russian Nuclear Weapons in Belarus as Answer to Depleted Uranium Ammo Supply by UK to Kiev". EU promised Further Sanctions
In theory, Russian or Chinese companies could agree to buy these quantities of uranium concentrate (Russia consumes about 6,000 tons per year). However, this would require substantial investments in logistics, mine security, and above all, the neighboring countries would have to permit the transport of these cargoes through their territory.
If the rebels manage to stay in power and reach an agreement with Paris, France could use its influence in ECOWAS to negotiate sanctions relief. For example, uranium exports and shipments of mining equipment could be exempted. This is a fairly common practice – the embargo on Mali was modified to allow for food and energy.
Originally published by Russia Today
---
Paris refuses to withdraw its troops from Niger
France has insisted on fulfilling five military cooperation agreements with Niger, because the accords were signed with the West African state's 'legitimate authorities,' despite the former colony's newly installed junta calling for the deals to be revoked.
"France recalls that the legal framework for its cooperation with Niger in the area of defense is based on agreements that have been concluded with the legitimate Niger authorities," read a Friday statement from the French foreign ministry. "These are the only ones that France, and the entire international community, recognizes."
The statement follows a Thursday declaration from Amadou Abdramane, spokesperson for the military coup leaders who ousted Niger's democratically elected president Mohammad Bazoum last week, that the junta was unilaterally severing the military agreements with its former colonial rulers.
The cessation of the military accords would require France to remove the 1,000 to 1,500 troops it has stationed in the African country. A small number of United States soldiers are also deployed in Niger, a territory viewed as geopolitically significant due to its rich mineral resources and borders with seven countries, including Libya, Chad and Nigeria.
Niger, one of the world's poorest nations, has been the recipient of around $500 million of US military aid since 2012 – the highest such figure of any country in the region. Following the coup last week, several of Niger's western benefactors have suspended aid programs. Foreign assistance accounts for around half of Niger's annual budget.
Originally published by Russia Today