News from the war in Ukraine – 4 April, 2022
News from the war in Ukraine – 4 April, 2022
Lavrov: West will not allow Ukraine to make peace
Following on the heels of the Biden administration announcing it would send longer range rocket systems to Ukraine, the Kremlin has issued a veiled threat that if it's territory is hit it could strike back directly at the West.
"One of President Putin's closest allies has warned that Moscow could target western cities if Ukraine uses rocket systems supplied by the United States to carry out strikes on Russian territory," the UK Times is reporting. The dire warning was given by close top Putin ally and former president Dmitry Medvedev, who currently serves as the Russian security council deputy chairman.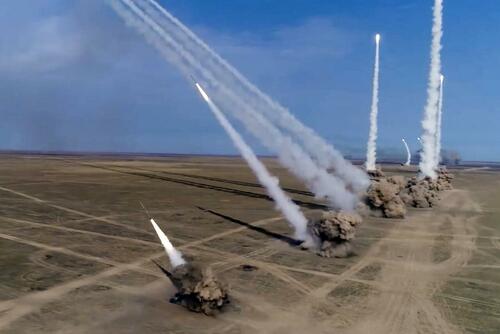 "If, God forbid, these weapons are used against Russian territory then our armed forces will have no other choice but to strike decision-making centers," Medvedev warned in the new statements.
That's when he suggested the following for the first time, marking a severe escalation of rhetoric:
"Of course, it needs to be understood that the final decision-making centers in this case, unfortunately, are not located on the territory of Kyiv" – with the suggesting being that those Western capitals supplying the advanced arms could come under attack in response.
Previously Russia has threatened to hit "decision-making centers" within Ukraine, such as Kiev and Lviv. These cities have been targeted on occasion, but rarely, throughout the war now in its fourth month.
The US confirmed this past week that Ukraine would receive M142 high-mobility artillery rocket systems, which are medium-ranged, capable of striking targets some 50 miles away.
President Biden on Tuesday stressed that "we're not going to send to Ukraine rocket systems that strike into Russia" – which the Kremlin acknowledged as a "rational" decision, while stilling condemning the transfer of the systems.
Ukraine's government, meanwhile, has reportedly given Washington "assurances" that it will not uses US-supplied weaponry to target Russian territory, which Moscow has long made clear would mark severe violation of its 'red lines'.
The map shows where HIMARS MLRS M30/M31 rockets can strike on the front line with a range of up to 70 km. Also, M30 / M31 missiles can hit Snake Island, 50 km from the nearest Ukrainian city. pic.twitter.com/idDDNjpK4M

— ТРУХА⚡️English (@TpyxaNews) June 3, 2022
This as Yahoo News UK has noted that "The West has been increasingly willing to give Ukraine longer-range weaponry, including M777 howitzers, as its forces battle Russians with more success than intelligence officials had predicted."
Likely these fresh warnings from Medvedev serve to further warn and enforce over Russia's red line. While the longer range MLRS missiles are apparently off the table for now, which can reach up to 190 miles away, the shorter-range MLRS systems could easily be updated with the larger, more advanced and longer range systems.
#Donetsk – The city center of Donetsk is under heavy shelling from #Ukraine this evening. The exact target is unclear from this footage. pic.twitter.com/8cmwTiaFqc

— OSINT Aggregator (@AggregateOsint) June 4, 2022
On the sanctions and economic war front, Poland officials have on Saturday said the next, seventh round of anti-Russia sanctions are currently being readied – suggesting that for the time being the ongoing Russian-NATO/EU standoff will only escalate further. Negotiations are at the same time stalled completely, and diplomatic openings and communications are fewer and fewer, making the situation even more dangerous.
Biden admitted Friday that Ukraine may have to cede land to achieve a peaceful resolution
Dmitry Medvedev, the deputy chairman of Russia's national security council, said in an interview with Al Jazeera that Moscow could target Western cities if Ukrainian forces fire these advanced rocket systems into Russia.
"If, God forbid, these weapons are used against Russian territory then our armed forces will have no other choice but to strike decision-making centers," he said. He continued, "Of course, it needs to be understood that the final decision-making centers in this case, unfortunately, are not located on the territory of Kyiv."
Medvedev said Russia is prepared to negotiate.
"We are ready to have a dialogue on all issues, but a respectful one that takes into account our sovereignty, our concerns, and is aimed at creating indivisible security, not in the interests of individual countries, but indivisible security," he said.
RELATED ARTICLES
Ukraine May Have to Give Up Some Land: BIDEN
Russia Separatists Control Up to 20 Percent of Country: ZELENSKY
Moscow Slams Biden for Approving Rocket Systems Transfer
Russia blasted the White House last week for its decision to send advanced rocket systems to Ukraine that Moscow has called a "red line."
"We know that the United States has been purposefully and meticulously adding fuel to the fire," Dmitry Peskov, the Kremlin spokesman, said. "The United States pursues the course towards fighting Russia to the last Ukrainian."
Joe Biden wrote an op-ed published in The New York Times late Tuesday that confirmed his decision to provide Ukrainian fighters with advanced rocket systems that can be reportedly outfitted with missiles capable of traveling about 200 miles.
Senior officials in Washington insist that Kyiv promised not to fire these weapons into Russian territory.
Anatoly Antonov, a top Russian diplomat, commented on reports that the Biden administration was considering sending these weapon systems last week.
"There is a risk that such equipment will be placed near Russia's borders and Ukrainians will be able to strike at Russian cities. Such a situation is unacceptable and intolerable for us," he told a Russian news outlet, Newsweek reported.
Medvedev said, "One can have different attitudes to it, one can believe that the horsemen of the Apocalypse are already on their way and all hope is in Almighty God. However, one can still try to tone down this international situation."
ICYMI:
UKRAINE TO BREAK PROMISE ABOUT U.S. LONG RANGE MISSILE USE .
Hal Turner,
Ukraine is already saying that they WILL NOT abide by the promise not to use the new US missiles against Russian territory. How? By using them against Crimea!
Ukraine and the US do not recognize Crimea being a Russian territory.  Both nations say Crimea is Ukrainian territory so in their mind if the Crimea is attacked, it was within Ukraine's borders.
It only took 24 hours for Ukraine to reverse their "promise" via a technicality.
Anyone surprised?
Now, if or when this actually takes place, what will Russia do?
(Natural News) The United States is flooding Ukraine with so many weapons that Russia has announced that it must take a more global approach to its "special operation" in Ukraine.
Instead of just dealing with the globalist problem in that country, Russia quickly realizes that all of NATO is its enemy. The axis of evil is much greater than just Ukraine's puppet government is a simple way of putting it.
"I have some unpleasant news," said Olga Skabeeva on the Russian state TV program 60 Minutes. "Even though we are methodically destroying the weapons that are being delivered [to Ukraine], the quantities in which the United States are sending them force us to come up with some global conclusions."
"Perhaps it's time to acknowledge that maybe Russia's special operation in Ukraine has come to an end, in a sense that a real war had started: WWIII," she added. "We're forced to conduct the demilitarization not only of Ukraine but of the entire NATO alliance."
These are big words, but ones that have been written on the wall for quite some time now. Many could see that this was moving towards World War III once NATO decided to gang up on Russia for dealing with the Ukraine problem.
Both the United States and Poland, along with other NATO countries such as Germany, have been funneling weapons and other gear into Ukraine as part of a unified front against Russia. This leaves Russia with very little option other than to fight back against the whole shebang.
"Indeed, we need to remember the words of Vladimir Vladimirovich Putin, who said that anyone who tries to interfere in the special military operation will pay a heavy price," added Vladimir Avatkov from Russia's Diplomatic Academy of the Ministry of Foreign Affairs.
"We never forget about these words of Vladimir Vladimirovich Putin, but a great number of people are already standing in line, trying to interfere in Russia's special operation on the territory of Ukraine," Skabeeva quickly interjected.
"Turns out, we have to act – but we're yet to figure out how we can act without conducting a nuclear strike."
Russia warns Poland: Mind your own business or your "current borders will be worthless"
During the conversation, Russian parliament member Oleg Matveychev weighed in that if Poland "starts any intervention … its current borders will be worthless," to which Skabeeva added that it is not just Poland that needs to back off and mind its own business.
"I wasn't just talking about Poland, but mainly about Great Britain and the United States," Skabeeva said, adding that "they're all lined up."
"No need to rush," chimed in Avatkov. "There is a line. Everything in its time!"
Poland is simply first in line, according to Russia, because it is said to be moving to seize territories in western Ukraine. The Russian government also claims that Poland is "actively working to dismember Ukraine."
On Russian state TV, hosts and pundits regularly refer to Ukraine as "the territory formerly known as Ukraine." They also discuss matters pertaining to the "denazification" of the country, which is one of Russia's goals with the operation.
"For us, the special military operation is just the first act, an introduction," said Chairman of the State Duma Committee on Defense Andrey Kartapolov in an interview on Sunday Evening with Vladimir Solovyov.
"The war that is going on right now … it's not just an economical war and info-war, this war is about our faith. It's about our right, as the people, to have faith in what we want to believe, to love those we want to love, and to live the way our ancestors would have wanted, on our land and by our birthright."
More of the latest news about this subject can be found at WWIII.news
Putin on TV: If western deliveries of weapons (to Ukraine) continue, We Will strike . . .
"If the  & NATO deliver long range missiles to Ukraine & they are used against Russian forces in the Donbas or Crimea, we will use long range missiles on Kiev. If they are used on Russia, we will use ours on Europe."
Russian President Vladimir Putin has now publicly warned on television that if western (i.e. NATO) countries continue sending weapons to Ukraine, Russia "will draw the appropriate conclusion and use NEW WEAPONRY, of which we have plenty, and we will strike targets that have not yet been struck"  — Like NATO Capital cities?
Here is the actual televised interview in original Russian language, with English sub-titles for translation.
🇷🇺🐻"We will draw the appropriate conclusions." pic.twitter.com/eadmglv73L

— Chebureki Vibes (@PelmeniPusha) June 5, 2022
UPDATE 2:52 PM EDT —
Just found out, when President Putin did this live interview, it was carried live on . . . ready for this . . . . ALL Ukraine TV channels!   ALL OF THEM!
Russia took over Ukraine's broadcast media ! ! ! ! ! 
Ukraine can't even keep control over their own TV's! ! ! ! 
Laughable excuse for a country.
HAL TURNER ANALYSIS AND EDITORIAL OPINION
Two key phrases in his remarks:  
1) "New weaponry" . . . . 
2) ". . . Strike targets that have not yet been struck . . . "
At present, Russia has already used in Ukraine, at least one of each and every CONVENTIONAL weapon in its arsenal.  Kalibr cruise missiles. Zircon hypersonic missiles, and the thermobaric TOS-2.  
So what's left in their arsenal of "new" weapons to use?   Nuclear-tipped versions of Kalibr and Zircon, perhaps?
Or does he mean the entire range of Russian nuclear weaponry? Battlefield tactical nukes?  Full-blown nuclear ICBM's?   The dreaded SARMAT?
The hint we have at the answer to the questions above, comes from the second key phrase ". . . strike targets that have not yet been struck."   
Notice he did NOT say "inside Ukraine."
Among the targets that have not yet been struck are the nations actually providing the weapons deliveries to Ukraine; primarily the US, UK, France, Germany, and Poland.
Of those, hitting the U.S. is most vital; because once the U.S. is hit, NATO falls apart.   If the Europeans see that America can no longer help them, they will tuck tail and run . . .  so fast, they might even leave skid marks.
So, ladies and Gentlemen, we are being publicly warned, yet again, to stop interfering.   
Britain has promised to send its first long-range missiles to Ukraine after a similar US pledge which on Sunday (Monday NZT) triggered Vladimir Putin to threaten to strike new targets.
The M270 missile system is the Army's most advanced rocket system and has a range of 80km, a longer reach than any missile technology currently being used on Ukraine's battlefields.
"As Russia's tactics change, so must our support to Ukraine," Ben Wallace, the Minister of Defence, said.
"These highly capable multiple-launch rocket systems will enable our Ukrainian friends to better protect themselves against the brutal use of long-range artillery, which Putin's forces have used indiscriminately to flatten cities."
Russia tries to sweep Ukraine's eastern forces
Clashes between troops in the city of Severodonetsk have resulted in brutal street fighting.
Hours before the Ministry of Defence announced its latest arms deployment, Russian cruise missiles hit the outskirts of Kyiv for the first time since April after narrowly missing a nuclear power plant in the south of the country.
The US-made M270 forms the bulk of the British Army's long-range precision-guided missile capability. It has a three-man crew and can fire 12 rockets in 40 seconds with pinpoint accuracy. The missile system was deployed in Afghanistan and Iraq.
The Ministry of Defence also said that the deployment of the M270 missile system to Ukraine had been co-ordinated with the US which also promised last week to send a long-range missile system to Ukraine after Kyiv pledged not to use them against targets in Russia.
But the missile upgrade pledges by Britain and the US triggered a new threat from Putin who used a TV interview at his residence in Sochi on Russia's Black Sea coast to promise to hit new targets.
"If they are delivered, we will draw appropriate conclusions from this and use our weapons, which we have enough of, to strike at those objects that we have not yet hit," he said in an interview with TV channel Russia-1, filmed on Friday.
Ukraine has been begging the West to supply longer-range missiles to allow it to counterattack Russian artillery which, combined with air strikes, is pounding its army in Donbas.
The Russian military has concentrated its efforts on conquering Donbas, now Putin's priority, after being forced to retreat from around Kyiv in March.
Volodymyr Zelenskyy, Ukraine's president, has said that hundreds of Ukrainian soldiers are dying in Donbas and that the situation is "very difficult". But in its latest intelligence update, the Ministry of Defence said that a Ukrainian counterattack in the city of Severnodonetsk had pushed back Russian forces.
"Over the last 24 hours, Ukrainian forces have counterattacked… likely blunting the operational momentum Russian forces previously gained through concentrating combat units and firepower," it said.
Severnodonetsk is the last major Ukrainian-held city in the Luhansk region, which makes up half of Donbas and its capture would hand Putin a major propaganda coup.
In Kyiv, residents were woken up at dawn by the first Russian missile strikes on the Ukrainian capital since April 28 when UN chief Antonio Guterres visited.
Russia's Defence Ministry has said that it had destroyed "T-72 tanks supplied by Eastern European countries" with high precision missiles but Ukrainian officials disagreed.
"This morning, Russian troops once again fired on the railway infrastructure. Four rockets hit the Darnytsia Car Repair Plant," said Oleksandr Kamyshin, head of Ukraine's railway. "One of the railway workers was injured and treated."
Since the beginning of May, Russian missile strikes have repeatedly targeted the country's railway network which has been used to supply Western weapons to Ukrainian forces on the frontlines. Millions of Ukrainians have also used the railway network to flee fighting in the south and east to the relative safety of west Ukraine and abroad.
The Ukrainian Air Force command said that the Russian missiles appeared to have been launched from a Russian Tu-95 bomber flying over the Caspian Sea, several hundred miles away beyond Georgia and Azerbaijan, and that its air defence units had shot down one of the missiles.
Ukraine's state-owned nuclear power company said that the missiles had flown close to its nuclear power plant in the city of Yuzhnoukrainsk, about 354km south of Kyiv.
"Russia committed another act of nuclear terrorism at 5.30am (local time). A Russian cruise missile… flew critically low over the South Ukrainian nuclear power plant.".
In Odesa, Ukraine's Southern Operational Command also said that Russian missiles had targeted the port of Mykolaiv and its grain silos with missiles.
"At dawn, the Mykolaiv region was again subjected to a massive missile strike using aircraft," it said. Photos from the alleged missile strike showed plumes of smoke billowing out of buildings.
Russia has been accused of triggering a global famine by blocking Ukraine ports and sabotaging equipment. Ukraine is one of the biggest suppliers of grain in the world