News from Ukraine – 17 April, 2022
News from Ukraine – 17 April, 2022
AZOVSTAL Steel Mill now under heavy bombardment and burning.
The Ultimatum for Ukraine troops to put down their weapons and surrender by 9:00 GMT has long expired.
The militant AZOV Brigade Nazis had a chance to leave and survive; they chose not to. 
About one hour ago, the Russian Army ordered all units to attack the plant.  It is being mercilessly bombed right now and is on fire.
UPDATE 3:16 PM EDT —
Ministry of Defense of Russia: Basements with militants at the Azovstal plant in Mariupol will not be stormed.
Supersonic bombers, Tu-22M3 Backfire-C, will bomb plant with high explosive demolition bombs FAB-3000.
Then will be use Heavy Flamethrower System TOS-1A Solntsepyok.
Update(1618ET): At least a couple thousand Ukrainian troops are still said to be surrounded and holed up in the giant Azovstal steelworks in the decimated city of Mariupol. 
UK media is also reporting that a second British soldier has been captured in Mariupol by Russian forces. This after 28-year old Aiden Aslin from Nottinghamshire had reportedly surrendered last week as Russian forces advanced. And now The Guardian reports Sunday that a former UK soldier was just captured, and is being paraded before Russian media cameras: 
Shaun Pinner said he had been fighting alongside Ukrainian marines when Vladimir Putin's forces invaded nearly eight weeks ago.

The 48-year-old former British soldier appeared tired and bruised in a short propaganda video aired by Russian media on Saturday night.

He says: "Hi, I'm Shaun Pinner. I am a citizen of the UK. I was captured in Mariupol. I am part of the 36 Brigade First Battalion Ukrainian Marines."

"I was fighting in Mariupol for five to six weeks and now I'm in Donetsk People's Republic."
The details of Pinner's capture remain unclear, but he had already been living in Ukraine for four years with his wife in Donbas. "The former Royal Anglian Regiment soldier said in January that he was based in trenches 10 miles outside Mariupol," The Guardian noted. 
UK's foreign office has said it is seeking to get in contact with Pinner via his family members to arrange his release from Russian custody, but say their options are extremely limited due to wartime conditions. His being shown on Russian state media has stirred outraged among UK officials.  
Earlier a Ukrainian official said that Mariupol was totally destroyed, describing that the once proud port city had been "wiped off the face of the earth" after weeks of relentless shelling and bombing. 
* * *
Pavlo Kyrylenko, Ukraine's governor over Mariupol, has said Friday that the city of Mariupol has been "wiped off the face of the earth" after weeks of relentless shelling and missile strikes from Russian forces. 
"The enemy may seize the land Mariupol used to stand on, but the city of Mariupol has been wiped off the face of the earth by the Russian Federation, by those who will never be able to restore it," he said. "To restore Mariupol, that is something only Ukraine can do."
As to the fate of the city, he described that at this point it is "no more" and that in reality the Russians have nothing left to seize. Meanwhile, Reuters is reporting that "Russia gave holdout Ukrainian soldiers an ultimatum to lay down arms on Sunday in the pulverised southeastern port of Mariupol, which Moscow said its forces almost completely controlled in what would be its biggest capture of the nearly two-month war."
All of this comes just after Ukrainian defense ministry spokesman Oleksandr Motuzyanyk said that for the first time Russia used long-range bombers to attack Ukrainian positions in the port city. 
"On April 14, two Russian strategic heavy bombers Tu-95/-160 have launched cruise missiles hitting the territory of Ukraine from Krasnodar Krai of Russian Federation airspace," he said. "Also for the first time from the start of the armed aggression bombs were dropped by a long-range bombers Tu-22M3. This airstrike took place, hitting Mariupol."
Earlier last week Mariupol mayor's estimated that over 10,000 civilians had died over the course of the war which had seen the city on the Sea of Azov attacked and besieged from nearly the start of the invasion.
He had described that dead bodies "carpeted the streets" – though it was impossible for outside observers to verify the high death estimate given.
The AP had reported, "The mayor of the Ukrainian port city of Mariupol said Monday that more than 10,000 civilians have died in the Russian siege of his city, and that the death toll could surpass 20,000…"
On Sunday Bloomberg reports that Russia could be contemplating a naval landing of forces to overwhelming the final holdout Ukrainian troops in and around the city:
Ukraine warned of a possible Russian naval landing operation at Mariupol in addition to new air strikes. Russia called on remaining forces in the besieged city to surrender. Many are thought to be within the massive Azovstal steelworks; Moscow said "foreign mercenaries" are among them, citing intercepted conversations.
Recently United Nations officials warned that the true civilian death toll in the country may never be known, that it's likely significantly higher than current official estimates.
<a

Kiev Rejects Russia Demand for Mariupol's Surrender, Russia Makes Claims on Size of Ukrainian Losses
Update(1632ET): In what appears Moscow's "answer" to the US and NATO countries continuing to supply major weapons systems to Ukrainian forces, state agency TASS is claiming that Russian forces have brought down a Ukrainian military transport plane that was transporting Western arms. It would mark a massive battlefield development if confirmed, potentially escalating conflict more directly with the West, now that Russia is actively targeting Western arms shipments.
The alleged shoot down occurred outside Odessa via anti-air systems, says TASS, while citing Russian Defense Ministry Spokesman Major-General Igor Konashenkov. Though remaining unconfirmed, China state media has also picked up the report, citing the defense ministry statement, which reads:
"Near Odesa Russian anti-aircraft defense forces have shot down a Ukrainian military transport plane, which was delivering a large shipment of arms supplied to Ukraine by Western counties," Russian Defense Ministry Spokesman Major-General Igor Konashenkov said Saturday.
However, there's nothing in the way of independent or outside sources confirming it, and Ukraine's military has not issued any statements, nor are they likely to admit that their military aircraft were transporting Western weapons shipments, even if accurate.
Days ago, the Kremlin repeated its threat to attack any inbound shipments of weaponry or supplies coming from Ukraine's Western backers. The military also said it would hit "decision-making centers" – and on Saturday long-range missiles reportedly struck weapons depots in Kiev.
Meanwhile, the Pentagon and US State Department have continued positively boasting that more weapons are en route, in a continuing escalation…
* * *
earlier
Now more than 50 days into Russia's invasion of Ukraine, the war appears to have escalated following Russia's loss of its Black Sea flagship which sunk after the Ukrainians say they struck it with Neptune anti-ship missiles. The warship's sinking likely marks a significant shift for the Kremlin. After suffering such major losses, Russia has more incentive to practice less restraint – which is perhaps why long-rage bombers are also apparently now in use. The Pentagon has since said it assesses the Ukrainians scored a direct hit on the warship, causing it to sink off Odessa.
It now appears Russia's retaliation for the devastating loss of its celebrated missile cruiser Moskva has begun, with the defense ministry announcing: "The number and scale of missile strikes against targets in Kyiv will increase in response to any terrorist attacks or sabotage committed by the Kyiv nationalist regime on Russian territory."
On Saturday it's being reported that after a lull in fighting near Kiev following weeks ago Russian forces having pulled back their positions to focus on Donbas in the east, there have been fresh scattered attacks on the Ukrainian capital. 
"Russian forces resumed scattered attacks on Kyiv, western Ukraine and beyond Saturday in an explosive reminder to Ukrainians and their Western supporters that the whole country remains under threat despite Russia's pivot toward mounting a new offensive in the east," The Associated Press reports.
Russia's Defense Ministry confirmed in a statement that the military launched "air-launched high-precision long-range weapons" in order to take out an armored vehicle plant in Kiev, however without specifying the exact location. 
The AP reported further of the attack: "Smoke rose early Saturday from eastern Kyiv as Mayor Vitali Klitschko reported a strike on the the city's Darnytski district. He said rescuers and paramedics were at the scene, and information about possible deaths would be provided later."
The mayor of the suburban area warned residents it's still unsafe to return amid the Russian assault.
"It was not immediately clear from the ground what was hit in the attack. Darnytskyi is a sprawling district on the southeastern edge of the capital, containing a mixture of Soviet-style apartment blocks, newer shipping centers and big-box retail outlets, industrial areas and railyards," the AP details further of the fresh attack.
There are unconfirmed reports that Russia has attacked weapons manufacturing centers and depots…
On Thursday the Kremlin warned that it would attack "decision-making centers" in Ukraine if cross-border attacks continue. Russia has said that in at least two recent instances, Ukrainian forces have conducted strikes on Russian soil. "The village of Spodaryushino, near the border with Ukraine, had been shelled by Ukraine, Vyacheslav Gladkov, the governor of Russia's Belgorod region, said in a statement on Telegram," CNN cited the Russian official was cited as saying. 
Saturday's strikes in Kiev could be the start of more long-rage missile launches against various cities across Ukraine to come, as Russia turns from slow-grinding infantry and tank tactics to greater reliance on air power and long-range missiles.
Russia has for the first time published footage of the rescued crew members of the sunken missile cruiser Moskva, two days after it was reportedly hit by Ukrainian anti-ship missiles – in a major blow to the Black Sea fleet.
State-run TASS described that Russian Navy chief, Admiral Nikolai Yevmenov, met with the crew. Russian ships in the area off Odessa had reportedly rushed to evacuate the crew of over 500 as it was on fire Thursday. 
Some 100 sailors were seen on a parade ground at the Crimean port of Sevastopol, but it remains unclear when the event took place. 
Russia has so far not acknowledged that the crew suffered any casualties, and rejected the Ukrainian version of events, saying instead that a blaze broke out on board and set off munitions. After the crew was safely evacuated, according to the Kremlin's version, the ship sunk in stormy weather as it was being towed to port.
Increasing the weapon supply is purportedly needed to avert global famine, the official argued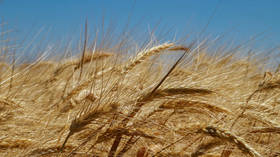 Supplying Ukraine with "more effective" weaponry amid the ongoing conflict with Russia is essential to avoid the supposed looming "global famine," German Agriculture Minister Cem Ozdemir has said. The official made the remarks in an interview published Sunday by the Westdeutsche Allgemeine Zeitung newspaper.
"Russia's war against Ukraine is increasingly turning out to be an attack on the international community," the minister claimed.
That's why it's so important that the West support Ukraine with more, more effective weapons – and Germany shouldn't be exempt from that.
Ozdemir also alleged that the Russian military has been deliberately targeting Ukrainian agriculture in the conflict that broke out in late February. He cited "alarming news" coming from the country yet did not elaborate on the source or exact nature of the allegations.
"We are receiving alarming news from Ukraine, where Russian troops are apparently also deliberately destroying agricultural infrastructure and supply chains," Ozdemir stated.
The alleged attacks are a part of the "starvation strategy," purportedly employed by Russia's President Vladimir Putin, the official went on. This "strategy" is set to take a heavy toll on the countries already experiencing issues with food security, in particular a number of African nations, Ozdemir claimed. The situation needs to be addressed globally, and the UN World Food and Agriculture Committee should play the central role in this, the official believes.
"Here we have to agree on fundamental, structural questions of agricultural and food policy worldwide," he said.
The ongoing conflict in Ukraine has prompted fears of global grain shortages as wheat prices soared to multiple-year highs last month. Both Russia and Ukraine are major wheat suppliers, accounting for some 30% of global exports.
Earlier this week, President Biden appeared to veer off script in the middle of his 'blame Putin, not our idiotic policies, for your collapsing cost of living' speech, when he dropped the 'g' word…
"Your family budget, your ability to fill up your tank, none of it should hinge on whether a dictator declares war and commits genocide half a world away."
Probable rumor: Russia wants revenge for Musk's Starlink being used to sink Moskva
Musk sent thousands of starlink terminals to the Ukraine forces, which have been used to keep their communications open where Russia has knocked out ground based internet. Now it appears the terminals are what made communications possible to sink the Moskva. The missile itself would operate autonomously, but there's a very good chance the attack could not have happened without the good communications Starlink provided. Will Russia actually take action against the Starlink system for this? Russia could. The Russians can destroy it if they.  www.jimstoneindia.com