NEWS HEADLINES: 5-6 May, 2021
NEWS HEADLINES: 5-6 May, 2021
Washington DC mayor prohibits dancing at weddings because dancing
Washington DC has loosened most of its COVID-19 restrictions and doubled allowed capacity in places like schools, gyms and live entertainment events – but has drawn a line on dancing or standing at weddings. 
Under an order issued on April 26 by Mayor Muriel Bowser, wedding attendees must remain socially distanced in their seats with standing and dancing both prohibited. The order does lift attendance limits, however, with weddings allowed at 25 percent capacity or up to 250 people, whichever is fewer.  
FBI

Raids Alaska Spa To "Recover Pelosi's Laptop" Stolen From U.S. Capitol, Owners Reveal
A couple in Homer, Alaska reports the FBI raided their home on Wednesday morning looking for House Speaker Nancy Pelosi's laptop.
Twelve agents, FBI, Capitol Police, and other apparent police agents, broke down the door to their home and told Marilyn and Paul Hueper to put their hands up. Paul counted seven guns trained on him when he came out of the bedroom. The agents cuffed the couple and held them for hours.
It was a case of mistaken identity, but the FBI now has possession of Marilyn's HP Probook laptop. The photo above is on the FBI website as a person of interest in the January 6 surge into the U.S. Capitol, during which Pelosi's laptop was stolen. The photo above is of the woman the FBI is looking for. Marilyn has no real social media presence or photos online.
Because they knew the fact that the Huepers were in DC, they bashed in the door of their living quarters at their posh Homer Inn and Spa boutique hotel with guns drawn. They placed them and two other hotel guests in handcuffs, separated them, and began questioning … all without showing their badges or any search warrant.
When requested to do so, they were told, "In due time." They were never even read their Miranda rights. And when they finally showed them the warrant fully two and a half hours later, the Huepers did not even have sufficient time to read it or their briefly flashed badges completely.
The Huepers joined Editor-In-Chief Raheem Kassam on The National Pulse podcast to discuss the early morning raid, which, as Paul Hueper recalls, didn't include Federal Bureau of Investigation (FBI) authorities even "present[ing] a search warrant."
Pfizer Reaps Hundreds of Millions in Profits From Covid Vaccine
The company said its vaccine generated $3.5 billion in revenue in the first three months of this year.
Last year, racing to develop a vaccine in record time, Pfizer made a big decision: Unlike several rival manufacturers, which vowed to forgo profits on their shots during the Covid-19 pandemic, Pfizer planned to profit on its vaccine.
On Tuesday, the company announced just how much money the shot is generating.
The vaccine brought in $3.5 billion in revenue in the first three months of this year, nearly a quarter of its total revenue, Pfizer reported. The vaccine was, far and away, Pfizer's biggest source of revenue.
The company did not disclose the profits it derived from the vaccine, but it reiterated its previous prediction that its profit margins on the vaccine would be in the high 20 percent range. That would translate into roughly $900 million in pretax vaccine profits in the first quarter.
Pfizer has been widely credited with developing an unproven technology that has saved an untold number of lives.
A boy died from COVID-19 while on vacation in Hawaii with his fully vaccinated parents, marking the first child death from coronavirus in the state, officials said.
The boy, who was 10 years old or younger and had underlying health conditions, died after he and his parents visited Hawaii from another state, according to the Hawaii Department of Health. Officials said the child had coronavirus symptoms after arriving and died at a hospital.
"I can tell you that both parents had been vaccinated, fully vaccinated. And both parents had tested negative before traveling from the mainland to Hawaii," Department of Health spokesperson Brooks Baehr said, Hawaii News Now reported.
"So soon after arrival that it is very likely this child was infected with COVID while on the mainland or perhaps in transit," he added.
19,916 'eye disorders' including blindness following COVID vaccine reported in Europe
More than 10,000 reports of eye disorders after COVID shots in the U.K. alone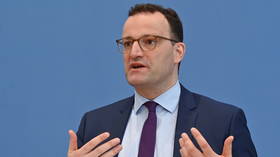 A "global reset" is needed to fight future pandemics, Germany's Health Minister Jens Spahn told a World Health Organization (WHO) briefing on Wednesday as the UN agency announced the creation of a new research hub in Berlin.
Spahn highlighted the findings of a review into the global response to the Covid-19 pandemic, which will be officially announced at the WHO's World Health Assembly later this month.
The authors of the report will call for "nothing less than a global reset in pandemic preparedness" and say that the world needs to focus on the "next crisis," Spahn said.
Spahn said that the world is "insufficiently prepared" for potential pandemic risks, including the extension of diseases to previously unaffected populations and the transmission of diseases from animals to people.
$100 as an Incentive to Get a Shot? Experiment Suggests It Can Pay Off.
A cash reward works best with Democrats, and relaxing safety guidelines seems to motivate Republicans, a survey study shows.
Endorsements by political figures evoked strong partisan reactions, with Mr. Trump's endorsement decreasing uptake among Democrats in 2020 and increasing uptake for Republicans to a smaller degree. President Biden's endorsement decreased uptake among Republicans in 2021. There were hints in 2021 that a Trump endorsement might still increase uptake among Republicans, but the effects were much smaller than when he was in office…..
Roughly a third of the unvaccinated population said a cash payment would make them more likely to get a shot. The benefits were largest for those in the group getting $100, which increased willingness (34 percent said they would get vaccinated) by six points over the $25 group.
The effect was greatest for unvaccinated Democrats, 48 percent of whom said they would be more likely to get vaccinated if it came with a $100 payment.
The incentive to stop wearing a mask and social-distancing in public also had a strong result. On average, relaxing the mask and social distancing guidelines increased vaccine uptake likelihood by 13 points. The largest gains came from Republicans, who reported an 18-point increase in willingness to get vaccinated….
There's that irreducible 30% that just will not be vaccinated, "When we asked unvaccinated people why they hadn't tried to get a shot, 38 percent said they were worried about the side effects, and 34 percent said they didn't think the vaccine was safe … they just don't trust the government's motives, and 14 percent say Covid-19 is not a threat to them."
Some people just cannot see where their own interests lay.