NZ to have the worst current account deficit out of every single advanced country in the world this year, 2023.
NZ to have the worst current account deficit out of every single advanced country in the world this year, 2023.
"Had I been a journalist at Newshub, Stuff, or Herald, I would've written about how the IMF says an extraordinary thing about NZ. It states we are projected to have

the worst current account deficit out of every single advanced country in the world this year, 2023

. That's 40 countries! …NZ's current account balance is reported as -8.6 % of GDP, worse than Greece's at -8.0 %, in 2023. That means we're not paying our way. Imports hugely outweigh exports. It also means that

NZ has become dependent on foreign debt to finance our investments"
https://www.downtoearth.kiwi/post/the-imf-says-nz-has-the-worst-current-account-deficit-out-of-all-40-advanced-nations-in-the-world
Just a reminder…
New Zealand printed $71 BILLION during the pandemic (for context the estimated GDP is $154 billion)
This is what happened to NZ GDP, according to official figures
https://www.stats.govt.nz/indicators/gross-domestic-product-gdp
A rare bit of context
Explainer: why the government can't simply cancel its pandemic debt by printing more money
So, what does happen when the government wants to spend more than it raises in tax revenue? It needs to borrow money (known as deficit financing), and so instructs the Treasury to issue debt
The government was warned
Reserve Bank repeatedly warned Government money printing would lead to house price inflation
Grant Robertson and the Government were warned in January 2020 that there was a 'significant' risk Reserve Bank money printing would push up house prices and deepen inequality. Despite calls from the Reserve Bank that the Government would need to act to blunt the effects of this, nearly 13 months later, nothing has been done.
In November last year, when the national median house price hit $749,000 – up by more than $100,000 on the year before – Grant Robertson sent a now famous letter to Reserve Bank Governor Adrian Orr.
Since March, the Reserve Bank had been printing tens of billions of dollars and pumping it into the economy using something called LSAP (Large-Scale Asset Purchases). The LSAP worked; New Zealand's unemployment rate of 4.9 per cent is well below where economists feared it might be.
But the LSAP has had some negative side effects too. Asset purchases have pushed interest rates down, unleashing a wave of cheap lending that has sent the housing market rocket to record highs in the midst of a global recession.
Robertson had initially been sceptical of the link between the Bank's money printing and high house prices, but the Reserve Bank letter marked the point at which Robertson officially acknowledged that not only was the Bank's money printing having an effect on the housing market, but that he and the Bank should work together and do something about it.
* Don't let the Reserve Bank just give the Government money, Treasury warns

He took a long time to reach that conclusion. Earlier in the year, he'd been sceptical that there was a strong connection between the Reserve Bank's money printing and out-of-control house price inflation.
In June, Robertson was asked by Interest.co.nz whether he would use his fiscal tools – like taxing and spending – to balance the effects of the Reserve Bank's money printing.
"It's not really the way I am thinking about it, our fiscal response has been to respond to the crisis and its effects," Robertson said.
"But all of those issues, particularly in terms of how it will roll out in the housing market are still to come," he said.
However, the Reserve Bank warned Robertson in January of nearly all the adverse consequences of money printing on housing and inequality in Aotearoa.
Policy advice released to Stuff and others under the series of OIA requests warned that an LSAP programme would lift asset prices like housing, deepen inequality and require some kind of intervention.
The Reserve Bank even warned that some kind of new governing arrangement for the Bank would be needed if it used tools like LSAP. This is because those tools step so far beyond the Bank's traditional role in setting interest rates and into areas typically controlled by the Government.
Back in 2019, the Bank said that it would be looking at "unconventional" policy tools that it could use if its main tool – the Official Cash Rate or OCR – became ineffective.
The Bank thought there was a small but not inconceivable chance of this happening given interest rates over the world were fast approaching zero so, on January 29, 2020, it sent Robertson advice on what it was doing.
The Reserve Bank and Treasury should begin work on institutional and governance arrangements for what to do if the Reserve Bank started using tools like LSAP. This somewhat compromised the traditionally strict independence of the Bank and Treasury.
"With interest rates at historic lows, there is a risk that monetary policy could become constrained if interest rates fall towards zero.
"In such a situation, we consider it prudent that the Reserve Bank has alternative tools available to stabilise the economy and that the governance arrangements relating to the use of alternative tools are clear, comprehensive and effective.
It said that the Bank did "not think there was a case" for using these tools "in the near future," but said that it would look to develop the tools and governance arrangements over the next six months to make sure they were ready if they were needed.
The Bank called these tools UMP, or Unconventional Monetary Policy. It includes things like negative interest rates, forward guidance, term lending to banks, and LSAP.
The advice came with several warnings, saying the "magnitude of the macroeconomic stabilisation benefits is highly uncertain"
But now let's all play pretend and blame it all on bad weather.
As Australia banks its first surplus in 15 years, New Zealand's pathway back to black appears to have been washed away by storms.
Treasury posted updated financial statements on Tuesday that show a worsening fiscal outlook.
In the nine months to March, Treasury has recorded a deficit of $3.4 billion, almost $2.5 billion worse than predicted in December.
Revenue has fallen away, with a $2.3 billion shortfall in GST revenue and business and income tax.
The Government must also grapple with repairs following two huge weather events over summer: flooding in Auckland and Cyclone Gabrielle, which come with a multi-billion dollar price tag.
At the last budgetary update in December, NZ was in touching distance of a surplus, with a projected deficit of just $461 million in 2024.
That could be as close as it comes to a surplus, which would have boosted the Government in an election year.
Finance Minister Grant Robertson wouldn't be drawn on the budget's bottom line so close its delivery on May 18.
"Clearly, economic activity based on the Treasury statements is slowing. We can see that," he said from Parliament.
"We've been forecasting and predicting that for some time. On top of that, we have to deal with the North Island weather events with the cyclone and the and the flooding.
"All of those will be impacting on the Government's books, but I'll have more to say about that soon."
National leader Christopher Luxon called the crown accounts "alarming", drawing a contrast with the expected $4.2 billion surplus to be booked by Treasurer Jim Chalmers on Tuesday night.
"Seeing a softening of the New Zealand economy at a time when we actually see some strength building in Australia with their budget day," he said.
Robertson, usually fond of healthy trans-Tasman fiscal rivalry, said "not going to turn (the budget) into that kind of competition".
"Both New Zealand and Australia have done well over recent years and getting through Covid and being able to continue with a resilient economy and resilient government set of books," he said.
"It's inevitable that the Government's books will be affected as the economy cools. We are doing our bit to restrain spending and responsibly manage our finances.
"The upcoming budget has required tough choices as we respond to the deteriorating economic conditions."
In brighter news, NZ's net debt has fallen to $72.8 billion, or 19.1% of GDP.
The shrinking debt has been attributed to "favourable movements in the fair value of financial assets and liabilities", including the NZ Super Fund.
Behind a paywall. 
This will be somewhat closer to the truth but still fall short
Carbon credit 'mistake' could cost Government $1.3 billion if left unfixed
A slump in the value of carbon credits is the result of the Government getting itself in a tangle and undermining confidence in the Emissions Trading Scheme, the National Party's energy spokesperson Stuart Smith says.
Climate Change Minister James Shaw responded by saying that was "a bit rich coming from the party that neutered the Emissions Trading Scheme for a decade and drove carbon prices to less than a dollar".
Salt Funds Management carbon fund manager Paul Harrison said the price of carbon credits dropped to $54.50 last week, before recovering to $58 on Wednesday, which was down from a peak $88.50 late last year.
There is speculation the size of the price drop took the Government by surprise, and that it may take the opportunity presented by a new Climate Change Commission report to try to shore up confidence in the Emissions Trading Scheme (ETS) later this month.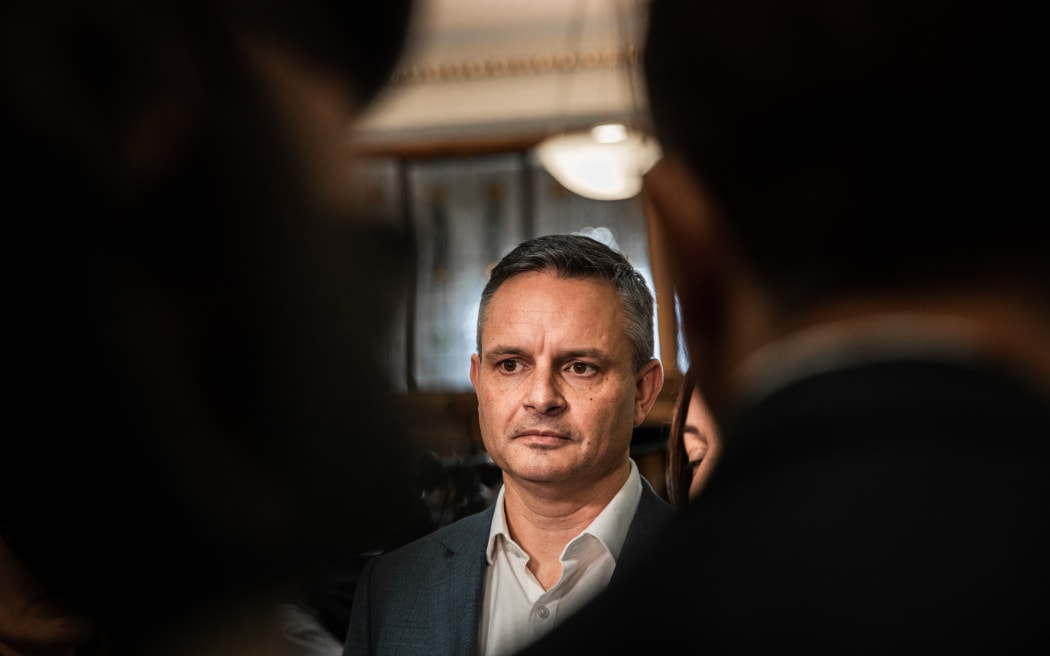 A group of lawyers is taking the Minister for Climate Change James Shaw to court over a Cabinet decision about the emissions trading scheme.
The Lawyers for Climate Action (LCANZI) today filed for a judicial review in the High Court.
The group argues the scheme's current settings are not consistent with New Zealand's emissions reduction targets.
It stems from a Cabinet decision late last year to reject advice from the Climate Change Commission that would allow the carbon price to rise, citing the cost of living.
Since then the carbon price has tanked, causing a $1.2 billion hit to government revenue.
The group said the decision also makes available at low prices an additional 35 million units over the next five years.
That was more than one year's worth of emissions for sectors within the ETS.
"By law the settings must be in accordance with our emissions budgets, our [international pledges] … and the 2050 net zero target," the group said.
"LCANZI's judicial review claims that in overriding the recommendations from the Commission and the minister, Cabinet failed to address whether the settings were in accordance with the emissions budgets and the [international pledges].
"Instead the decision was driven by concerns that rising ETS unit prices would flow through to households.
"LCANZI seeks a declaration from the court that the regulations are inconsistent with the Climate Change Response Act, and an order that the regulations be remade."
While Shaw was not part of Cabinet, and had recommended Cabinet follow the Commission's advice, the group said it was taking action against the minister as he was ultimately responsible.
The group has previously taken unsuccessful legal action against the Climate Change Commission.
Shaw said via a statement: "I am aware of the claim filed by Lawyers For Climate Action. As the matter is before the courts, I can't comment further, but it is important that citizens have the right to be heard".
Westpac NZ has bucked the trend of the big Australian-owned banks posting surging profit rises, reporting a fall in half-year net profit.
In the six months to March 31, it posted a net profit of $426 million.
That is down 19% in the previous six-month period, and a fall of 33% when comparing it to the same period last year when the bank's net profit was $640m.
Last year's profit was swelled by the sale of life insurance arm Westpac Life.
The bank had also been hit by needing to put aside more money for bad loans.
Chief executive Catherine McGrath said the bank had grown mortgage lending by 5%, business lending by 4% and deposits by 2%.
Lies,lies…and statistics
NZ in a worse inflation position than other countries: Infometrics
New Zealand is under more continued inflation pressure than many other countries, one economist says, and there is little evidence that is starting to ease.
Infometrics has released its latest economic forecasts, which predict inflation will still be at 6.6% by the end of this year and 3.8% by the end of next year.
The Reserve Bank targets a 1% to 3% range but Infometrics said it might not get inflation back to that level until mid-2025.
Chief forecaster Gareth Kiernan said the after-effects of Cyclone Gabrielle were showing up in produce prices, and rents and building costs were also likely to be pushed up in areas that were affected by the weather events.
Sometimes one does think the Kiwi media are really trying hard to play games with the news. The International Monetary Fund just produced its 'World Economic Outloook". Stuff News said it "has painted a grim picture of the outlook for the global economy over the next few years". The purpose of Stuff's article seems to be to convince the Kiwi public that although our economy is doing badly, so is everyone else's.
That's not the tone of the IMF report, as I read it. It says, "On the surface, the global economy appears poised for a gradual recovery .. China is rebounding strongly following the reopening of its economy. Supply-chain disruptions are unwinding while the dislocations to energy & food markets caused by the [Ukraine] war are receding .. the massive & synchronous tightening of monetary policy by most central banks should start to bear fruit, with inflation moving back toward its targets … Below the surface, however, turbulence is building & the situation is quite fragile, as the recent bout of banking instability reminded us". That's not exactly "grim". The word "grim" is never used by the IMF.
Had I been a journalist at Newshub, Stuff, or Herald, I would've written about how the IMF says an extraordinary thing about NZ. It states we are projected to have the worst current account deficit out of every single advanced country in the world this year, 2023. That's 40 countries! Take a look at the table below – NZ's current account balance is reported as -8.6 % of GDP, worse than Greece's at -8.0 %, in 2023. That means we're not paying our way. Imports hugely outweigh exports. It also means that NZ has become dependent on foreign debt to finance our investments.
Sources:
https://www.stuff.co.nz/business/300851665/global-economy-in-perilous-phase-imf-says#:~:text=Its%20latest%20World%20Economic%20Outlook,year%20and%204.9%25%20in%202024.
https://www.imf.org/en/Publications/WEO/Issues/2023/04/11/world-economic-outlook-april-2023