Omicron is the cover story for immune escape because of the vaccines
Omicron is the cover story for immune escape because of the vaccines
People are entering 'self-imposed lockdown' to avoid having to isolate on December 25 if they test positive 
'Scare stories' about the new Covid variant have triggered a wave of pub and restaurant cancellations
Chief medical officer Chris Whitty told people to pick the events they attend this Christmas 'carefully' 
Yesterday's cases eclipse previous highest count by 10,000 – when 68,053 were recorded in January 
Govt modelling predicts 400,000 people catching Omicron daily, spreading faster than tests can keep up  
Boris faces growing pressure from his own advisers to hit the panic button on Plan C to curb new variant
Fears that Britain has been pushed into a 'lockdown by stealth' are mounting as 'scare stories' about Omicron trigger a wave of pub and restaurant cancellations ahead of Christmas and England's chief medical officer told people to scale back their festive plans. 
Millions of people are entering a 'self-imposed lockdown' in a bid to avoid having to isolate on December 25 if they test positive for Covid.
Almost every one of the 90 restaurants in London's West End have suffered cancellations in the past week, while one pub manager in Covent Garden added that every single booking for a Christmas party in their private room disappeared last week.
Police want to APPEAL against Katie Price's suspended sentence after magistrate spared 43-year-old model jail for driving while high, drunk and banned because she went to the Priory, despite saying she deserved to spend Christmas in prison, and other top stories from December 16, 2021.
A string of shows in the West End have been cancelled as Omicron becomes the dominant strain in the capital, including Hamilton at the Victoria Palace Theatre, Hex at the National Theatre, and The Curious Incident Of The Dog In The Night-Time at the Troubadour Theatre Wembley.
At last night's Downing Street press conference, England's chief medical officer Chris Whitty and Prime Minister Boris Johnson stoked fears further by encouraging people to scale back their Christmas plans. Prof Whitty even rubbished a major real-world study from South Africa which suggested that the variant was milder, and insisted Omicron 'is going to be a problem'.
But business chiefs warned that the advice to curb social mixing could be catastrophic for pubs and restaurants already struggling following nearly two years of restrictions.
Baroness Ruby McGregor-Smith, president of the British Chambers of Commerce, warned: 'The need for the chief medical officer to advise the public to "de-prioritise social contacts" at tonight's press conference will almost certainly have an enormous impact for businesses, particularly in the hospitality sector.'
The Confederation of British Industry claimed that suggestions to limit socialising would have a 'chilling effect' on the industry. 
And theatre director Sir Nicholas Hytner said venues were in 'crisis mode', with shows closing as actors and other staff contracted coronavirus while bookings have 'fallen off a cliff'. 
Tory MP Anne Marie Morris said: 'If we're effectively telling people not to visit hospitality venues this Christmas, then this needs to be accompanied by immediate sector specific financial support from the Treasury.'
Prof Whitty told the press briefing: 'I think that what most people are doing is – and I would think this seems very sensible – is prioritising the social interactions that really matter to them and, to project those ones, de-prioritising ones that matter much less to them.'
The Independent SAGE group of scientists and medics last night called for an immediate 10-day 'circuit-breaker' shutdown, with bans on households mixing and the closure of hospitality firms. They accused the Prime Minister of 'delaying' from imposing tighter controls and said the time for 'emergency action' had now come.
Government scientists have been calling for 'Plan C' curbs as they warn there could be 1million daily cases by next month and 4,000 hospital admissions – levels similar to those seen during the January shutdown. However, the projections are heavily disputed.
More than 78,000 people tested positive for Covid yesterday – a 50 per cent jump on last week, and eclipsing the previous record of 68,053 in January.
In the latest twist and turn of the Covid crisis:
Prof Chris Whitty called for 'serious caution' over a raft of promising data which suggests Omicron may cause milder disease;

Boris Johnson angrily defended staff accused of hosting law-breaking parties in Downing Street during lockdown last year;

The Prime Minister announced that children aged 12 to 15 will be offered their second jab from Monday to tackle a 'tidal wave of Omicron';

But Ministers refused to guarantee that schools will reopen after Christmas, amid fears of a return to mass remote learning in January;

More than a quarter of Covid 'patients' currently occupying hospital beds are actually being treated for another condition, according to official data;

Britain's booster jab campaign is off to a storming start with a record 611,000 Covid jabs being given out in a single day yesterday;

Public health chiefs and Royal Mail bosses announced plans to double the amount of lateral flow and PCR test deliveries in a bid to tackle the Covid test supply crisis.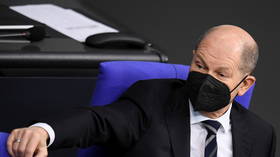 Germany's new leader, Olaf Scholz, has announced that his government will take all necessary measures to control the spread of the new Omicron strain of Covid, declaring no step to be too great in that fight.
Directing his first major address in parliament to Germans across the country, the chancellor urged everyone to get vaccinated, saying it was the only way out of the pandemic. His statement that there would be "no red lines" in the government's battle to contain Covid comes amid concerns about a fourth wave of infections in Germany, fueled by unvaccinated citizens.
"Yes, it will get better. Yes, we will win the fight against this pandemic with the biggest determination. And, yes, … we will overcome the crisis," he said, striking an optimistic tone amid the warnings about the virus.
On Sunday, Scholz expressed his personal support for vaccine mandates across Germany, stating that he would "vote for compulsory vaccination, because it is legally permissible and morally right." Germany's parliament recently mandated that, from next spring, all medical and care staff must be inoculated for Covid.
Omicron first emerged in southern Africa in November and quickly spread to some 60 countries worldwide. Germany reported its first confirmed cases of the new strain in Bavaria that month, followed by another outbreak days later in Baden-Württemberg.
Since the start of the pandemic, Germany has recorded 6.56 million confirmed cases of Covid-19 and 106,277 deaths from the virus, according to data provided to the World Health Organization. In the country of more than 80 million people, 127,820,557 doses of a Covid vaccine have so far been administered.