OMICRON NEWS; 19 December, 2021
OMICRON NEWS; 19 December, 2021
Here are some of the headlines
SAGE papers paint a grim picture of the potential threat from the Omicron strain
Group warns 'stringent measures' needed to avoid deaths and hospitalisations
Suggests non-essential shops should be shut and household mixing banned  
Video prompted to 05:42 just watch for around 45 seconds (oh, and put down any sharp objects before watching this…)
If you're not asking "why" after that, what will it take for you to question what's being done to you?
You can see the preposterousness of official claims here
Some real data from a medical practise in London

Meanwhile in South Africa where Omicron presumably originated.
Authored by Paul Joseph Watson via Summit News,
South African Health Minister Joe Phaahla said today that only 1.7% of COVID cases in the current Omicron wave are being hospitalised compared to 19% in the previous wave and that the vast majority of cases are "fairly mild."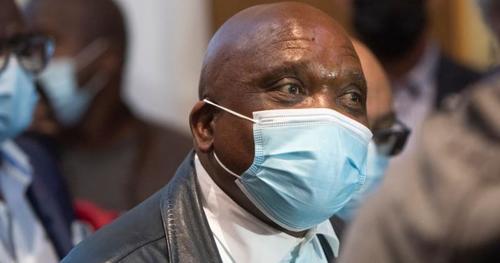 "In the current wave, only 1.7% of Covid cases are being hospitalized, an average of fewer than 350 cases daily over the past two weeks, versus an average of more than 800 in the previous wave, at an average of 19%," reports Business Tech based on Phaahla's statement.
Gauteng, the province that includes Johannesburg, has also seen a decline in positivity rate to 25%, meaning the Omicron wave could be past its peak in that region.
According to the data, hospitalisations are also lower across all age ranges, contradicting claims in the UK that it would be hit harder due to its older population.
As we highlighted yesterday, Phaahla said rates of hospitalisations and deaths remain "relatively low," adding that there was no need to raise the restriction level and telling South Africans to enjoy their Christmas.
Such good news isn't apparently welcome to governments in the UK, which continue to impose more draconian measures which have served to all but cancel Christmas, despite the fact that just 15 people have been hospitalised with Omicron and just one person has died.
In England, Professor Chris Whitty appears to be ignoring data out of South Africa to make doomsday predictions about there being over 4,000 hospitalisations a day from Omicron.
There is also a continuing obsession with insisting it is "too early" to make judgments on data coming out of South Africa despite such data for weeks confirming that Omicron is mild and isn't causing hospitals to be overwhelmed.
And in America
Authored by Steve Watson via Summit News,
A resident doctor on CNN told viewers Thursday that they should all be wearing masks at home around other family members and everyone should wake up on Christmas morning and rather than open presents, take COVID tests.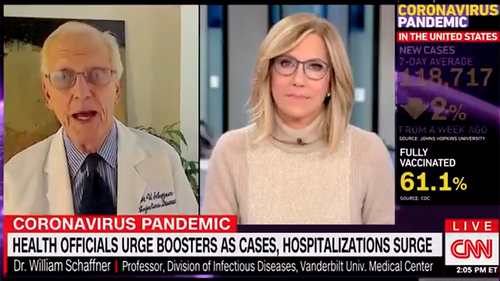 Dr. William Schaffner also said that these restrictions should apply to everyone, even those people who are double and triple vaccinated.
"I recommend that we hang our stockings with care," Schaffner stated, adding "We have to be careful because we are all going to get together, we should all be vaccinated and preferentially boosted. We should wear our masks if we are uncertain."
"Another thing we could do is we could all get tested the morning of our getting together," Schaffner further urged, before sharing a heartwarming story of how his own family did that for Thanksgiving.
"We were all negative. It worked out just fine," the doctor declared.
Watch:
Earlier in the year, Schaffner took to CNN to express his horror at Americans having fun at football games, complaining that they were "breathing too vigorously."
Schaffner declared "People are cheering and enthusiastic, exhaling with vigor; if there are people infected, they can infect people around them … Nobody was wearing a mask … I'd be very surprised if we didn't have outbreaks."
Holidays at the Schaffner household sound like an absolute rip roaring fun-fest don't they?