On the local front
On the local front
Supporters of Liz Gunn have been very vociferous and agressive.
Just a few examples from Mr. Kelvyn Alp who seems  in his polemics,incapable distinguishing between friend and foe.
You can see how I am "gaslighting" and what a troll is here:
"I have looked on with horror as the tiny movement in opposition to tyranny has fragmented. No one has done more to divide that very vulnerable movement than certain hot-headed people who, I have come, sadly, to behave very much like the people they claim to oppose. I expect to be a lone voice warning people. A thankless and vain endeavor. Oh, well, we're going down the tubes anyhow."
I'm always going to be the "Voice in the Wilderness'.
My personal concern is that such people, without pushback, can become dictatorial in their own right.
Learn from history, folks.
Apparently, in the latest poll that I saw on Facebook last night New Zealand Loyal went DOWN from 1.2% (16-19 September) to 0.5%.
If we are to believe the folks at Counterspin they are rushing up to 5% and beyond.
I don't think so. This was a piece of commonsense from someone who is NOT a radical or a hotbeat.
I must say I concur. About a week ago a lady from Counterspin came on and described the following as a "PSYOP".
It looks like a balanced discussion by people who know the political system.
Pete explains how votes are not actually reallocated but are 'effectively' reallocated when they don't meet the 5% threshold. pic.twitter.com/QEIAuVsRZa

— REALITY CHECK RADIO (@RCR_NZ) September 4, 2023
Here is a prolonged discussion on the election. No one here is telling anyone HOW they should vote.
VFF Politics 101 Webinar 

Claire Deeks, Tane Webster and Dean Harris from Voters United presenting on a range of aspects concerning the 2023 General Election, including MMP basics, voting strategies, how to cast your vote, polls and surveys.
You can find an archive of New Zealand Loyal HERE
My own personal position is that an MMP election can AT BEST provide what they have in Australia – a few voices of opposition. We would do better to have New Zealand First (with all the imperfections) than nothing at all. Meanwhile, al this is distracting us from a minor thing called genocide.
From someone on Counterspin…
Meanwhile, whatever you might want to read into this,
Chris Hipkins has been diagnosed with covid-19. There are RUMOURS that Jacinda Adern is flying back to NZ.
Prime Minister Chris Hipkins has tested positive for Covid-19, a spokesperson has confirmed.
Hipkins was supposed to attend a Samoan church service in Mangere this morning, but his staff advised he could no longer attend.
He tested positive today after experiencing "cold and flu symptoms" from yesterday.
Hipkins will be isolating for five days or until he returned a negative test, his spokesperson said
And then there was this.
TRANSACTIVIST ELIE RUBASHKYN (Elie "Shirt") STRIKES AGAIN
Apparently police drove past this and did nothing.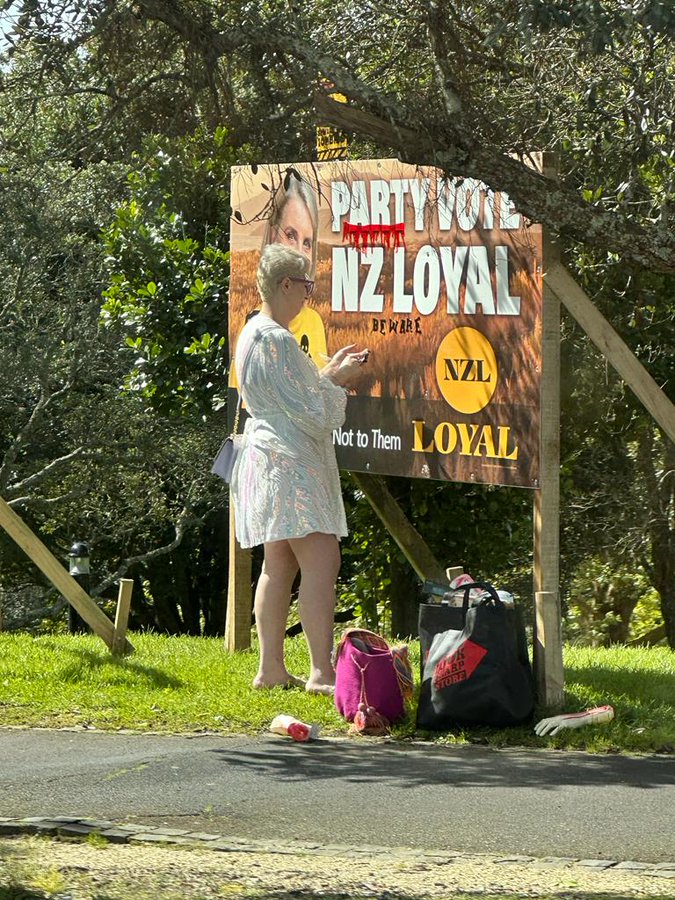 See the Counterspin spin HERE
Meanwhile…
Eli Rubashkyn has gone from throwing soup to threatening to throw Molotov Cocktails. Quite an escalation. This is what happens when you oppose his agenda.
Meanwhile biological women who have never, ever been  violent (or even aggressive) are accused of "hate speech".
Isn't this REAL hate speech and a threat of real physical harm?
How would our authorities react.
I think I know.
The same way as in any totalitarian state.
***
I have major disagreements with Sean Plunket but I'm with him all the way on this.