Panic buying starts in New Zealand
Panic buying starts in New Zealand
Coronavirus:
Queues at
supermarkets as panic-
buying ramps up
29
February, 2020
Panic-buying
appears to have kicked in, with confirmation the coronavirus COVID-19
has arrived in New Zealand.
And
supermarket bosses are urging people to "resist" the urge
to stock up.
Lines
at a Pak'nSave supermarket in Auckland were out the door on Friday
evening, following the confirmation
of New Zealand's first case.
A
man who'd recently been to Iran arrived on an Emirates flight on
Tuesday, feeling sick. His family called Healthline, and testing
showed he was positive for the virus, which has killed nearly 3000
people worldwide.
The
60-year-old New Zealand citizen is currently being cared for at
Auckland City Hospital.
Newshub
visited the Pak'nSave in Botany on Friday night and saw people with
trolleys lined up on the footpath outside, some wearing masks.
Staff
were reportedly only letting in a few people at a time.
There
were also reportedly massive queues at supermarkets in Albany, on
Auckland's North Shore, and Remuera.
Queueing
began outside Pak'nSave in Royal Oak before 7:30am on Saturday
morning, according to reports.
One
person told NZME they showed up to the Henderson Pak'nSave in west
Auckland after 9pm, only to find there were no trolleys available. It
reportedly took him half an hour to get through the queues, when all
he wanted was onions for a sausage sizzle.
A
spokesperson for Foodstuffs told Newshub management of the Botany
store "took the decision to regulate the number of incoming
customers in-store, this was due to a sudden influx".
"This
decision was taken for about half an hour to help clear the volume of
people in-store, and the decision was made for the safety and comfort
of customers.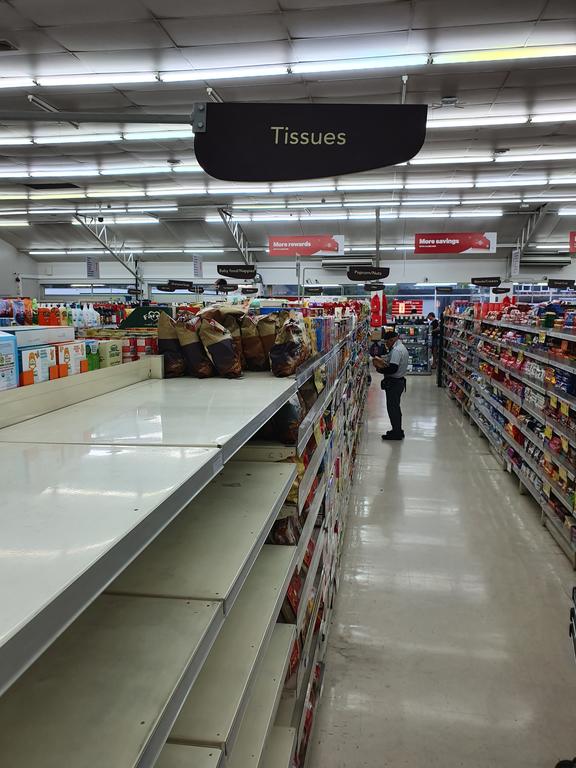 "If
customers continue to shop normally stores will have no issues
providing the usual range of products. We would ask customers to
resist the urge to stock up as this simply puts unnecessary pressure
on stores."
The
Ministry of Health insists chances of an outbreak in the community
remain low.
Professor
Michael Baker of the Department of Public Health at the University of
Otago said health officials' handling of the first case has been
"exemplary".
"This
case is a warning to New Zealand that we cannot be complacent about
the global Covid-19 pandemic that will affect most countries this
year.
"It
shows that we are now entering the next stage of our pandemic plan,
which is the 'stamp it out' stage of identifying and controlling
cases and their contacts, and investigating and controlling chains of
transmission.
"Fortunately,
both Australia and NZ have so far not seen community transmission.
But we must prepare for this eventuality."
Virus
expert Professor Miguel Quiñones-Mateu of the University of Otago
said people need to "continue with their daily lives", but
pay "extra attention to normal hygiene" and try to avoid
touching their faces with "uncleaned hands".


It's not just "international demand". Most of this junk comes from CHINA
"We
would ask customers to resist the urge to stock up as this simply
puts unnecessary pressure on stores."
Since
coronavirus emerged, the demand for hand sanitiser and face masks
significantly increased globally, a Foodstuffs spokesperson said.
Some
stores may be out of stock and others may have limited supplies.
"We
are continuing to work closely with vendors to secure more stock as
soon as possible, and exploring new brands to fill the gap, but
volumes are limited due to international demand."


https://www.stuff.co.nz/national/health/119912920/coronavirus-kiwis-urged-not-to-stockpile-at-supermarkets
She urged New Zealanders to get a flu vaccine to take the load off the system should the novel coronavirus coincide with flu season.
GPs
have run out of masks and other protective gear and say that makes
them vulnerable to the novel coronavirus, while the government holds
on to 18 million masks.
The
Ministry of Health has stockpiled nine million masks with filters as
well as nine million general surgical masks as part of its pandemic
planning.
But
the Royal New Zealand College of GPs said several clinics had run out
after using up their supply on suspected cases of Covid-19.
The
college's president, Samantha Murton, said it had been
"extraordinarily difficult" to get more and that was
leaving doctors in the community vulnerable.
It
was highly likely a GP could encounter the first case in the country
and that could happen at any time, she said.
https://www.newshub.co.nz/home/new-zealand/2020/02/doctors-pleading-with-government-to-hand-out-stockpiled-masks-for-coronavirus-protection.html
Why do people get paid for rubbish like this? If I start spouting nonsense can I get paid for it?


Professor Michael Baker said New Zealand was now moving into the containment or "stamp it out" phase.
Steps
like contact tracing, and quarantining and observation of those
people who contact with the person who tested positive were next –
and underway, he said.
https://www.rnz.co.nz/news/national/410642/new-zealand-moving-into-next-phase-with-first-positive-covid-19-coronavirus-case-expert-says
Put quite starkly people have a choice: "stockpiling" and (perhaps) surviving or being a "good, responsible citizen" and STARVING TO DEATH.
Coronavirus:
New Zealand
patient not subject to health
checks upon landing at
Auckland Airport
29
February, 2020
The person
being treated for coronavirus
wasn't subject to any health checks on arrival to New Zealand despite
being sick on the plane.
The
infected traveller flew into New Zealand on Wednesday,
February 26, from Tehran, Iran via Bali on Emirates flight
EK450.
The
patient is being treated in Auckland City Hospital and is in
isolation in a negative pressure room to prevent any spread of
the disease. They have been in the room since arriving at the
hospital.
The
Ministry of Health's director of health Dr
Ashley Bloomfield spoke with Kim Hill of RNZ on
Saturday morning, saying the patient was improving, which was "good
news".
Bloomfield
told RNZ the patient wasn't subject to any health checks when they
arrived in the country and travelled in on a Kiwi passport.
Passengers
arriving into New Zealand are given information in both English
and Mandarin about the virus and if they are identified as being
unwell they would be assessed and transported to hospital.
The
health assessments are not compulsory, and passengers can opt in
if they feel ill.
The
patient had reportedly felt unwell on the flight so was wearing a
mask.
Bloomfield
told RNZ the family's person knew exactly what to do and rang
Healthline.
The
patient presented with symptoms of COVID-19 – coughing and
having trouble breathing – which were of particular
concern.
TWO
EARLIER TESTS ON PERSON NEGATIVE
Medical
staff had a "high degree of suspicion" about the patient,
so continued to take further test samples from them, Bloomfield
previously told media.
The
person was the first in New Zealand to fulfil the definition of a
suspected case.
The
first two samples were taken from the person's throat and nasal
passage, and returned a negative result.
The
clinicians persisted with a third sample, which returned a positive
result and pneumonia was also visible on the chest x-ray.
Bloomfield
commended the clinicians in persisting.
At
least three family members were also in isolation and would be
offered testing.
The
ministry would not be re-testing any of the people it had previously
tested in New Zealand who had returned a negative result.
Bloomfield
said the process followed by the person and their family was
"exemplary".
"People
need to feel empowered and enabled to do the right thing. In this
case, we have a family who did exactly the right thing."
Bloomfield
told RNZ he was confident in New Zealand's testing and despite
it being possible there are undiagnosed cases, the risk was very
low.
The
director of health said those who were self-isolating had contributed
to New Zealand staying free of the virus and there's still the
opportunity to prevent the virus spreading to the community.
On
Friday, the Ministry of Health insisted the risk of a
community outbreak of coronavirus from the patient was
low.
Bloomfield
told RNZ at this point there's no need to avoid mass gatherings, only
those who've travelled from areas which had coronavirus areas.
"Life
goes on as normal," Bloomfield said.
AIRPORT
SCREENING
Earlier
this year, National's
health spokesperson Michael Woodhouse said
the Government had taken too long to implement the screening.
An
Auckland Airport spokesperson said it had followed "Ministry
of Health guidelines since the outbreak of COVID-19,
and provided assistance to public-health workers in the
international terminal."
Auckland
Airport continued to prioritise the safety and well-being of its
people, particularly those working in areas with high passenger
numbers, the spokesperson said.
The
airport is following specific guidance from the Ministry of
Health and is working hard to ensure people are supported and kept
well-informed as the situation evolves.
Auckland
Regional Public Health Service said the airport staff who processed
the EK450 flight were not considered at risk.
A barber
in Auckland has
temporarily closed his business after he discovered he was on the
same flight as the patient.
Calab
Vincent-Goncalves told Stuff he
wouldn't have even known he was on the same flight as the person
infected if a friend didn't see it in the news. He said the lack of
contact from the health department and the airline is a concern.
"Every
person on that flight is a potential carrier and we are just letting
them slip through the system instead of acting fast to ensure this
does not spread."
The
Ministry said it would provide further updates on Saturday
afternoon.
In
the meantime shoppers are being asked not
to panic and stockpile items.