Pefidious Albion provokes the Bear: the Kremlin responds
Pefidious Albion provokes the Bear: the Kremlin responds
This was from Hal Turner to his subscribers.
I would be very surprised if US media was covering any of this.
The British Ambassador to Russia, Deborah Bronnert, was formally Summoned to the Russia Foreign Ministry today. 
The ambassador arrived and remained in the building for only 35 minutes.  COVERT INTEL has positively confirmed what took place during the meeting.
The Russian Foreign Ministry explicitly told Ambassador Bronnert "the incident yesterday with British warship HMS Defender making unauthorized entry into Russia Territorial waters off Crimea is not to be repeated."  
Bronnert responded the waters are not Russian territory, "the British government regards those waters as Ukraine territory, and does not accept Russia's claim that Crimea has rejoined Russia."
To that, the Russia Foreign Ministry said the following: 
"We can appeal to common sense, demand respect for international law, and if this does not help, we can bomb. Not only on the way, but also on the target.  We are making clear to you right now a repeat of this type of incident could lead to a full military conflict with Russia."
This was a direct warning to Britain that Russia is prepared to actually bomb British war ships if they make additional, unauthorized, entry into Russian territorial waters.
Bronnert then attempted to engage in a repeat discussion of what she called "the illegal Russian annexation of Crimea."  The Russian Foreign Ministry told her that they "would not discuss a situation which does not exist" and then dismissed Bronnert, telling her she was to leave the building.
It does not seem to reveal anything we don't know from other sources
Russia's deputy foreign minister Sergey Ryabkov warned against NATO taking 'provocative steps'
He vowed that Russia will bomb any ships who 'violate the state borders of the Russian federation'
HMS Defender sailed within the 12-mile zone of Crimea which Russia claims but the West does not recognise 
Alexander Mercouris discussing the matter
Exit Followed By Bear: Russia Drives Away British Destroyer. Berlin & Paris Talk to Moscow
Russia has released a video showing a coast guard vessel warning the HMS Defender that it was violating its state border and firing warning shots at the British warship, challenging London's assertions about Wednesday's encounter.
The short clip, released on Thursday by Russia's Federal Security Bureau (FSB), shows the confrontation between a patrol ship and the ironically named Royal Navy destroyer that sailed past Cape Fiolent, near the Crimean city of Sevastopol on Wednesday.
"If you don't change course to starboard, I will fire," the coast guard vessel officer radioes the British destroyer, warning the warship it was about to violate Russian territorial waters. 
"You must immediately leave the territorial sea of Russian Federation," comes the second warning. Then the captain is heard issuing the orders, in Russian. "Fire warning shots. DO NOT, repeat NOT hit the Defender. Confirm, over."
Moscow has also claimed that at least one interceptor aircraft also dropped bombs onto the Defender's course, careful not to hit the invading ship.
A Russian patrol ship and fighter jet have fired warning shots after the British destroyer HMS Defender violated the country's border in the Black Sea. The UK embassy's defense attaché has been summoned by officials in Moscow.
According to Russia's Ministry of Defense, the British naval ship entered the country's territorial waters at 11:52am local time and traveled 3km inside the frontier, near Cape Fiolent, in Crimea. The peninsula is not recognized by the United Kingdom as Russian land and London believes it to be illegally occupied Ukrainian territory.
"At 12:06 and 12:08, a border patrol ship fired warning shots," the Defense Ministry said. "(And) at 12:19, a Su-24m aircraft performed a warning bombing (4 OFAB-250) ahead of the course of the USS Defender."
Four minutes later, at 12:23, the destroyer left Russian territory.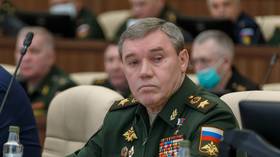 Russia has the right to use nuclear warheads in response to the use of weapons of mass destruction against it or its allies, and may even deploy them against conventional weapons if "the very existence of the state is threatened."
That's according to Valery Gerasimov, the head of Russia's armed forces, speaking to the Moscow Conference on International Security on Wednesday. Gerasimov has been in his post since 2012 and was sanctioned by the EU in 2014 for allegedly "threatening the territorial integrity, sovereignty, and independence of Ukraine."
"The country's nuclear policy is purely defensive in nature," Gerasimov explained. "[However], Russia reserves the right to use nuclear weapons in response to the use of nuclear and other types of weapons of mass destruction against it or its allies, and in cases of aggression against Russia using conventional weapons when the very existence of the state is threatened."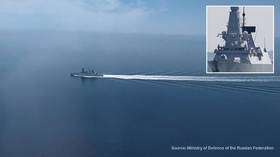 Miscommunication is poison in international affairs. A state can send a signal to another, but it's not the one intended. Given human nature, this is inevitable. But when military power is involved, the consequences can be dire.
This was the dynamic on show on Wednesday in the Black Sea. A British warship, the HMS Defender, transited through what Russia says are its territorial waters, near Crimea, sailing within 12 nautical miles of the peninsula's coast.
This provoked a tough response from the Russian military. According to the BBC, "Moscow's defence ministry said a patrol ship fired warning shots and a jet dropped bombs in the path of HMS Defender." The British Ministry of Defence has denied this, however, insisting that, "no shots were directed at HMS Defender and we do not recognise the claim that bombs were dropped in her path."
Jonathan Beale, a BBC journalist who was on HMS Defender, provided an account that lies somewhere between that of the British and Russian authorities. Beale failed to confirm Moscow's claim that bombs had been dropped, but he did record Russian aircraft buzzing the warship, saying that at times there were "more than 20 aircraft" above the British ship, as well as "warnings from Russian coastguard vessels" and "shots fired," albeit "out of range".
The status of Crimea's waters is disputed by a large number of states. Moscow maintains that they constitute Russian sovereign territory. The UK, on the other hand, continues to recognize Crimea as Ukrainian, and therefore rejects Moscow's claims to control over the area.
Jingoistic coverage from British media
A TOP Russian official has declared any UK vessel which passes too close to the Crimean peninsula will be bombed
After claiming the HMS Defender was forced to leave its waters yesterday, Russia's deputy foreign minister Sergey Ryabkov warned the state will bomb any target which disregards prior warning. In a threat to the West, Mr Ryabkov claimed no state should now violate Russia's borders – although the West does not recognise the country's claims to Crimea. If such an incursion happens again, the official insisted Russia will take complete action to protect its waters.
RUSSIA has vowed to SINK British warships the next time they sail too close to Crimea.
It comes as tensions rise following yesterday's face off in the Black Sea where HMS Defender was accused of making a "deliberate provocation" by the Kremlin as it entered waters deemed to be Russian territory.