POLAND EXPECTS ARMED ASSAULT ALONG BORDER WITH BELARUS
POLAND EXPECTS ARMED ASSAULT ALONG BORDER WITH BELARUS
From western media
Raw footage
Poland's border police announced Sunday that about 50 migrants have made it across the border into the EU from Belarus after forcing their way through fences and barriers, amid a standoff which has seen multiple thousands of migrants and asylum-seekers set up camps just meters from Polish guards. 
"Yesterday, before 5 p.m., around 50 people broke into Poland near Starzyna," Podlaska police said Sunday. "All of the people were caught by Polish uniformed services and brought back to the border, Border Guard spokeswoman Katarzyna Zdanowicz told Polish state news agency PAP," France24 details of the statement.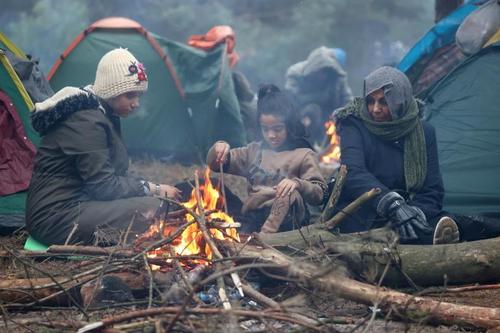 Police spokesperson Tomasz Krupa noted that the group of mostly Iraqi nationals had crossed the border "by force". This came after police recorded a total of 223 attempts to illegally enter Poland on Saturday alone. Police say they are imminently expecting another "big attempt" after videos in past days have emerged showing increasingly violent and risky tactics of migrants being used to tear down the fence, including throwing stones at Polish border police.
European officials have continued blaming the Alexander Lukashenko government for orchestrating the crisis as revenge for recent Western sanctions on Minsk. This includes recent reports of Belarusian agents handing out weapons for the migrants to confront Polish security, including tear gas canisters to hurl at the Polish side. 
The latest incident involved the following: "The spokesman for Poland's security services Stanislaw Zaryn wrote on Twitter on Sunday about reports of trucks carrying stones and rubble from Belarusian construction companies to areas near the border," according to France24.  A police official had described that "A stone hit the helmet of one officer. Fortunately, the policeman didn't require hospitalization."
On Sunday Poland's Prime Minister called on NATO to take urgent action responding to the crisis:
NATO must take "concrete steps" to resolve the migrant crisis on the Belarus border, the Polish prime minister was quoted as saying on Sunday, adding that Poland, Lithuania and Latvia may ask for consultations under Article 4 of the alliance's treaty.
Meanwhile Russian President Vladimir Putin weighed in on the crisis, following some European officials pointing the finger at Moscow for aiding Belarus in creating a border provocation:  
"We are ready to contribute to this in every way possible, if, of course, something will depend on us," Putin said, speaking in an interview with Russian television on Sunday.

"I learned about what's taking place on the Polish-Belarusian border in the media. I never discussed this issue with [Belarusian President Alexander] Lukashenko before. I spoke to him twice, only after this crisis began," Putin said, when asked to comment on claims made by some Western officials and media that Russia is responsible for the crisis.
He then directly addressed the accusations coming out of the EU: "Therefore, when we hear statements or allegations in our direction, I would like to tell everyone: deal with your internal problems, and don't try to pass questions which should be resolved by your own appropriate departments onto someone else," he stressed.
In particular Russian airline Aeroflot is accused alongside Belarusian carriers of facilitating the mass movement of Middle East migrants from their home countries to Minsk. Putin said in the interview that if this were the case, Aeroflot didn't know about it and conducts international travel as usual.
"They themselves created the conditions for thousands and hundreds of thousands of people to travel their way. And now they're looking to find the guilty party in order to absolve themselves of responsibility for the events," Putin said, speaking of the EU. "What does Aeroflot have to do with it? Has even one Aeroflot plane transported anyone? I have no idea, but, possibly, someone could have used some kind of planes and come through third countries. What do we have to do with anything? I'll repeat: this is an attempt to remove one's own responsibility for those events which are currently taking place."
 Authored by Charles Kennedy via Oilprice.com,
The threat of Belarusian leader Alexander Lukashenko to cut off transit gas supply from Russia to Europe has not been coordinated with Moscow, Kremlin spokesman Dmitry Peskov said on Friday.
Belarus threatened on Thursday to halt natural gas supply at a key pipeline from Russia to Germany passing through Belarus, if the European Union imposes additional sanctions to the country in response to the migrant crisis at the Belarus-Poland border.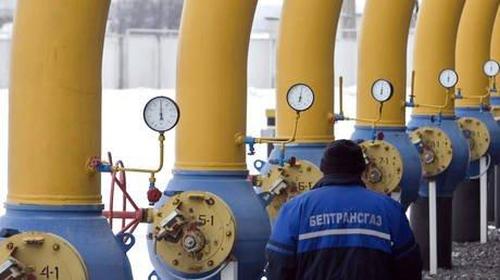 "We provide heat to Europe, and they are threatening us with the border closure. What if we block natural gas transit?" Lukashenko said on Thursday, as quoted by Belarusian state news agency Belta.
The Belarusian statement has not been coordinated with Moscow in any way, Peskov told reporters on Friday, as carried by Russian news agency TASS. Belarus is an ally of Russia, but it is also a sovereign state, the Kremlin spokesman said.
"Russia remains a reliable energy supplier to Europe, regardless of the actions of Belarus," Peskov said, adding that "Russia's reliability as a supplier and partner in the current and future contracts cannot be called into question." And Putin himself weighed in, per Politico: 
"He can, I guess, it's no good, though, and I'll talk to him about it … in case he just said it out of anger," Putin told Russian TV channel Rossiya 1 in response to Alexander Lukashenko's threat to turn off the gas taps.

"This would be a violation of our transit contract and I hope it will not come to that," Putin said, referring to agreements governing the flow of Russian gas along pipelines running through Belarus. Cutting off the gas "would not contribute to the development of our relations with Belarus as a transit country," he warned.
With the threat from Belarus's leader, the specter of another hurdle to Russian supplies to Europe is being raised days after Russia's giant Gazprom largely relieved the European gas market by saying that it had approved and started implementing a plan to send natural gas into five storage sites in Europe.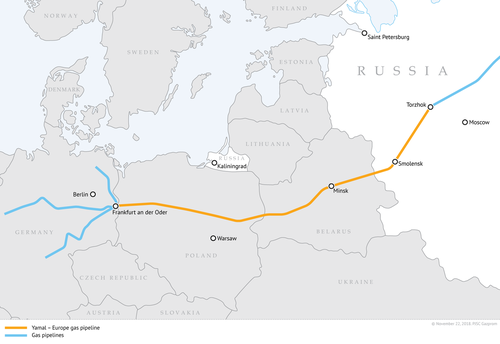 Despite the calmer gas markets in the past few days, uncertainty over Russia's intentions, and now the Belarus-EU spat could make Europe's gas prices extremely volatile again.
Early on Friday, gas prices at the key hubs in the UK and the Netherlands rose as flows of Russian gas on the Yamal-Europe pipeline via Belarus and Poland remained low for a second consecutive day and half the volume from Wednesday. Forecasts of cooler weather also drove prices higher as colder temperatures signal higher gas demand.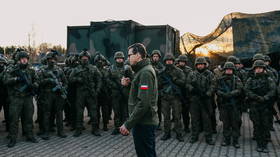 Words are not enough to resolve the refugee crisis on Poland's border with Belarus, Prime Minister Mateusz Morawiecki has said, demanding that NATO take "concrete steps" to deal with the issue.
"There is no doubt that things have gone too far," Morawiecki told the Polish PAP news agency on Sunday, adding that "words alone are not enough to stop" Minsk, which Warsaw has accused of orchestrating the border crisis. 
The prime minister also revealed that he and the leaders of Latvia and Lithuania were considering invoking Article 4 of the NATO Treaty to encourage the alliance to take some action over the situation on Poland's eastern border with Belarus. 
Article 4 says parties to the treaty are to hold consultations "whenever, in the opinion of any of them, the territorial integrity, political independence or security of any of the parties is threatened." 
It is not enough to just "publicly express our concern," Morawiecki said, adding that "commitment" and "concrete steps" were needed from all the NATO members. He said he was in constant contact with other European leaders and recently spoke to European Council President Charles Michel and EU Commission head Ursula von der Leyen. He said US President Joe Biden was aware of what Morawiecki described as Minsk's "provocative actions."
The Polish head of government also said new sanctions against Belarus were on the table and would be considered at the next emergency summit of the European Council requested by Poland. "We will certainly discuss further sanctions, including the complete closure of the border," he said. 
Morawiecki accused Minsk – and Moscow – of waging a "disinformation" campaign against Poland to blame it for the crisis. He also urged Western media not to fall for Belarusian President Alexander Lukashenko's "manipulations" in exchange for access to the refugee camps, adding that some recent articles in the US gave him chills. He also encouraged the media to rely on "reliable confirmed information" provided by Poland through a specially created state-run portal. 
Thousands of asylum seekers, mostly from the Middle East, have been camping out at the Belarusian border. The EU accuses Belarus of orchestrating the crisis. Minsk has repeatedly denied this, explaining it simply can't afford increased border security due to crippling sanctions from Brussels. Belarus has also accused the EU of waging its own "hybrid war" on Minsk by supporting the Belarusian opposition.
Antony Blinken said Belarus is using migration as a weapon and said US is 'looking at tools it has' to respond
Kamala Harris condemned Lukashenko's 'troubling actions' on the border and warned 'world is watching' 
But Belarus hit back, as defence minister said West is trying to 'initiate conflict' and he will 'respond harshly'
Came after Belarus and Russia held military drills near border, with UK troops deployed to beef up defences
Russia also flew two nuclear-capable bombers close to the UK with RAF Typhoons deployed to escort them
US also warned that Russia is preparing to invade eastern Ukraine after building up forces along its border
America has warned Vladimir Putin will be making a 'serious mistake' if he invades Ukraine after the Russian president provoked the West by deploying troops in Belarus and sending bombers over the North Sea. 
Vice President Kamala Harris said the 'eyes of the world' are on the Belarus border and the US is 'looking at the tools it has' after a day of rapid-fire developments led to fears of war breaking out on Europe's eastern border.
Secretary of State Antony Blinken accused dictator Alexander Lukashenko of using migration as a political weapon against the EU as Vice President Harris condemned his 'very troubling actions' on Poland's border.   
Harris spoke about the situation at a press conference in Paris with French President Emmanuel Macron – after Russia conducted bombing exercises with Belarusian forces and built up troops along its border with Ukraine – prompting the US to assert its 'ironclad' commitment to Ukrainian security.
'On the issue of Belarus and what is happening at the border with Poland, we are very concerned about that and closely paying attention to it,' she said. She also gave a warning to President Alexander Lukashenko's government. 
'The Lukashenko regime, I believe is engaged in very troubling activity. It is something that I discussed with President Macron, and the eyes of the world and its leaders are watching what is happening there,' she said. 
Defiant apparatchiks in Minsk hit back, as Defence Minister Viktor Khrenin accused western nations of trying to 'initiate conflict' using 'ultimatums, threats and blackmail' while vowing to 'respond harshly to any attacks'.
It comes after Russia and Belarus held snap paratrooper drills just 20 miles from a border crossing where thousands of migrants are gathered, saying it was to 'test the readiness' of their troops, at the same time as two Russian bombers flew close to the UK – with RAF Typhoons scrambled to escort them.
A 'small' detachment of British troops, thought to be from Royal Electrical Mechanical Engineers, were also deployed to the Polish border to help beef up the defences, the Ministry of Defence confirmed.
Separately, the US also warned that Putin could be preparing for an attack on eastern Ukraine after he was spotted massing thousands of troops, tanks and artillery pieces near the border. Ukraine's defence minister accused Russia of waging 'hybrid warfare' on Europe, saying Putin is ultimately responsible for the Polish border crisis. 
Elsewhere today:
The EU said it is alarmed by Russian military activities close to Ukraine, is watching the situation closely and 'looking at further steps' along with the United States and Britain 

Ukraine's Foreign Minister Dmytro Kuleba said Russia is waging 'hybrid warfare' on Europe using migrants

Kamala Harris said 'eyes of the world' are on situation at Belarus-Poland border and US is watching 'closely'

US and European delegations accused Minsk of endangering lives for political ends at UN Security Council 

Former UK defence minister Tobias Ellwood called Russia's moves 'deeply concerning' and a 'test of resolve' 

Turkey barred citizens from Iraq, Syrian and Yemen from flying to Belarus amid fears they will head
Writing for The Telegraph, Liz Truss, Britain's Foreign Secretary, had demanded that Russia "press the Belarusian authorities" to resolve the situation on the border with Poland as The Kremlin purportedly had a "clear responsibility" to thus respond to what she claimed was a "shameful manufactured migrant crisis".
Russian Foreign Ministry spokeswoman Maria Zakharova has responded to remarks made by British Foreign Secretary Liz Truss, who earlier weighed in on the migrant crisis unfolding on the Poland-Belarus border, urging Russia's President Vladimir Putin to step in and end Minsk's attempt to use "desperate migrants as pawns" to destabilise the region.
"Russia has a clear responsibility here. They must press the Belarusian authorities to end the crisis and enter into dialogue," wrote Truss in The Telegraph, as she deplored what she referred to as a "carefully crafted crisis" that she blamed on the government of Belarus President Alexander Lukashenko.
"The UK's intervention in Iraq – now that was 'carefully crafted'. 45 thousand British soldiers helped the United States occupy that country, kill its citizens and plunder its riches. Britain bears a clear historical responsibility for everything that happens from that moment in the region – the death of Iraqis, the destruction of Iraqi statehood, endless flows of refugees, the emergence of Daesh*, humanitarian disasters in this part of the world," wrote Zakharova on Telegram on Sunday.