President of Ukraine Says Country "will become a member" of NATO
President of Ukraine Says Country "will become a member" of NATO
This is BIG TROUBLE
15 June, 2021
President Volodomir Zelensy of Ukraine announced this afternoon that the United States will back Ukraine's membership into NATO.
On his official Twitter feed, Zelensky posted the following:
This announcement was deliberately timed to stab Russia in the face, just days before a "summit" between US (Illegitimate) President Joe Biden and Russian President Vladimir Putin.
For years, Russia has made clear that entry of Ukraine into NATO would mean war.
Just lack week, in an interview with NBC News, Putin re-stated that allowing Ukraine into NATO would then cause the positioning of US Missile Defenses at a location which would only afford Moscow "seven (7) to ten (10) Minutes warning to defend itself against inbound US missiles."  Putin went on to say this "is a red line for us."
That quote is repeated in a story on Ukrinform, a Ukrainian multimedia platform for broadcasting, in a story TODAY which reports:
In addition, according to Interfax, the Russian president said that there were no guarantees that Ukraine would fail to join NATO and that U.S. statements claiming that President Biden had not spoken to Zelensky about granting Kyiv a plan to join NATO could be linked to a future summit of the presidents of Russia and the United States.
As Putin noted, if Ukraine joins NATO, "the flight time of missiles from Kharkiv or Dnipropetrovsk to central Russia and Moscow will be reduced to 7-10 minutes", calling it a "red line" for the Russian authorities.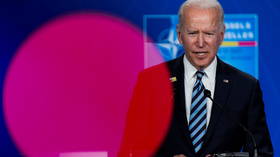 US President Joe Biden has poured cold water on claims by his Ukrainian counterpart Volodymyr Zelensky that NATO has "confirmed" Kiev's membership path, by saying that "it remains to be seen" whether Ukraine will actually qualify.
"NATO leaders confirmed that [Ukraine] will become a member of the Alliance & the MAP is an integral part of the membership process," Zelensky tweeted on Monday afternoon, as leaders of the military bloc met in Brussels. Ukraine "deserves due appreciation of its role in ensuring Euro-Atlantic security," he added.
****
Meanwhile, a NBC interview comes, not only with massive edits but with propaganda that tells you how you should interpret it
Worldwide Exclusive: Vladimir Putin Denies Accusations About Cyberattacks
In an NBC News worldwide exclusive, Russian President Vladimir Putin sat down with TODAY senior international correspondent Keir Simmons for a rare interview addressing many issues that will be on the table with President Biden, including human rights and recent cyberattacks on U.S. infrastructure. Putin denied "unfounded accusations" about hacking and said Russia is afraid of American cyberattacks. He also said he was "of course" open to a swap of Russian and U.S. prisoners, and defended Russia's handling of dissenters such as Alexei Navalny
By contrast, Russian TV provides the ENTIRE, uncensored video