Putin's historic decision
Putin's historic decision
A lot of people would say they have been asking for this since 2014.
The local response is something like this
Putin Orders Peacekeeping Operation In Ukraine's Breakaway Regions
Update (525pm ET): In the latest development out of the Donbas, Reuters reports that under its new agreement with separatist leaders, Russia has a right to build and establish military bases in eastern Ukraine.
Meanwhile, as the night progresses in eastern Ukraine, we are now getting footage of "peacekeepers" being bussed in to the Donbas across the border.
* * *
Update (422pmET): It appears that boots are about to hit the ground. According to various media outlets, Putin has ordered a the Russian military to "secure the peace" in the Eastern Ukraine's breakaway regions of Donetsk and Lugansk.
The Russian president officially signed the decree recognizing the independence of two breakaway regions earlier on Monday. He has instructed the Russian Defense Ministry to send peacekeepers into the Donbass, while telling the Ministry of Foreign Affairs to establish diplomatic relations with both Donetsk and Lugansk People's Republics.
And while Russian troops appear headed for the Donbas, Ukraine troops are now moving toward Kharkiv, located due north of the separatist areas.
* * *
Update(2:30pmET): It's official: Putin has confirmed the change of status recognition while warning Kiev and the West that Russia's military will act against any further aggression. He warned that Ukraine's government must now halt all military actions against Donbas or whatever happens next will be on them.
"Modern Ukraine was completely created by Russia," Putin stated at the outset of his speech.
PUTIN SAYS UKRAINE WAS NOT ABLE TO ACHIEVE STABLE STATEHOOD AND HAS THEREFORE HAD TO RELY ON FOREIGN COUNTRIES LIKE THE UNITED STATES

PUTIN: UKRAINE HAS BECOME 'A COLONY WITH A PUPPET GOVERNMENT'

PUTIN SAYS UKRAINE PLANS TO CREATE ITS OWN NUCLEAR WEAPONS

PUTIN SAYS WE WERE PROMISED NATO WOULD NOT EXPAND PUTIN SAYS THE OPPOSITE HAPPENED

PUTIN: I WILL SAY SOMETHING IVE NEVER SAID FOR THE FIRST TIME: I ASKED CLINTON HOW WOULD YOU FEEL ABOUT RUSSIA JOINING NATO?

PUTIN SAYS WE SAW FIVE WAVES OF NATO EXPANSION RECENTLY

U.S. DOES NOT NEED SUCH A BIG COUNTRY AS RUSSIA IN NATO

'WHY MAKE AN ENEMY OF US

PUTIN SAYS RUSSIA HAS EVERY RIGHT TO PROTECT ITS SECURITY, THAT'S WHAT WE'LL DO

PUTIN: UKRAINE DOESNT WANT A PEACEFUL RESOLUTION

PUTIN: RUSSIA WILL TAKE STEPS TO ENSURE ITS SECURITY

PUTIN SAYS RUSSIA WILL RECOGNISE INDEPENDENCE OF TWO BREAKAWAY REGIONS IN EASTERN UKRAINE
LIVE FEED:
The Western powers have expressed surprise and dismay at the move, as sanctions packages are being prepped in Washington and Europe.
Official Kremlin statement confirming Russian change of status in Donbas: 
* * *
Update(12:38pmET): Despite the evening growing late Moscow time, it appears Russia is readying a major decision on the looming question of the independence of the two breakaway republics in eastern Ukraine. The AFP is reporting that Putin will make a televised address "soon" according to state media sources. Likely it is to be carried via Russian state channels, with reports suggesting it will happen starting at 9pm local time (or 1pm ET).
PUTIN TOLD SCHOLZ AND MACRON HE WILL SIGN A DECREE ON EASTERN UKRAINE REGIONS SHORTLY, WESTERN LEADERS WERE DISMAYED – RIA CITES KREMLIN

PUTIN PLANS TO SIGN UKRAINE SEPARATIST RECOGNITION: KREMLIN
As fighting in Donbas has continued into evening, Ukrainian government officials reported that a civilian has been killed by shelling during an attack on government-held Novoluganske, which lies a couple dozen miles north of Donetsk. 
Journalists are now looking for ominous signs of what might be about to come…
The official account of Russia's Ministry of Foreign Affairs changed its profile picture to what appears to be tomorrow's date. pic.twitter.com/VXjQ39iUwb

— Ana Fota (@anafota4) February 21, 2022
* * *
Update(10:40amET): Putin said during his addressing the Russian Security Council that "I will make a decision today" over whether or not to recognize the Donetsk and Luhansk separatist republics at a moment of heavy fighting with Ukrainian national forces. 
There were indications from the meeting that Russia would give the West a three day ultimatum and window before recognizing the separatist regions in eastern Ukraine – perhaps as a chance for last minute diplomacy to proceed; however, with Putin's words it appears we'll learn the fate of the region sooner than later.
However, Russia's top diplomat Sergey Lavrov appears to be a voice of caution while other officials within the security council were in favor of independence. 
Top officials in the meeting were asked whether they support the pro-Russian separatist republics…
It reportedly led to some uncomfortable moments as the world now awaits Putin's decision:
If Putin does pull the trigger on recognition, it could virtually assure some level of a war or serious conflict, given that the breakaway republics would come under more intense attack from Ukraine's army, leading to Russian intervention in defense of the "newly recognized" regions – if we soon get to that point.
Ukraine is now urging an immediate UN Security Council meeting as tensions soar and war looks to be on the horizon…
* * *
Update(9:48amET): Separatist leader Denis Pushilin has issued a formal request to President Vladimir Putin calling on Russia to recognize the Donetsk People's Republic. The Luhansk republic has simultaneously published the same request, at a moment Putin is holding an urgent session of the Russian Security Council. This followed quickly on the heels of what Russia's southern command said was a serious attempt of Ukrainian armored vehicles to breach its border, that resulted in five Ukrainians killed.
However, the Ukrainian government and army rejected the entirety of the allegations as "fake news" – rejecting that its forces are even in the area where it's said to have occurred (though without addressing the possibility that they could have been irregular forces). But Russia's FSB Director Bortnikov Russian responding by saying the Russian military "destroyed Ukrainian forces that tried to infiltrate the border and took one Ukrainian POW" – thus doubling down on the claims.
That a captured Ukrainian soldier could be in Russian custody would obviously provide verification, if true. But it would also be seen by the West as a massive escalation possibly leading to more direct NATO involvement.
Currently Putin is speaking at a live televised meeting of the council, where he started by staying Ukraine is planning not to uphold its end of the Minsk accords. 
The question is also reportedly on the table of whether or in what way the Donbas region could achieve independence, even with at one point in the security council session an official raising the possibility of direct annexation. Putin said "we need to consider if we recognize the independence of the two breakaway Ukrainian regions," according to a rush translation of his words. 
PUTIN: WE MUST DECIDE ON RECOGNIZING SEPARATISTS

PUTIN: WEST IS MAKING `THREATS, BLACKMAIL'

RUSSIA'S MEDVEDEV: WE KNOW WHAT WILL HAPPEN WHEN WE RECOGNIZE DONBASS INDEPENDENCE, THE PRESSURE WILL BE UNPRECEDENTED, BUT WE KNOW HOW TO FACE IT
Putin further repeated while addressing the forum that "if Russia faces the danger of Ukraine joining NATO, the threat for our country will increase substantially." He was perhaps addressing a hugely provocative statement made by Ukrainian Foreign Minister Dmytro Kuleba to "60 Minutes" which aired Sunday.
Kuleba on a major American television show reaffirmed Ukraine's desire to enter NATO, which without doubt inflamed tensions further from Moscow's point of view…
In response to the rapidly escalating crisis, the ruble has tumbled as much as 3%, extending its worst 3-day slump since March 2020…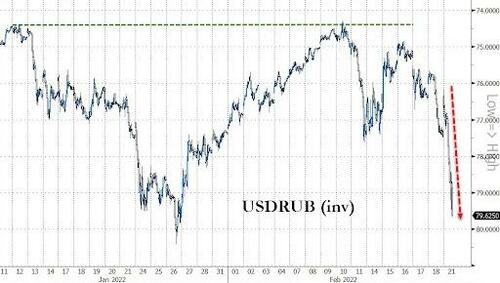 … while the Moscow Exchange tumbled as much as 10%, its biggest drop since 2008…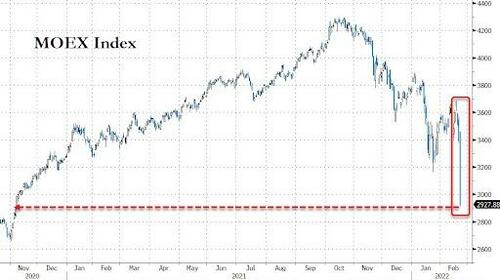 … amid a bloodbath of most Russian stocks.
* * *
Earlier:
In what provides Russia an 'opportunity' to pull the trigger on overt intervention in eastern Ukraine (assuming it's actually desiring to do so), rebel leaders in the breakaway Donetsk region on Monday urged Moscow's urgent military help amid worsening shelling from Ukrainian national forces, and as fighting escalates along the line of contact.
This as Interfax in a breaking report cites Russian defense officials who say five "saboteurs" were killed by border guards as they attempted to enter Russia's territory. Though details are as yet unconfirmed at this early point, Russia's military says Ukrainian army vehicles attempted to breach sovereign Russian territory. Ukraine is disputing the entire narrative, however, calling it fake news and that its forces are not in the Rostov area. 
RUSSIA SAYS KILLED FIVE PEOPLE WHO TRIED TO VIOLATE BORDER: IFX
And Bloomberg details of the breaking report: 
Russian forces killed five "saboteurs" and destroyed 2 armored personnel carriers of the Ukrainian forces who tried to violate Russian border, Russian army's Southern Military District says, according to Interfax report
The Russian MoD statement said the alleged "attack occurred in the Mityakinskaya area at 6 am this morning. Infantry fighting vehicles were destroyed by anti-tank missiles."
The separatists are now formally asking Moscow for military and financial assistance against the "Ukrainian attacks"; however, Ukraine's army is currently denying that it's conducting offensive operations in the Donbas, according to RT and regional correspondents.
Further the Kremlin is citing what it says is a major escalation, after reports that a Ukrainian shell hit and destroyed a Russian border checkpoint in the Rostov region. The Russian side now says Ukrainian munitions are landing on its sovereign soil, which some say could be used as a casus belli if Putin so chooses. 
According to Russian state sources, Donbas officials and separatist commanders are intensifying their plea for Russian help, which if initiated could crucially in turn trigger heightened NATO intervention in the conflict: 
Speaking to the Solovyov Live YouTube channel on Monday, Eduard Basurin, the spokesman for the Donetsk People's Militia said that Moscow should provide moral support "first of all," but that "I would not refuse any – military assistance is also needed, in different forms."

The official also claimed that there is a war taking place in Donbass, adding, "the situation isn't just difficult, it is genuinely critical."
Both breakaway republics began evacuating citizens to Russian territory, announced on Feb.18, citing fears of reprisal attacks by Ukrainian forces, with at this point a believed tens of thousands of civilians having been transferred, mostly via large passenger buses. 
One Russian media report cites that about "61,000 residents of the LPR and DPR have crossed the border into Russia as part of evacuation amid escalation in eastern Ukraine."
If true this would suggest a major logistical operation still in progress amid the rapidly deteriorating security situation in the war-torn Donbas, and still with unprecedented numbers of Russian troops mustered near the border in Russia's southern regions. 
The decision comes amid fears of a worsening conflict in Ukraine's war-torn east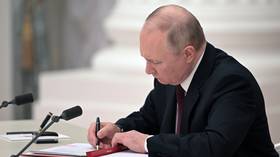 Russian President Vladimir Putin has announced that Moscow has recognized the two self-declared breakaway Donbass republics in Ukraine's east as sovereign nations, as a military standoff across the contact line continues to escalate.
Speaking as part of a televised address to the nation on Monday evening, Putin signed the decree, saying that "I deem it necessary to make a decision that should have been made a long time ago to immediately recognize the Donetsk (DPR) and Lugansk (LPR) People's Republics." Lawmakers will now be asked to consider statements of friendship and support with the two regions.
The move, he said, was a direct result of the failure of the 2014 Minsk agreements, designed to put an end to fighting. "They are not interested in peaceful solutions – they want to start Blitzkreig," he claimed. "Every day they are amassing troops in the Donbass," Putin went on.
At the same time, he slammed Ukraine for "extreme nationalism," "Nazism" and "Russophobia," pointing to the shuttering of Russian-language news outlets and laws he said discriminate against Russian speakers.
The head of state also alleged that Kiev is sending saboteurs to target Russian infrastructure and attempting to "drag foreign states into conflict with our country." Ukraine's ambitions to join NATO, he insisted, would mean an "immediate threat of attack against our country."  
Putin began the address by setting out his version of Ukrainian history and the former Soviet Republic's ties to Russia."Let me stress once again that Ukraine is not just a neighboring country for us. It is an integral part of our own history, culture, and spiritual world," he said, emphasizing that Ukrainians are "people Russians have blood and family ties with," as well as friends, neighbors and colleagues.
Putin asserted that "modern Ukraine was completely created by Russia, or to be more exact, by Bolshevik Communist Russia." According to him, "Lenin and his supporters did it in a crude way, alienating Russia's historical territories. Millions of people living there weren't asked at all."
The Russian President pointed out that since the fall of the USSR, Kiev has turned its back on its role in the Soviet Union, toppling statues of leading Marxists. "If you want de–communization, we are happy with that. But don't stop halfway – we are ready to show what de–communization really looks like," he went on.
Moments before the speech aired, the Kremlin revealed that Putin had given notice to French President Emmanuel Macron and German Chancellor Olaf Scholz that he intended to sign a decree recognizing the DPR and LPR "in the near future." According to the official version of events, the two other world leaders "expressed their disappointment with this development," but emphasized their willingness to maintain diplomatic efforts.
The announcement comes as forces loyal to the two breakaway regions and Kiev's troops accuse each other of carrying out heavy shelling across the front lines. On Monday from Denis Pushilin and Leonid Pasechnik, the leaders of the DPR and LPR, calling for Moscow's backing for their independence. Putin chaired a televised meeting of the Russian Security Council to consider the request, in which he was urged by top officials to grant both regions recognition.
The two republics declared their autonomy from Kiev's control in 2014, following the events of the Maidan, when violent street protests toppled the democratically elected government in Ukraine. However, until now, neither Russia nor any other UN member nation has recognized them as sovereign nations, and Moscow has backed the Minsk agreements designed to bring a diplomatic solution to the conflict and reconcile the Donbass with Kiev.
Last week, Putin urged the Ukrainian government to begin talks to put an end to the increasingly tense situation. "All Kiev needs to do is sit down at the negotiating table with representatives of the Donbass and agree on political, military, economic, and humanitarian measures to end this conflict. The sooner this happens, the better," he said on Friday.
Western leaders have been warning for months of a possible Russian invasion of Ukraine, and have said that Moscow could use "false flag" operations against the Donbass territories to justify sending its army in. Russia has repeatedly denied that it has any aggressive intentions, and has called for security agreements that would limit the expansion of NATO, the US-led military bloc, into Eastern Europe.
On Friday, US President Joe Biden announced that he had intelligence that had led him to believe that Russian President Vladimir Putin had decided to attack, and that it would take place in the next several days. The Kremlin has consistently denied it is planning to launch an offensive, branding intelligence reports released by Washington as "hysteria."
Over the past several weeks, Russian officials have been seeking assurances from the West that it says are designed at ensuring stability on the European continent. Putin said that these had been "rejected"  and that "the level of threat for our country is becoming greater and greater."
In the proposals, sent to Washington and NATO in December, Moscow called for a halt to the US-led military bloc's expansion, limits on missile placement, and for current bloc members to renounce any military activity on the territory of Ukraine, as well as in other Eastern European, Transcaucasian, and Central Asian states.
Another clause also demanded that Kiev would never be admitted to NATO, which Russia has long stressed is a "red line."
"Some NATO member states are concerned about Ukraine joining, and we have got signals from European capitals saying 'What are you worried about, it won't join NATO tomorrow' – but what about the day after tomorrow? And the day after that?" he stressed.
Putin also confirmed "for the first time in public" that, in 2000, he had floated the idea of Russia joining NATO to then-President Bill Clinton during a visit to Moscow. According to him, the West has since created a vast political gulf to distance itself from Russia and undermined the relationship.
Russia Moves to Recognise Donbass Republics as Shelling Continues and Diplomacy Flounders
The reaction of Russell "Texas" Bentley who has been in Donetsk since 2015
RUSSIA RECOGNIZES DONBASS REPUBLICS TODAY, UKR ARMY ATTACKS TOMORROW