Radio New Zealand talks organ harvesting in China
Radio New Zealand talks organ harvesting in China
Radio NZ will talk about the Uighurs and even about organ harvesting but the infiltration into NZ society remains taboo.
Labour MP Louisa Wall accuses China of organ harvesting from prisoners
Labour MP Louisa Wall has accused China of harvesting organs from political prisoners among the Uyghur and Falun Gong populations.
The MP, who is part of a global network of politicians monitoring the actions of the Chinese Communist Party (CCP), also says her own government needs to do more to counter what she calls the slave labour trade in China.
"Forced organ harvesting is occurring to service a global market where people are wanting hearts, lungs, eyes, skin," Wall said.
China expert Professor Anne-Marie Brady of the University of Canterbury, describes the New Zealand government's political strategy on China as something close to a cone of silence.
"Our MPs seem to have a pact that they're not allowed to say anything at all critical of the CCP and barely mention the word China in any kind of negative terms."
Prime Minister Jacinda Ardern and Foreign Minister Nanaia Mahuta refused to do interviews for the new Red Line podcast, which examines the influence of the CCP in New Zealand.
But Wall has broken ranks.
"I'm concerned that there appears to be a million Uyghurs being imprisoned in what they call education camps, but essentially, used as slaves to pick cotton."
Wall, along with National's Simon O'Connor, is one of two New Zealand MPs in the International Parliamentary Alliance on China, a network of more than 200 politicians from 20 parliaments, set up to monitor the actions of the CCP.
She thinks New Zealand should be doing much more to counter the slave labour trade from Xinjiang, in the north west of China.
"What the UK and Canada have done is they've got modern slavery acts and they want to ensure the corporates who are taking those raw materials, actually ensure that the production of those raw materials complies with the modern slavery act. I like that mechanism."
She says the government also needs to pass new laws to stop New Zealanders getting organ transplants sourced from China or from any country that cannot verify the integrity of its organ donor programme.
China sources some organs from political prisoners, she says.
"The Uyghur population, and also the Falun Gong population, both have been designated as prisoners of conscience," she said. "We know that they are slaves. We also know that they're being used to harvest organs."
She bases that on findings from a recent independent tribunal chaired by Sir Geoffrey Nice, a British QC, who previously worked with the International Criminal Court.
His 600 page report, called the China Tribunal, says the killing of political prisoners for organ transplants is continuing in China and that many people have died "indescribably hideous deaths" in the process.
"Based on a report from Lord Justice Nice from the UK, we now know that forced organ harvesting is occurring to service a global market where people are wanting hearts, lungs, eyes, skin," Wall said.
The Chinese embassy in New Zealand ignored requests to talk about this issue.
China announced back in 2014 that it would no longer remove organs from executed prisoners and when the China Tribunal report was released in 2018 the CCP dismissed it as inaccurate and politically motivated.
RNZ
This is a far more damning report
Former Police Officer Recounts Witnessing "Industrialized" Organ Harvesting In China
Authored by Eva Fu via The Epoch Times,
At the sound of gunshots, prisoners fell lifeless to the ground. Their bodies, still warm, were carried to a nearby white van where two white-clad doctors awaited. Behind closed doors, they were cut open, the organs carved out for sale on the transplant market.
The grisly scene, which sounds more like the plot of a horror movie, took place in China more than 20 years ago at the direction of state authorities. It was witnessed by Bob (pseudonym), then a police officer who provided security at the execution sites where death-row prisoners were executed.
"The harvesting of death-row prisoners' organs was an open secret," Bob, a former public security officer from central China's Zhengzhou City who is now based in the United States, told The Epoch Times in an interview.
Bob described being an unwitting participant in an "industrialized" supply chain that converted living humans into products for sale in the organ trade. The players in this macabre industry include the judicial system, police, prisons, doctors, and the Chinese Communist Party (CCP) officials who issue the directive.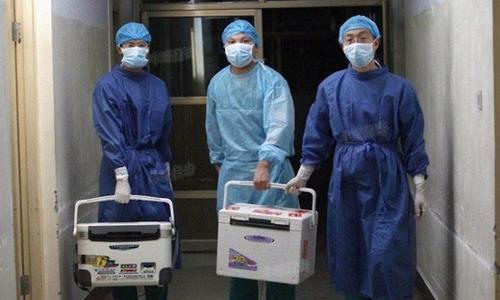 Doctors carry fresh organs for transplant at a hospital in Henan Province, China, on Aug. 16, 2012. (Screenshot via Sohu.com)
The former officer used a pseudonym in sharing his experience to protect his safety. The Epoch Times has verified his police ID and other personal information.
His account from the mid-1990s sheds light on one stage in the disturbing evolution of the CCP's long-running practice of harvesting organs from non-consenting donors. While Bob witnessed organ extraction from prisoners who were already dead, in the following years the regime would go on to implement—and deploy on a mass scale—a practice far more sinister: harvesting organs from live prisoners of conscience, particularly Falun Gong practitioners.
The Execution
Bob joined the police force in 1996 and worked as a civilian police officer. From time to time, he assisted in maintaining order at a court where executions are confirmed and various execution sites in the city. Later, in 1999, as a result of an online post critical of the authorities, Bob himself was put in detention for more than a year. Inside, he was able to observe the handling of death-row prisoners,, and thus piece together the process from conviction to execution to organ harvesting.
After being sentenced to death, an inmate would be slapped in hand and ankle cuffs, the latter weighing up to 33 pounds to prevent a possible escape. One or two other prisoners would keep them on watch at all times. A blood test—a step to identify possible donors—and a check up on their mental and physical health would also run during this time at a dedicated medical room in the detention center.
"As far as I know, no one told the death-row prisoners their organs would be extracted," Bob said.
Executions typically occurred ahead of major holidays, he said.
Death-row prisoners would have to attend a public hearing at a higher court, where a judge would confirm or overturn the death sentence assigned by the original court.
Those destined for execution—ranging from a handful to more than a dozen each time—were then marched out of the courthouse to a procession of 20 to 30 vehicles waiting outside, according to Bob. The convoy also transferred local officials assigned to witness the executions. They included the vice director from the local public security bureau, the judge, and other personnel who handled the cases.
All the cars had red cloth or paper taped over the windows and carried a numerical marking.
The prisoners determined to be suitable to have their organs extracted (as a result of the tests) would get injected with a drug said to relieve their pain. Its actual goal, though, was to prevent blood to coagulate after brain death and damage the organs, Bob said.
Those slated for organ harvesting were typically young, healthy men, usually in their 20s and 30s without a history of major illness, according to Bob.
At the execution site, prisoners were arranged in a line to be shot in the back of the head.
The closest convict would stand roughly three to five meters (3.3 to 5.5 yards) away from Bob.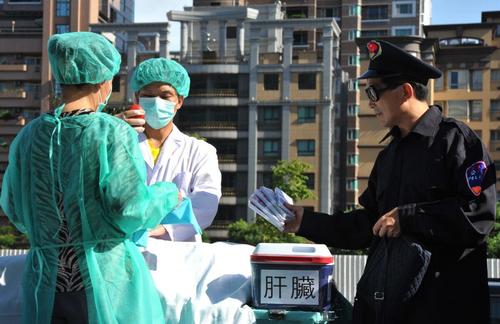 Adherents of the spiritual practice Falun Gong act out a scene of stealing human organs to sell during a demonstration in Taipei on July 20, 2014, against China's persecution of the group. (Mandy Cheng/AFP via Getty Images)
The White Van
After the shootings, an on-site medical examiner would check the bodies to confirm death. After this, a black plastic bag would be used to cover the prisoners' heads. The bodies slated for organ extraction were then rushed to a white van waiting nearby. The van's rear door was usually kept shut, and its window curtains were pulled down to keep out prying eyes.
Bob once caught a glimpse inside when the rear door chanced to be open. He saw an operating bed and two doctors donning a white gown, masks, and gloves. Plastic wrapping covered the ground in case of blood spills. The doctors swiftly closed the doors after realizing someone was watching.
No one but the doctors would know what happened afterward. When the bodies came out, they were in a black cadaver bag and sent directly for cremation.
The dead convicts were lumped together and burned in one kiln. As a result, it was impossible to distinguish which ashes belonged to who, Bob said. "They simply grabbed some from the heap, and gave it to each family."
The families were none the wiser.
"The great majority of these death row prisoners' families would have no idea their relative's organs were extracted when they collected the ashes," Bob said.
With rare exceptions, those inmates had no chance to see or talk with their relatives during their last moments. Nor could the family see the bodies after their loved ones' death.
"All the family got was a box of ashes."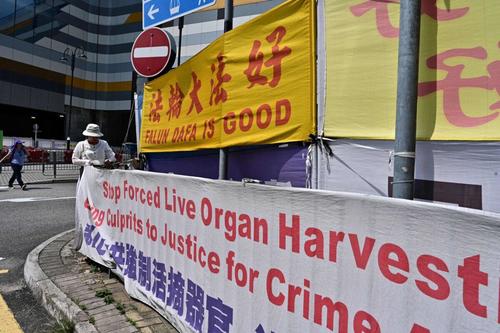 A woman adjusts banners in support of the Falun Gong spiritual movement, a group banned in mainland China, in Tung Chung, an area popular with tourists from the mainland, in Hong Kong on April 25, 2019. (Anthony Wallace/AFP via Getty Images)
A Well-Oiled Machine
The process was quick—because fresh organs must be promptly transported to the hospital for surgery—and meticulous planning was key for it to run smoothly, Bob said.
"To them, it's plenty clear which organ of a certain prisoner [they were going to harvest]," he said.

"It was very explicit which [prisoner's body] would be placed on the van … the people on the van knew exactly which organs to take because everything was arranged beforehand."
From this, Bob surmised that these practices had been running for a long time before he started the job.
"The workflow, the adeptness they showed, and the closeness in their cooperation could not have happened in just one or two years," he said. Even the price of the harvested organs was known beforehand, Bob added.
China performed its first human organ transplant in 1960. Since the country did not have an official organ donation system until 2015, most of the organs for transplant came from executed prisoners, the regime has claimed. But from the 2000s, the domestic transplant industry saw a sudden boom and the number of executed prisoners simply couldn't account for the number of transplants taking place.
Chinese hospitals, seeking to entice organ transplant tourists from abroad, promised organ transplants in a matter of weeks or even days—unheard of in developed countries with established organ transplant systems where wait times could stretch on for years.
The surge in transplants coincided with the onset of the CCP's persecution of Falun Gong, a meditation discipline whose 70 million to 100 million adherents have faced arrests, torture, and jail over the past two decades.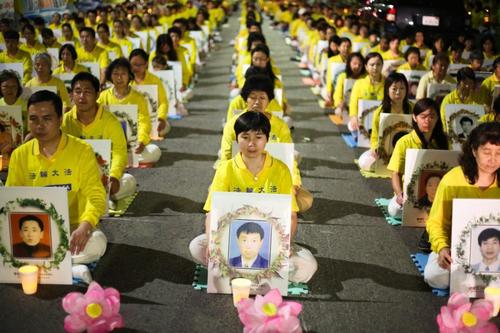 Falun Gong practitioners hold a candlelight vigil in front of the Chinese Consulate in Los Angeles for those who have died due to the Chinese regime's persecution, on Oct. 15, 2015. (The Epoch Times)
Over the years, evidence mounted pointing to a sprawling system of live organ harvesting from prisoners of conscience orchestrated by the CCP. In 2019, an independent people's tribunal concluded that the regime, for years, was killing prisoners "on a significant scale" to supply its transplant market, and was continuing the practice. The main victims, the tribunal found, were imprisoned Falun Gong practitioners.
The regime said it banned the use of executed prisoners' organs in 2015, claiming it would exclusively source from organs from voluntary donors under the organ donation system set up the same year. But still, official organ donation figures cannot explain the high number of transplants conducted, the tribunal concluded.
The Machine Keeps Running
Bob's account aligns with those of multiple other eyewitnesses who took part in the opaque organ transplant business in China around the same period.
George Zheng, a former Chinese medical intern, recalled assisting in an organ removal operation in the 1990s alongside two nurses and three military doctors, in a mountainous area near an army prison close to Dalian, a city in northeastern China.
The patient, a young man, was unresponsive but his body was still warm. The doctors had removed two kidneys from the man and then instructed Zheng to extract his eyes.
"At that moment, his eyelids moved and he looked at me," he told The Epoch Times in 2015.

"There was sheer terror in his eyes … My mind went blank and my whole body began to shake."
The memories of those two eyes haunted Zheng for years.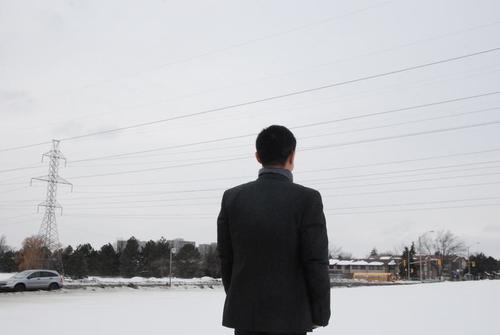 George Zheng, now living in Toronto, recounts how he witnessed live organ harvesting in Shenyang Province, China, in the 1990s. (Yi Ling/The Epoch Times)
In 1995, ethnic Uyghur doctor Enver Tohti from the far west Xinjiang region similarly helped two chief surgeons to extract the liver and two kidneys from a live prisoner who had just been shot in the chest.
"There was bleeding. He was still alive. But I didn't feel guilty. In fact, I didn't feel anything but like a full-programmed robot doing its task," he told a July 2017 panel.

"I thought I was carrying out my duty to eliminate … the enemy of the state."

The surgeons later told him to remember that "nothing happened."
A seemingly on-demand organ transplant trade appears to be continuing in recent years in hospitals in Zhengzhou, where Bob once worked, based on investigations by the World Organization to Investigate the Persecution of Falun Gong (WOIPFG), a U.S.-based nonprofit.
One nurse from the First Affiliated Hospital of Zhengzhou University told the WOIPFG in 2019 that their hospital ranked among the country's top five in terms of kidney transplantation and did around 400 surgeries the previous year.
"We haven't stopped since the Chinese New Year and haven't taken any days off," she told undercover WOIPFG investigators posing as prospective organ transplantees, adding that they had a kidney match that day.
Another doctor from the hospital, during a phone call in 2017, told undercover investigators they did most of the liver transplant surgeries overnight as soon as they arrived.
"If you don't utilize these times and only do them during the daytime, how can you possibly do so many surgeries? How can you outcompete the other folks?" he said.
The organ transplant abuse Bob witnessed had sickened him and went against his values, which helped him make up his mind to quit less than three years into the job, he said.
Despite having long left the police force, Bob saw no reason that the forced organ transplant industry would stop running.
"Driven by the huge profits, there's no place for the so-called human rights and humanitarian concerns," he said.
Bob's hope is for the Chinese population to free themselves from the Chinese regime's authoritarian rule and find freedom in democratic countries.
By a twist of fate, the city committee secretary who ordered his detention ended up in jail himself for taking bribes. He later died in prison serving a life sentence.
"No one is safe under the CCP rule," he said. "What happens to someone else may very well happen to you tomorrow.
China The authoritative Dragon ….. be afraid !!
DANIEL HANNAN      Daily Telegraph
Sent via email
Everything we thought we knew about China was wrong. We used to imagine that the worst was past, that the trend, however fitful, was towards liberty. The rise of a market system, we assured ourselves, was bound to lead to more consumer choice and so, over time, to a less authoritarian society. How naïve we were.
"There's this strange belief that you can't build a mobile app if you don't know the truth about what happened in Tiananmen Square," says Kaiser Kuo, the former director for international communications for China's search engine Baidu. "Trouble is, it's not true."
The years since Xi Jinping took over in 2012 have seen a vertiginous lurch into tyranny. Overnight, censorship was tightened, lawyers jailed, dissidents made to disappear, autocracy celebrated, foreign quarrels pursued with a vengeance.
The new old China was on display this week for the hundredth anniversary of the Chinese Communist Party. Xi addressed a huge crowd dressed in a Mao-suit (as in Orwell's Nineteen Eighty-Four, proletarian overalls became the uniform of the party elite). He reiterated his determination to force unification upon Taiwan, and told supporters: "We will never allow any foreign force to bully, oppress, or subjugate us. Anyone who tries will collide with a great wall of steel forged by over 1.4 billion Chinese people!"
Ten or twenty years ago, there was a perfunctory quality to China's socialist sloganeering. Busts of Karl Marx were tucked away in cupboards, just as in the former USSR. But Xi has dusted them off and brought them back out, decreeing new statues of the old cadger in Beijing and in Trier, his German birthplace. Think of the classic Simpsons episode, where the Soviet Union suddenly reveals that it never went away, the Berlin Wall bursts out of the ground, tanks reappear on the streets and the embalmed Lenin rises zombie-like from his glass case. Now update that image to take account of modern technology.
China has built the most advanced surveillance state ever conceived. Orwell imagined telescreens that could observe our behaviour. China has spyware on phones and face recognition technology that allows it to monitor its citizens' attitudes and expressions, as well as their whereabouts.
Chinese online networks such as Weibo, Tencent and Alibaba are among the biggest in the world. Yet they obediently proselytise and censor their users. At the start of Xi's period of office, there were independent voices, politically-minded bloggers, online influencers. The authorities were unhappy. "A number of journalists no longer see themselves as party propaganda workers," complained Hu Zhanfan, the head of state TV. "They have redefined themselves as professionals, a basic misunderstanding of their identity".
Xi had the answer. A few prominent critics were arrested, subjected to show-trials and forced into tearful televised confessions. Then, in 2013, the Supreme Court ruled that anyone who spread an unhelpful "rumour" that was shared more than 500 times or viewed more than 5,000 could expect three years in prison. Overnight, every independent blogger fell silent. So did critical journalists. So, indeed, did civil rights lawyers who had bravely defended some of the figures targeted by the regime.
The centenary might have been awkward for the authorities. Their party's founders railed against oligarchy, and Xi does not want that sentiment repeated. Indeed, when a group of genuinely communist youngsters applied Marxist theory to present-day China, protesting about poverty and demanding greater freedoms for the masses, the regime cracked down, arresting 50 students in Shenzhen in a single day.
Marx is mainly used by the regime as an antidote to "Western liberalism". (The few commentators who sardonically observed that Marx himself was hardly Chinese quickly learned to keep their mouths shut.) The party is militantly nationalist, and campaigns against any marking of Western festivals, such as Hallowe'en, Christmas and even April Fools Day.
But if the authorities are no longer Marxist, they are still very much Leninist. The dictatorship of the party is China's ruling principle. It is sometimes justified with Marxist dialectic, sometimes through Confucian analects, sometimes in anti-American language, but always with menacing bellicosity.
All talk of a peaceful rise has been dropped. China has become a nation of old men in a hurry. (Xi, at 68, is a young blood in what has often been a government of nonagenarians, and expects to rule for decades more.) Several neighbouring states now feel the force of Chinese revanchism: Malaysia, the Philippines, Vietnam, Brunei, Japan. During the lockdown, Chinese forces shot dead Indian soldiers in a border dispute. Australia has been subjected to an economic boycott for demanding an enquiry into the origins of the coronavirus. Hong Kong has been absorbed and assimilated, any notion of "one country, two systems" gone. Taiwan is braced for an eventual invasion that many now see as unavoidable.
The Taiwanese know what would be in store for them as a conquered people. They see it in Xinjiang, where a mandatory app on every phone looks for anti-social behaviour, such as growing a beard, fasting or making contact with foreigners. Break too many rules and an algorithm will have you interned in a "re-education camp".
Uyghurs bring out all the party's complexes: its nationalist dislike of ethnic differences, its Marxist contempt for religion and, above all, its authoritarian distrust of anything that it does not directly control. Having built a state-of-the-art surveillance machine in Xinjiang, there is nothing to stop China turning it against the rest of its citizens.
The worst of it is that young Chinese seem not to care. Students in Western universities, outside the censors' firewalls, show no interest in pluralism. When the late Sir Roger Scruton spoke of the communist leaders "creating robots out of their own people", his words were scandalously twisted by the New Statesman. But the Chinese regime has indeed conditioned its population to steer away from rebellious thoughts. Orwell's dystopia is giving way to Huxley's: "A population of slaves who do not have to be coerced because they love their servitude."
Roger was more perceptive than I was. I blush when I look back at my articles from as recently as two years ago, deploring the crackdown in Hong Kong but arguing, with baseless optimism, that the hardliners around Xi were balanced by more moderate voices from the Jiang and Hu eras.
The truth is that China has come out of the lockdowns grimmer, stronger and more assertive. The world we knew has gone.