Ranchers Sell Off Cattle, Farmers Idle Thousands Of Acres As America's Drought Emergency Escalates
Ranchers Sell Off Cattle, Farmers Idle Thousands Of Acres As America's Drought Emergency Escalates
In my entire lifetime, this is the worst that drought conditions have ever been in the western half of the country.  During the past 20 years, the amount of territory in the West considered to be suffering from exceptional drought has never gone higher than 11 percent until now.  Today, that number is sitting at 27 percent.  The term "mega-drought" is being thrown around a lot these days to describe what is happening, but this isn't just a drought.  This is a true national emergency, and it is really starting to affect our food supply.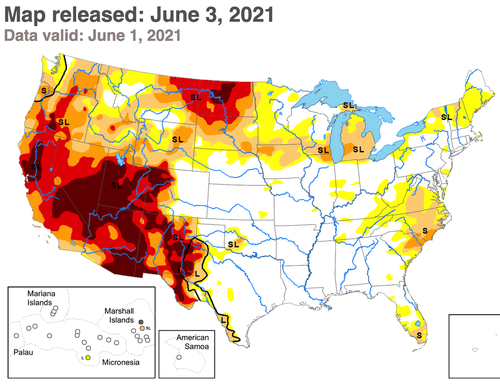 Just look at what is happening up in North Dakota.  The vast majority of the state is either in the worst level of drought or the second worst level of drought, and ranchers are auctioning off their cattle by the thousands…
"Normally this time of the year, we're probably looking at 400-600 head and a lot of times would be every other week," said former auctioneer Ron Torgerson.

On Sunday and Monday, more than 4,200 head of cattle were sold at Rugby Livestock and Auction.
Needless to say, ranchers in North Dakota don't want to get rid of their cattle, but the drought has pushed prices for hay and corn so high that many of them simply have no choice.
One of those that has already been forced to sell a large number of cattle is rancher David Bohl…
As the drought continues, the price of hay and corn has gone way up. It's more expensive for ranchers to try and supplement feed than it is to sell the cattle.

Bohl has already sold 200 of his head in the last month.

"Everybody is in the same situation, they're going to have to sell probably 25 to 50% of them because there's nowhere to go with them we just got no food to feed them," Bohl said.
As cattle herds shrink all over the western half of the country, this is going to push beef prices significantly higher than they are right now.
And in many areas, they are already at ridiculous levels.
Meanwhile, the drought continues to push the water level in Lake Mead into the danger zone.  According to CBS News, Lake Mead will soon hit the "lowest level ever recorded"…
For more than eight decades, the iconic Hoover Dam has relied on water from Nevada's Lake Mead to cover up its backside. But now, at age 85, it finds itself uncomfortably exposed. Much of the water the dam is supposed to be holding back is gone.

"This is like a different world," said Pat Mulroy, the former head of the Southern Nevada Water Authority. She told CBS News senior national and environmental correspondent Ben Tracy that Lake Mead, the nation's largest reservoir, is on track to soon hit its lowest level ever recorded.
Since the year 2000, the water level in Lake Mead has declined by a whopping 30 feet, and it is currently at just 37 percent of capacity.
The dam's hydropower output has already been reduced by about 25 percent, and once the water level gets low enough it will stop producing electricity completely.
In addition, many farmers that rely on water from Lake Mead are facing a very uncertain future at this point…
For the first time ever, the federal government is expected to declare a water shortage on the lower Colorado River later this summer. That will force automatic cuts to the water supply for Nevada and Arizona starting in 2022. Homeowners have higher priority and, at first, won't feel the pain as badly as farmers.

Dan Thelander is a second-generation family farmer in Arizona's Pinal County. The water to grow his corn and alfalfa fields comes from Lake Mead. "If we don't have irrigation water, we can't farm," he said. "So, next year we are going to get about 25% less water, means we're going to have to fallow or not plant 25% of our land."
Unless something changes, Thelander and other farmers in the region could potentially have all water cut off in 2023.
That is just two years away.
Of course there are many farmers in California that have already been informed that they will not be getting any water allocated to them at all here in 2021.  It is being projected that farmers in the state will not grow anything on 500,000 acres this year, and that is really bad news because California grows more than a third of our vegetables and two-thirds of our fruits and nuts…
Along with wildfire risks, short water supply is putting immense pressure on the state's agricultural industry, which grows over a third of the country's vegetables and supplies two-thirds of the fruits and nuts in the US. Already farmers are culling crops and fallowing fields in anticipation of water shortages. Karen Ross, California's food and agriculture secretary, told the California Chamber of Commerce that she expected 500,000 acres would have to sit idle this year.
So what are we going to do if this mega-drought persists several more years and agricultural production in California is dramatically reduced for an extended period of time?
I am sure that some wise guy will post a comment after this article about importing more fruits and vegetables from South America, but South America is experiencing a historic drought too.
In fact, at this moment Brazil is experiencing the "worst drought in nearly a century", and scientists are anticipating that it will not end any time soon.
Needless to say, the droughts that we are witnessing are setting the stage for many of the things that I have been warning about, and the future of agricultural production in the western hemisphere is looking quite bleak for the foreseeable future.
In the short-term, this crisis is going to result in substantially higher prices at the grocery store.  I know that grocery prices have already risen to painful levels, but the truth is that food prices will never be as low as they are right now.
So I am encouraging everyone to stock up while they still can.
As I have said so many times, we really struggle to feed everyone in the world during the best of years, and 2021 is definitely not one of the best of years.
Global food supplies are getting tighter and tighter, and this definitely has enormous implications for our future.
It has been an arid spring in California, and that's causing alarm with Pacific Gas and Electric Co. executives who have said this week they will need more frequent power cuts to customers in Northern California to prevent wildfires. 
PG&E's chief risk officer Sumeet Singh told WSJ that California's dry weather conditions could result in more rolling blackouts this year than last year. The company has trimmed trees away from powerlines and inspected the grid as the wildfire season began earlier this month. 
June is typically the month the wildfire season in California begins. The state is already battling an extreme drought, and the first heat wave of the season hit last week. The risks of another heat wave are increasing for next week.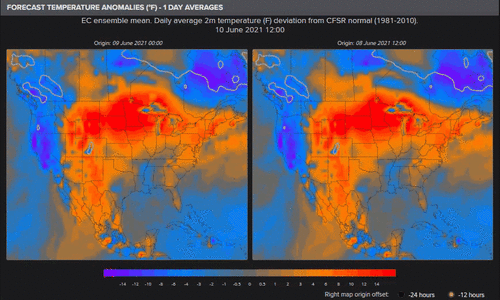 The hottest and most fire-prone months are nearing as a second heat wave of the season could arrive as early as next week. 
How the season turns out may depend on the immediate climate in the state. Extreme heat and drought are several factors that may produce dry fuels and eventually spark fires.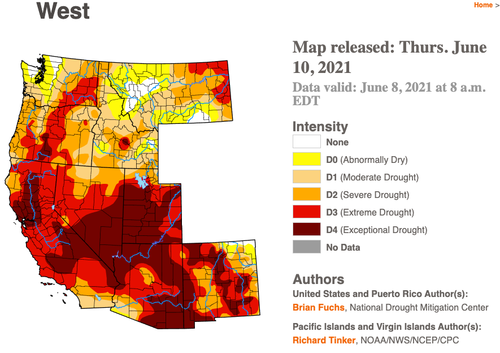 "The fuel moisture levels … are about a month or two months ahead of schedule," Strenfel told Sacramento Bee. "They're at a state where they're typically this dry in mid-July, and we're seeing them in June. We're a month ahead of schedule, if not two months, in terms of fire danger."
Singh told WSJ, "the big, big variable that's unpredictable here is the wind. But in all the forecasts that we've done, we do not see ourselves getting back to the same kind of [power shut-off] events like we saw in 2019."
Already, Gov. Gavin Newsom declared 41 of the state's 58 counties are in a drought, with much of the state in an "extreme drought" and portions in an "exceptional drought."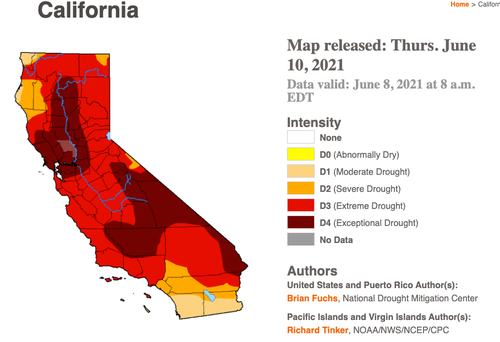 The 2020 California fire season, the worst on record, burned more than 4 million acres, is still fresh in everyone's mind. Newsom has allocated millions of dollars in new funding to thwart fires this year. 
The 2021 wildfire season could be more severe than last year, which means PG&E may have to issue more powercuts to thwart fires. 
Readers know by now that the Western US is facing one of the most severe droughts in years. We've documented (read here & here) this spring of a "megadrought" sweeping across states like California and Nevada as risks of a second Dust Bowl increase by the day. 
But in this note, let's dive deeper into the drought and how it's impacting farmers and the potential consequences it could have on crops. Meteorologists at BAMWX have published data on surface soil moisture over 20 years. Surface soil moisture is the water that is in the upper 4 inches and available for various types of plants. They found that the 2021 moisture deficit for early June is the worst it has ever been in two decades.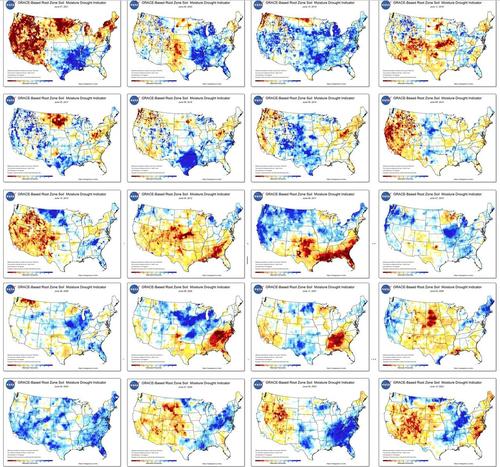 BAMWX's Vince Bryan says the moisture deficit in the soil is "a concern" as it may impact plant development. Soil moisture plays a crucial role in agricultural monitoring, drought and flood forecasting, forest fire prediction, and water supply management. 
Soil moisture observations can alert of impending drought, such as what's been underway in the Western US this year. 
What this means is that soil moisture deficits can dry crops and make them more vulnerable to pests. Even short-term drought can cause damage to crops, mainly during critical stages of crop development, such as after planting or during flowering. 
If the drought persists, crop yields could come underestimates this year and result in elevated agricultural prices.
Lake Mead's water level reached a historic low late Wednesday, according to federal officials.
U.S. Bureau of Reclamation data shows the lake dipped below the previous record to reach 1,071.56 feet about 11 p.m. The lowest the lake level reached Thursday morning was 1,071.48 feet about 6 a.m.
The record comes as Lake Mead is nearing its first federally declared water shortage, a result of a two-decade drought that has strained the Colorado River. Water from the river serves 40 million people in seven states and Mexico.
"This is something that has been anticipated for a while, with respect to climate change and the impacts it would have on our water supply in the long term," said Kristen Averyt, a UNLV research professor specializing in climate resilience and urban sustainability.
Averyt, who also serves as Nevada's climate policy coordinator, said the state should be prepared for more extreme conditions moving forward, but she remains optimistic about the future.
Lake Mead's previous low point of 1,071.61 was logged on July 1, 2016, Bureau of Reclamation spokeswoman Patti Aaron said this week. The bureau had projected the lake would match that level Thursday.
I'm hearing from farmers, particularly in Iowa, who are very concerned as the drought worsens.
Note that Iowa is heart of corn production — and a very low % of IA crop is irrigated. 
And don't forget we just had a freeze 2 weeks ago that forced replanting of a decent amount of soybeans.
2021 is looking brutal.
—Dr. Sherry Tenpenny, via Telegram
The reservoir created by Hoover Dam, an engineering marvel that symbolized the American ascendance of the 20th Century, has sunk to its lowest level ever, underscoring the gravity of the extreme drought across the U.S. West.
Lake Mead, formed in the 1930s from the damming of the Colorado River at the Nevada-Arizona border about 30 miles (50 km) east of Las Vegas, is the largest reservoir in the United States. It is crucial to the water supply of 25 million people including in the cities of Los Angeles, San Diego, Phoenix, Tucson and Las Vegas.
As of 11 p.m. PDT Wednesday (0600 GMT Thursday), the lake surface fell to 1,071.56 feet above sea level, dipping below the previous record low set on July 1, 2016. It has fallen 140 feet (42.7 meters) since 2000 – nearly the height of the Statue of Liberty from torch to base – exposing a bathtub ring of bleached-white embankments.
The drought that has brought Lake Mead low has gripped California, the Pacific Northwest, the Great Basin spanning Nevada, Oregon and Utah, plus the southwestern states of Arizona and New Mexico and even part of the Northern Plains.
Whenever a publication like the Guardian says " Here's what you need to know" I know there is a whole lot more to know that they are not going to tell you about,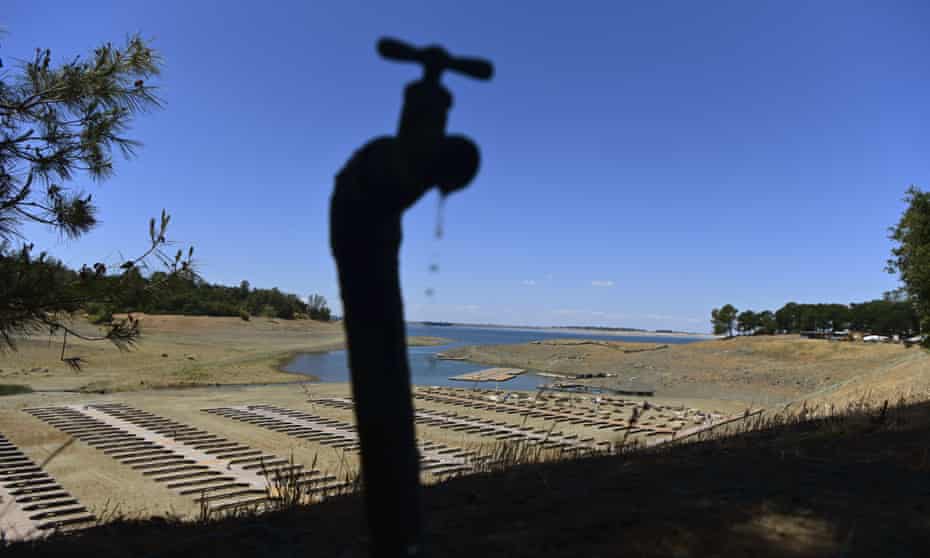 The state is facing another drought just two years after the last one ended. Here's what you need to know
Just two years after California celebrated the end of its last devastating drought, the state is facing another one. Snowpack has dwindled to nearly nothing, the state's 1,500 reservoirs are at only 50% of their average levels, and federal and local agencies have begun to issue water restrictions.
Governor Gavin Newsom has declared a drought emergency in 41 of the state's 58 counties. Meanwhile, temperatures are surging as the region braces for what is expected to be another record-breaking fire season, and scientists are sounding the alarm about the state's readiness.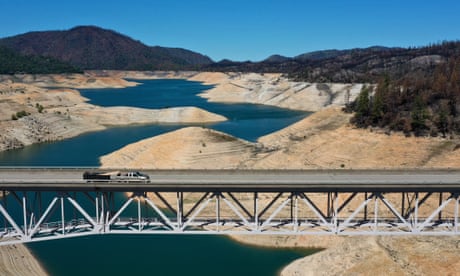 "What we are seeing right now is very severe, dry conditions and in some cases and some parts of the west, the lowest in-flows to reservoirs on record," says Roger Pulwarty, a senior scientist in the National Oceanic and Atmospheric Administration (Noaa) physical sciences laboratory, adding that, while the system is designed to withstand dry periods, "a lot of the slack in our system has already been used up".
How did we get here?
A creeping trend
Drought is not unnatural for California. Its climate is predisposed to wet years interspersed among dry ones. But the climate crisis and rising temperatures are compounding these natural variations, turning cyclical changes into crises.
Drought, as defined by the National Weather Service, isn't a sudden onset of characteristics but rather a creeping trend. It's classified after a period of time, when the prolonged lack of water in a system causes problems in a particular area, such as crop damages or supply issues. In California, dry conditions started to develop in May of last year, according to federal monitoring systems.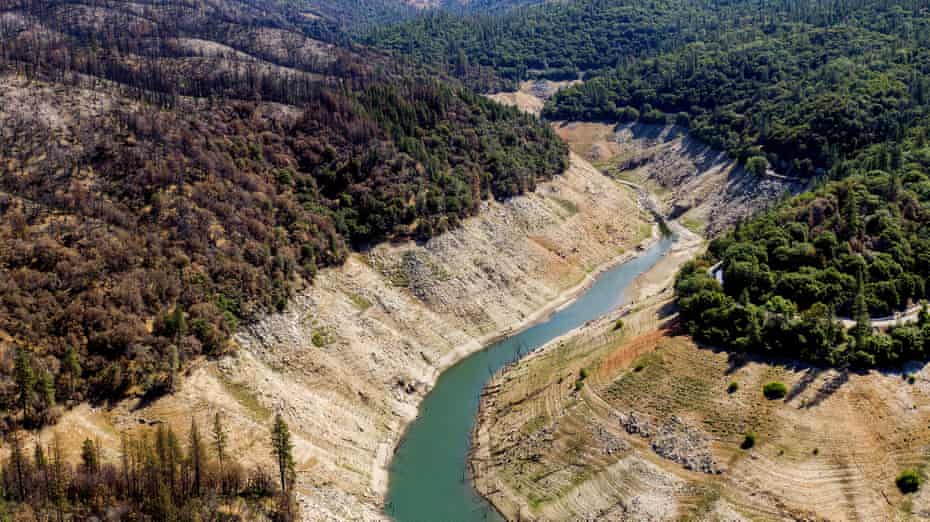 The effects really began to show in early spring 2021, when the annual winter rainy season failed to replenish the parched landscape and a hot summer baked even more moisture out of the environment. By March, conditions were dire enough for the US agriculture secretary, Tom Vilsack, to designate most of California as a primary disaster area. Just two months later, 93% of the south-west and California was in drought, with 38% of the region classified at the highest level.
"When you have droughts with warm temperatures, you dry out the system much faster than you'd expect," says Pulwarty, adding that climate change can make droughts both more severe and harder to recover from. "It is not just how much precipitation you get – it is also about whether or not it stays as water on the ground."
Dwindling water, rising temperatures
The state's previous drought lasted roughly seven long years, from December 2011 to March 2019, according to official estimates. But some scientists believe it never actually ended. These researchers suggest that the west is gripped by an emerging "megadrought" that could last for decades. A 2020 study that looked at tree rings for historical climate clues concluded that the region may be entering the worst prolonged period of drought encountered in more than 1,200 years and attributed roughly half of the effects to human-caused global heating.
Meanwhile, California has been getting warmer, and 2020 brought some of the highest temperatures ever recorded. In August of last year, Death Valley reached 130F (54C) and a month later, an area in Los Angeles county recorded a 121F (49.4C) day – the hottest in its history.
Heat changes the water cycle and creates a thirstier atmosphere that accelerates evaporation. That means there's less water available for communities, businesses, and ecosystems. It also means there will be less snow, which California relies on for roughly 30% of its water supply.
"The snowpack, in the context of the western US and specifically in California, is really critical for our water supply," says Safeeq Khan, a professor at University of California, Merced, who researches the climate crisis and water sustainability. "The snowpack sits on the mountain and melts in the spring and early summer. That provides the buffer to overcome the extreme summer heat," he explains.
But in recent years, even during wet winters, he says, the snowpack wasn't as strong as it used to be. This year, even before the summer, it is already nearly gone. The melt has also produced less runoff than expected, meaning less trickled into streams, rivers and reservoirs.
"Years like this, when we do not have the snowpack, it really puts our water system under tremendous pressure," Khan says. He doesn't think that will change anytime soon, adding that, while drought isn't new in the west, "the kind of drought we are experiencing is new. The impact is a lot more than it was in the past."
What will the impact be?
Drought disasters are among the most costly, according to the US National Centers for Environmental Information, running an average of $9.3bn in damage and loss. Dry conditions are also expected to fuel another potentially devastating wildfire season. In 2020, roughly 4.1m acres were consumed by the flames, tens of thousands of buildings burned and 31 people lost their lives.
The browning hillsides and dying trees are not only increasing the risk of ignitions, they also cause fire behavior to be more extreme when blazes erupt, according to Scott Stephens, a fire ecologist at the University of California, Berkeley. "We'll probably get to typical fire season moisture levels six weeks early this year because of the drought," he said as part of an interview series for the Public Policy Institute of California.
Along with wildfire risks, short water supply is putting immense pressure on the state's agricultural industry, which grows over a third of the country's vegetables and supplies two-thirds of the fruits and nuts in the US. Already farmers are culling crops and fallowing fields in anticipation of water shortages. Karen Ross, California's food and agriculture secretary, told the California Chamber of Commerce that she expected 500,000 acres would have to sit idle this year.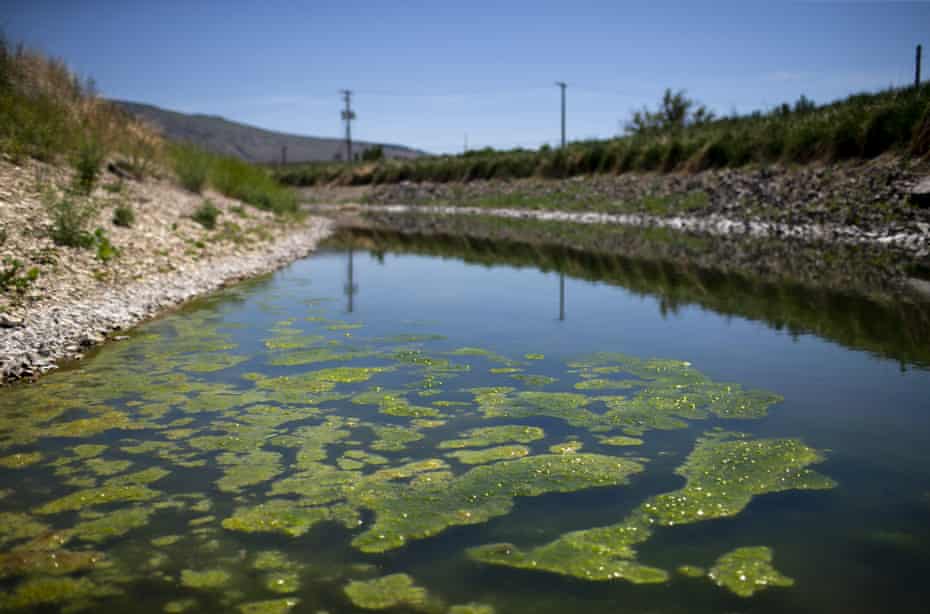 The federal government has already announced a dramatic reduction in water allotments to farmers in California's Central Valley, while further north, tensions are running high in the Klamath Basin, where a federal canal servicing 150,000 acres of farmland will run dry for the first time in 114 years.
Cities and other urban regions are also set to receive less water, and residents are being asked to conserve where they can.
"We are truly in an emergency situation," Rick Callender, CEO of the Santa Clara Valley Water District, which delivers water to 2 million residents south of the San Francisco Bay Area, told the Mercury News last week. The agency will enact mandatory restrictions across the county, adding that the public should anticipate cutbacks to increase as the situation intensifies. "We're going to be seeking everything we can do to address this emergency."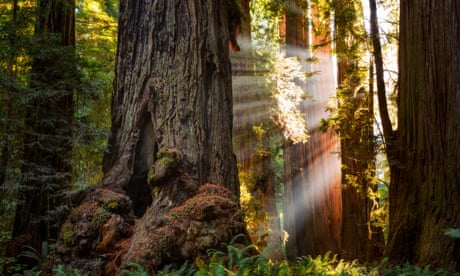 Worsening drought will also exacerbate longstanding problems for people in the Central Valley, who have suffered through shortages in water for drinking, cooking and sanitation. During the previous drought, wells ran dry and never recovered. More than a million Californians still don't have access to safe drinking water.
Low water levels also have the potential to affect the state's electrical grid, which depends on hydroelectric power plants, the Los Angeles Times has reported. Lake Oroville is expected to fall below 640ft – the level state officials say is required to run a plant – by August. Currently, it stands just above 700ft.
How ready is the state?
California has already invested billions to prepare and has learned key lessons from the last round, when the state experienced its driest four-year stretch in history. In 2014, the state also passed the Groundwater Management Act, landmark legislation that requires communities to monitor groundwater basins and develop plans to protect them. But implementation is still in its early stages.
Newsom has proposed a $5.1bn investment over the next four years to respond to the disaster and improve infrastructure. Cal Fire, the state's firefighting agency, has also added 1,400 new firefighters to its ranks, along with picking up new helicopters and fire engines.
"California has done a remarkable job," says Pulwarty, but he adds that more ambitious solutions are still needed.
"There are innovations that we need to scale up," he says, from urban conservation and reuse to upping agricultural efficiency and creating land reserves that will help regions become more resilient when drought disasters strike.
Others warn the state must take the long view, with drought conditions likely to get worse before they get better.
"If we are worried about this year we are really playing the short game," says Doug Parker, the director of the California Institute for Water Resources. "It's next year that I think is more important."
The water system, he says, is designed to handle short-term shortages. "When you get into three, four, five years in a row of drought – that's when things really start to get serious. We all wish we knew what was going to happen next winter."