Reports from the Ukraine battlefield – 18 May, 2023
Reports from the Ukraine battlefield – 18 May, 2023
Hal Turner reported this yesterday
Russia is appaently retaliating for the 100+ drones launched by Ukraine into the Moscow area earlier today.  At least fifteen (15) heavy explosions have already occurred in multiple cities in Ukraine.  Fighter/bombers and Strategic Bombers are in the air.  Ukraine is being PUMMELED!
 This story is happening now (5:32 PM EDT ) Updates to appear below . . . 
UPDATE 5:36 PM EDT —
Russian Strategic Aviation (T-22M3) launched an attack on Odessa using H-22 air-to-surface cruise missiles. During the attack, at least 15 powerful detonations were registered.
Air defense also operated, but apparently without success.
In total, about 15 explosions have already thundered in the Odessa region.
Russian missile strike on the transport hub near Odessa.
Additional missile or drone strikes taking place in  Zatoka, Kotovskoye and Krasnoselki.
Air raid sirens now once again sounding here in Kyiv. Drones detected in the skies above the region.
Takeoff of Russian TU-95MS strategic bombers from Russia's 'Olenya' airbase has reportedly been detected.
Ukrainian monitoring groups report that the airspace of Zhytomyr, Kyiv, Cherkasy, Poltava, Kirovohrad, Dnipropetrovsk and Zaporizhzhya regions is swarming with Russian UAVs searching for targets.
UPDATE 5:41 PM EDT —
Estimated list of destroyed military facilities in Odessa
Krasnoselka – BC warehouses
Settlement of Kotovsky – hangars with equipment
Zatoka – hangars with equipment
Nerubayskoye – BC warehouses
The Tsentrolit plant (Suvorovsky District), where military equipment was located, can also be added to the list of probable targets. Under Zatoka there is a railroad track on which NATO carries weapons through Romania.
not sure if Russian attacks succeeded, will see later.
Ballistic missile launches from the Belgorod region in Russia against the Kharkiv region, and Explosions are recorded in Kharkov.
Ukraine Air Raid siren alerts in:
Donetsk
Dnipropetrovsk
Zaporizhzhia
Cherkasy
Kharkiv
Kirovohrad
Poltava regions.
Massive explosions reported in Kharkov; Multiple rocket hits.
Strikes by FAB-500M62 UMPC glider bombs against AFU facilities in Kizomys and Velikiy Island, Kherson region.
UPDATE 5:55 PM EDT —
Over Kiev, central and north-eastern Ukraine, at least several dozen UAVs "Geran-2″Drones.
An air alert has been declared.
3 Tu-95 bombers of the Russian Aerospace Forces took off into the air.
A little earlier, explosions thundered in the Nikolaev region.
UPDATE 6:11 PM EDT —
Ukraine says , "Our reaction on this , will be very very hard… and unexpected…
In Kupyansk district (Kharkov region), powerful explosions are heard.
Explosions in Zaporizhzhia – air defence at work. One Russian missile/drone (waiting for confirmation of exactly what it was) has been shot down so far.
Even Zero Hedge is re-reporting the likes of the BBC and the Ukrainians
As we detailed previously, a large wave of Russian missiles targeted cities across Ukraine Wednesday night, it what appears an ongoing attempt to overwhelm Ukraine's anti-air defenses.
By Thursday morning it was confirmed that at least 30 cruise missile were launched against Ukraine in the overnight hours, resulting in one person killed and at least two wounded. But Ukrainian authorities are once again claiming to have shot down the vast majority of inbound missiles, with Ukraine's air force saying in a statement that 29 out of 30 of the missiles were intercepted. 
BBC and others have tallied that this is the ninth large wave of missile attacks launched by Russia this month alone. But the report notes that Ukraine has also been shooting down more, also just after deploying US Patriot missile systems – at least one of which has already been struck by the Russians.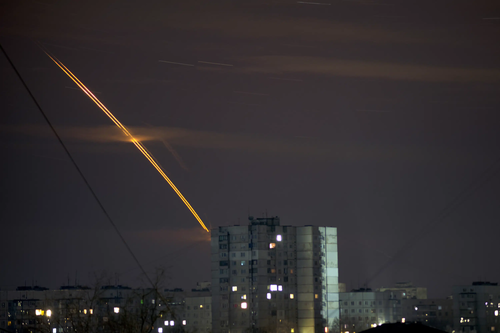 "So far in May, Russia has carried out four mass launches – two them between 16 and 18 May alone – compared to one each in April and March, and two in February," BBC details. "The last time Russia attacked with such intensity was in the period after New Year, when four attacks took place in quick succession between 31 December and 26 January."
Unconfirmed videos which circulated widely on social media showed a large-scale overnight attack in progress, including on targets as far south as Odessa on the Black Sea. 
But naturally, statements put out by Russia's defense ministry contradict the Ukrainian claim of the majority of missiles shot down: 
Russian forces hit Kiev's large foreign equipment and armament depots and army reserves with seaborne and air-launched precision weapons, destroying substantial weapon and ammunition stockpiles during the special military operation in Ukraine, Defense Ministry Spokesman Lieutenant-General Igor Konashenkov reported on Thursday.

"Last night, Russian forces delivered multiple strikes by seaborne and air-launched long-range high-precision weapons against large foreign armament and equipment depots and enemy reserves. The goal of the strikes was achieved. All the designated targets were hit. The strikes destroyed considerable stockpiles of the Ukrainian army's armaments and ammunition and thwarted the advance of reserves to the areas of combat operations," the spokesman said.
Russia has appeared to be particularly going after foreign arms shipments of late. For example, a weekend direct hit on what's reported to have been an arms depot close to Khmelnytskyi led to speculation that radioactive dust may have been released due to the possible presence of UK-supplied depleted uranium shells.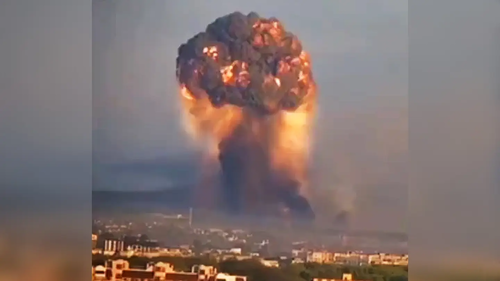 As for the ongoing fight for Bakhmut, Ukrainian officials have belatedly admitted that Russia is making progress in the town this week.
"Ukraine said Tuesday it had pushed Russian forces from the flanks of Bakhmut but conceded that Moscow's forces were pushing deeper inside the embattled town," according to The Moscow Times, following days of conflicting narratives on the battlefield situation.
The Ministry of Defense announced a group strike on large warehouses of the Armed Forces of Ukraine with foreign equipment
Российские войска нанесли удар по крупным складам ВСУ с иностранной техникой
Russian troops attacked large warehouses of the Armed Forces of Ukraine (AFU) with foreign equipment and weapons. This was announced to journalists on Thursday, May 18, by the Russian Defense Ministry .
They specified that the group strike was inflicted by high-precision long-range sea and air-based weapons. In addition to warehouses, strikes were made against enemy reserves.
"The goal of the strikes has been achieved. All designated facilities have been hit," the Defense Ministry explained, adding that the night attack by the Russian Armed Forces (AF) destroyed significant stocks of weapons and ammunition of the Armed Forces of Ukraine and prevented the advancement of enemy reserves.
Earlier it was reported that the Russian Armed Forces launched a group attack at night on a large Ukrainian ammunition depot in Nikolaev. The warehouse was located on the territory of the ship repair enterprise. The defense department reported that the goals of the strike were achieved, the designated object was hit.
On February 24, 2022, Russian President Vladimir Putin announced the start of a special operation in the Donbass. Thus, according to him, Moscow responded to requests for military assistance from the heads of the Donetsk and Luhansk People's Republics (DNR and LNR).
I guess ukrainian offensive will be delayed for sure!

The Ministry of Defense of Russia announced the destruction of significant stocks of weapons and ammunition of the Armed Forces of Ukraine.

The Ukrainian military lost significant stocks of ammunition as a result of… pic.twitter.com/wOsS3pS2bg

— T.Vajrayana (@TVajrayana) May 18, 2023
💥 AFU drone shows fighting for the last bit of Bakhmut: Ukrainian stronghold is burning and smoking
Wagner PMC completes squeezing the enemy out of the cityhttps://t.co/n5oCJ6Ktkr pic.twitter.com/dXYSev0XtG

— Zlatti71 (@djuric_zlatko) May 18, 2023
The battle for Artyomovsk may soon end in Moscow's favor, local authorities and media believe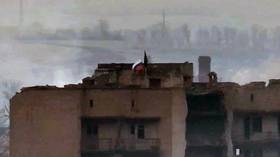 Russia appears set to take full control of the Donbass city of Artyomovsk, which Ukraine calls Bakhmut, according to officials, media reports and the boss of the private military company Wagner Group.
"Wagner is pushing forward for real, day and night," acting head of the Donetsk People's Republic Denis Pushilin told RIA Novosti on Thursday.
He acknowledged that the situation remained tense and that the Ukrainian military was sending reserves into battle, but described the full capture of the city by Russia as "potentially very close."
Russia's recent advances were also confirmed by German newspaper Bild on Wednesday. It reported that Ukrainian forces were in control of around 20 buildings in the west of Artyomovsk, or 1% of the city's total area.
The article claimed that pro-Ukrainian media operatives were engaged in damage control ahead of the imminent loss of the city, which President Vladimir Zelensky declared a fortress several months ago. Meanwhile, the Ukrainian military hopes to push back on the flanks, putting Wagner troops at a disadvantage after they fully seize the settlement.
The head of the company, Evgeny Prigozhin, expressed concern about the tactics in a statement on Thursday, in which he urged regular troops supporting his unit "to hold on as hard as you can for a few more days," complaining about a setback at one location to the north of Artyomovsk.
Wagner troops have been on the forefront of the battle, which has been underway for some eight months, becoming one of the bloodiest episodes of the wider armed conflict in Ukraine. Earlier in the week, Kiev claimed to have turned the tide, but its reported momentum apparently did not last.
The Zelensky government has attached a symbolic significance to the standoff in Artyomovsk and rejected the advice of Western officials, who urged the president to pull back troops and prepare for a counteroffensive. The Ukrainian military reportedly lost some of its most experienced troops as it clung to the city, while its promised major pushback against Russia has so far failed to materialize.
NEWS UPDATE BAKHMUT LATE EVENING MAY 18
Bakhmut has nearly fallen. Today Wagner forces took the remaining part of the "Citadel" (B), that's the SW corner of Constructor area and the entire Dominoes area south of Yuvileyna Street. They also finished mopping up in the private small… pic.twitter.com/hHWXx0LsNs

— Mikael Valtersson (@MikaelValterss1) May 18, 2023
Bakhmut has nearly fallen. Today Wagner forces took the remaining part of the "Citadel" (B), that's the SW corner of Constructor area and the entire Dominoes area south of Yuvileyna Street. They also finished mopping up in the private small house area north of Yuvileyna Street (A). Now mopping up continues among the remaining small houses south of Yuvileyna Street (C).
But this doesn't mean that all of Bakhmut is captured by the russian side. The southern ukrainian area is in ukrainian hands, even though Wagner intensifies attacks there. The area with small houses between the Industrial Collage (E) and the Tetris area (D) of high rises east of Chajkovskogo Street has been captured by Wagner forces and fighting continues in the Tetris area.
We will see how long the ukrainian forces in the south can hold on but I believe that in 48 hours everything but eventually the Industrial complex (F) will be taken by the russian side. On Sunday Bakhmut will be in russian hands.
After that fighting will intensify around Ivanivske and Khromove as russian forces from Bakhmut probably will try to make an counter counteroffensive towards the ukrainian flanks.
Cleaning bodies of AFU soldiers in Artemovsk direction. A truck full of them was picked up.#source

Join Slavyangrad chat. Your opinion matters.https://t.co/ZrVHYxIzmZ@Slavyangrad
Join SLG 🔺 Intelligence Briefings, Strategy and Analysis, Expert Community pic.twitter.com/mclqCzQt31

— Zlatti71 (@djuric_zlatko) May 18, 2023
Russia Claims Patriot Destroyed, Fighting Bakhmut Edge; Chinese, African Peace Missions, F16 Split
From the Duran
Summer proxy war escalation w/ Levan Gudadze
NATO is openly preparing for war with Russia. NATO is developing the first large-scale plan since the Cold War in the event of a conflict with Russia – Reuters.
▪️At the summit in Vilnius on July 11-12, it is planned to approve a document on "thousands of pages".… pic.twitter.com/oVfxkuI6t3

— Victor vicktop55 (@vicktop55) May 18, 2023
High activity with ~20,000 CPM (normal ~25 CPM) again here for ~90 seconds (6pm) before it slowly went back to normal. So it isn't U238 (DU) with its halflife of ~4.5 billion years. Poland says Bismuth + Beryllium. Probably a lot of other radionuclides were released. Dirty bomb? pic.twitter.com/nxVrb1NruH

— Δαίμων (@michael_bautz) May 17, 2023