REVOLUTION in Canada
REVOLUTION in Canada
LIVE Ottawa – RAW Footage: Freedom Convoy 2022 – Parliament Hill – Sunday Jan 30 pt 2
From Hal Turner
Canadian Prime Minister Justin Trudeau and his family have reportedly fled their home in Ottawa, Canada, for "a secret location," as thousands of truckers traveling in a "freedom convoy" to protest vaccine mandates made their way to its capital city.
Trudeau, who is ALLEGEDLY in isolation after being exposed to coronavirus, left his home due to "security concerns," according to the CBC.
"I learned that I have been exposed to COVID-19. My rapid test result was negative. I am following @OttawaHealth rules and isolating for five days. I feel fine and will be working from home," Trudeau tweeted on Thursday. Social media users pointed out that his announcement came days before the trucker convoy hit Ottawa.
What's most interesting about this is that the "Guidelines' the Prime Minister says he's following, DO NOT APPLY to people who are triple vaxxed, as Trudeau claims to be.
So why else might the Prime Minister be claiming he's exposed to COVID and isolating?
Well, according to radio host Hal Turner, Trudeau is a "Girly-man, political fag, who's running away because the real men of Canada have had enough of his COVID Bullshit and are coming to Ottawa to put a stop to it."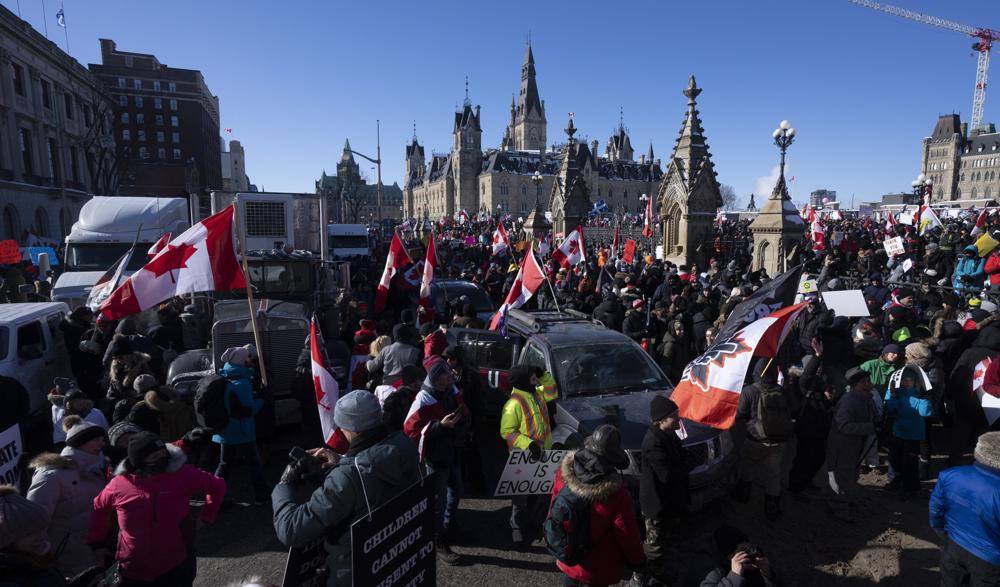 This is diametrically opposite of what Trudeau himself said about the Truckers Freedom Convoy.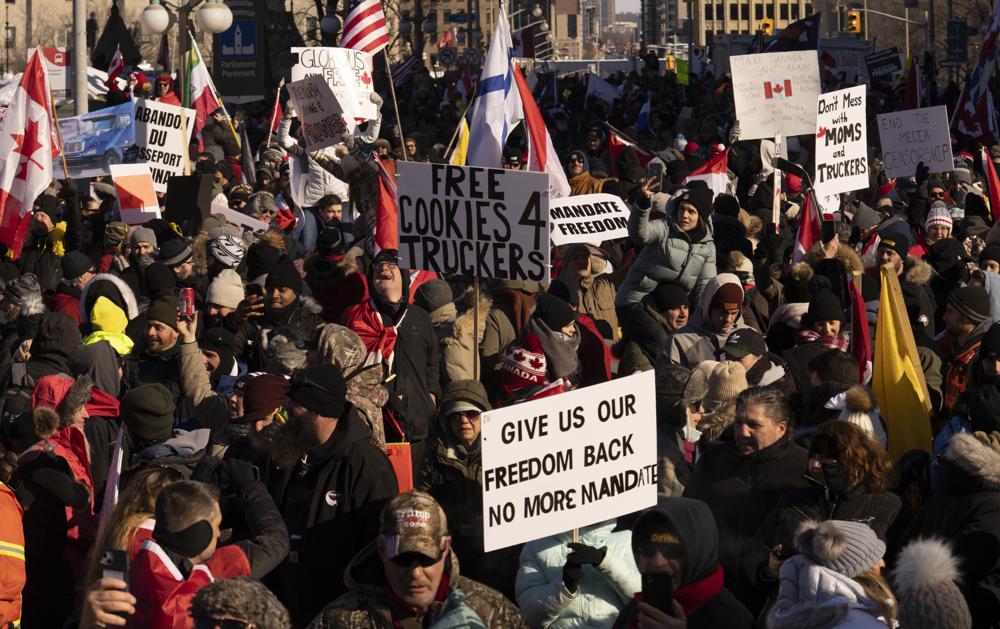 Trudeau characterized the convoy as a "small fringe minority" and said they held "unacceptable views" in the days leading up to Ottawa's Saturday protest.
The Parliamentary Protective Service anticipated more than 10,000 people would be at the Ottawa protest. (They seem to be missing a zero, and on Sunday, they will be missing several more zeros!)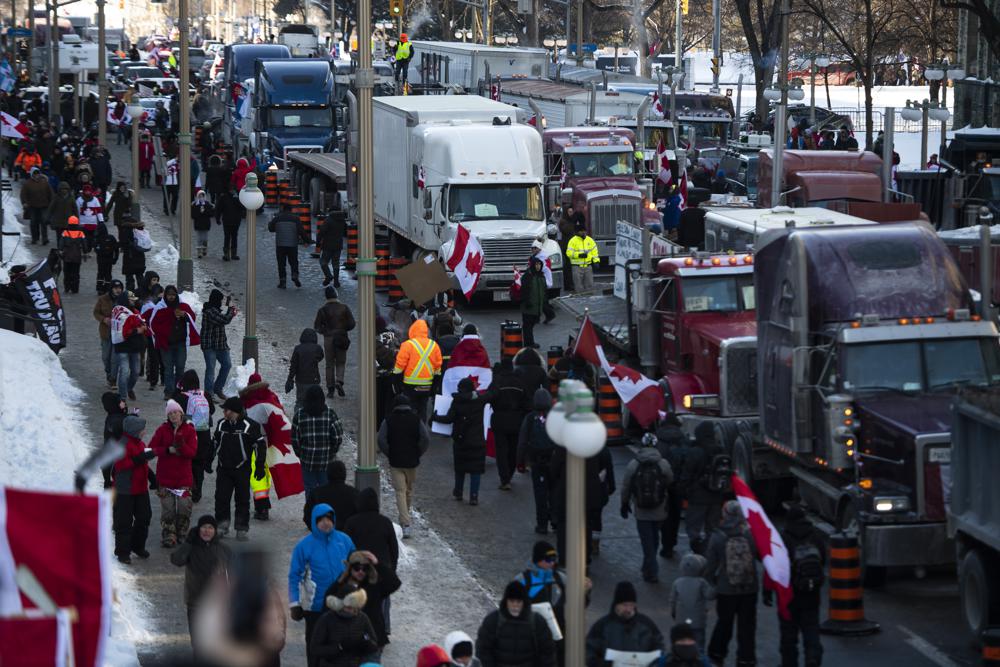 The truckers have been traveling in a convoy protesting the country's vaccine mandates for several days. Last October, Trudeau implemented a vaccine mandate for federal workers. On January 15, he instituted a vaccine mandate for all crossing the Canadian border in a move impacting truckers. President Joe Biden  implemented a similar mandate at the U.S. border earlier in the month.
MEDIA SILENCE 
The mass media is simply not covering the assembly of tens-of-thousands of Canadians protesting the COVID vaccines and deprivation of freedoms.  Apparently, and this is just a guess by some, the media feels that if no one covers what's actually happening, then it hasn't happened!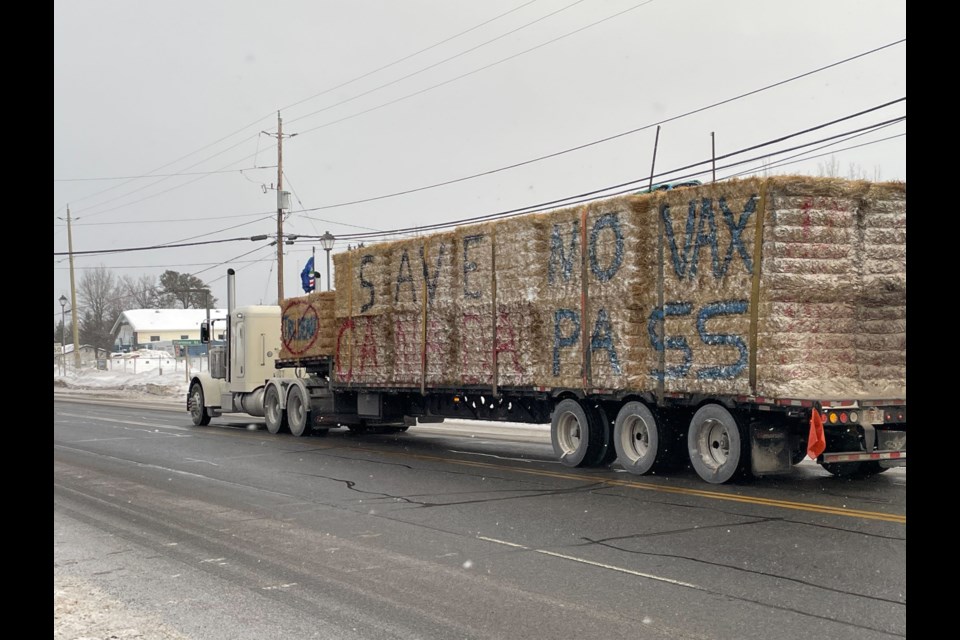 Of course, the general public sees the media as deliberately engaging in this act of omission because it does not fit with their propaganda narrative.  The media seems to want the general public to think the COVID vaccines and mandates are good, and no rational person opposes them.  The reality, however, is quite different.
Hundreds of thousands of Canadian lines roads and highway bridge overpasses, carrying flags, signs, and cheering the Truckers on. 
 The truckers say they are free and independent people with rights that government cannot take away; like the right to work to earn a living, and the right to travel without having to prove they have taken some experimental gene therapy, masquerading as a "vaccine" — which doesn't seem to actually work.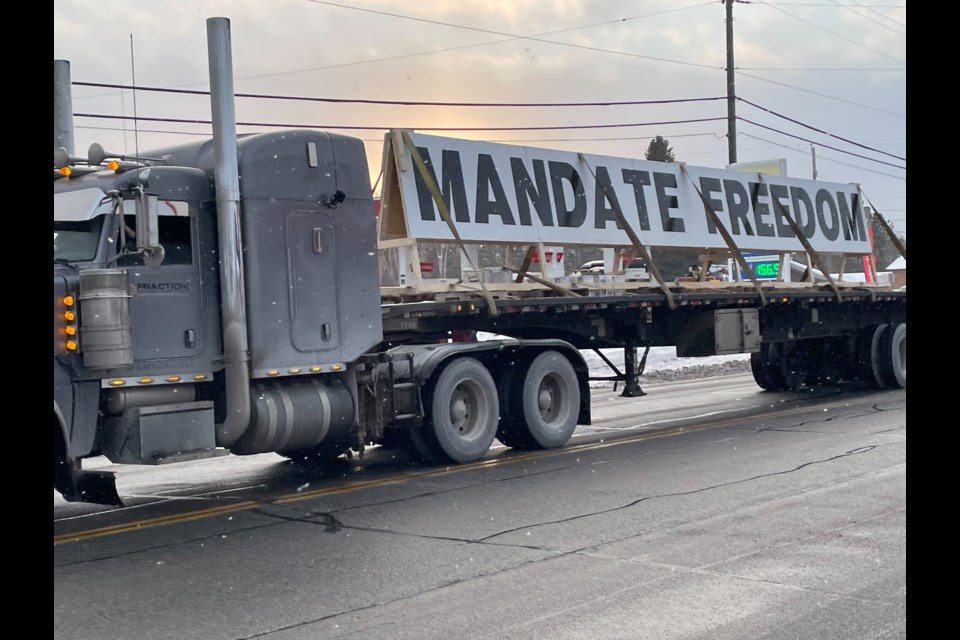 After a double-dose of vaccine, and then a booster shot, tens-of-thousands of people have STILL become sick with COVID, and many are hospitalized in far worse condition that those who did not take the so-called Vax.  Media doesn't report those facts either.
CBC: "Truckers Influenced by Vladimir Putin of Russia"
While covering the news of this extraordinary citizen action, the Canadian Broadcasting Corporation (CBC) actually aired a piece on TV wondering aloud if the Truckers Freedom Convoy are actually being manipulated by Russia President Vladimir Putin?
The general public's reaction to this absurd claim is first a laugh, and then a mocking remark like "Russians . . . Russians EVERYWHERE!"
Others commented that it only seems to be the Closet-Commies here in the West that try to blame Putin when their collectivist nonsense is confronted by freedom loving people.
The simple fact is that people are, by nature, free and independent.  Our freedom comes from our Creator, not from government.  Most importantly, our freedom does NOT depend on putting some experimental genetic therapy into our bodies before we can actually exercise our freedom.
So last night, the Trucker's Freedom Convoy began arriving in Ottawa. 
More than ten thousand trucks poured onto the streets of the city and clogged almost every lane of traffic, making vast swaths of the city, unpassable.  They are sleeping in their trucks at this hour, as more and more truckers from farther away in Canada, continue to arrive.   One part of the convoy, was 43 MILES long!    Yes, you read that right, forty-three MILES of trucks, bumper-to-bumper, making their way to Ottawa.
. . . and what did Canada's Prime Minister do when he heard all these Canadians were coming?   He ran away like a girly man fag.