Rmours that Recep Erdogan has had a heart attack
Rmours that Recep Erdogan has had a heart attack
Hal Turner reports on the rumours.
I have added 3  tweets to Hal's article that are not in the original.
Something is happening with Russia as of 3:00 PM eastern US time, which is 10:00 PM in Moscow.  Russian President Vladimir Putin was rushed TO the Kremlin with full police escorted motorcade.   This is extremely unusual, indicating something has happened (or is happening) requiring the President.
⚡️Putin rushed to the Kremlin around 10 minutes ago.

Rumour has it it's related to Erdogan's health; I doubt that though. pic.twitter.com/0jKd4x0xOi

— War Monitor (@WarMonitors) April 26, 2023
RUMORS are already running wild.  One RUMOR is that Turkish President Recypt Erdogan, who fell ill during a TV interview in Moscow, may have been "poisoned."
🚨🇹🇷 We are investigating the reports that Turkish President has been poisoned after meeting with a Russian official.
Update: Erdogan has been rushed to hospital pic.twitter.com/IKG4hEZrli

— Terror Alarm (@Terror_Alarm) April 26, 2023
UPDATE: According to Turkish opposition media, the wife of President Erdogan and family members have been asked to come to the hospital. https://t.co/4uunJO9TIu

— 301 Military (@301military) April 26, 2023
Another RUMOR is that Ukraine has begun using Depleted Uranium tank shells against Russian troops, which Russia previously warned would be considered a "Dirty Bomb attack upon Russia."
No official word from any level as to the ACTUAL reason . . . . developing . . . . check back for updates.
UPDATE 3:58 PM EDT —
Turkish President Recypt Erdogan's wife and family have been urgently told to come to the hospital.
 ERDOGAN ALLEGEDLY "IN CRITICAL CONDITION"  — More RUMORS he may have been poisoned!
UPDATE 4:02 PM EDT —According to a statement issued by the presidency, Erdogan was taken to the hospital in critical condition and received treatment for myocardial infarction, commonly known as a heart attack.
UPDATE 4:15 PM EDT — 
Chinese state media claims Turkey president Erdogan has suffered heart attack and is in critical condition in the hospital
From Russian media. Nothing in western media.
Türkiye: Is Erdogan alive at all? What about Russia. Let's sort it out
Yesterday – 04/25/2023 – during a live broadcast, Turkish President Recep Tayyip Erdogan became ill. I report.
The unfortunate incident happened during an election speech on Ulke TV. The broadcast was interrupted. The Turkish leader later apologized, citing stomach problems. A version is put forward that Erdogan's illness is caused by a busy pre-election schedule. Elections in Turkey will be held on May 14. The pre-election alignment in the country is very difficult.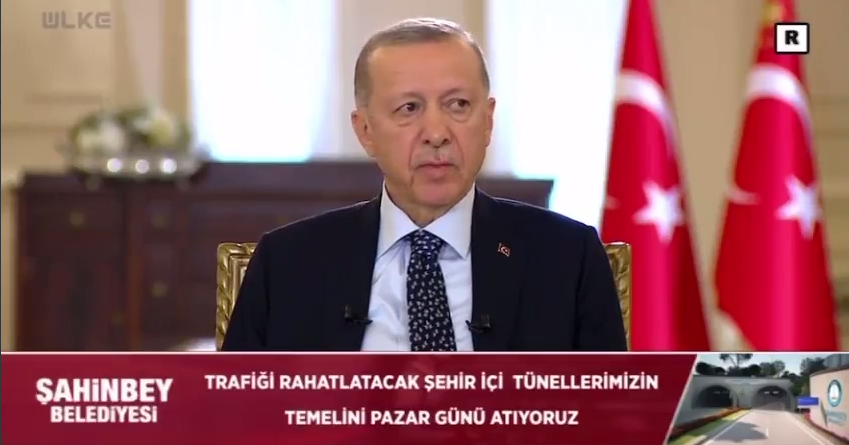 I looked at public opinion polls, which are now almost daily conducted in Turkey. According to these studies, today Recep Tayyip Erdogan and his main electoral competitor, Kemal Kilicdaroglu, go head to head. Most analysts are still inclined to believe that the current leader of the country will retain power. The situation with parliament is more complicated. There is a high probability that the Turkish fox and his "Justice and Development Party" will lose their majority in the Turkish Grand National Assembly (Mejlis).
The failure of Erdogan's positions is connected, first of all, with the devastating earthquake that happened in February. The southeast of Turkey, previously almost completely supporting Erdogan, has largely turned its back on its idol. People believe that the government did not take sufficient measures to save them and then restore normal life. By the way, I wrote about such a scenario immediately after a natural disaster. However, one should not discount the very high inflation and rising cost of living that have plagued Turkey over the past few years.
Today – 04/26/2023 – Recep Tayyip Erdogan canceled a planned campaign trip to the places destroyed by the earthquake. By evening, rumors spread on Turkish social networks that the president had a heart attack.
We certainly won't trust rumors. But let's see what happens if the leader of the Republican People's Party, Kemal Kılıçdaroglu, comes to power.
In general, this 74-year-old gentleman and his political force are oriented towards the West. At the same time, just the other day, Kilychdaroglu made an unexpected statement that if he wins the elections, he will strive to maintain fruitful relations with Russia. Wants to mediate in conflict. He emphasized that in international relations he plans first of all to defend the interests of Turkey.
– How will Turkish-Russian relations develop under our government? With predictability, dignity and respect," said Kılıçdaroğlu.
Do you believe? Me not. As well as I do not believe Erdogan. At the same time, I believe that he is a slightly better candidate for us than a competitor due to the fact that he is already well studied and is really able to defend the sovereign and anti-Western interests of Turkey, which sometimes coincide with the interests of Russia. I believe that our diplomats need to prepare for any outcome of the elections in Turkey. You can only rely on yourself. Know that we will win anyway. Including in the diplomatic Russian-Turkish arena.
⚡️Erdogan continues to act as President of Turkey, will resume participation in events after a short break – the ruling party
https://t.me/seemorerocks/46985
This is RT in Russian
Turkish vice president says Erdogan has a mild cold
This was reported by TRT Haber .
Oktay also assessed Erdogan's health as very good.
Turkish Security Council member responds to Erdogan's heart attack rumors
Earlier it was reported that the interview of Turkish President Recep Tayyip Erdogan to local TV channels was interrupted because the Turkish leader felt unwell due to stomach flu .
On April 26, the Center for Combating Disinformation under the Erdogan administration denied the version that appeared in the media that the Turkish leader suffered a heart attack.