Russia Says USA Behind Drone Attacks on Kremlin…White House Denies Culpability
Russia Says USA Behind Drone Attacks on Kremlin…White House Denies Culpability
Moscow accused Washington of masterminding a drone attack on the Kremlin to assassinate Vladimir Putin. The Kremlin said Ukraine carried out the attack with two drones. The Russian government warned that retaliatory measures could be taken. We'll cover the lastest escalation in WW3 along with war drums beating in South Korea, and former President Trump and former U.S. Secretary of State Pompeo praise the Unification Church.
Rick Wiles, Doc Burkhart. Airdate 5/4/23
Ukraine's actions are coordinated and approved by the US, Putin's spokesman has claimed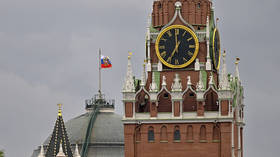 All of Kiev's decisions are ultimately dictated by Washington, including which targets to hit and by what means, Russian presidential spokesman Dmitry Peskov claimed on Thursday. His comments came after two Ukrainian drones unsuccessfully attempted to strike the Kremlin in the early hours of Wednesday morning.  
"Such decisions – the definition of goals, the definition of means, and so on – all this is dictated to Kiev from Washington, and we are well aware of this," Peskov told reporters. 
The spokesman for President Vladimir Putin dismissed attempts by US and Ukrainian officials to "disown" Wednesday's attack as "laughable," insisting that "we know full well that decisions to carry out such terrorist actions are made not in Kiev, but in Washington."  
Peskov asserted that it is important that the US "clearly understands" that Russia is aware of its involvement in Ukraine and "how dangerous such direct involvement is." 
The spokesman said that Kiev's attempted drone strike on the Kremlin is being thoroughly investigated, but did not provide estimates on when any conclusions would be officially announced. 
Peskov reiterated that Moscow reserves the right to respond to the attack with "a variety of steps." Although declining to specify what those measures might be, the Kremlin official insisted they would be carefully considered and "in line with Russia's interests." 
Putin's office reported on Wednesday that two Ukrainian UAVs had been disabled by air defenses while trying to strike the president's Kremlin residence in Moscow in the early hours of the morning. Putin was not in the Kremlin at the time of the incident and no one was hurt, the statement added.  
Russia described the failed drone strike as "a pre-planned terrorist act" and an attempt on Putin's life perpetrated by Kiev.  
Ukrainian President Vladimir Zelensky has denied his country's involvement in the attack, while US Secretary of State Antony Blinken has said that Washington could not "in any way validate" Russia's claims.
US National Security Council spokesman John Kirby responded to Peskov's comments by insisting that Washington was in no way involved in the incident. "We don't do that and we had nothing to do with it," he told MSNBC.
The Kremlin has vowed that Moscow will retaliate to the raid "anywhere and anytime it deems necessary," while senior Russian lawmaker Vyacheslav Volodin has called for the use of "weapons capable of stopping and destroying the Kiev terrorist regime."
This was the US response
Washington is protecting "the Kiev criminals," Russian Ambassador Anatoly Antonov has said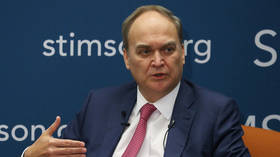 Washington is "shielding" the Ukrainian officials who sent drones to attack the Kremlin and planned to assassinate Russian President Vladimir Putin, Anatoly Antonov, Russia's ambassador to the US, claimed on Thursday.
His statement came after Putin's office reported that two Ukrainian UAVs had been disabled by air defenses while trying to strike the president's Kremlin residence in Moscow early Wednesday morning.
Putin was not in the Kremlin when the incidents took place, and no one was hurt.
"We hoped that the administration [of US President Joe Biden] would have the guts and dignity to condemn this terrorist act," Antonov said, according to the embassy's Telegram channel. He called claims that the raid was a false-flag operation "deceitful" and accused Washington of "shielding the Kiev criminals." 
How would Americans react if a drone hit the White House, the Capitol, or the Pentagon? The answer is obvious for any politician as well as for an average citizen: The punishment will be harsh and inevitable.
Antonov reiterated Russia's claim that the failed drone strike was a terrorist attack and an attempt on Putin's life. He noted that the raid occurred just days before the World War II Victory Day parade on Red Square next Tuesday, which will be attended by Putin, senior officials, and foreign guests. Antonov added that the raid demonstrates that "our adversaries have no desire to seek peace."
Ukrainian President Vladimir Zelensky denied that his country was involved in the raid.
US Secretary of State Antony Blinken told reporters on Wednesday that the US could not "in any way validate" Russia's claims about the attack. "I would take anything coming out of the Kremlin with a very large shaker of salt," he added.
White House spokeswoman Karine Jean-Pierre said the US could not confirm the "authenticity" of Russian reports about the incident. She continued by saying that Washington is "not encouraging or enabling Ukraine to strike beyond its borders." 
The Kremlin said Russia would retaliate to the raid "anywhere and anytime it deems necessary."
Ukraine produced a commemorative stamp but deny responsibility
Ukrainian banker offers cash for drone terror in Russia

Oligarch Volodymyr Yatsenko offered a $500,000 bounty to any weapons maker able to land a drone in Red Square during Moscow's upcoming Victory Day parade

Read the full report by @realalexrubi here https://t.co/tUg3KT1wp1 pic.twitter.com/Tgn45S8zMM

— The Grayzone (@TheGrayzoneNews) May 2, 2023
Authored by Dave DeCamp via AntiWar.com,
The US and Finland are working out a deal that would allow the US to establish a military presence in the Nordic country, as Helsinki is now a member of NATO.
According to Newsweek, Finnish Foreign Ministry official Mikael Antell confirmed the two nations are negotiating a Defense Cooperation Agreement that may allow for the construction of significant military infrastructure on Finnish soil.
This is one theory