Russia strikes Kiev
Russia strikes Kiev
One of the missiles reportedly landed on the street where the country's main spy agency is located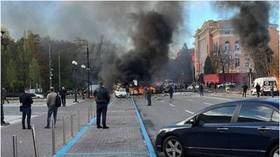 Russian missiles struck multiple targets in central Kiev on Monday morning, Mayor Vitaly Klitschko wrote on his Telegram channel. He urged residents to seek shelter and avoid traveling to the capital.
Anton Gerashchenko, an adviser to the interior minister, said that a missile struck Vladimirskaya Street, where the main office of the Security Service of Ukraine (SBU) is based.
Gerashchenko shared videos on Telegram showing clouds of smoke rising above the skyline, and said that several civilian vehicles were destroyed.
The adviser added that subway service has been partially suspended in Kiev, and all underground stations are now serving as shelters. 
Gerashchenko later said that five civilians were killed and 12 injured in the capital.
Strikes were also reported in the eastern city of Dnepr, and explosions in Lviv, western Ukraine.
In a post on his Telegram channel, President Vladimir Zelensky confirmed that there had been missile strikes across Ukraine. "Unfortunately, there are dead and wounded," he wrote.
DETAILS TO FOLLOW

Several explosions reported in the center of Kiev, according to Ukrainian media.
Ukrainian media claims that several explosions have been heard in Kiev, and information about the blasts was confirmed by the city's mayor, Vitali Klitschko.
Videos posted on social media show black smoke rising from several areas in Kiev.
"Four explosions were heard in Kiev. There are also reports of air defenses operating in the Kiev region … After the explosions, smoke was noticed in the city," the UNIAN news agency reports on its Telegram channel.
According to Kiev's mayor, Vitali Klitschko, explosions were heard in the city's center.
"Several explosions in the Shevchenko district — in the center of the capital," Kiev mayor Vitali Klitschko said on social media.
Anton Gerashchenko – the adviser to Ukraine's Minister of Internal Affairs – wrote on Twitter that one of the rockets in Kiev fell near the monument to Mikhail Grushevsky in Vladimirskaya Street. Ukraine's security services are in this street and the office of President Volodymyr Zelensky is nearby.
Several Strikes Have Hit 'Critical Infrastructure Objects' – Kiev's Mayor Vitali Klitschko Says
Explosion Reportedly Heard in Russia's Belgorod
A loud explosion was heard in Russia's Belgorod region, according to Reuters citing a witness. The cause of the blast is unclear.
Ukrainian Media Reports Blasts in Rovenskaya Region
Explosions Heard in Kharkov, Blackouts Reported – Ukrainian Media
One Subway Line Will Be Used as Shelter – Kiev City Council
President Zelensky Says Air Alert Continues Throughout Ukraine, New Explosions Reported in Kiev, Lvov and Dnepropetrovsk, Ukrainian Media Reports
Energy Infrastructure Attacked In Lvov Region, Ukrainian Media Reports Citing Authorities
Several Districts of Lvov and Ternopol Left Without Electricity After Missile Strikes – Ukraine's Ministry of Internal Affairs
Footage of Explosions in Kiev
Footage of Aftermath of Explosions in Dnepr
Explosions Reported in Lvov, Blasts in Kiev Continue, Ukrainian Media Reports
Ukraine's Media Report Explosions in Ternopol and Khmelnitsky
Ukrainian Media Report Explosions in Zhitomir and Kiev regions
Multiple Missiles Descending on Different Regions of Ukraine, Local Media Reports
The 19-km long bridge linking Crimea to Krasnodar was hit by a massive explosion on Saturday morning, killing three people, causing part of the road section to collapse into the sea and oil tankers on the adjacent rail section to catch fire. Ukrainian officials hinted at Kiev's responsibility for the terrorist incident in a series of Twitter posts.
The attack on the Crimean Bridge was ordered, hatched, and carried out by Ukraine's special services, Russian President Vladimir Putin has indicated.
"This was a terrorist attack aimed at destroying critical Russian civilian infrastructure," Putin said, speaking at a meeting with Russian Investigative Committee head Alexander Bastrykin on Sunday evening. "The Ukrainian special services were the authors, perpetrators and customers," Putin added.
If you don't mind the strong anti-Russian, zionist bias (I do)…