Russia Threatens to Strike "Decision-Making Centers" if Ukraine Attacks Crimea
Russia Threatens to Strike "Decision-Making Centers" if Ukraine Attacks Crimea
In a threat that could escalate into a full-blown war, Russia says it will strike Ukrainian decision making centers in the event Kiev uses western missiles to attack Crimea and Russian territory. Ukraine has already used some of the US-supplied HIMARS long-range rocket systems and British-made Storm Shadow cruise missiles against Russian positions in eastern Ukraine. Russia's Defence Minister Sergei Shoigu said if Ukraine used these missiles outside its special military zone it would be "an act of war which would require immediate strikes by the decision-making centers of the Ukrainian Armed Forces on the territory of Russia". Meanwhile, President Joe Biden recently told a private audience that the threat of nuclear war with Russia is real.
Rick Wiles, Doc Burkhart. Airdate 6/20/23
www.reuters.com
Russia now has free hand to destroy undersea communications cables, Putin ally says
A close ally of Russian President Vladimir Putin said on Wednesday there was no reason for…
www.pbs.org
NATO moves to protect undersea pipelines, cables as concern mounts over Russian sabotage threat
The military organization is concerned about Russia's mapping activities to locate vital W…
The Russian government is starting the process of unilaterally withdrawing from a series of international bodies, including the World Trade Organization and the World Health Organization, the Russian Duma's Deputy Speaker Pyotr Tolstoy said on Tuesday.
"We have work to revise our international obligations, treaties that today bring no benefit, but instead directly harm our country. The Foreign Ministry sent a list of such agreements to the State Duma," Tolstoy said. "Together with the Federation Council, we plan to analyze them and to propose to withdraw," he added.
Continued support for Ukraine will require more industrial production, the military bloc's chief has said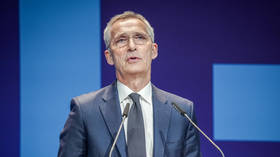 NATO needs a "more robust" industry in order to refill the stocks of weaponry and ammunition emptied by a year of supplying Kiev, the bloc's Secretary General Jens Stoltenberg said on Monday, at an industrial conference in Germany.
The US-led military bloc "must continue to support Ukraine" as it has done since 2014, Stoltenberg insisted at the Day of Industry in Berlin, hosted by the Federation of German Industries (BDI).
"We also need a more robust defense industry," the secretary general argued. "Our weapons and ammunition stocks are depleted and need to be replenished. Not just in Germany, but in many countries across NATO."
He added that he met with representatives of the military industry last week and discussed how best to ramp up production and streamline supply chains, adding that this was "key to sustain our support for Ukraine."
Stoltenberg also repeated his argument that only a Ukrainian victory on the battlefield can result in a just and lasting peace. Kiev's forces had attempted a large-scale offensive on the southern front over the past week, with heavy losses in manpower, as well as in weaponry provided by the West.
The US and its allies have sent over $100 billion worth of weapons, equipment and ammunition to Kiev in the last year, after the conflict escalated. They insist this does not actually make them a party to the hostilities with Russia.
Russian Foreign Minister Sergey Lavrov has accused the West of direct involvement, not just with the weapons deliveries but also by training Ukrainian troops in the UK, Germany, Italy and elsewhere.
Kiev has complained that a lot of the weapons coming in are in such poor condition they have to be cannibalized for parts. At least a third of Ukraine's military potential is undergoing repairs at any given time, according to the New York Times.