RUSSIAN NUCLEAR BASE ATTACKED
RUSSIAN NUCLEAR BASE ATTACKED
⚡BREAKING NEWS: RUSSIAN NUCLEAR BASE ATTACKED, US SENDS 3000 TROOPS, HISTORIC FIRES RAGE IN CANADA!
Russia Warns The West/The Final Days are Here
From WarNews 24/7
V. Putin "raised the gauntlet" and S. Lavrov sent an ultimatum to NATO that any F-16 mission to Ukraine would now be considered a "nuclear threat".
Russia has for the first time upgraded the threat meaning that if F-16s are delivered to Ukraine, Moscow's nuclear deterrence doctrine will automatically be activated.
This will happen because, as WarNews247 reported months ago, Russia cannot know which F-16s will be dual-purpose, i.e. they will be able to carry B61 nuclear bombs. Therefore, there are no more margins. Russia cannot risk a surprise nuclear attack.
Read also: Towards holocaust: NATO gives Ukraine 24 F-16s equipped with B61 nuclear bombs! – Moscow: "Europe will become a place of skulls"
Lavrov: Ukraine's F-16s are a nuclear threat
Russian Foreign Minister Sergei Lavrov has stressed that the West poses a "nuclear threat" to his country with its plans to deliver US-made F-16 fighter jets to Ukraine's armed forces.
"If Ukraine has US-made F-16 fighter jets at its disposal, this will create new risks for Russia, including in the field of nuclear security.
As you know, F-16 aircraft can carry nuclear weapons.
The US and its NATO satellites create a risk of direct military conflict with Russia, and this could have disastrous consequences ," Lavrov said during an interview with the Russian news site Lenta.
"Russia cannot ignore that the F-16s, with which various countries have announced that they intend to supply the Ukrainian Air Force, are capable of carrying nuclear weapons," he repeated  .
"The mere fact that such systems will appear in the hands of the Ukrainian armed forces will be considered a nuclear threat from the West," he insisted.
Sergei Lavrov stressed that Russia has already informed the United States, France and the United Kingdom that the possibility of F-16 fighter jets carrying nuclear weapons cannot be ignored.
The armed forces of the Russian Federation, according to Lavrov, will not understand whether each aircraft is equipped to deliver nuclear weapons or not.
Read also: Ukrainian counterattack with JAS 39 Gripen and F-16 from NATO bases – B.Putin: Airports of NATO countries will be hit – Don't you dare! (video)
Russian analyst predicted the start of nuclear war
At the same time, Russian political scientist and analyst, Yevgeny Satanovsky believes that the conflict in Ukraine could end in a nuclear war between the Russian Federation and the United States.
"We are heading for nuclear war. We go to him.
In the event of an explosion at one of the nuclear facilities, which is highly likely, the Kiev regime could then detonate a dirty bomb on the grounds of the Chernobyl nuclear power plant.
On the territory of this facility, they may secretly create a dirty bomb or cause a radioactive leak there, which will affect the territories of Belarus and Russia.
According to him, many nuclear facilities of the Russian Federation are now under threat of attack by the Kiev regime.
"Kiev may commit a terrorist attack on the Novovoronezh or Kursk nuclear power plants. The West has the opportunity to strike nuclear facilities in the Leningrad region from the territory of Estonia.
They have been targeted for some time. 
Of course, the enemy has the opportunity to attack the Zaporizhia nuclear power plant."
The Russian scientist believes that in this case, Russia will have no choice but to hit Washington.
According to Satanovsky, if this were to happen, "Russia should strike with strategic nuclear weapons directly at Washington.
It is time to stop assuring the American side of the inadmissibility of using such weapons and to state directly that in case of sabotage of any of the Russian nuclear facilities, the United States will be hit immediately.
This is the only way to avoid such incidents.
The Kiev regime, with the full connivance of its Western handlers, has repeatedly threatened to sabotage Russian nuclear facilities, as well as carry out drone attacks and artillery bombardments against Russian nuclear plants.
At the same time, Kiev accused the Russian administration of trying to organize an accident at the Zaporizhia nuclear power plant with the aim of radioactive contamination of the area.
From my perspective, if any of these things happen, then we have to hit Washington. And not with regular nukes.
We need to understand this and not assure our American neighbors on the planet that "Guys, if something happens, then you're going to be smoke. We, probably, too, but you – 100 percent! Then, only then there is a chance that it won't happen" concluded the Russian political scientist.
A suspected drone attack was carried out in Kurchatov, a home to a nuclear plant, reports say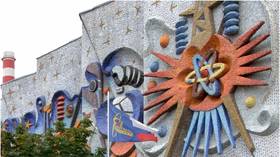 A loud explosion was heard over the skies of Russia's city of Kurchatov, an industrial hub adjacent to the Kursk Nuclear Power Plant, multiple Telegram channels reported in the early hours on Friday. They said locals found what looked like drone parts on the ground. 
According to the channel SHOT, windows were shattered in several houses. It added that air defenses have been activated. 
Photos posted on Telegram show what appears to be drone parts found in the city. 
The Kursk Region shares a border with Ukraine. The power plant is located roughly 4 kilometers (2.4 miles) outside urban areas. The company Energotex, which makes equipment for nuclear reactors, is also based in Kurchatov.
A "powerful explosion" was also reported in Voronezh, the capital of the eponymous region to the east of Kursk. 
Russian border regions of Kursk, Bryansk and Belgorod have been frequently shelled by artillery and attacked by drones since Moscow launched its military operation in Ukraine. Russian officials have accused Kiev of plotting sabotage on the country's major infrastructure sites, including nuclear power plants.
The Russian president has opened up about his Kremlin meeting with mutineers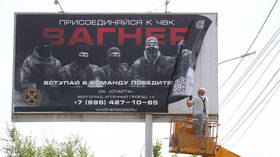 Russian law does not recognize the existence of private military companies, including 'Wagner,' President Vladimir Putin told the newspaper Kommersant on Thursday, when asked about his recent meeting with commanders of the mutinous group.
While attending a technology fair in Moscow, Putin was asked whether 'Wagner' will continue operating as a combat formation.
"Well, PMC Wagner does not exist!" Putin told the Kommersant correspondent. "We don't have a law on private military companies! So it simply doesn't exist!"
"The group exists, but legally it does not," the president clarified. "It's a separate issue, related to legalization, that needs to be taken up by the State Duma and the government. A complicated question."
The Russian government has long held this position when asked about the group, nominally headed by businessman Yevgeny Prigozhin. Wagner's de facto existence was only acknowledged by the Russian military when the group became involved in the fighting in Donbass last year, in particular at Popasnaya and Artyomovsk, also known as Bakhmut. 
Earlier this week, Kremlin spokesman Dmitry Peskov confirmed the report by a French outlet that Putin had met with 35 members of 'Wagner' on June 29, several days after the group engaged in armed mutiny. On Thursday, Putin was asked to give his version of what happened.
"I don't have a version," the Russian president replied. "You or NATO may have a version. I have what actually happened."
According to Putin, he wanted to meet with Wagner commanders who had fought honorably, more so than Prigozhin, though he was present as well.
"At the meeting I gave an assessment of what they did on the battlefield, and what they did during the events of June 24," Putin said. "Third, I showed them the possible variants of how they could continue their service, including in combat. That is all."
At one point, Putin said, he offered the men gathered at the Kremlin to continue their military service under the same commander they had served for the past 16 months, known by his call sign 'Grayhair'. While many of them nodded, Prigozhin spoke up on their behalf and said they did not agree.
After laying siege to the military headquarters in Rostov and sending a convoy of vehicles towards Moscow, Prigozhin ordered Wagner to stand down on June 24, after Belarusian President Alexander Lukashenko mediated a deal with the Kremlin. Under the terms of the deal, Wagner would be reintegrated into the Russian armed forces, while Prigozhin would move to Belarus and the criminal case against him for armed mutiny would be dropped.
The US-led military bloc's new posture involves a massive increase in rapid reaction forces and more heavy weapon procurement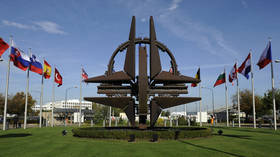 NATO passed a new defense plan at the Vilnius summit on Tuesday. The whopping 4,400-page document details the defense of critical locations in case of "an emergency" and lists a potential attack by Russia as one of the biggest threats, according to German media. The bloc's secretary general, Jens Stoltenberg has welcomed what he called "the most comprehensive defense plans since the end of the Cold War."
The document addresses two "main threats – Russia and terrorism," and accuses the former of being "the greatest and most immediate threat to the security of allies and to peace and stability in the Euro-Atlantic region," according to Germany's Bild tabloid. 
German Chancellor Olaf Scholz also called on his country and the other NATO members to "arm ourselves against a threat to our territory," Bild added. The new plan also lists the military capabilities the bloc's members must demonstrate, including new member Finland and applicant, Sweden. 
The document reportedly claims a "violent" and "revisionist" Russia could potentially attack NATO territory. "We recognized that we could indeed be faced with an Article 5 situation again, in which part of NATO territory is under direct attack," a military bloc official told German news agency, dpa. 
To counter the supposed 'Russian threat,' the bloc plans to massively increase its Response Force (NRF) from the current 40,000 troops to over 300,000, comprising land, sea and air units, as well as rapidly deployed Special Forces. 
The bloc also plans to significantly increase weapons production and stockpiling. The new strategy includes a "new Defense Production Action Plan to accelerate joint procurement, boost production capacity, and enhance Allies' interoperability," the NATO statement said. 
According to Bild, the bloc would seek to build up armored "heavy forces," and deploy more long-range artillery systems and missiles, as well as air defense systems.
NATO also plans to enhance what it calls 'deterrence measures' by sending additional forces to the Baltics and Eastern Europe. Battlegroups comprising 1,000 soldiers are to support the national armies of the Baltic States and Poland, Bild reported, citing the document. 
The UK will be responsible for Estonia, Canada for Latvia, Germany for Lithuania, and the US for Poland, the German media outlet said. Berlin also plans to station a brigade of 4,000 soldiers in Lithuania, according to the German media.
Germany is also reportedly expected to serve as the NATO logistics hub in case of a major conflict. The bloc is also considering establishing a second Land Command, in addition to the existing station in Türkiye's Izmir. Wiesbaden in Germany is being considered as a potential location since it already hosts a large US base, Bild reported. 
Russia repeatedly stated that it considers NATO's buildup on its borders as well as the bloc's expansion to the east a threat to its national security. It also named preventing Ukraine from joining the bloc among the main reasons for launching its military operation in the neighboring country in February 2022.
The (illegitimate) President of the United States, Joe Biden, has just issued a call-up of at least 3,000 Personnel from the U.S. Armed Forces Reserve and roughly 450 from the Individual-Ready Reserve in order to Augment the Forces of U.S. European Command.
The Reservists will also be involved with the upcoming Exercise "Operation Atlantic Resolve" in the Region.
This comes just one day after the NATO Summit in Vilnius, Lithuania, agreed to increase NATO's forces from 300,000 to 400,000 along Russia's Border.
Apparently, the stunning effectiveness of the Russian army in Ukraine has significantly shaken-up the powers-that-be, not to mention the frighteningly poor effectiveness of Ukraine's "NATO-Trained and Certified" army.
Remember, NATO began training Ukraine forces back in the year 2014 for a conflict with Russia.  From 2014 through 2022 before Russia entered Ukraine, NATO "Certified" the Ukraine Army as meeting NATO standards.
Now, almost a year and a half into the conflict between Russia-Ukraine, the world has gotten to see just how effective that NATO training and NATO Certification actually is:  Almost worthless!
As for "Operation Atlantic Resolve" that refers to military activities in response to Russian operations in Ukraine, mainly the War in Donbass.
It was funded under the European Deterrence Initiative. In the wake of Russia's 2014 intervention in Ukraine, the U.S. and the U.K. took several immediate steps to enhance the deterrence posture along the eastern flank of the North Atlantic Treaty Organization (NATO), including augmenting the air, ground and naval presence in the region, and enhancing previously scheduled exercises.
The US described the activities as taking measures to enhance NATO military plans and defense capabilities and maintaining a persistent presence in Central Europe and Eastern Europe. Atlantic Resolve rotations are overseen by a regionally aligned headquarters there.
So here we are.  
NATO is upping their troop count from 300,000 to 400,000 and Biden is calling up Reservists.
You're smart people, ask yourselves: Do governments move this number of troops if they don't intend to use them?
I think it is safe to say World War 3 is close at hand.  We in the West have fomented this.  We in the West are wrong; we're backing a NAZI-infested regime in Ukraine with the intent to put U.S. Missiles in Ukraine.
Russia has already, and repeatedly warned that missiles on Ukraine soil would have about a 5 minute flight time to Moscow.  This is a "red line" for Moscow; they will not tolerate this.
Yet Biden is now calling-up Reserves.
I earnestly hope you and your family have emergency food, water, medicines you need to live on.  I also hope you have a generator for electric power once the grid goes down, and some fuel for that generator.  You should also have some amount of CASH MONEY in the house because if the missiles start flying, all credit, debit, SNAP/EBT cards will cease functioning without machines to approve the charges.  So cash will be king.  If you have cash, you can eat.  If you don't, you don't.
This isn't getting better, it's getting very much worse.   With the NATO call-up of another 100,000 troops, Russia may decide it is better to strike now, rather than wait for NATO to get so many more men into position.
Russian Foreign Minister Sergei Lavrov today publicly stated that Russia will view the deployment of F-16 fighter jets to Ukraine as a direct nuclear threat.
Lavrov said Russia has privately warned the US, Britain, and France of the dire risks of the planned move to give Kyiv the advanced warplanes. He made clear that the use of F-16 – for which Ukrainian pilots are now being trained – was 'just one more example of an extremely dangerous turn of events.
'We have informed the nuclear powers, the United States, Britain and France, that Russia cannot ignore the ability of these aircraft to carry nuclear weapons. 'No amount of assurances will help here.'
 'In the course of combat operations, our servicemen are not going to sort out whether each particular aircraft of this type is equipped to deliver nuclear weapons or not. We will regard the very fact that the Ukrainian armed forces have such systems as a threat from the West in the nuclear sphere.' he continued.
He warned: 'The United States and its NATO satellites are creating risks of a direct armed clash with Russia, and this is fraught with catastrophic consequences.' The ultra-loyalist chief diplomat said: 'The conditions for Russia's use of nuclear weapons are clearly defined in our Military Doctrine. 'They are well known, and I will not repeat them once again.'