Russian press: The world is facing a "catastrophic famine"
Russian press: The world is facing a "catastrophic famine"
From the Russian press – Komsomolskaya Pravda
The world is facing a "catastrophic famine" unlike any seen since World War II
Why the harvest is concentrated in just a few countries and what does the sanctions and special operation have to do with it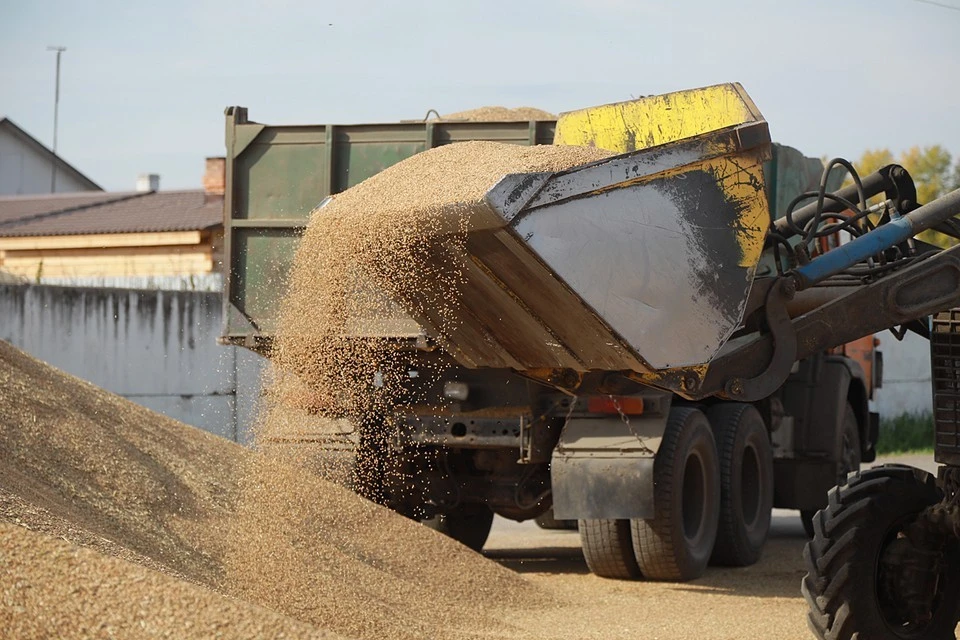 Мир ждет «катастрофический голод», какого не было со времен Второй мировой войны
21 May, 2022
The world is facing a severe food crisis and famine, the likes of which have not been seen since World War II. This is not from another Hollywood horror movie. This is from a statement by the German Minister for Economic Cooperation and Development, Svenja Schulze. And he's not the only one saying this. Due to the coronavirus, severe droughts, and now special operations in Ukraine, food prices have already increased by a third. But this is not the limit, because (we quote Schulze) "many countries depend on Russian and Ukrainian agricultural products."
"There is no solution to the problem without the return to the market of Ukrainian products, as well as products and fertilizers from Russia and Belarus," confirms UN Secretary General António Guterres. According to this organization, the number of hungry people in the world in 2022-2023 may increase by 8-13 million people. These are about two such countries as Oman or Libya.
With the coming famine already struggling, who in what much. Telegram founder Pavel Durov said he donated money to buy 12 million meals for the poor. And the executive director of the UN World Food Program David Beasley , through Twitter blocked in Russia, is demanding that President Vladimir Putin help rescue 20 million tons of Ukrainian grain stuck in the port of Odessa. President Joe Biden also joined in saving the same grain . Claims that America is "exploring ways to bring this grain back to the world market and thereby bring prices down."
"KP" figured out what was happening.
THE WORLD WAS WARNED…
The UN Food and Agriculture Organization (FAO) sounded the alarm back in March. Prepared a special report with data on how dependent the world is on products from Russia and Ukraine.
The situation is serious. Our two countries are the world's largest exporters:
– wheat – for Russia the first place, for Ukraine – the fifth,
– barley – second (Ukraine) and third (Russia) places,
– corn – the third (Ukraine) and the fifth (Russia).
Together, Ukraine and Russia account for about two-thirds of the total world export of sunflower oil. Plus, Russia is the second largest (after Canada) supplier of rapeseed oil.
According to the FAO report, more than 50 countries are critically dependent on wheat exports from Russia and Ukraine – both countries together account for more than a third of supplies. And in almost three dozen countries – more than half (see "Only numbers"). The countries of North Africa, East and Central Asia are of particular concern to FAO experts. Because they can hardly afford to buy more expensive wheat elsewhere.
But the problems don't end there either. Because Russia is the largest supplier of fertilizers, on which the yield of all grain producers depends. About 25 countries received more than a third of all the most important fertilizers from Russia.
The conclusions of FAO analysts (which, however, were not very heeded): everything possible must be done so that supplies from Russia and Ukraine to world food markets do not stop. In particular, not to introduce any trade restrictions against Russia that will interfere with the export of grain and fertilizers from our country. It looks like they weren't included. But…
PRICES, GO
"Problems in the global food markets began back in the pandemic — due to closed borders, disrupted logistics, the outflow of part of the labor force usually employed in agriculture," a domestic expert, director of the Center for Agribusiness and Food Security of the Russian Academy of National Economy, tells KP (RANEPA) Anatoly Tikhonov. – No sooner had the world recovered from this than new difficulties that caused an even greater rise in prices.
Formally, sanctions do not apply to agricultural products.
– Deliveries from Russia are coming. But we had big problems with the shipment of grain – even within the quota set by the government (introduced in mid-February until the end of June to protect the domestic market – there were fears that our exporters would be too happy with rising world prices and overdo it with sales, as already was with sugar and metals – Ed.). It became impossible to charter ships, insure cargo even for an increased commission. And Western ports have begun to interpret sanctions in such a way that they have expanded them in general to everything connected with Russia," Tikhonov says.
There are deliveries from Ukraine. By land transport through Poland, Moldova, Romania, 1-1.5 million tons per month are exported from the country.
But in the end, a situation arose on the market when too many countries are nervous about whether grain will reach them from the usual suppliers, with what adventures and at what price.
Meanwhile, the cost of the main grain crop – wheat – from the beginning of January 2022 to mid-May increased by more than 60%.
– A number of countries have already applied for loans from the World Bank for the purchase of wheat because of the soaring prices in the market, – says Gleb Finkelshtein , a specialist in the strategic research department at Total Research .
– For example, Egypt, one of the largest buyers of Russian and Ukrainian grain, this season for the first time bought a batch of more expensive Indian wheat – they are afraid that they will not have enough, – says Anatoly Tikhonov.
Indian wheat, however, is already in trouble. In mid-May, the country's authorities imposed restrictions on its exports out of concern for their own food security – they are afraid of a sharp rise in prices in the domestic market. Against this background, on European stock exchanges, wheat prices rushed to new records – they jumped by 6% at once in a day.
But this is not yet the apocalypse. He is just waiting for it.
"If this year the situation is even more or less clear, then starting from winter, the situation could seriously worsen, and both in the poorest countries – in particular, on the African continent – there and in Ukraine itself, from where grain is urgently exported," predicts Gleb Finkelstein.
FURTHER WILL BE WORSE
– The sowing campaign has begun, but the world is not ready for it, – Anatoly Tikhonov laments. – Gas, which is the main source for the production of ammonia and saltpeter, has risen in price significantly. The cost of mineral fertilizers for the sowing season all over the world turned out to be incredibly high. Therefore, many farmers in Brazil, and in the European Union, and in other regions have not been able to use fertilizers properly. What does it mean? This is a yield loss of 20-30% minimum.
According to the forecast of the US Department of Agriculture, world wheat production in the new agricultural season 2022-2023 (the agricultural season is considered from July to June) will decrease for the first time in the last four years – by 4.5 million tons. And the consumption of fodder (fodder) wheat – by 7.5 million. The last figure is extremely important, because it automatically means a decrease in the production of meat and milk and an increase in prices for them (see "Question for backfilling").
Ukraine in the new season will practically leave the market, as it will collect at best half of the usual. The harvest in the European Union in aggregate will also be reduced.
Only a few countries, according to American forecasts, in the current situation have a chance to increase grain production. Among them are actually the States, Canada and Russia. The Russian authorities predict a record grain harvest in our country of 130 million tons, of which 87 million tons of wheat. Last season there were 120 million tons of grain and 76 million tons of wheat. The United States will increase the "production" of wheat to 47 million tons (+2.2 million), Canada – up to 30 million tons (+11.4 million).
Many Western media comment on this alignment as follows: grain has finally become a political issue.
WE WAITING FOR THE NEW "ARAB SPRING"?
The largest international organizations, including the World Bank and the WTO, called back in April to prepare for food riots in the poorest countries. Yes, and not in the poorest, but experiencing financial difficulties, discontent is growing too. Foreign media are full of reports: there is a shortage of semolina and flour in Tunisia, bread has risen in price in Egypt, Algeria imposes restrictions on the export of wheat products in order to save stocks … And in Yemen, where there is a war, the UN predicts a "catastrophic famine" for 161 thousand inhabitants.
Not only experts, but also Western politicians recall the situation when a sharp rise in wheat prices in 2008 caused riots and upheavals in some countries, later nicknamed the "Arab Spring". From 2010 to 2012 there were revolutions in Tunisia, Egypt and Yemen, wars broke out in Libya and Syria. Algeria, Iraq, Jordan, Morocco, Oman and a number of other countries shook because of the protests.
In the current situation, the first sign was the protests in Sri Lanka due to deteriorating living conditions – including lack of fuel and rising food prices. The country earned mainly on foreign tourism, but during the pandemic, the flow fell, and, accordingly, there is no income to purchase everything you need at increased prices.
TRICKY QUESTION
Why is famine associated precisely with the lack of grain?
No, it's not only and not so much about bread. The main problem is that the rise in the price of grain entails an increase in the cost of all livestock products.
– In poultry farming, 70% of the cost of feed is grain, in pig farming – 60% with a little, – says Anatoly Tikhonov . – Plus, of course, expensive wheat is expensive flour and everything that is made from it. Taken together, inflation accelerates along the entire food chain.
ONLY NUMBERS
Countries most dependent on wheat supplies from Russia and Ukraine…
Eritrea – 100% (53% – Russian supplies, 47% – Ukrainian)
Kazakhstan — almost 100% (mainly Russia*)
Mongolia – almost 100% (Russia)
Armenia – almost 100% (Russia)
Azerbaijan – 95% (Russia)
Georgia – 93% (Russia)
Somalia – 92% (43% – Russia, 49% – Ukraine)
Seychelles – 91% (Ukraine)
Belarus – 86% (Russia)
Kyrgyzstan – 86% (Russia)
Turkey – 85% (68% – Russia, 32% – Ukraine)
Democratic Republic of the Congo – about 85% (mainly Russia)
Finland – 81% (Russia)
Lebanon – 74% (12% – Russia, 62% – Ukraine)
Madagascar – 74% (50% – Russia, 24% – Ukraine)
Egypt – 72% (45% – Russia, 27% – Ukraine)
Benin – 68% (Russia)
Albania – 65% (58% – Russia, 7% – Ukraine)
Congo – 62% (Russia)
Tanzania – 61% (48% – Russia, 13% – Ukraine)
Libya – 61% (22% – Russia, 39% – Ukraine)
Pakistan – 60% (22% – Russia, 38% – Ukraine)
Liberia – 59% (Russia)
Rwanda – 58% (Russia)
Namibia – 58% (Russia)
Senegal – 55% (53% – Russia, 2% – Ukraine)
*the share of Ukraine is small – within 1-1.5%
…and from Russian fertilizers
Mongolia – 98%
Belarus – 94%
Finland – 79%
Kazakhstan – 74%
Estonia – 73%
Moldova – 72%
Azerbaijan – 66%
Kyrgyzstan – 62%
Serbia – 56%
Latvia – 55%
Honduras – 51%
According to the Food and Agriculture Organization of the United Nations.
The largest buyers of Russian grain…
Country Volume of purchases, $ mln
1. Turkey 2410
2. Egypt 1555
3. Saudi Arabia 452
4. Azerbaijan 305
5. Nigeria 254
6. Libya 250
7. Kazakhstan 244
8. Latvia** 223
9. Sudan 203
10. Bangladesh 190
According to the Federal Center for the Development of Exports of Agricultural Products for 2021
…and Ukrainian grain
Country Volume of purchases, $ mln
1. China 2550
2. Egypt 1390
3. Turkey 918
4. Indonesia 750
5. Spain 645
6. Netherlands 552
7. Iran 533
8. Pakistan 355
9. Libya 342
10. Tunisia 306
According to the Ukrainian National Research Center "Institute of Agrarian Economics" for 2021.
* The statistics take into account the one of the EU countries where the cargo crossed the customs border.
Читайте на WWW.KP.RU: https://www.kp.ru/daily/27395.5/4590504/