'Safe & effective': EU drugs regulator backs AstraZeneca Covid-19 jab
'Safe & effective': EU drugs regulator backs AstraZeneca Covid-19 jab
'Safe & effective': EU drugs regulator backs AstraZeneca Covid-19 jab, though 'can't definitively rule out' blood clot link
https://www.rt.com/news/518509-ema-astrazeneca-review-safe-covid/
The European Medicines Agency (EMA) is continuing to study reports of rare blood clot events potentially linked to the AstraZeneca vaccine, but said on Thursday that the jab "is safe and effective in preventing Covid-19".
Following a review of the vaccine and reported rare incidents of blood clots among recipients, the EMA did not find a link to an overall risk of blood clotting, but will continue its investigations.
The regulator's findings come after 13 EU member states halted their rollouts of the AstraZeneca vaccine, which the Anglo-Swedish pharmaceutical company developed with Oxford University.
Speaking at a press conference to discuss the agency's review, EMA chief Emer Cooke said the regulator's Pharmacovigilance Risk Assessment Committee had come to a "clear scientific conclusion" after reviewing reports of blood clotting.
Cooke added that despite days of in-depth analysis of numerous evidence, the EMA "still cannot rule out definitively" a link between cases of blood clotting and the vaccine.
After 'rigorous scientific review', UK drugs regulator says people should still get AstraZeneca Covid jab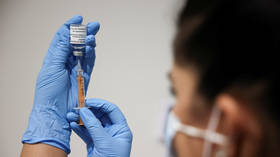 The UK's Medicines and Healthcare products Regulatory Agency (MHRA) has said there is no evidence that the Oxford-AstraZeneca vaccine is linked to blood clotting and no reason why it should not still be used against Covid-19.
The agency said on Thursday that it had conducted a "rigorous scientific review" of the vaccine's use after reports in Europe of at least two deaths and blood-clotting incidents in a small number of people who received a dose of the AstraZeneca jab. It concluded, however, that the vaccine is safe and its continued use far outweighed any risk that might be associated with it.
In a statement, the MHRA said it is still carrying out a detailed review into five UK reports of a very rare and specific type of blood clot in veins in the brain, reported in less than one in a million people vaccinated so far in the UK. The condition "can also occur naturally in the absence of vaccination," it noted.
Our thorough and careful review, alongside the critical assessment of leading, independent scientists, shows that there is no evidence that blood clots in veins is occurring more than would be expected in the absence of vaccination, for either vaccine," said the MHRA's Chief Executive, Dr June Raine.
She added that, given the extremely rare rate of occurrence of blood-clotting among the 11 million people vaccinated with the jab so far, and that a link between those cases and the AstraZeneca jab is unproven, the benefits of the vaccine in preventing Covid-19 with its associated risk of hospitalisation and death continue to outweigh the risks of potential side effects.
"You should therefore continue to get your jab when it is your turn," Raine said.
The vaccine has recently been suspended in a number of European countries in the wake of reports that blood clots form after jabs are administered to people, threatening their life.
UK Prime Minister Boris Johnson said on Thursday that the Oxford/AstraZeneca COVID-19 vaccine was just as safe as the Pfizer version, both of which are being rolled out in Britain, and that he would be having his Astra jab on Friday.
"The thing that isn't safe is catching COVID which is why it's so important that we all get our jabs as soon as our turn comes," Johnson told a news conference in Downing Street.
"As it happens I'm getting mine tomorrow, and the centre where I'm getting jabbed is currently using the Oxford/AstraZeneca vaccine … and that is the one I'll be having", he added.
Bragging about Britain's vaccination drive, the prime minister said they had immunised more than "the entire population of many countries".
Britain will receive fewer COVID-19 vaccines in April than it did in March, but is still on course to hit its target of immunising all adults who volunteer for a jab by the end of July, as planned, Johnson claimed. He said the shift in schedule was down to a delay in a shipment from India's Serum Institute and the need to get a batch retested in the UK, after increased concern about certain supposed side effects from the AstraZeneca inoculation.
"The supply we do have will still enable us to hit the targets we have set", he went on to promise.
https://sputniknews.com/uk/202103181082385042-uks-boris-johnson-says-astrazeneca-jab-safe-getting-his-on-friday/