Sanctions and global hunger
Sanctions and global hunger
'Millions' could die because of the pandemic and the ongoing military action in Ukraine, Berlin's development minister believes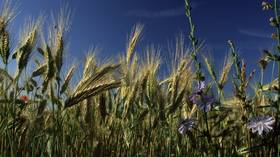 The world is about to face an acute food crisis due to skyrocketing food prices, German Economic Cooperation and Development Minister Svenja Schulze told the Bild newspaper on Saturday, warning about a looming famine not seen since World War II. The minister has named the Covid-19 pandemic and Russia's ongoing military operation in Ukraine as its causes.
"The situation is highly dramatic," the minister told the German tabloid in a late Saturday interview, adding that, according to the UN World Food Program, "more than 300 million people" are already suffering from acute hunger and the UN has to "constantly revise" this data upwards.
Food prices around the world have grown by a third and have reached "record levels," Schulze has warned, adding that the "bitter message is that we are facing the worst famine since World War II," which could see "millions" die.
In its May 6 statement, the World Food Program has warned that "44 million people around the world are marching towards starvation" because Ukrainian grain cannot reach them, and called for the Black Sea ports to be opened so that this grain could be delivered to the needy.
Minister Schulze was quick to blame Moscow for the development by accusing Russian President Vladimir Putin of "waging a war through hunger." She claimed that Russia had "stolen grain from Ukraine" and is now taking advantage of nations depending on Russian and Ukrainian agricultural products by supposedly offering food only to those, who are "unequivocally pro-Russian."
The minister has also claimed that the fact that 40 nations that are "home to half of the world's population" did not condemn Russia's actions in Ukraine was supposedly a result of their "vulnerability to food blackmail." She didn't offer any specific evidence to support this statement, though.
At the same time, she did admit that some nations' focus on green energy has contributed to the food shortage as well. Germany in particular should stop using food as fuel, she has suggested. Up to 4% of the so-called biofuel in Germany is made from food and animal feed, she said, adding that "it needs to be reduced to zero, and not just in Germany but potentially internationally."
Germany "pours 2.7 billion liters of fuel [made] from vegetable oils into car tanks every year," she pointed out, adding that this alone amounts to "almost a half of Ukraine's sunflower oil production."
The ongoing conflict in Ukraine has prompted fears of global grain shortages as wheat prices soared to multiple-year highs in March. Both Russia and Ukraine are major wheat suppliers, accounting for some 30% of global exports.
In mid-April, however, German Agriculture Minister Cem Ozdemir insisted that supplying Kiev with "more effective" weaponry was precisely what would have helped the world to avoid the supposedly looming "global famine." Ozdemir, a member of the strongly pro-US/NATO Alliance 90/The Greens party, also accused Moscow of "starvation strategy" at that time.
His position appears to be quite different from at least two groups of German public figures, politicians and celebrities, who have called on Chancellor Olaf Scholz to stop arms supplies to Ukraine and to focus on a speedy diplomatic solution instead.
Continued arms deliveries would only prolong the suffering of Ukrainians as well as risk potentially devastating consequences, ranging from a possible global war to a "catastrophic" impact on global health and climate change, the co-authors of two open letters have warned. Berlin has not reacted to any of the letters so far.
Russia attacked its neighboring state in late February, following Ukraine's failure to implement the terms of the Minsk agreements, first signed in 2014, and Moscow's eventual recognition of the Donbass republics of Donetsk and Lugansk. The German- and French-brokered protocols were designed to give the breakaway regions special status within the Ukrainian state.
The Kremlin has since demanded that Ukraine officially declare itself a neutral country that will never join the US-led NATO military bloc. Kiev insists the Russian offensive was completely unprovoked and has denied claims it was planning to retake the two republics by force.
A massive backlog of grain shipments is piling up in Ukraine to the tune of nearly 25 million tonnes due to 'infrastructure challenges' and blocked ports in the Black Sea, including Mariupol, Reuters reports, citing a UN food agency official.'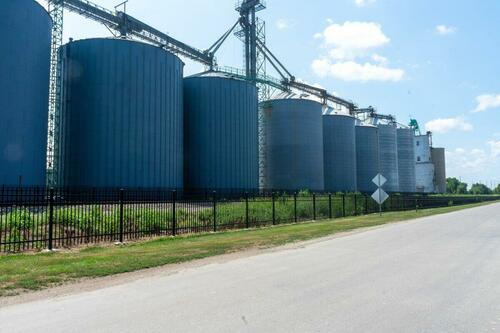 Ukraine was the fourth-largest exporter of maize (corn) in the 2020/21 season, and the sixth-largest wheat exporter in the world, according to the International Grains Council.
"It's an almost grotesque situation we see at the moment in Ukraine with nearly 25 mln tonnes of grain that could be exported but that cannot leave the country simply because of lack of infrastructure, the blockade of the ports," said FAO Deputy Director Josef Schmidhuber during a Geneva press briefing via Zoom.
According to Schmidhuber, the full silos could result in storage shortages for this year's July and August harvests.
"Despite the war the harvest conditions don't look that dire. That could really mean there's not enough storage capacity in Ukraine, particularly if there's no wheat corridor opening up for export from Ukraine."
He alluded to destroyed grain storage as a result of the Russian invasion, without elaborating.
CNN, however, reports from 'multiple sources' that Russian forces have allegedly plundered farm equipment and hundreds of thousands of tonnes of grains from Ukraine, with the Ministry of Defense estimating on Thursday that 400,000 tonnes of grain had been stolen to date.
[And given the source(s), the usual 'grain of salt' disclaimer applies as to the extent and accuracy of claims.]
Oleg Nivievskyi at the Kyiv School of Economics told CNN the thefts of farm equipment, such as tractors and harvesters, by Russian forces have been absolutely devastating for Ukrainian farmers. 
"Even if these regions are liberated tomorrow, it will take time to restart the production cycle," perhaps two to three years. Buying fertilizer and equipment and hiring workers would be tough for farmers who have been cleaned out by the Russians — because their grain is their working capital for the next season," Nivievskyi said. 
Footage has been posted online of long Russian convoys of farm equipment on flat-bed trucks leaving Melitopol, a city in southeastern Ukraine.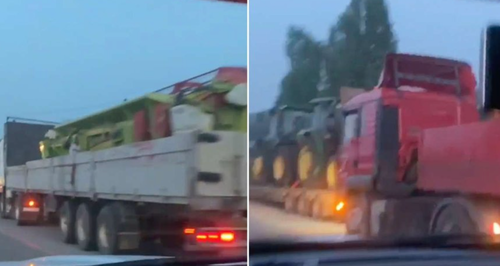 Olga Trofimtseva, former agriculture minister in Ukraine, said farm equipment thefts were also seen in Donetsk and Kharkiv. "Their equipment was simply stolen and pulled across the border — new tractors, harvesters," she said. 
Prior to the invasion, there were 6 million tons of wheat and 15 million tons of corn ready for export. 
Farmers in top growing areas in the southern part of the country, such as Kherson and Zaporizhzhia, have halted sowing operations due to the lack of farm equipment, shortage of diesel, fertilizer, and seed as the disruptions caused by the conflict. 
CNN reported one instance where a large grain storage complex located in the eastern part of the country was bombed. 

Russia has also reportedly intensified strikes on infrastructure, destroying highways, bridges, rail hubs, ports, electrical power stations, and fuel facilities, in a bid to disrupt the West's shipments of weapons to resupply the Ukrainian Armed Forces. 
The combination of thefts of tractors and grains, sowing disruptions, and blown-up ag facilities and infrastructure will severely impact food production in one of the world's largest grain exporters. 
Ukraine's deputy agriculture minister Taras Vysotskiy said Thursday the country only has enough stocks to feed its population. This means that Ukraine might not be able to export grains to other countries. Even if farmers were to plant, damage to highways, ports, and rail systems could make the flow of farm goods out of the country near impossible. 
The latest Food and Agriculture Organization of the United Nations report estimated a 20% decline in global wheat production this year due to the ongoing situation in Ukraine, where the Ministry of Agriculture recently warned a third of the country's farmland is occupied or unsafe.
The worst of the global food crisis could still be ahead (well, at least the Rockefeller Foundations thinks so…) since the Northern Hemisphere planting season has only begun, and commodity traders will have a more accurate crop production estimate by summer, which may result in even higher food prices.
The EU ban on Russian oil is expected to further inflate oil prices, increasing Moscow's oil revenues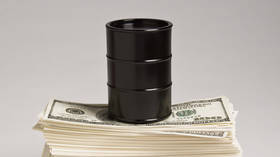 The ban on imports of Russian crude proposed by the EU authorities will only raise Moscow's oil revenues, according to Norbert Rucker, head of economics and next-generation research at Swiss wealth manager Julius Baer.
The impact of the ban on Russia is "debatable," the analyst said in an interview with Swiss news outlet 20 Minuten, adding that the EU could have better alternatives to weaken Russia, such as punitive tariffs.
Earlier this week, the European Union unveiled a plan to ban Russian oil imports for all of its 27 member states. The measure, which is set to hit Russia's national finances, comes as part of an unprecedented sanctions campaign launched by the West against Moscow over its military operation in Ukraine.
"The big question now is whether the West is putting pressure on China and India; then the embargo would have a much greater effect," Rucker said, adding that such a step would make it difficult for energy-rich Russia to find buyers for its crude across the world.
According to the expert, the ban is expected to further inflate global crude prices, which soared to $120 per barrel at one point in March, helping sanctions-hit Russia to boost its oil revenues.
"The embargo affects Switzerland only indirectly," Rucker said, adding that the country gets most of its oil from European refineries that have already supported the switch to alternatives.
"However, further growth in oil prices due to the embargo would be felt in Switzerland as well," he added.
Aggressive sanctions against Russia are sending financial shockwaves through Germany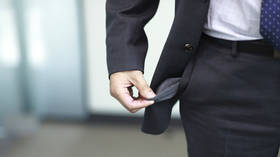 Germany will be battered with a wave of bankruptcies due to Ukraine-related sanctions against Russia, according to Commerzbank Chief Executive Officer Manfred Knof.
"The energy supply in Germany is at risk, supply chains are breaking down, we have high inflation," Knof was quoted by the Handelsblatt daily as saying.
According to the executive, almost a third of Germany's foreign trade has been impacted, forcing companies to navigate complex issues with customers, including surging commodity prices and supply-chain bottlenecks.
"We shouldn't delude ourselves: the number of insolvencies in our markets will probably increase and the risk provisions of the banks with it," Knof said.
On Friday, top EU diplomat Josep Borrell said the bloc's foreign ministers will meet next week should member states fail to reach an agreement by the weekend on banning Russian oil.
Brussels unveiled plans for a Russian oil embargo earlier this week. The measure is expected to come into force within nine months, with the timeframe varying for different petroleum products.
Several EU nations including Hungary, Slovakia and the Czech Republic are seeking an exemption from the ban.