SATIRE: Harry Vox "speaks" to Klaus Scwab
SATIRE: Harry Vox "speaks" to Klaus Scwab
Fantastic satire from the man who foresaw the Plandemic back in 2014.
Colourful language is definitely in order!
WHAT'S THE GREAT RESET? SANTA KLAUS EXPLAINS…
Klaus Schwab's "Magic Money Tree" Prediction Is Coming True
https://www.zerohedge.com/geopolitical/klaus-schwabs-magic-money-tree-prediction-coming-true
Authored by Joseph Jankowski via PlanetFreeWill.news,
23 January, 2021
If you knew where the tree that grew money from its branches settled, wouldn't you want to shake it? Of course you would. You'd in fact, want to shake it as often as you could.
Comparing central bank monetary policy to a money tree isn't a perfect analogy but to someone with little knowledge of the consequences of printing too much currency and going too far into debt, the difference between "quantitative easing" and a magic tree is nil.
Reports are now surfacing showing that voters are becoming upset that their elected representatives may not send out the campaigned promise of a direct payment of $2,000.
When announcing his $1.9 trillion "stimulus" package, Biden skimped on his vowed $2k payment with a new promise of $1,400 which would "top off" the $600 sent to Americans under President Trump.
"If you send Jon and the reverend to Washington, those $2,000 checks will go out the door, restoring hope and decency for so many people who are struggling right now," Biden said at a rally for Senators Raphael Warnock and Jon Ossoff.
Both Warnock and Ossoff made it a point to make the promise of $2,000 payments a part of their bid to obtain votes from the people of Georgia. Ossoff, in particular, often used his lip service to the payment to attack his opponent, David Perdue, in the run-off race.
Rogelio Linares, an Atlanta native and Democratic canvasser during the runoff elections, told Mediaite that he feels "like shit" over the fact that the next stimulus payment may not be as large as he was promised and called it "a betrayal of the working class."
"I was on the ground and I knocked over 1,000 doors," he said. "At the doors, I was literally telling people, '$2K checks, you can rely on this.' I'm a man of principle and morals and I feel like shit. I lied to them. I was lying to them the whole time. I was lying to people that were relying on this. At the time I didn't know it was a lie. But that was not the reality."

"This is pretty much a betrayal of the working class … I know people are pissed off about it," he added.
Another Georgia voter, Justin Wade from Tucker, says that it is a "bad sign" that those elected in the state do not appear to be willing to follow through on the promised welfare.
"Warnock, Ossoff, Kamala, and others have all pushed for $2,000 checks, but none of them have called on Biden to push for $2,000 checks in addition to the $600 checks," he told Mediaite. "Considering the Democrats control Congress and the presidency, they could've pushed for more if they wanted to. This is a bad sign for how they will govern for the next four years."
We also saw an ugly form of discontent over the lack of congress' ability to provide stimulus payments when the homes of Nancy Pelosi and Mitch McConnell were vandalized by people who made it clear that once you shake the money tree for the plebs, it becomes a light bulb moment for them, signaling political pressure (or intimidation) can get you paid.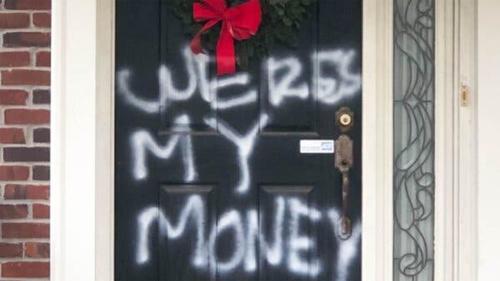 Vandals spray paint "Where's my money" on McConnell's front door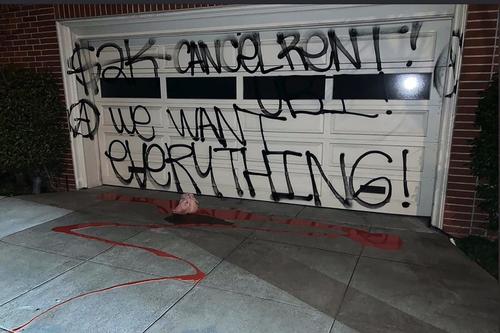 Pelosi's home hit by vandals
Everything laid out above is a consequence of the collaboration between central banks and governments to take care of citizens with their abilities to print money and push the worry of deficits off into the future.
In his book titled, COVID-19: The Great Reset (Published July 2020), World Economic Forum globalist Klaus Schwab predicted that the effects of the initial stimulus efforts by governments to keep both individuals and business afloat in the aftermath of the unprecedented lockdowns would create a scenario where the public would keep elected officials under "fierce and relentless" pressure to continue the schemes of helicopter money well into the future.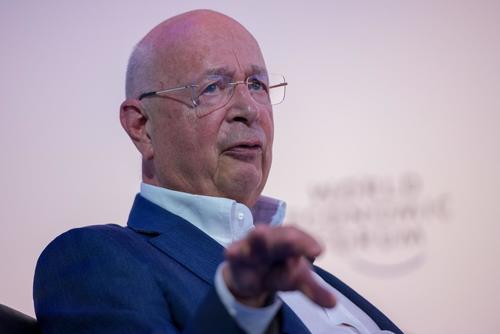 For those unfamiliar with Schwab, he is the founder of the World Economic Forum that is at the forefront of pushing the idea of a "great reset" in the face of the Covid-19 pandemic. Schwab is now best known by the common folk as the guy who said the world will "never" go back to normal because of Covid and as the creep who envisions a technocracy under which people are subjected to sci-fi level police state surveillance.
"The idea is appealing and realizable, but it contains an issue of social expectations and political control," Schwab says in his book about printing money and giving it to the public.

"Once citizens realize that money can be found on a "magic money tree," elected politicians will be under fierce and relentless public pressure to create more and more, which is when the issue of inflation kicks in."
He also writes:
It is now conceivable that, in the future, government will try to wield its influence over central banks to finance major public projects, such as an infrastructure or green investment fund. Similarly, the precept that government can intervene to preserve workers' jobs or incomes and protect companies from bankruptcy may endure after these policies come to an end. It is likely that public and political pressure to maintain such schemes will persist, even when the situation improves.
With anger, discontent, and the need for more being the visible result – at least in the United States – of politicians failing to feed the public money from the "magic money tree," Schwab's thoughts are coming to life.
It certainly wasn't the hardest thing to predict, that people would have an 'aha' moment after getting a taste of the money printer's money. It was a line that was crossed, and a political decision that will likely be incredibly hard to reverse course on.
As we have written about before, the introduction of stimulus payments since March 2020 has looked a lot like a Universal Basic Income scheme. And with an economic situation so bad due to lockdowns, it is likely to continue well into the future to keep the public content with the status quo.
There is also absolutely no reason to believe that the federal government will stop going into debt and having that debt monetized by the Federal Reserve anytime soon. Just take it from Biden's likely Treasury Secretary and former central banker, Janet Yellen, who said at her confirmation hearing that congress should "act big" on relief spending and worry about debt LATER.
Federal Reserve Chair Jerome Powell has also stated that the Fed would continue to buy $120 billion in bonds each month until the economy made "substantial further progress" toward the Fed's goals of maximum employment.
If you've been keeping up with the official unemployment numbers, you understand Powell means that the Fed's economic interventions aren't going to end for some time.
And as Schwab further notes in his book, COVID-19: The Great Reset, with interest rates at near zero, the Federal Reserve is likely to take on monetizing government debt rather than the classical move of bringing interest rates lower or negative as a means of "stimulating" the economy.
Ben Franklin had a quote that everyone should keep in the back of their head …
"When the people find that they can vote themselves money that will herald the end of the republic."
The fact that Schwab is being proven right on his "magic money tree" prediction leads one to wonder: what else will he be right about in the near future? Scary thought …