Showdown in the Straits of Taiwan as Nancy Pelosi wings her way to the island
Showdown in the Straits of Taiwan as Nancy Pelosi wings her way to the island
Speaker Pelosi Departs Washington for Asia….Chinese Prepare for War
House Speaker Nancy Pelosi may have already left Washington DC for Asia. Earlier this week news reports suggested that the Speaker would travel to Taiwan during the Congressional recess that starts in mid-August. However, the South China Morning Post reported this afternoon that Speaker Pelosi has already departed the American capital to fly to Asia. 
Rick Wiles, Doc Burkhart. Airdate 7/29/22.
According to prior comments from President Biden, the Pentagon wants House Speaker Nancy Pelosi to cancel her visit to Taiwan – but now pending her possible arrival in Taipei the US military has moved a Navy strike group into the South China Sea led by the USS Ronald Reagan aircraft carrier.
The USS Reagan left a port call in Singapore and is now patrolling waters near China, with Beijing flexing its own military muscle by launching fresh naval exercises near the self-ruled island – and more worrisomely issuing threats that the PLA military is on stand-by to respond with "forceful measures" if needed.  Turkey's EHA media outlet on Saturday is circulating (unverified) video purporting to show large US warplane formation flyovers of the South China sea, with destroyers below…
Pelosi is currently en route over the Pacific for a scheduled tour of Asia – including stops in Japan, South Korea, Malaysia, and Singapore –  with The Washington Post's Josh Rogin on Friday reporting that a Taiwan stopover is "expected to happen" during the "early part" of the trip, based on diplomatic sources.
All eyes are on Pelosi's flight path after it was days ago revealed that Taiwan was listed "tentative" as part of her itinerary…
It's expected that if she goes through with the Taiwan visit, Pelosi would at some point in Asia board a military transport plane – likely with US fighter jet escort. This possibility is what has infuriated Beijing.
Chinese state media, for example, has been issuing loud warnings saying the PLA military would have the "right" to intercept and deter any armed jet escort, deeming this akin to an "invasion" and violation of China's sovereignty. 
Chinese foreign ministry officials continue to warn that "all options, including military ones" are on the table given Beijing is interpreting the potential Pelosi visit as a strong signal to pro-independence forces, as well as 'interference' and a violation of the One China principle. 
Beijing is further warning that the House Speaker's visit to the island, which would mark a first in 25 years, would only ratchet the potential for "misunderstandings" and miscalculation.
As CNN previewed, China's PLA Navy is holding "live-fire" exercises in waters off Taiwan, raising the stakes further: 
China is planning to conduct live-fire exercises on Saturday in waters near Pingtan Island of Fujian province, which is opposite the self-governing island of Taiwan.

The Pingtan Maritime Safety Administration issued a navigation warning about the drills late Thursday local time, prohibiting all ships from entering waters near the island and the southeastern province of Fujian. It said the "live-fire training missions" would take place from 8 a.m. to 9 p.m.
As Pelosi flies to the region, the US and Chinese militaries are engaged in rival maneuvering in the seas below…
When the USS Reagan strike group entered the South China Sea, there were widespread reports that Chinese destroyers began following closely behind, mirroring and monitoring US Navy movements in the waters.
Chinese pundits and others have lately been circulating Archduke Franz Ferdinand memes, suggesting that if something goes wrong, the provocative trip could be what sparks the next world war pitting nuclear-armed superpowers China and the US against each other (and perhaps also Russia, given the war in Ukraine and Moscow-Washington stand-off in Eastern Europe).
While prior US media reporting indicated Pelosi's Taiwan visit would come "next month" – meaning August, it remains entirely possible that Pelosi could suddenly show up meeting with Taiwanese President Tsai Ing-wen as soon as Sunday, July 31 – or into Monday or Tuesday.
Meanwhile, China state-run Global Times has posted an ominous message of "Don't say we didn't warn you!" as Pelosi heads to Asia…
Some more worrisome signs…
This also as official social media accounts of the PLA military also promoted 'war preparedness' messages, also picked up in international press.
Update(1408ET): The Chinese government's English language mouthpiece Global Times has grown particularly loud and bellicose in response to Nancy Pelosi's potential trip to the self-ruled island of Taiwan:
"Get ready for war!" read a message posted by China's People's Liberation Army (PLA) 80th Group over the US visit to Taiwan, as reported on Friday, July 29. China's Army's war message over the potential US visit to Taiwan reportedly generated over 300,000 thumbs-up in just 12 hours, creating "high morale among Chinese soldiers" according to Global Times.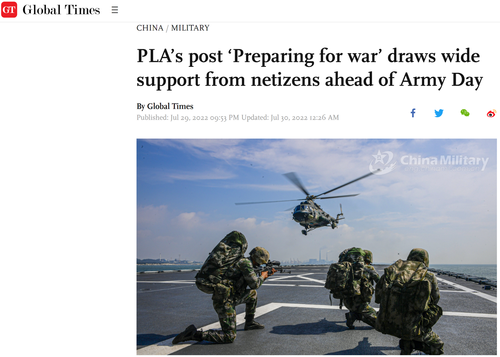 Below: reportedly the message in question appearing on a PLA channel Friday on the popular Chinese social media app Weibo:
"Preparing for War(备战)!"
The official #Weibo account of the 80th Army Group of the #CCP' People's Liberation Army #PLA posted this two-Chinese-word post 15 hours ago and has gained 650K likes, 32K comments, and 28K shares so far. pic.twitter.com/voEJ3BHFn6

— Jennifer Zeng 曾錚 (@jenniferatntd) July 29, 2022
I'd rather translate it as preparing for war. 备means prepare, get ready for, 战 means war. Of course, it can also mean action. But this is an account of PLA.

— Inconvenient Truths by Jennifer Zeng 曾錚真言 (@JenniferZeng15) July 29, 2022
GT further reminds its audience that, possibly corresponding with a Pelosi Taiwan visit (assuming she goes through with it), the country will celebrate the 95th anniversary of China's People's Liberation Army (PLA) military…
The 80th Group Army posted a comment saying, "we must bear in mind the fundamental responsibility of preparing for war and charge on the journey of a strong army." The comment has received 8,000 thumbs-up.

…Ahead of the 95th anniversary of the founding of the PLA on August 1, Xi, also the general secretary of the Communist Party of China (CPC) Central Committee and chairman of the Central Military Commission, stressed the need for further implementing the strategy of strengthening the armed forces by training competent personnel in the new era, the Xinhua News Agency reported on Friday.
At the same time, prominent GT pundit and the publication's former editor, Hu Xijin, has claimed the Chinese military "has the right" to block Pelosi's plane and any US fighter jet escorts from Taiwan's airspace (which China claims as its own).
This after he has in past days reported that Beijing considers "all options, including military ones" to be on the table:
If US fighter jets escort Pelosi's plane into Taiwan, it is invasion. The PLA has the right to forcibly dispel Pelosi's plane and the US fighter jets, including firing warning shots and making tactical movement of obstruction. If ineffective, then shoot them down. https://t.co/V7LhrXgXoM

— Hu Xijin 胡锡进 (@HuXijin_GT) July 29, 2022
China's jingoistic statements echoing from government-affiliated media and commentators has gotten considerable attention of late from American observers as the West speculates on what kind of response Beijing is readying in the scenario that Pelosi actually touches down in Taipei, which could be just days away.
In the last week, the running-dog of the Chinese propaganda effort @HuXijin_GT has 'officially' threatened the U.S. with war at least 6 times from behind the Great Firewall of the Communist Party of China. I need to call @RayDalio and Schwarzman to better understand how our 1/6 https://t.co/0aVEgjvg62

— 🇺🇸Kyle Bass🇺🇦 (@Jkylebass) July 29, 2022
But there is a general feeling that if China does respond aggressively – beyond something like just the usual war drills (snap exercises are occurring now in the South China Sea) – there's little that Washington can do about it, given it would involve simultaneously "confronting" superpowers on two major fronts, considering the spiraling Ukraine situation.
The only place where the US wins a war against China is in the feverish imaginations of State Department planners, neocon ideologues and Washington Post columnists. The rest of the world is aghast at the thought of hot war between superpowers.

— Dan Cohen (@dancohen3000) July 29, 2022
* * *
Update(10:22ET): With House Speaker Nancy Pelosi departing for a tour of Asia on Friday – to include Japan, South Korea, Malaysia, and Singapore – The Washington Post's Josh Rogin says a Taiwan stopover is "expected to happen" during the "early part" of the trip. 
Could Pelosi show up in Taipei as soon as Sunday, Monday or Tuesday? Meanwhile, Chinese state media has been busy threatening that "military options" are on the table in response.
Diplomatic sources tell me Speaker Pelosi's visit to Taiwan next week is expected to happen, in the early part of her Asia tour. Pelosi's office says trip possible, but not confirmed.

— Josh Rogin (@joshrogin) July 29, 2022
And for one of the latest posts from state-run English language Global Times…
A social media post by the PLA Army which said "Preparing for war" generated over 300,000 thumbs-up in 12 hours, amid high morale among Chinese soldiers ahead of the 95th anniv. of the founding of the #PLA and escalating tensions across #Taiwan Straits. https://t.co/efqunrYp1c

— Global Times (@globaltimesnews) July 29, 2022
* * *
As AntiWar.com's Dave DeCamp wrote: House Speaker Nancy Pelosi (D-CA) is leading a congressional delegation to Asia that is set to depart on Friday, but it's still not clear if she will make a stop in Taiwan.
Sources told NBC News that the delegation will stop in Japan, South Korea, Malaysia, and Singapore. Taiwan is listed on the itinerary as "tentative."
So far, Pelosi and her advisers have declined to confirm that she is planning to visit Taiwan. But on Wednesday, Rep. Michael McCaul (R-TX) said that Pelosi invited him to join her in Taiwan, signaling that she still plans to go despite the risk of sparking a major crisis across the Taiwan Strait.
McCaul declined the invitation, and it's not clear who will be part of Pelosi's delegation. She also invited Reps. Gregory Meeks (D-NY) and Mark Takano (D-CA), but they haven't commented on the trip.
Beijing has issued strong warnings over Pelosi's plans to visit Taiwan, but the potential trip has gained strong bipartisan support from lawmakers in Congress as both Republicans and Democrats are urging her to go.
#Opinion: China's remarks on countering #Pelosi's possible visit to #Taiwan shows highest level of warning. All options, including military ones, are already on the table. It's crucial to accurately understand China's remarks and avoid misunderstandings. https://t.co/hsXmXPz8LB

— Global Times (@globaltimesnews) July 28, 2022
Biden administration officials have said China will view the trip as a purposeful provocation but maintain that it's her decision whether or not to visit the island.
During a Q&A following Thursday's Biden-Xi phone call, a senior administration official reiterated, "I'd note that, you know, no trip has been announced.  And as we've said previously, it's her decision."
Chinese military analysts have warned that Pelosi visiting Taiwan could spark a conflict between the US and China. Pelosi will be the first house speaker to make the trip since Newt Gingrich did in 1997, but the analysts warn China's response could be stronger since its military is much stronger today.
Whether Biden keeps his words, the touchstone will be whether he can prevent Pelosi's visit to Taiwan. If Pelosi eventually makes the trip, to China, it will be a joint show between the White House and the Capitol Hill. I believe the PLA air force will definitely take action then https://t.co/2OmPoZlRYu

— Hu Xijin 胡锡进 (@HuXijin_GT) July 28, 2022
Chinese state pundits and media are meanwhile warning that "all options, including military ones" are currently on the table.
On Friday the Kremlin issued a statement expressing "solidarity" with China amid soaring tensions with the US over Taiwan, especially at a moment Nancy Pelosi is ready to become the first US House Speaker to visit the democratic-run island in 25 years.
Coming just after Presidents Biden and Xi Jinping spoke by phone Thursday, wherein the Chinese leader warned the US not to "play with fire" over the self-ruled island, Kremlin spokesman Dmitry Peskov said to reporters, "Certainly we are in solidarity" with China.
The 'Lend-Lease Act' mirrors legislation signed by President Biden to supply Ukraine with weapons
A group of Democrats and Republicans have introduced a bill that would authorize the Biden administration to create a new military aid program for Taiwan. Modeled after the 1940s Lend-Lease Act that allowed the US to arm the allied powers during World War II, the bill resembles legislation recently passed to boost weapons supplies to Ukraine.
Introduced by Representatives Michelle Steel (R-California) and Jimmy Panetta (D-California) in the House, and Senator Marsha Blackburn (R-Tennessee) in the Senate, the 'Taiwan Democracy Defense Lend-Lease Act' would authorize the president to lend or lease weapons and military equipment to Taiwan, which Taipei would pay for over a 12-year period.
The bill's name and wording closely follow that of the 'Ukraine Democracy Defense Lend-Lease Act', which was signed into law by President Joe Biden in May after passing Congress with almost no resistance.  
"Taiwan is our greatest partner in the Indo-Pacific region, and their continued sovereignty is essential to challenging the New Axis of Evil," said Blackburn, referencing an often-maligned term used by former President George W. Bush to group America's foreign enemies together. 
America's official position on Taiwan, however, is ambiguous. Since the 1970s, Washington has recognized, but not endorsed, China's sovereignty over Taiwan, a policy designed to discourage both a Chinese invasion and a formal declaration of independence by Taipei. 
The US does provide military aid to Taiwan, but the passing of this act would lift any limits, as the Ukrainian bill did for aid to Kiev. The original Lend-Lease Act, passed in 1941, allowed the US to provide arms to Britain, France, and the Soviet Union without formally entering the war. Although the Allies were supposed to pay for this aid, the US also accepted the lease of bases for its military instead.
Tensions between the US and China have soared in recent weeks, with Taiwan at the center. Biden stated in May that the US would take military action to prevent a potential Chinese takeover of Taiwan, a statement that broke with decades of strategic ambiguity over the island. While his aides swiftly backtracked, a potential visit to Taiwan by House Speaker Nancy Pelosi – which Pelosi refused to confirm or deny even as she departed the US for Asia on Friday – has further inflamed the situation. 
With Chinese President Xi Jinping warning the US not to "play with fire," both China and Taiwan held military drills this week. Should Pelosi go through with her visit, she would be the highest-ranking US lawmaker to visit the island since Newt Gingrich, who was also house speaker at the time, traveled to Taipei in 1997.
China blasted the White House in a Friday foreign ministry press conference, charging the US administration with lying after a Biden spokesperson said the president raised the issue of Uyghur Muslim genocide and forced labor camps with Xi in their over two-hour Thursday phone call.
The controversy started when White House Press Secretary Karine Jean-Pierre told reporters soon after the call that Biden "raised genocide and forced labor practices by the [People's Republic of China]," explaining that is something the president "always does" when he speaks with Xi.
"This is, as we've said, that anytime the president has an opportunity, he raises that when he meets with another leader, and called on [the] PRC to cease its ongoing human rights abuses across China," she followed with.
Except Beijing now says this was cut out of whole cloth, with Chinese Foreign Ministry spokesman Zhao Lijian vehemently rejecting this account in a Friday statement, saying:
"I can tell you that allegations of 'genocide' and 'forced labor' in Xinjiang are pure lies."

"You said the White House press secretary claimed that 'genocide' and 'forced labor' came up in last night's call. That is false information."
Curiously, neither the Chinese government's nor the White House's call readouts mention anything regarding the Uyghurs in particular, but only an ultra-broad "discussed a range of issues" phrase was used by the Biden administration in its press release.
In follow-up, The New York Post questioned the Biden administration about the matter, with a National Security Council spokesman saying, "I'm not going to get into a back and forth with a PRC government spokesperson."
The NSC official added, "The president raised concerns about human rights with President Xi, as he always does. He was crystal clear about his concerns. He also raised the need to resolve the cases of American citizens who are wrongfully detained or subject to exit bans in China."
…so somebody is indeed lying, given the clear discrepancy. 
Meanwhile, as House Speaker Nancy Pelosi is en route to the region on her Asia tour, which might include an ultra-provocative stopover in Taiwan…
Authored by Caitlin Johnstone via Medium.com,
House Speaker Nancy Pelosi has continued to pour gasoline on the foreign policy dumpster fire that is her planned visit to Taiwan next month, now reportedly encouraging other members of congress to come along for the ride.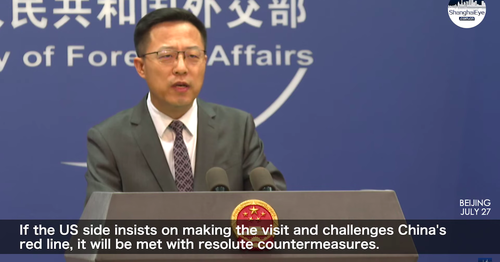 "Speaker Nancy Pelosi, D-Calif., has invited a small group of lawmakers on her official trip to Taiwan, including the top Democrat and Republican on the House Foreign Affairs Committee," NBC News reports.
Xi to Biden, 'You are playing with fire,' as tensions over Pelosi's Taiwan trip escalates