Solomons' leader confirms security pact with China
Solomons' leader confirms security pact with China
I practically had to get this from GREEK media
Alarm in USA-Australia-New Zealand
Article writer: Vassilis Kapoulas
30 March, 2022
Australia, the United States and New Zealand are in a state of disarray following the leak of a "bomb" to a Chinese base in the Solomon Islands in the South Pacific, which will allow the Chinese military machine to hit targets within 15 minutes.
The agreement shifts the balance of power in the Pacific region and dramatically changes the situation.
It will be the first time that Australia has a strategic opponent close to its shoreline since World War II.
Australian analysts and government officials are calling for "preparation for an invasion in order to overturn the military agreement before it is too late".
The China-Solomon Islands agreement enables Beijing to acquire a US-Australia military base of operations and to block navigation in the South Pacific.
Former New Zealand Minister of Defense Wayne Mapp stressed that " this agreement brings the South Pacific in the middle of a conflict of the Great Powers".
Watch video
FORMER NZ DEFENSE MINISTER WAYNE MAPP SAYS THAT BY SIGNING A SECRET SECURITY DEAL WITH CHINA, THE SOLOMON ISLANDS HAVE "GONE ROGUE" AND BROUGHT THE SOUTH PACIFIC INTO THE MIDDLE OF A GREAT POWER CONFLICT. PIC.TWITTER.COM/DLI6ZO9Z4P

– ZEITGEIST POLITICS (@ZEITGEISTPOL) MARCH 25, 2022
Australia: "Preparing for invasion"
Australia must be willing to invade the Solomon Islands and overthrow its government if necessary to stop a proposed security pact between China and the Pacific nation.
This was supported by David Llewellyn-Smith, co-founder of MacroBusiness and former owner of Asia Diplomacy's leading foreign affairs magazine The Diplomat.
He emphasized that the "Cuban Missile Crisis in Australia" and warned that a Chinese naval base in the Solomon Islands would be "the effective end to our sovereignty and democracy".
"There is no way Australia can allow this agreement to go ahead. If necessary, the nation will have to invade and occupy Guadalcanal so that we can plan regime change in Honiara. There are other soft power levers that we need to pull first and we need to pull hard. "But we must also immediately begin to mobilize an amphibious invading force to add pressure."
"Whenever Beijing disagrees with Canberra, it will open the hatches of cruise missiles in the Solomon Islands and ask us to reconsider.
"If we do not respond to that – it's to be us and Washington – then dude, the game is over."
"China will have freedom of navigation throughout the South Pacific. Cannonade diplomacy will be our new reality. Will they literally have cruise missile boats sitting there, can they have supersonic missiles that can reach Brisbane in how long, 15 minutes?
I do not know, but it will not be long. This is just a complete political change in relation to China. "Will we defend ourselves with our nuclear submarines in 50 years?"
"A Chinese base there must be a red line that China is not allowed to cross. 
China has "just surpassed Taiwan" It is incredibly bold. It's a huge thumb in our eye. "
"The DF-26 rocket is capable of reaching targets about 5,000 miles away, " Dr Malcolm Davis of the Australian Institute for Strategic Policy (ASPI) told the Daily Mail.
"So that could certainly cover everything in northern Australia up to the Pine Gap near Alice Springs, where there is an American-Australian CIA-run intelligence base."
Watch video
Australia in shock
Australian officials are concerned about the Solomon Islands military agreement with China with Defense Secretary Peter Dutton, saying "we are clearly concerned about the establishment of a Chinese military base less than 2,000 kilometers off the coast".
Australian Home Secretary Karen Andrews told reporters that the Pacific was Australia's "backyard" when asked about the possibility of the Chinese military operating in the Solomon Islands.
"In relation to China, in relation to the Pacific region, this is our backyard, this is our neighborhood and we are very concerned about any activity taking place in the Pacific islands," he said.
Australian Opposition Deputy Leader Richard Marles told Channel Nine that the draft agreement was "really worrying".
Marls called on the government to "do everything possible" to support the Pacific "to make sure that at the end of the day Australia is the natural partner of the security choice".
"We are clearly concerned about the creation of a military base and we will express it to the Solomon Islands government .
"This is deeply troubling for the United States and is a real concern for our allies and partners," said Charles Edel, President of Australia at the Center for Strategic and International Studies.
"Creating a base in the Solomon Islands by a strategic adversary will significantly degrade the security of Australia and New Zealand, increase the chances of local corruption and increase the chances of exploiting resources."
AS TWO SOVEREIGN AND INDEPENDENT STATES, CHINA AND SOLOMON ISLANDS CONDUCT NORMAL LAW ENFORCEMENT AND SECURITY COOPERATION ON THE BASIS OF EQUALITY AND MUTUAL BENEFIT, WHICH CONFORMS TO INTERNATIONAL LAW AND PRACTICE. PIC.TWITTER.COM/KLYMDBPXSO

– SPOKESPERSON 办公室 办公室 (@MFA_CHINA) MARCH 25, 2022
"We would be concerned about any action that would destabilize the security of our region," the Australian Foreign Ministry said in a statement.
"Pacific family members are better placed to respond to situations that affect Pacific regional security."
Anna Powles, a senior lecturer in international security and a specialist in Pacific diplomacy at Massey University in New Zealand, said the draft agreement was "very important".
"The security agreement is one of the first of its kind in the Pacific. "Its scope is broad and appropriately vague, and its provisions range from maintaining public order to protecting Chinese citizens, property and providing humanitarian and disaster relief assistance .
"The agreement also contains a number of ambiguous and potentially ambitious provisions with geopolitical implications, including that China is seeking logistics and assets located in the Solomon Islands to support ship visits."
"If it enters into force, the agreement also contains references to China 's' own needs ', which could refer to China' s strategic interests. "China's pursuit of strategic interests in the Pacific is a direct concern of Australia and its allies and partners."
Solomons opposition lawmaker Peter Kenilorea told ABC he was deeply concerned about the development. "This has implications for the Pacific Islands, including Australia," he said.
A State Department spokesman said Australia was "concerned about any action that could destabilize our region."
OPPOSITION LEADER @MATTHEWCWALE SAYS HE WARNED AUSTRALIAN OFFICIALS THAT A SECURITY AGREEMENT BETWEEN SOLOMON ISLANDS AND CHINA WAS IN THE WORKS. HTTPS://T.CO/ZZQAZV1ZDM

– EVAN WASUKA (@WASUKAEVAN) MARCH 27, 2022
What does the agreement say?
The agreement gives China the power to use its military to protect the security of Chinese personnel and major projects in the Solomon Islands.
"China may, in accordance with its own needs and with the consent of the Solomon Islands, make ship visits, provide accounting support and make stops and departures to the Solomon Islands," the draft agreement states.
"The Solomon Islands may, at their own discretion, request that China send police, armed police, military personnel, other law enforcement and armed forces to the Solomon Islands to assist in maintaining social order. the protection of human life and property ".
The agreement also allows China to provide "assistance in other tasks" and requires secrecy, noting:
"Neither party will disclose the cooperation information to a third party."
Watch video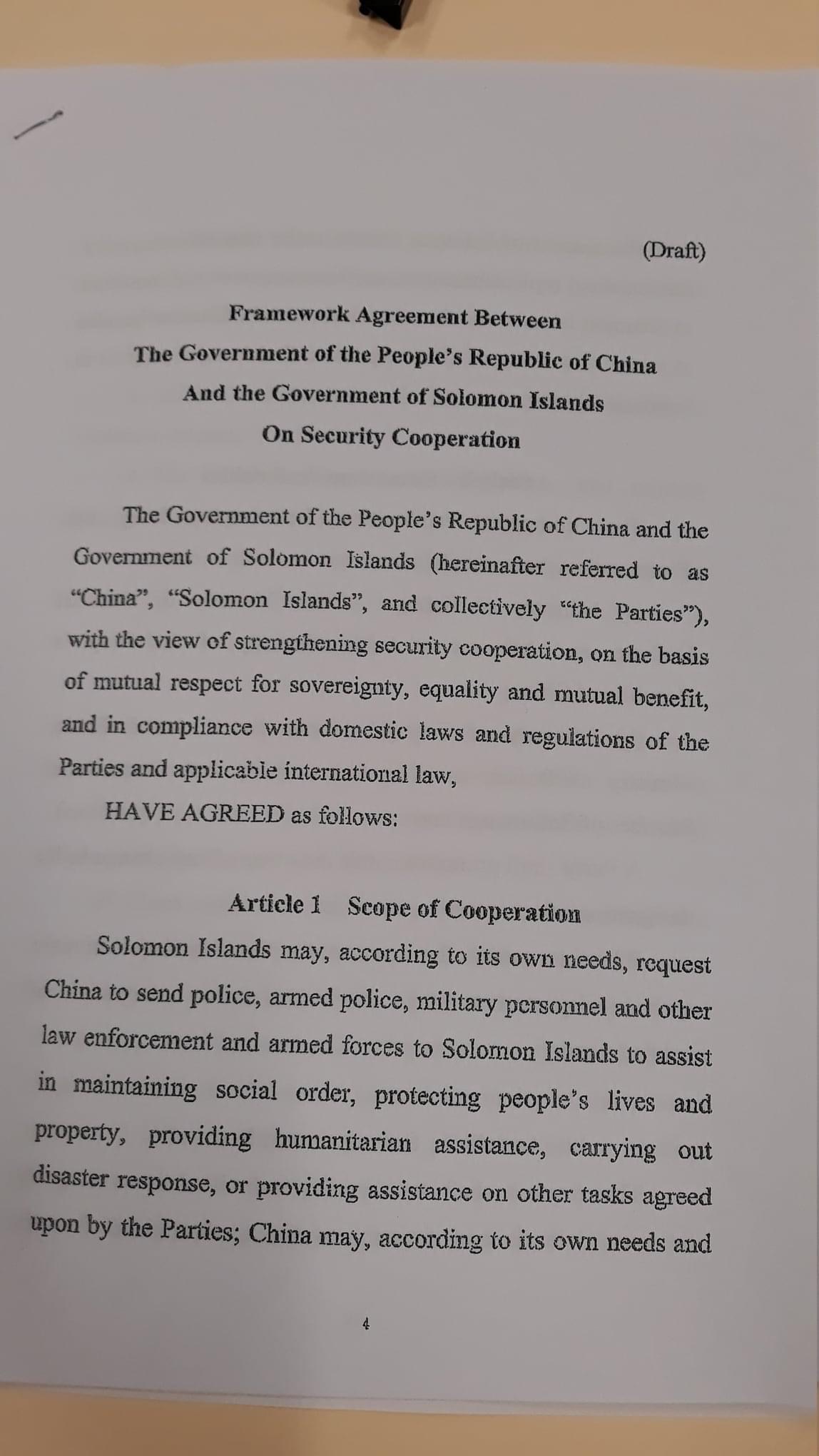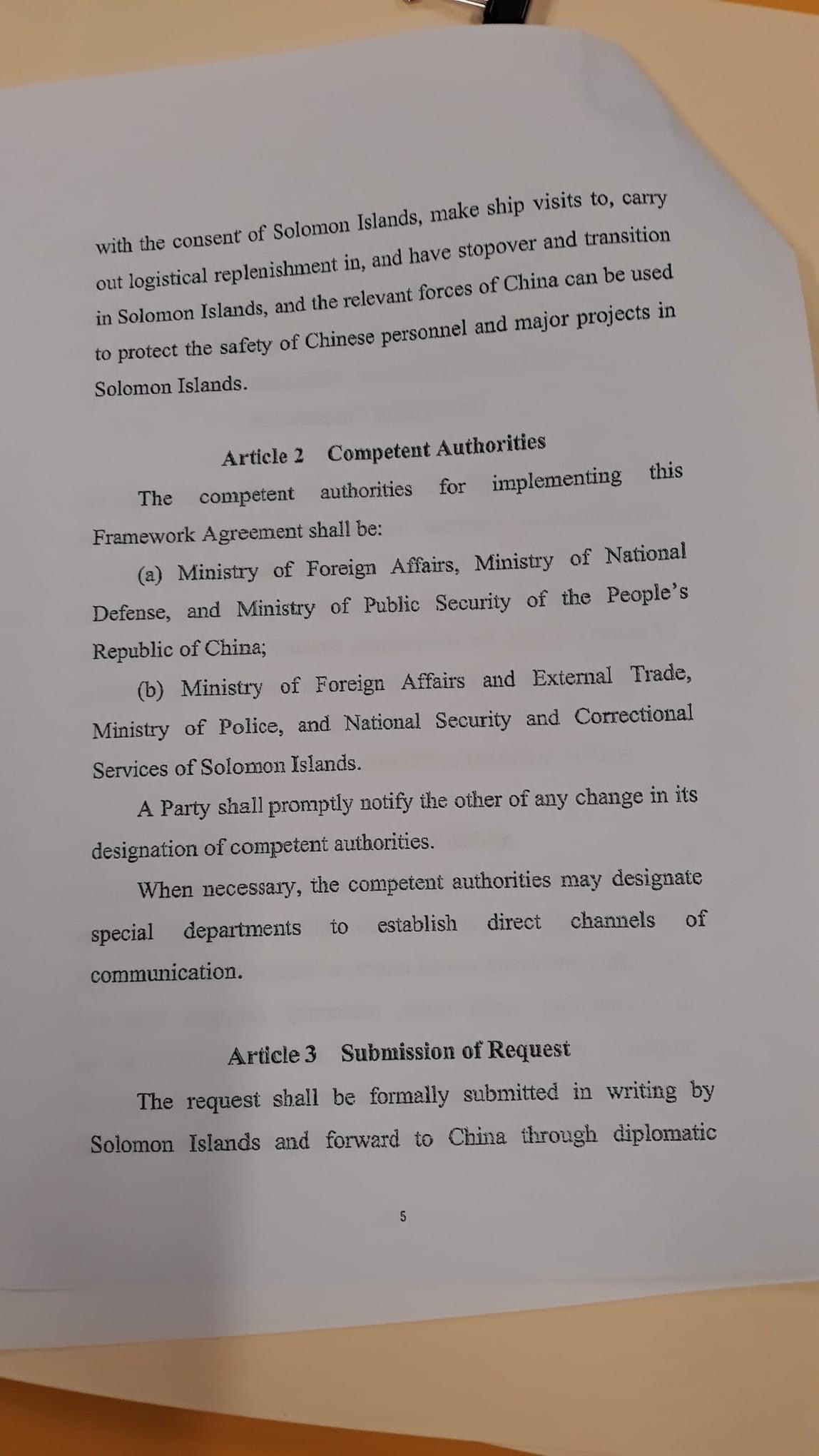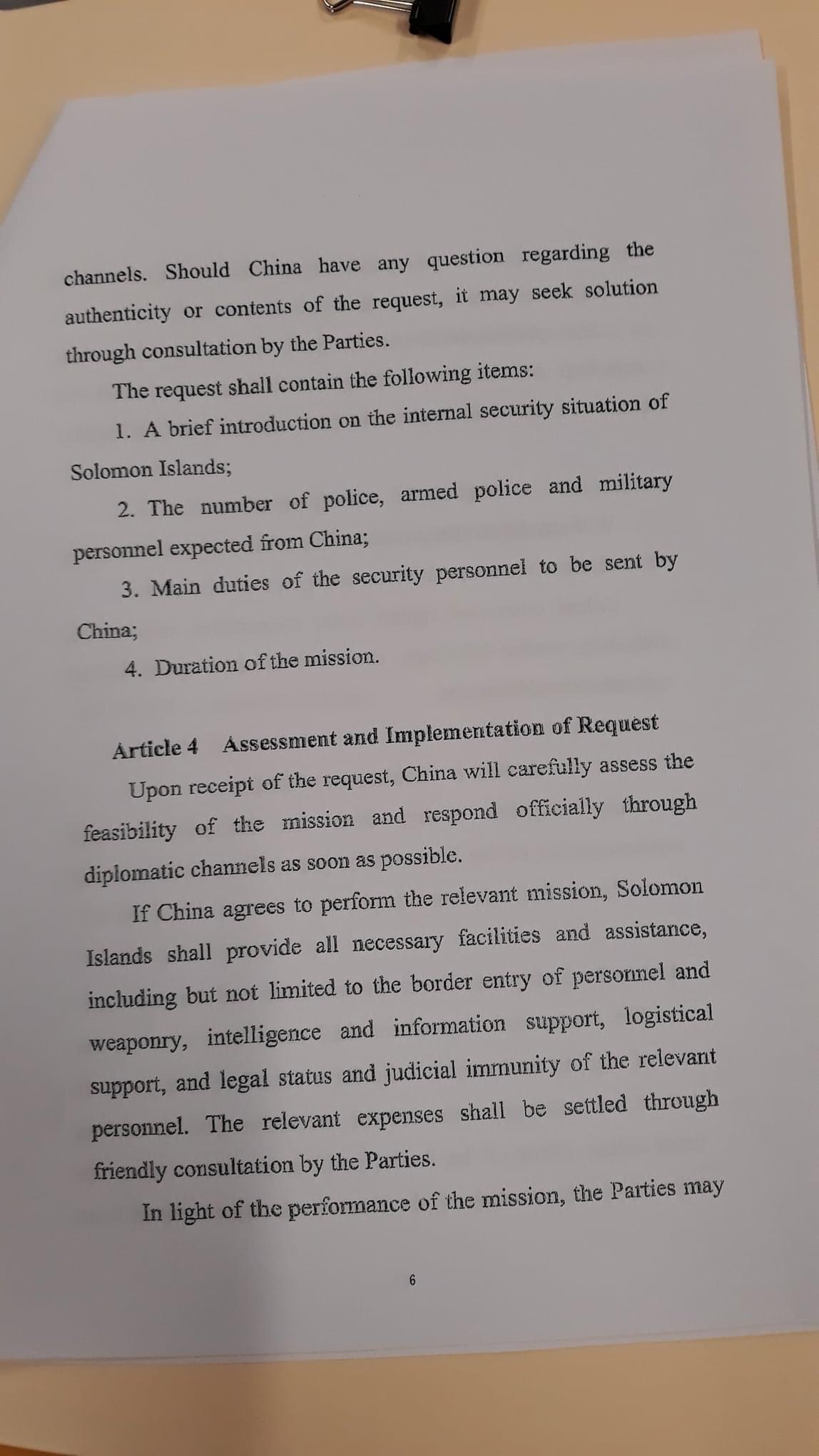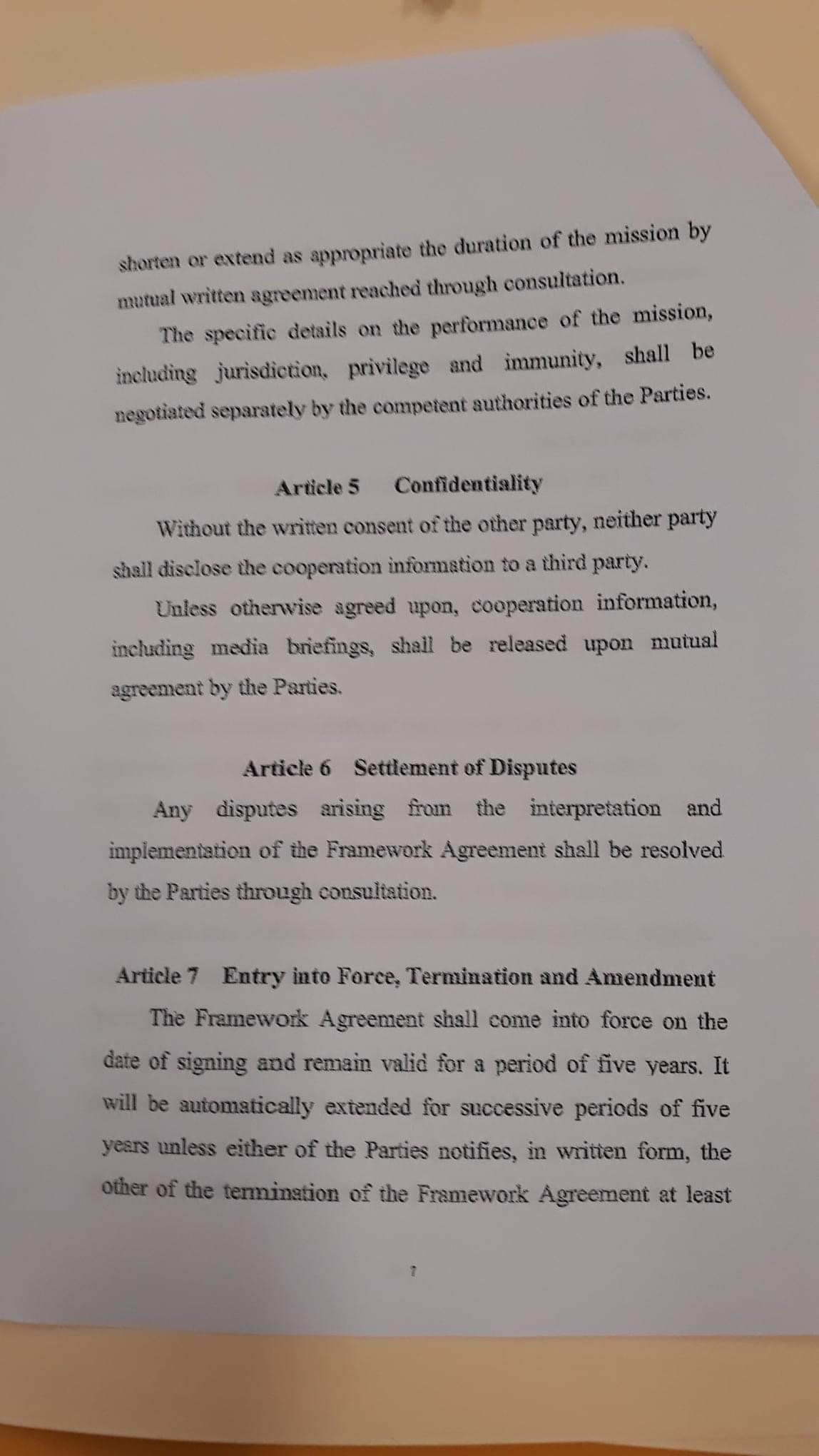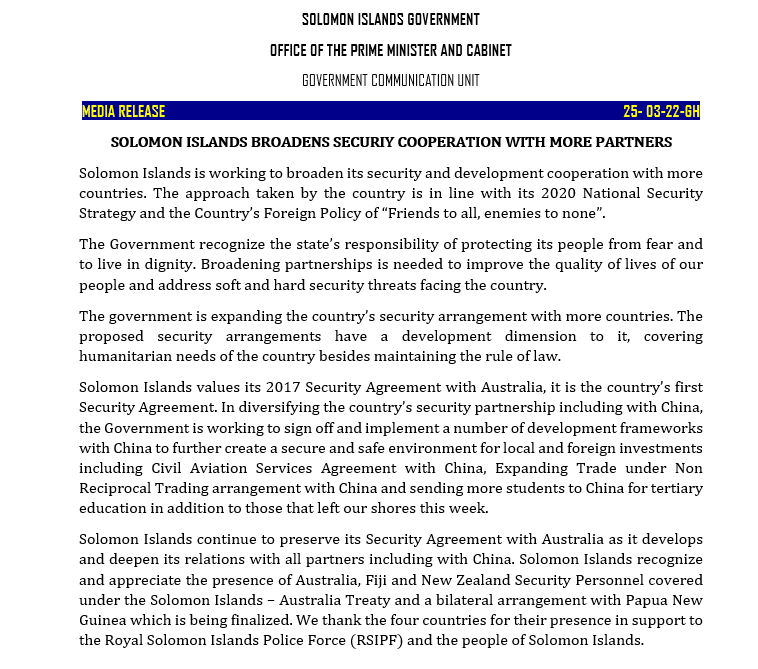 From Radio NZ
Solomon Islands Prime Minister Mannaseh Sogavare has confirmed his government has finalised a security treaty with China.
A draft security cooperation agreement was leaked on Friday and it could allow China to deploy police and military personnel in Solomon Islands.
The document lays down a framework which could permit Beijing to deploy forces to protect the safety of Chinese personnel and major projects in Solomon Islands.
Speaking to the parliament yesterday, Sogavare was critical of media reporting around the leak.
But in responding to a question about how far along negotiations on the treaty were, Sogavare, said the document was already finalised.
"Mr Speaker I was just replying to the leader of opposition who has asked how far have we got in terms of finalising these things. We have already finalised it. The document is ready for signing. Thank you Mr Speaker," Sogavare said.
He brushed off accusations that the security treaty would diminish the role of its traditional security partners in the region but has so far failed to go into any detail about its content.
An opposition figure in Solomon Islands said the regional outrage concerning the leaked security pact between Beijing and Honiara is not an "overreaction".
Foreign Relations Committee chairperson and MP for East Are Are Peter Kenilorea Jr said any security co-operation with a country that had no such arrangements in the Pacific would cause an "uproar."
Kenilorea said there were "very strong feelings" on the ground on who should or should not be Solomon Islands' security partner of choice.
Certain segments of Solomon Islands were very much against the Chinese Communist Party – particularly Malaita Province – which had documented it did not want anything to do with the CCP, he said.
Meanwhile, Transparency Solomon Islands said the government's move to sign a security memorandum of understanding (MOU) with China was just another item added to a long list of controversial policy decisions it has made in recent years.
Transparency's chief executive in Honiara Ruth Liloqula said locally there had been no consultation around the move and people are anxious about government intentions.
She said a controversial security MOU being brokered is yet another sign of a leadership crisis in the country.
Liloqula also said those blaming Solomon Islands' actions on a lack of input from Australia and New Zealand in regional security were missing the mark.
"I don't think that is the case. That is the easiest excuse to bring in. What we are seeing here is a leadership crisis inside our country and those they are surrounding themselves with, to look at the bigger picture," she said.
Sogavare brushed off concerns that a new China-Solomon Islands security treaty would diminish the role of its traditional security partners in the region.
He said his country's relationship with allies in Australia and New Zealand would "always remain important."
But Solomon Islands found it insulting to be branded as unfit to manage its sovereign affair, he said.
"In this context, Solomon Islands will seek partnerships with friendly foreign governments. This is part of the vision of the national security strategy especially in maintaining our security needs.
"The country's security needs are informed by its national interest to "provide a safe, secure nation" for all its citizens."