State Of Emergency Declared After Miami Condo Building Collapse; 99 Still Missing
State Of Emergency Declared After Miami Condo Building Collapse; 99 Still Missing
24 June, 2021
Update (1910ET): Search and rescue teams comb through tons of rubble of a collapsed condo building in Surfside, Florida, according to the NYTimes. 
The hunt for survivors has been ongoing for more than 12 hours since the Champlain Towers, a 12-story condo building, collapsed in the early morning hours.
Apartment block partially collapses in Florida, killing at least one
"This process is slow and methodical," Ray Jadallah, a Miami-Dade Fire Rescue assistant fire chief, said Thursday afternoon. "Anytime we started breaching parts of the structure, we get rubble falling on us."
Mayor Daniella Levine Cava of Miami-Dade County said officials accounted for 102 people who lived in the building, but 99 people remained missing.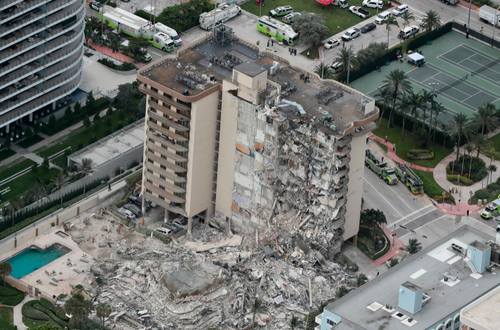 So far, at least one person was killed in the collapse. Officials warned there could be more fatalities. 
"Fire and rescue are in there with their search team, with their dogs. It's a very dangerous site right now. Very unstable," Miami-Dade Police Director Freddy Ramirez told reporters. "They're in search-and-rescue mode, and they will be in that mode for a while. They are not quitting. They're going to work through the night. They are not stopping."
Ramirez said the number of casualties and people missing is still not entirely known at the moment. 
"I don't want to set false expectations," he said. "This is a very tragic situation for those families and for the community."
The Champlain Towers South had 130 units, approximately 80 of which were occupied. The building, which was constructed in 1981, was in the process of being recertified, with several repairs being done. Every forty years, a recertification process for condo buildings in the area is performed to see if it satisfies structural standards.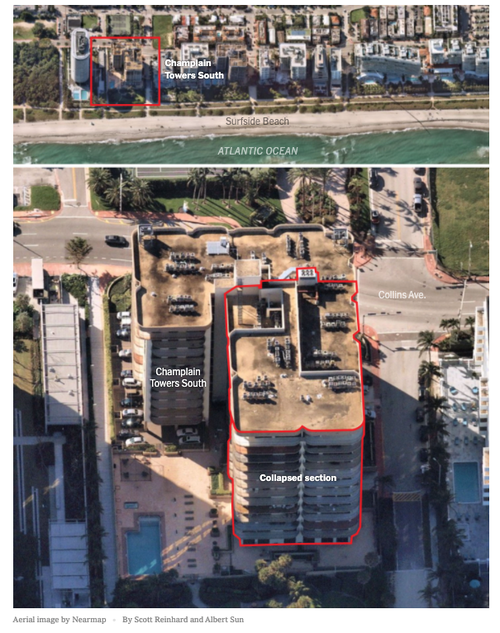 When news broke of the collapse, Shimon Wdowinski, a professor in the Department of Earth and Environment at Florida International University, remembered a study he completed on the condo building in the 1990s. He found the tower was sinking 2 millimeters a year in the 1990s. 
"I looked at it this morning and said, 'Oh my god.' We did detect that," he said.
Wdowinski said his research is more than two decades old, and the sinking may have decreased or accelerated. 
By late Thursday evening, Florida Gov. Ron DeSantis declared a state emergency declaration after the building collapse.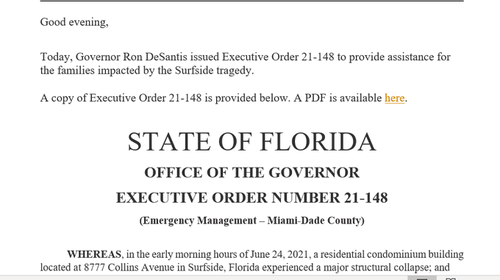 Earlier, DeSantis said, "brace for some bad news." 
Meanwhile, former President Trump has released a statement:
My thoughts and prayers are with all of those impacted by the building collapse in Surfside, Florida. Thank you to the incredible First Responders and Law Enforcement for arriving so quickly on the job, as always. We wish Governor Ron DeSantis, and all of those representing the Great State of Florida concerning this tragic event, Good Luck and God Speed. I am with you all the way!
With a third or more of the condo building completely pancaked, search and rescue teams will work through the night. 
* * * 
Update (1448ET): NBC6 Miami's Ari Odzer said, "Director of @MiamiDadePD says 53 people have been accounted for, 99 are missing." 
* * * 
Update (1424ET): Reporters on the ground of the collapsed condo building in Surfside say a fire has broken out. 
* * * 
Update (1321ET): Even after the partial collapse of Champlain Towers, where dozens of people are unaccounted for, some condo listings remain available. 
"This was built way back in 1981. Wonder what the shelf-life will be for all the recent "new urbanist" high rise constructions will be, with their cheap, flimsy materials and quirky designs," Twitter account "Brandon Adamson" said. 
On another note, we wonder if condo listings around the collapsed building will flood the market? 
* * * 
Update (1035ET): Bad news is beginning to trickle out from this morning's condo building collapse in Surfside. Earlier, Florida Gov. Ron DeSantis said, "brace for some bad news." 
Now Miami-Dade County Commissioner Sally Heyman told CNN that at least 50 people are unaccounted for in the building collapse.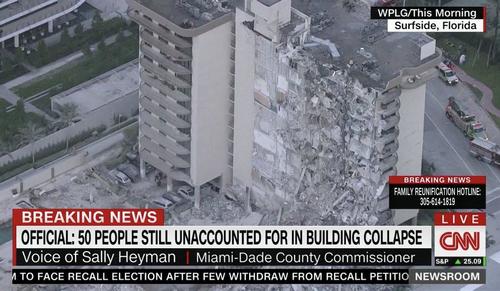 Axios reports 51 people are unaccounted for. Still, the numbers remain loose. 
* * * 
Update (1010ET):  Florida Gov. Ron DeSantis has told the press to "brace for some bad news" following the condo building collapse in Surfside early Thursday morning.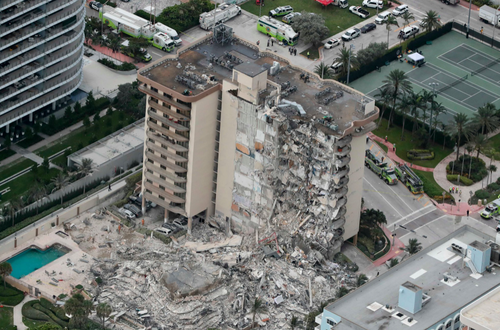 * * * 
Update (0950ET): Absolutely stunning video of the condo collapse in Surfside, Florida, has been posted on Twitter via "Andy Slater." 
Here's a GIF of the video, just in case the post is taken down.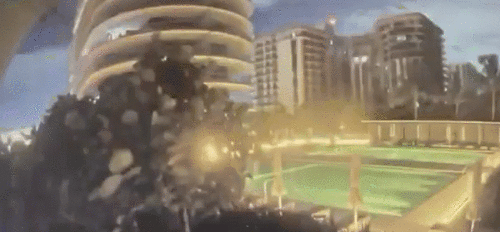 * * * 
Update (0810ET): Mayor of Surfside, Florida, the location of the condo collapse, spoke with CBS News, he said: 
"We're all just scratching our heads trying to imagine what in the world could have happened… It looks like an earthquake."
Twitter user "John Cardillo," says he spoke with "one of the first responders at the building collapse on Miami Beach/Surfside and initial working theory is a sinkhole."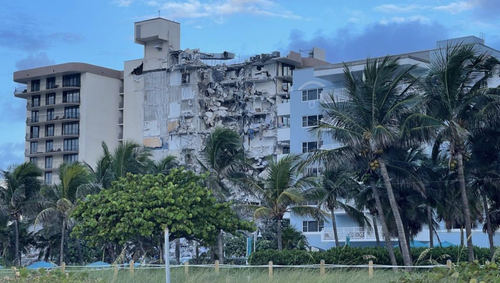 Cardillo added: "Having lived down here 17 years I've heard more than a few architects and engineers express concern about this exact thing."
* * * 
Update (0714ET): An update on the beachfront condo tower collapse in the Miami-area town of Surfside via AP News says there is no word on "casualties or details of how many people lived in the building."
Authorities have said, "the entire backside of the building has collapsed."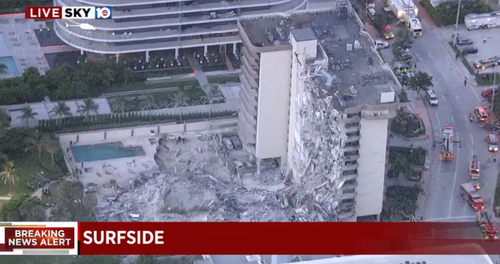 * * * 
A shocking report from Miami, Florida, early Thursday, of a condo building collapse, where at least nine people were taken to various local hospitals, according to CBS Miami.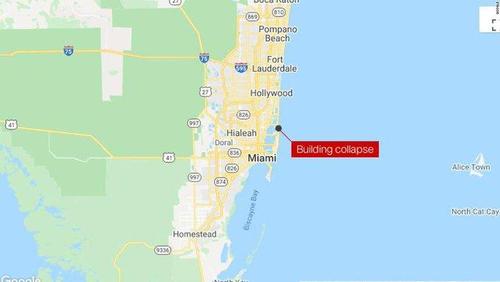 Miami-Dade Rescue Fire tweeted that an 80 unit condo building in a 12-story tower in the town of Surfside, part of Champlain Towers, experienced a "partial collapse." 
Reasons for the building's collapse are not yet known.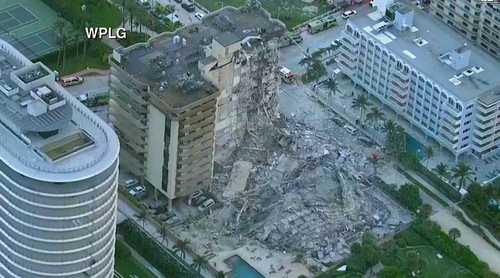 Here's a skycam footage of the collapse. 
Scenes on the ground are stunning.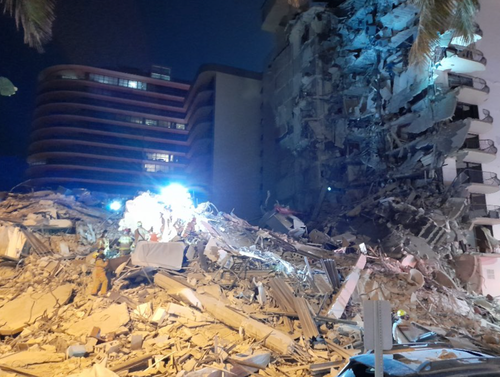 Here's the video from within the building. 
… and this all plays into aging private and public buildings and infrastructure across the country are in need of serious repair.