Surprise attack on Russian border region
Surprise attack on Russian border region
OH SH*T, NATO escalates war in Ukraine with attack in Belgorod, Russia using US weapons | Redacted

NATO and Ukrainian forces launched a surprise attack inside of pre-war Russia using American armored vehicles and weapons. They attacked civilians and residential buildings in broad daylight in the Russian town of Belgorod
At this moment, a fierce battle is going on with the Ukrainian DRG on the border of the Belgorod region near the village of Dronovka — Russian sources
Tanks have entered the territory of the Russian Federation at the Grayvoron checkpoint.
Russian media report: "Right now, there is a fierce battle with the Ukrainian DRG on the border of the Belgorod region near the village of Dronovka. Military equipment has been brought in from both sides."
Belgorod governor reported multiple drone attacks on local settlements following a Ukrainian incursion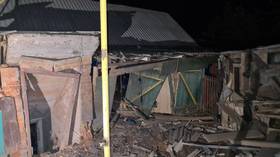 Ukrainian forces targeted several settlements in Russia's Belgorod region with explosive-carrying drones on Monday night, according to governor Vyacheslav Gladkov. The region was placed under the "anti-terrorism operation" regulations in the wake of a raid by a Ukrainian saboteur group.
Late in the evening, several improvised explosive devices were dropped on civilian houses in the town Grayvoron, which is located some 7 kilometers from the Ukrainian border, Gladkov confirmed on Telegram. Two houses caught fire, but there were no casualties, the official added.
Grayvoron is the administrative center of the district that had been targeted in a Ukrainian intrusion earlier in the day. 
A similar attack happened in the settlement of Borisovka, 25 kilometers further away from the border, where at least two bombs were dropped from drones on an "administrative building," Gladkov said shortly after midnight. Several hours later, yet another drone attacked a civilian house in the same village.
A group of saboteurs crossed from Ukraine into Belgorod region earlier on Monday, forcing the governor to introduce "anti-terrorism operation" regulations and provide additional power to law enforcement to deal with the threat. At least eight civilians were wounded during the intrusion.
A senior Ukrainian official has admitted that his country has assassinated "quite a few" Russian civilians who support Putin and his war to assert control of the Donbas region. In interviews first reported by The Times of London, Major General Kyrylo Budanov, who heads Ukraine's military intelligence service, also promised more attacks are to come.
From yesterday
Russian strategic aviation voice and morse net on frequencies 4397 USB and 5620 CW, indicate Russian Bomber Activity 3:30 PM EDT —
3 Tu-22 bombers airborne, possibly strikes in the coming hours.
3:51 PM EDT — More:  3 Russian Tu-95Ms strategic bombers have taken off.
Unidentified Object noted Airborne over the Odesa Region of Southern Ukraine; Air Defenses are reportedly Active.
Multiple Large Explosions heard across the City of Odessa; reports of a possible ongoing Shahed-136 Drone Attack.
3:54 PM EDT — It appears Russia has switched to radio silence mode. A massive rocket strike expected in Ukraine tonight.
 4:04 PM EDT — Explosions reported in Zaporozhye region and Odessa
Tu-95MS are moving to the area of the Caspian Sea, to the missile launch site.
UKRAINIAN COMMANDOS STRIKE INSIDE RUSSIA AFTER SULLIVAN OK'S HITTING CRIMEA
World War 3 is heating up. A heavily armed band of Ukrainian commandoes crossed over the border today and entered Russia's Belgorod region. Fighting erupted in several Russian towns. The region's governor said Russian military forces were searching for the terrorists. Ukraine denied responsibility for the armed incursion and said the attacks were carried out by Russian para-military groups.
Meanwhile, US National Security Advisor Jake Sullivan told CNN that President Joe Biden now approves Ukraine striking Crimea. We're going to start with a report from the London Times about today's commando attack inside Russia.
Rick Wiles, Doc Burkhart. Airdate 5/22/23
Watch the podcast HERE