System collapse. Biden turns to Iran & Venezuela for help
System collapse. Biden turns to Iran & Venezuela for help
These deluded lunatics think they can just replace Russian gas with something else.
I HIGHLY recommend you take the time out to listen to what Gonzalo Lira and the Duran have to say abut all this.

Team Biden is working feverishly in Vienna to cut a deal with Iran and its critical enabler Russia. It is also scrambling to put officials on the ground in Caracas to tell Maduro all is forgiven if he forsakes Russia and resumes selling America his oil, which it will gladly resume buying.
A cynic may notice a theme: partnering with dictators to crush an even worse dictator — without whom, coincidentally, Iran and Venezuela would have been far less potent in the first place.
In a few days, those involved in this farce of a negotiation in Vienna would like to announce a deal with Iran. Russia will likely be the guarantor because Iran already has highly enriched uranium, or HEU. It's not too far-fetched to speculate that a key component of the deal will be Russia's commitment to ensure it holds or monitors Iran's HEU. Negotiators may even announce a face-saving agreement that has Russia converting that HEU to low-enriched uranium for commercial reactors.
European natural gas futures soared Monday after reports the Biden administration was considering curbs on Russian crude imports sent shock waves across commodity markets. 
Brent surged to $137/bbl and quickly pared gains to trade near $125/bbl around 0630 ET. The focus is European natgas futures, Dutch gas, which jumped as high as 64% to 335 euros a megawatt-hour — the equivalent of around $600 a barrel of oil.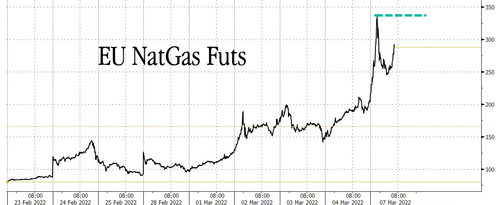 Chaotic energy markets came after the US Secretary of State Antony Blinken told NBC this past weekend that the Biden administration is in "very active discussions" with European leaders to restrict Russian oil imports. 
Ole Hansen, head of commodity strategy at Saxo Bank A/S, told Bloomberg he's at a "lost for words" for the latest price action of natgas. "Margin calls and very illiquid and uncertain markets driving this move," he said. 
Bloomberg notes that EU GDP could be slashed by as much as 1% or 2.2% annually should Russia's natgas flows drop to zero. Even in today's high price environment, the continent is expected to take a 0.6% hit. To ensure energy security, EU leaders have accelerated renewable energy projects and are also talking with other energy exporters, such as the US, Qatar, Norway, Egypt, Algeria, and Azerbaijan, to meet their natgas needs. 
Even though spring is less than two weeks away, heating demand is still elevated, and energy inflation is crushing the pocketbooks of households across the continent. Also, one energy provider ceased to provide heating oil to the parliament building of Bosnia and Herzegovina in Sarajevo because of soaring prices, newspaper Faktor reported, which means the facilities are currently without heat. 
As the Russian invasion threatens to reduce or cut off Russian natgas supplies—either in the form of sanctions or Moscow's retaliation to sanctions—Wood McKenzie detailed last week that Europe can survive the next winter without Russian gas. However, prices would remain extraordinarily high and would be anything but wealth-destroying for households and businesses. 
"From record lows at the start of winter, storage levels have now re-enter[ed] their five-year range, albeit on the lower side, and are on track to be in a more comfortable position by the end of March," Kateryna Filippenko, principal analyst, Europe gas research, at WoodMac, said.
"It is our current assessment that the EU can get through this winter safely," Filippenko. But what about next? Natgas supplies on the continent are at low levels, and natgas injections begin at the end of March and early April to resupply stockpiles. 
If Russian natgas flows remain low and the West bans Russian energy imports, the EU better find new suppliers quickly, or energy inflation will continue to wreak havoc. 
At a moment the Biden White House is coming under bipartisan pressure to end Russian oil imports as a 'nuclear option' retribution for Russia's invasion of Ukraine, Moscow for the first time hinted that it's ready to use its own energy weapon, after Deputy Prime Minister Alexander Novak said Monday Russia could take the drastic action of cutting natural gas supplies to Germany via the Nord Stream 1 pipeline.
Novak said such a move would be a "matching decision" in light of the German government halting the regulatory process for Nord Stream 2 as punishment for the military assault on Ukraine.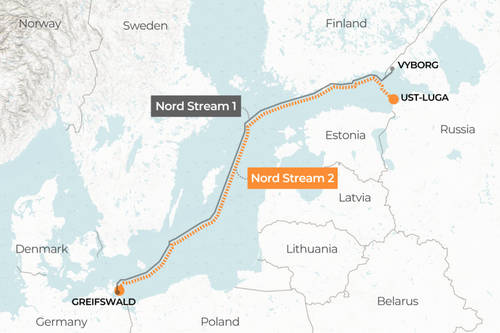 "In connection with unfounded accusations against Russia regarding the energy crisis in Europe and the imposition of a ban on Nord Stream 2, we have every right to take a matching decision and impose an embargo on gas pumping through the Nord Stream 1 gas pipeline," Novak said on state TV, describing the fresh threat.
He emphasized, however that "so far, we are not taking such a decision". The words, which may have sparked dread among European governments (most notably Germany) and officials already agonizing how to procure the much needed deficient gas, come after the White House has long expressed concern that Putin could 'weaponize energy', leaving Europe without the bulk of its gas supplies – as 40% comes via Russia – more severely impacting already volatile and ratcheting energy markets.
If such a drastic step were taken, natural gas princes in Europe would soar even higher – after already hitting a record high, up over 40% from Friday's close on Monday.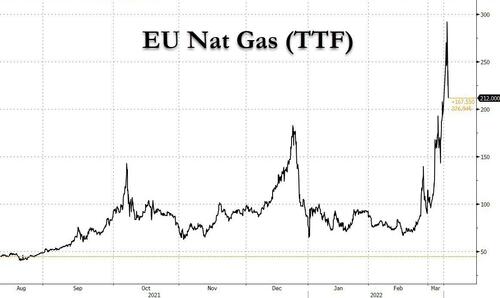 Days after Russia's Feb.24 invasion of Ukraine, some Eastern European leaders went so far as to actually call for Nord Stream 1's closure as a severe but necessary way to punish the Russian economy further and inflict real pain on its energy sector. 
Germany's Rheinische Post newspaper reported late last month that German energy giant E.ON rejected calls from Poland to shut down the Nord Stream 1 natural gas pipeline in response to Russia's invasion of Ukraine. Polish Prime Minister Mateusz Morawiecki had "asked operators of the offshore pipeline – which carries more than a third of Germany's natural gas imports –  to shut it down after Moscow ordered troops into Ukraine," the report said.
Last Thursday, Germany's Economy Minister Robert Habeck spoke out against a ban on energy imports from Russia in the wake of Moscow's invasion of Ukraine.
"I would not advocate an embargo on Russian imports of fossil fuels. I would even oppose it," he said after meeting German business leaders. "We need these energy supplies to maintain the price stability and energy security in Germany," Habeck added, warning that "a shortage in supply could threaten social cohesion in Germany."
With the US reportedly said to vote as soon as Tuesday on a proposal to ditch trade relations with Russia and Belarus, including suspending oil imports despite repeated objections from Germany which has stated that a collapse in supply threatens "social cohesion", Russian Deputy PM Novak said that a ban on Russian oil would result in catastrophic consequences for global market according to Interfax, warning that Europe is pushing Russia towards an embargo on gas deliveries through Nord Stream 1, which is currently filled to maximum capacity, although Moscow has not taken this decision yet.
Warning that "no one would benefit from an embargo on gas deliveries through Nord Stream 1", Novak said that replacing Russian oil deliveries to Europe would take longer than a year.
he also warned that a global embargo on Russian oil could push prices over USD 300/bbl, although he said that Russia knows where it would re-direct oil to if Europe and US refuse it.
Addressing a potential ban on Russian oil, Goldman's commodities team wrote overnight that Europe's dependence on Russian oil imports, of c. 4.3 mb/d of which 0.8 mb/d comes from pipeline, suggests that such a coordinated response will likely take time, leaving the possibility for only a US ban in short order.
While the headline of potential further US sanctions are likely to support prices, such a move would likely have negligible impacts on global crude and products markets. The US only imports a little over 400 kb/d from Russia at present (Dec-Feb average), already down from a peak of 770 kb/d in May-Jun 2021. As such, volumes this small are well within the market's ability to redirect flows and as such Goldman expects minimal overall impact on crude fundamentals.
Such statements will nonetheless likely continue to severely curtail Russian seaborne oil exports, due to the threat of additional sanctions or of public censure. Case in point, the sole purchase of a cargo on Friday was immediately followed by public reprobration, strongly disincentivizing further Western acquisition, with so far no sign of Chinese purchases either.
This, Goldman concludes, "leaves risk to our $115/bbl short-term oil forecast clearly skewed strongly to the upside."
Oil Price Surges as Bllinken Floats Block on Russian Oil, China Says Friendship with Russia Solid