Techno-Fascism: Biden and Social Media Giants Conspire to Censor Conservatives  
Techno-Fascism: Biden and Social Media Giants Conspire to Censor Conservatives  
Fox News Tucker Carlson said President Joe Biden's Philadelphia speech was a 'turning point in American history
Carlson expressed surprise that Biden was essentially using a campaign visit under the guise of an official White House endorsed speech 
Carlson interpreted Biden's words as him attempting to portray the GOP and Trump supporters as an extremist branch in politics
The host suggested that it meant Biden would prefer to see a one-party system which would in effect give him the trappings of a dictator 
Prominent Republicans weighed in on social media with House Minority Leader Kevin McCarthy demanding Biden apologize to the millions of Americans
The threat is not coming from barefoot religious extremists in caves. It's not the Chinese government. It's not Vladimir Putin himself. The most evil man in history. No, this threat is worse and home grown. The single gravest threat to America today is Republican voters. All 75 million of them. 
'They are Nazis and destroyers of democracy. That's the message of Joe Biden's speech,' Carlson stated, as he paraphrased Biden's prepared remarks.
'What Joe Biden is saying right now is the official position of the entire executive branch of the U.S. Government. That include the justice department and Intel agencies and the world's most powerful standing military. 
'Think about that. Does it make you nervous?'.
Max Blumenthal & Katie Halper react to Biden's "Dark Brandon" speech
Techno-Fascism: Biden and Social Media Giants Conspire to Censor Conservatives
 
President Joe Biden plans to take the Democrats' hateful hot air political demagoguery far beyond the reprehensible rhetoric of Hillary Clinton when she slandered conservative, patriotic American citizens as deplorables. Mr. Biden will deliver a primetime speech tonight at 8PM in which he is expected to label supporters of President Donald Trump as threats to the nation – meaning they are domestic terrorists.
Rick Wiles, Doc Burkhart. 9/1/22
Authored by Steve Watson via Summit News,
Hours before Joe Biden broadcast seemingly from the gates of hell and declared anyone who disagrees with him to be a violent extremist, his Press Secretary told reporters that those who do not agree with "the majority" are exhibiting "an extreme way of thinking" and must be treated as a threat.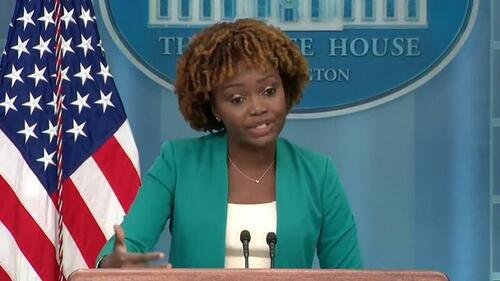 During an exchange on abortion laws, Karine Jean-Pierre stated "When you are not with where the majority of Americans are, then, you know, that is extreme. That is an extreme way of thinking."
Reporters pushed for more clarification on what exactly 'extreme' is and who the label applies to:
Karine Jean-Pierre says the "MAGA agenda" is "one of the most extreme agendas that we have seen."

So the Biden administration considers border security, public safety, parental rights, and economic prosperity "extreme"? pic.twitter.com/MdViyjemEC

— RNC Research (@RNCResearch) September 1, 2022
"74 million people voted for Trump last time around. You said it's a small number that the White House believes are extremists. Can you give us an idea…what kind of number are we talking about?"

KARINE JEAN-PIERRE: "We feel like we've touched a nerve."

— RNC Research (@RNCResearch) September 1, 2022
Branding your political opponents as extremists is unifying:
"You're also facing some criticism, which has been brought up, that [Biden's] aggressive tone is also stoking the divisiveness…any concerns about that?"

Karine Jean-Pierre: No pic.twitter.com/49bYTB2vdE

— RNC Research (@RNCResearch) September 1, 2022
Of course, extremists on the left are not part of the conversation:
"Are there elements of the far-left that also deserve to be either scrutinized or mentioned?"

Karine Jean-Pierre refuses to answer the question. pic.twitter.com/fDYVfxS8ER

— RNC Research (@RNCResearch) September 1, 2022
The previous day, Jean-Pierre told reporters that "The president thinks there is an extremist threat to our democracy," adding "The way that he sees is the MAGA Republicans are the most energized part of the Republican party – that extreme, this is an extreme threat to our democracy, to our freedom, to our rights."
"When it comes to voters, how does the president differentiate between the 'ultra MAGA' folks…and the average GOP voter?"

KARINE JEAN-PIERRE: ……………. pic.twitter.com/9NKgczWiwg

— RNC Research (@RNCResearch) August 31, 2022
Karine Jean-Pierre says "MAGA Republicans" are "an extreme threat to our democracy." pic.twitter.com/EyZjCxwjlj

— RNC Research (@RNCResearch) August 31, 2022
Everything that Republicans propose is now apparently extreme.
Just minutes before Biden's fist clenched address, Jean-Pierre stated that cutting taxes on the middle classes is "extreme":
Karine Jean-Pierre: To "cut taxes on the middle class" is an "extreme" MAGA Republican proposal pic.twitter.com/P72cpfZyS8

— RNC Research (@RNCResearch) September 1, 2022
This aggressive push comes in the wake of Biden labelling half the country "semi-fascist" and telling them that they're going to need more than guns to take on his government.
Make no mistake, 'MAGA Republicans' means pro-lifers and conservatives.
WASHINGTON, D.C. (LifeSiteNews) – The White House's increasingly heated rhetoric about "MAGA Republicans" should not be interpreted as just a political campaign slogan against a fringe group of voters, or perhaps just Trump supporters who committed actual violence on January 6, 2021. 
Ahead of a speech today by President Biden, White House Press Secretary Karine Jean-Pierre referred to "MAGA Republicans" as an "extremist threat to our democracy," though she tried to make it sound like it was just an "extreme" part of the GOP.  
"The president thinks that there is an extremist threat to our democracy, the president has been clear as he can be on that particular piece when we talk about a democracy, when we talk about our freedoms, the way that he sees is the MAGA Republicans are the most energized part of the Republican Party," the spokeswoman said. 
She reiterated they represents an "extreme threat to our democracy, to our freedom, to our rights, they just don't respect the rule of law you've heard that from the president." 
"MAGA Republicans are this extreme part of their party," Jean-Pierre said on Wednesday.
President Biden last week claimed he "respect[ed] conservative Republicans" but he did not "respect these MAGA Republicans." Yet it's clear from comments from Democrats that conservatives and "MAGA Republicans" are the same. It's the new "deplorables." 
President Joe Biden and Democrats began using the term "MAGA Republicans" derisively this spring, after polling from liberal consultant Anita Dunn found that "MAGA" as an adjective swayed voters away from Republicans more than "Trump," according to analysis by The Washington Post. Biden initially tried "ultra-MAGA" until Republicans, including President Trump, seized on the term much the same way conservatives turned "basket of deplorables" into a honorific title. 
The term "MAGA Republicans" applies to most conservative views as well as some proposed by Republicans but never really embraced by the base, as summarized by former White House Press Secretary Jen Psaki. 
She said during a May 10 press briefing that "ultra-MAGA" included "putting at risk a woman's right to make choices about her own healthcare," meaning that it refers to people who are opposed to the deliberate destruction of human life in the womb through abortion. So we can put pro-lifers in the "ultra-MAGA" or "MAGA Republicans," basket, so to speak. 
The press briefing reiterated the points made by Biden earlier in the day. 
Commenting specifically on people who support reversing Roe v. Wade, Psaki stated "if you're on the other side of that, you're supporting an 'Ultra-MAGA position, in the President's view." That also now includes five Supreme Court justices. 
Psaki in her May 10 press briefing also included proposals that "would raise taxes on 75 million Americans and get rid of, 'sunset,' eliminate — whatever you want to call it — Medicare and Social Security," misrepresenting a proposal by Florida Republican Senator Rick Scott to fix the funding of those programs. It's not clear where the accusation of raising taxes comes from. In any case, the plan has not moved forward and now in September, it has not been embraced.  A proposal to fix the financing of social services spending hardly seems like something that threatens "our democracy."
She added that the term included "the obsession with culture wars and wars against Mickey Mouse and banning books," in apparent reference to Florida's anti-grooming law that prohibits teachers in grades PreK-3rd from talking to children about sex, as well as efforts by some parents and activists to remove pornographic, pro-LGBT books from school libraries.
So "MAGA Republicans" also means parents who don't want their second grader talked to about anal sex by a teacher or don't want their fourth grader reading a pornographic book, according to Psaki's comments.
President Biden as late as August 25 confirmed that "MAGA Republicans" means pro-lifers. "So how extreme are these MAGA Republicans?  Just take a look what happened since the Supreme Court overturned Roe v. Wade," he said at a Democratic rally in Maryland last Thursday. "In red states after red state, there's a race to pass the most restrictive abortion limitations imaginable, even without exception for rape or incest.  But these MAGA Republicans won't stop there.  They want a national ban.  They want to pass a legislative national ban in the Congress." 
"The MAGA Republicans don't just threaten our personal rights and economic security, they're a threat to our very democracy," Biden said during the same speech. "They refuse to accept the will of the people.  They embrace — embrace — political violence," he said. 
Other Democrats have picked up the messaging. 
Republican-turned Democratic spokesman Kurt Bardella compared pro-life Republicans to terrorists during a recent interview on MSNBC. 
Bardella referred to Republicans as a "domestic terrorist cell." 
"They walk around and masquerade with this term 'pro-life,' but, again, we just saw in Florida, somehow a child is not mature to have an abortion but is mature enough to be forced to carry a baby to term," Bardella said. "They say they are pro-life and all of them, every single one of them, voted against the biggest climate change package we've ever had in our country's history to try to make sure we can preserve life going forward." 
"They are a destructive force in American politics. They are basically a domestic terrorist cell operating in America. Their goal is to end democracy," Bardella added. 
New York Governor Kathy Hochul has made similarly heated claims against Republicans, urging them to leave her state and go to Florida. "And we are here to say that the era of Trump, and Zeldin and Molinaro, just jump on a bus and head down to Florida where you belong, ok? Get out of town. Because you do not represent our values. You are not New Yorkers," Hochul said, in reference to the president, the Republican gubernatorial candidate and a Congressional candidate. 
Since Trump and Lee Zeldin's "values," includes cutting taxes, opposition to abortion and support for gun rights, Hochul was really just reiterating the comments of her predecessor and Biden ally Andrew Cuomo. 
In 2014 he said that opponents of gay "marriage," abortion and supporters of gun rights "have no place in the state of New York, because that's not who New Yorkers are." 
Hochul also called pro-lifers "Neanderthals" while signing a package of extreme pro-abortion laws. 
The rhetoric about Republicans could, perhaps in different times, be dismissed as just campaign season talk.  
However, the Democrats and liberal allies have frequently been taking the rhetoric against Republicans to actionable steps. 
For example, Attorney General Merrick Garland ordered FBI agents and federal prosecutors to keep a close eye on parents who protested at school board meetings over COVID mandates and leftist curriculum. The Department of Education coordinated with the National School Boards Association on a letter that compared parents to domestic terrorists. 
The White House and Speaker of the House Nancy Pelosi refused to condemn the potentially illegal targeting of Supreme Court justices outside of their homes by pro-abortion activists. Pelosi has also refused to condemn the violent attacks on churches and pro-life resource centers this summer.  
Additionally, a liberal activist allegedly traveled from California to try to assassinate Justice Brett Kavanaugh in the midst of protests against the potential reversal of Roe v. Wade. 
But remember that to Democrats, pro-lifers represent an "extremist threat to our democracy" and "are basically a domestic terrorist cell operating in America."