The energy crisis deepens
The energy crisis deepens
China requests emergency power from Russia as coal shortages leave cities without electricity & factories grind to a standstill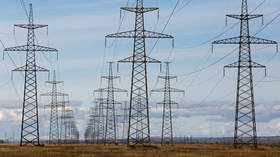 Beijing has reportedly asked one of Russia's largest power companies to step up its exports of electricity to China after days of brownouts blamed on scarce supplies of coal caused chaos across the world's most populous country.
On Wednesday, the Inter RAO energy conglomerate revealed that it had received a request from authorities in the East Asian nation to help relieve its flagging national grid. While no details have yet been given of the potential deal, it is understood that the firm, which has a monopoly on electricity exports, is looking at turning the voltage up significantly.
The news comes after more than 20 Chinese provinces were reported to have been hit by power cuts and supply problems, as shopkeepers apparently conducted business by candlelight and mobile phone networks were reportedly hit by major outages. A number of factories fueling the world's second largest economy have downed tools or been told to work reduced hours to avoid putting strain on the power network.
Europe & China DID NOT request boost in Russian coal supplies – Energy MinistryChina, which relies on coal to generate more than half of its energy, has seen stockpiles fall to record lows, with the South China Morning Post reporting that supplies are currently only sufficient to keep the lights on for just over two weeks longer. At the same time, a rise in demand for Chinese goods and delays in energy efficiency upgrades have combined to create one of the most serious logistical issues Beijing has had to deal with in recent years.
Green tech? Tesla cars and Apple iPhones can't run without 'dirty' coal
On Thursday, Russian officials denied reports that they had been approached by both China and EU nations to secure more coal exports. "The Russian Energy Ministry has received no such appeals," a statement read, contradicting previous suggestions that talks were underway to try to shore up energy supplies and drive down the cost of generating power, given gas prices have already hit record highs.
China is officially panicking.
Now that the global energy crisis has slammed China's economy, leading to the first contractionary PMI since March 2020 as a result of widespread shutdowns of factory and manufacturing, not to mention hundreds of millions of Chinese residents suffering from periodic blackouts, Bloomberg reports that China's central government officials "ordered the country's top state-owned energy companies to secure supplies for this winter at all costs."
Translation: Beijing is no longer willing to risk social anger and going forward China will be subsidizing coil and nat gas, which will lead to even higher prices, which will lead to even higher prices for other "substitute" commodities such as oil, which is why oil surged on the news.
The news follows a report on Wednesday that China will allow soaring coal prices to be passed on to factories in electricity prices. But prepare for a surge in PPI, which will likely not be allowed to be passed on to CPI due to 'common prosperity'. Which logically means margin collapse, and shutting down – so even more structural shortages. Unless we get state subsidies of some sort, or differential pricing for the foreign and domestic market. There used to be a name for that kind of economy. Wall Street used to pretend it didn't like it.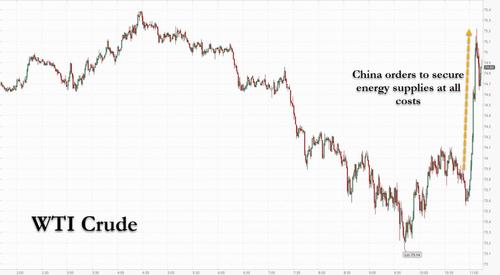 According to Bloomberg, the order came directly from Vice Premier Han Zheng, who supervises the nation's energy sector and industrial production, and was delivered during an emergency meeting earlier this week with officials from Beijing's state-owned assets regulator and economic planning agency. The bottom line, according to Bloomberg sources, is that "blackouts won't be tolerated."
Which simply means that the supply chain bottlenecks are about to get even worse since China will muscle in even more aggressively for what little coal and LNG supply there is. It is unclear if it also means that Beijing is about to give up on its laughable pursuit of decarbonization.
The emergency meeting underscores the critical situation in China. A severe energy shortage crisis has gripped the country, and several regions have had to curtail power to its industrial sector and some residential areas have even faced sudden blackouts. Ironically, as discussed yesterday, China's electricity crisis is caused by an unprecedented coal shortage, so unless Beijing is willing to rollback on its carbon crackdown, expect Beijing's panic to only lead to much higher prices while therma power output continues to soar, mocking China's "green" virtue signaling.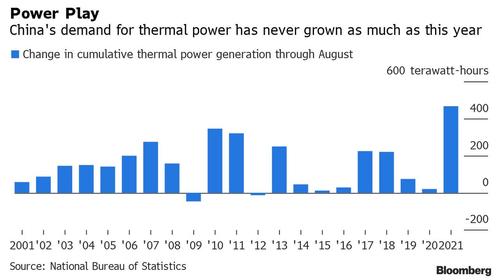 Meanwhile, Bloomberg notes that in a sign of how worried Chinese officials are, "Premier Li Keqiang vowed overnight that every effort will be taken to maintain economic growth. China will ensure the needs of basic livelihoods are met and will keep industrial and supply chains stable, Li was cited as saying by China National radio during a meeting with foreign diplomats Thursday."
The bottom line is that China finally hit the limit of how much slowdown it is willing to tolerate and Beijing is about to unleash a monetary and fiscal stimulus tsunami. It also means that commodity prices are about to absolutely insane this winter.
The hyperinflation in European gas and electricity prices is getting more surreal by the day.
Two days after we said that European natural gas and power prices hit escape velocity after Russia unexpectedly cut supplies, prices jumped to records, signaling the supply shortage will only get worse just as the cold winter season starts on Friday.
Dutch natural gas for next month, the European benchmark, rose as much as 13.4% to 98.23 euros per megawatt-hour. The U.K. contract also surged 17.4% to a new high of 252.53 pence a term. Both contracts have more-than-doubled in price over the past month. German power for next year jumped as much as 12% to 132 euros per megawatt-hour, while the French equivalent gained 10.3% to 135.50 euros per megawatt-hour. Both reached record highs on Thursday. Converted to oil price equivalents, these are price rapidly approaching $200/barrel.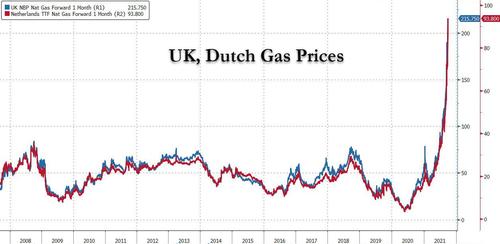 As we have discussed in recent weeks, European stockpiles of everything from gas to coal and water for electricity production are in short supply and there are few signs the situation will improve anytime soon as demand continues to roar back from a pandemic-driven lull, Bloomberg writes today.
Not helping the already critical situation, Russian gas flows to Germany's Mallnow terminal dropped again, paring yesterday's partial recovery. Supplies via the major transit route are about a third less than at the beginning of the week. And as Bloomberg notes, "European utilities seeking to buy more coal from Russia will also be disappointed as any exports are likely to be limited", at least until Nord Stream 2 is officially open.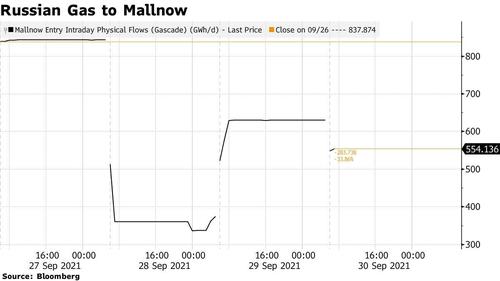 And while central bankers spent much of yesterday to convince the public how transitory the hyperinflation in commodities is, consumers have to pay astronomical energy bills right now, and they are hardly excited at the prospect of bills that could be five or more times higher. Worse, prices are about to get even higher as constraints have caught the market off guard, just as countries are about to start drawing down on the gas in storage. European stocks are at the lowest in more than a decade for this time of year
"We didn't predict these prices coming," Alex Grant, senior vice president at Equinor ASA, said at a conference in London on Wednesday. "In the prices there is a risk premium for what might happen going forward and the risk is still very much dependent on gas supply."
Meanwhile, French Prime Minister Jean Castex is scheduled to announce measures the government intends to put in place to mitigate the increase in energy prices this evening
Elsewhere, overnight another three small U.K. energy providers went out of business on Wednesday, bringing the tally to 10 just in the past two months. Some 1.7 million homes have now been forced to switch providers.
With the energy crisis leading to widespread shortages of gasoline across the UK, on Thursday an estimated 27% of service stations in the U.K. still have no fuel and 21% have only one grade in stock, according to a survey by the Petrol Retailers Association. 52% of sites report having both gasoline and diesel in stock, PRA says in a statement.
"PRA members are reporting that whilst they are continuing to take further deliveries of fuel, this is running out quicker than usual due to unprecedented demand," Executive Director Gordon Balmer says adding that "we would urge drivers to maintain their buying habits and only fuel up as and when needed to ensure there is plenty of fuel to go around."
Yeah, good luck that.