The Evil Empire Strikes back
The Evil Empire Strikes back
I do not have the energy to keep up with World War 3 news.
I am tiring of the "Russia is winning" narrative.
Russian Naval Air Defense System Destroyed….Ukrainian Commandoes Seize Oil Platform
It appears that Ukraine has launched a second phase of its military counteroffensive against Russia. Yesterday missiles fired by Ukraine hit Russia's naval port in Crimea. A warship and submarine were destroyed, along with a large section of the naval port which serves as the headquarters for Russia's Black Sea Naval Fleet. The Storm Shadow missiles were supplied by Great Britain. Today another round of missile and drone attacks scored big hits against a Russian S-400 air defense system. Ukraine's military also released video of commandoes seizing control of Russian oil platforms. Clearly something big started this week that could provoke Russia to launch a devastating attack on Ukraine, possibly even London.   
 
We have a lot prepared for you today including updates on the Federal Reserve Bank's scheme to introduce a CBDC digital dollar. Constitutionalist Paul Engel will join us later in this hour.
Rick Wiles, Doc Burkhart. Airdate 9/14/23
Show guest: Paul Engel, Constitution Study
ALERT: MASSIVE STRIKE IN MOSCOW VERY LIKELY, US MILITARY TAKES OVER STARLINK
This week's major Ukrainian attack on the Russian port of Sevastopol in Crimea was likely the largest strike on Russian naval targets since the war's start.
Significantly, the UK's Sky News has confirmed that British-supplied long range missiles were used in the overnight Sept. 12-13 attack which likely damaged a Russian submarine and warship. "A Ukrainian and a Western source said that British Storm Shadow cruise missiles were deployed," Sky News reports.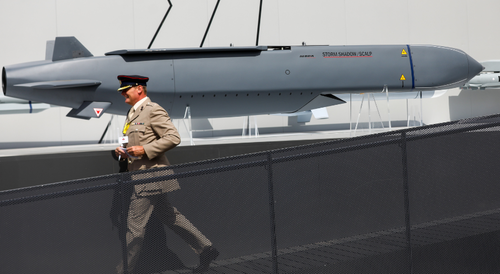 Kremlin sources counted ten cruise missiles fired against the key Black Sea naval port, and claimed anti-air defenses downed seven of these. An additional attack by unmanned boats was thwarted too, a statement said.
Storm Shadow missiles were supplied to Ukraine after approval to supply these was announced earlier this year from London on May 11. The missiles have a range of 155 miles, making them among the longest range weapons in Ukraine's arsenal, and are fired from aircraft.
The Sky report notes that while Kiev stopped short of confirming outright the type of missiles used, statements from officials strongly point in that direction: 
However, Lieutenant General Mykola Oleschuk, the head of the Ukrainian Air Force, posted an image on his Telegram channel of the burning shipyard, with the caption: "And while the occupiers are 'storming' and they are still recovering from the night cotton [Ukrainian slang for explosions] in Sevastopol, thank you to the pilots of the Air Force of the Armed Forces of Ukraine for their excellent combat work!"
Likely the projectiles were launched from Ukrainian aircraft. Such future attacks could be more devastating if and when Western partners hand over F-16 fighter jets, after training for Ukrainian pilots is complete.
Open source analysts have said the submarine damaged in the attack was at the dry dock and was the Black Sea Fleet's Rostov-on-don Project 636.3 diesel submarine. A warship was also said to be damaged, likely the Minsk Project 775 Ropucha-class large landing ship.
Rybar Live: Missile strikes on Sevastopol, 13 September

Mikhail Zvinchuk, head of Russian think-tank Rybar: «The question remains open as to why one of the aircraft managed to launch an attack from the direction of Zmeiniy if Zmeiniy is within range of our air defence assets» pic.twitter.com/hLMr0ozuSz

— Rybar Force (@rybar_force) September 14, 2023
Currently, the Biden administration is mulling giving Ukraine the Pentagon's long-range Army Tactical Missile Systems, or ATACMS, which is capable of hitting targets 190 miles away. Per ABC News:
"They are coming," said one official who had access to security assistance plans. The official noted that, as always, such plans are subject to change until officially announced.

A second official said the missiles are "on the table" and likely to be included in an upcoming security assistance package, adding that a final decision has not been made. It could be months before Ukraine receives the missiles, according to the official.
However, when pressed this week, NSC spokesman John Kirby would not confirm that the decision has been made. There are some in the administration who've also expressed concern for escalation, given Kiev could more easily unleash devastating cruise missile attacks deep inside Russia with the ATACMS.
English speaking spokesperson for the Ukrainian military: Ukraine will hunt down "Russian propagandists" around the world. pic.twitter.com/hjIE1UKhAz

— Na'omi Ducaena Allen (@ducaena) September 12, 2023
English-language military official's warning may indicate an attempted assassination, Russia's human-rights chief believes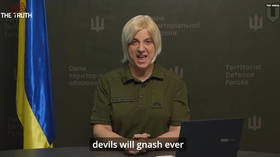 A threat to "hunt down" Russian "propagandists" which flagged an action "next week" and was made by a Ukrainian military spokesperson, should not be dismissed just because of its over-the-top presentation, a senior Russian official has argued.
On Wednesday, Sarah Ashton-Cirillo, who leads the Ukrainian Territorial Defense Forces' purported outreach to English-speaking audiences, made some ominous predictions regarding Russia.
"Next week, the teeth of the Russian devils will gnash ever harder, and their rabid mouths will foam in uncontrollable frenzy as the world will see a favorite Kremlin propagandist pay for their crimes," she said.
"Russia's war criminal propagandists will all be hunted down, and justice will be served as we in Ukraine are led on this mission by faith in God, liberty and complete liberation," she pledged.
Ashton-Cirillo, a trans woman who made headlines in the US in 2021 with a story of her infiltration of the American right-wing group Proud Boys, was given the spokesperson position in Ukraine in early August.
Her latest statement is part of her 'Russia Hates the Truth' series of minute-long videos, in which she delivers scolding condemnations of Russia.
While many Russian journalists have dismissed the unspecific threat as ridiculous, Valery Fadeev, the chairman of the Russian presidential human rights council, urged national law enforcement to take it seriously. The remark appears to be "a threat of murder or serious bodily harm" and thus a crime under Russian law, he argued on Thursday.
"Considering the lamentable record of attempts on the lives of Russian journalists and public figures … Russian security services should pay attention to it," he added.
Moscow has accused Kiev of orchestrating the murders of journalist Darya Dugina in August 2022 and of military blogger Vladlen Tatarsky in April this year. In July, the Federal Security Service reported busting a group believed to have intended to assassinate RT Editor-in-Chief Margarita Simonyan and journalist Ksenia Sobchak on Kiev's behalf.