The latest from World War 3
The latest from World War 3
This is from today. I have not watched it yet
BREAKING! China to Deploy THOUSANDS of WW3 Balloons, Nuke Bombers by UK, Lavrov "Point of no Return
From Gonzalo Lira
ANDREI MARTYANOV (

@smoothieX12

 ) : CAN PUTIN BE REMOVED FROM POWER FROM WITHIN THE COUNTRY?

This is what Hal Turner is reporting. Wait for the 21st.
All Russian TV outlets have been told to drop everything and broadcast a speech by President Vladimir Putin, live, on 21st February. The speech is to the Russian Federation Assembly. Sources tell me this could be "it."
TV stations have been told to expect the speech to last about an hour.  I am also told all radio stations in Russia are to carry the speech live.  This seems unprecedented.
Between this and Ukraine's Foreign Minister Kuleba boasting that "something is going to take place on February 23 and 24 that Russia will not like, it will affect the whole world" it is appearing more and more likely that the crap is going to get real for all of us; maybe the formal outbreak of WW3.
Today, Russia called for an extraordinary meeting of the UN Security Council over US destruction of Nord Stream pipe line.
The Russians will get nothing out of the US-controlled UN other than obstruction.
This afternoon in Russia, Deputy Chairman of the State Duma, a guy named Tolstoy, announced new denunciations of international treaties by Russia: "There is no possibility and no desire to work with the Europeans on any issues." 
Yesterday, this web site reported Covert Intel that Norwegian Intelligence Services reported, for the first time since the Cold War, Russia has started deploying tactical nuclear weapons to their Northern Fleet warships.
Today, it came out that The U.S military ordered depleted uranium (DU) munitions designed for the Abrams tanks that Biden is sending to Ukraine. DU caused cancer and birth defects in Iraq, Afghanistan, and former Yugoslavia. Russia considers these to be a "dirty bomb" and, as reported by this web site weeks ago, Russia will respond to being hit with a "dirty nuclear bomb" exactly the way anyone would expect them to — with nukes.
Right now Nukes and their delivery systems — Ships/Subs/Mobile Launcher Trucks are on the move everywhere.
Global tension is off the scale.
Putin's speech on 21st February might be simultaneous with the Nukes being launched.   In my gut, I pesonally believe (and this is only my personal view) I'd expect Putin to give the West an Ultimatum and a date. After that a State of War will exist with the West…
I bet all those Russian ships that sailed out of port have attack orders. Once the go signal is sent, they will unleash their nuclear missiles…
We are so close.
He may announce that Russia will in the future interdict war supplies being sent to Ukraine. This could involve the seizure of ships.
He may announce that Russia now regards certain countries as being co belligerents with Ukraine, and that Russia may strike at weapons and training facilities in Europe. This is extreme though.
My money is that this is about Nordstream and the US. He may try to peel apart the US and some European countries. Then join forces with China saying there will be no peace treaty until Russia wins Ukraine and China wins Taiwan.
Russia doesn't want to face Nato. It's a losing situation. But if he can divide NATO over Nordstream and if he can ally with China he might go for it.
The following is classified information that Hal Turner claims to have
A document will be signed off by NATO defense ministers in Brussels today.
The document states "NATO will be at war on TWO FRONTS."
The first conflict is described as a "high-intensity Article 5 conflict" (Read Russia)
The second conflict is described as "an out-of-area, non-Article 5 event." (Read China)
Russia AND China.
UPDATE 8:44 AM EST —
NATO defense ministers have agreed to expand military assistance to Georgia and Moldova
The largest hypermarket chain in Russia's Far East is restricting how much sugar, salt, and other essential foods people can purchase amid a buying frenzy triggered by fears of future shortages.
Samberi, which has 30 hypermarkets in nine cities in the Far East, announced restrictions on 10 items, including baby food, on its social media page on March 12.
"In essence, we are seeing signs of speculative demand. People are buying from us at reasonable prices and reselling them in other stores at higher prices," Samberi said.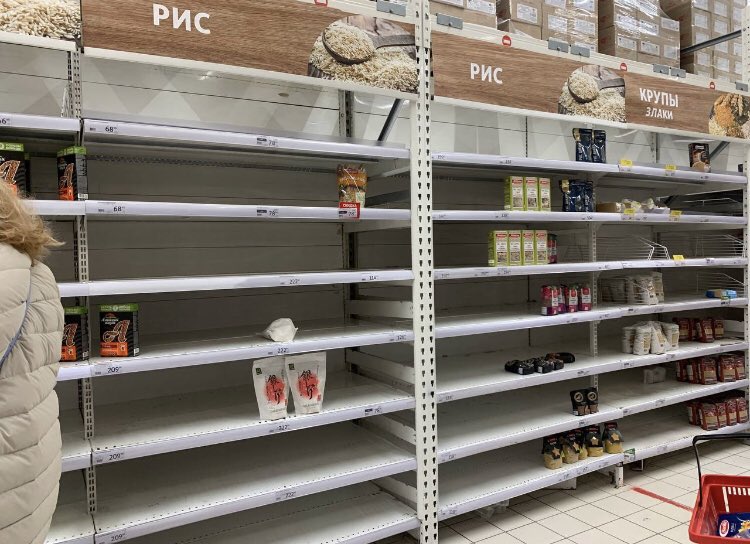 The hypermarket said demand for sugar has risen 400 percent compared with the average and that the sizes of individual purchases resemble what a small neighborhood retail store would buy, implying owners of mom-and-pop shops could be turning to Samberi to fill up their empty shelves.
Russians have been panicking about the prospects of food and goods shortages ever since the United States and its allies imposed punishing financial sanctions on the country after it invaded Ukraine.
Samberi is restricting the purchase of sugar, flour, buckwheat, pasta, and rice to 10 kilograms; cooking oil to 10 liters; salt to 3 kilograms; saury fish to 10 cans; baby food mix to three cans, and Pampers to five packs.