The protesters at NZ parliament survive a wild night's weather to the Speaker's chagrin
The protesters at NZ parliament survive a wild night's weather to the Speaker's chagrin
Occupiers of NZ Parliament survive wild weather in Wellington
Here is mainstream media reporting
The number of protestors joining the crowd at the anti-mandate demonstration is steadily growing, after a subdued start to the day.
Hundreds of people are on the parliament lawn, though some have been driven away by the heavy rain and winds lashing the capital.
A cheer erupts from the crowd each time a sudden and forceful gust of wind and downpour of rain blasts the demonstration.
The playlist booming through parliament's loudspeakers changed about 11, and now includes a out of tune recorder rendition of 'My Heart Will Go On', the Titanic theme song by Celine Dion.
UK musician James Blunt earlier posted on Twitter telling the New Zealand police to contact him if the Barry Manilow music, which was playing, did not deter protestors.
His suggestion has been enacted, with his song 'You're Beautiful' now on rotation.
Both songs and the government's spoken message advising the crowd to leave the grounds are being met with loud booing and chants of 'Freedom'.
Molesworth Street remains blocked by cars, campervans and trucks and Metlink has stopped all buses using its Lambton Interchange until further notice because of the protest.
Retailers say disruption to surrounding streets has also affected their trade.
Superintendent Scott Fraser said police would continue to have a significant presence at Parliament grounds and are exploring options to resolve the disruption.
This is the weather people have had to contend with down at parliament and throughout the country
The North Island is getting hammered by heavy rain and strong winds from Cyclone Dovi, with one gust near the entrance to Wellington harbour reaching 156 km/h.
Niwa says Baring Head to the east of the entrance to Wellington harbour has had sustained winds of more than 120 kilometres an hour.
Fire and Emergency says fire-fighters are responding to 120 callouts in the North Island right now – mainly for fallen trees and powerlines.
Taranaki Civil Defence says people should avoid rivers and beaches, and have on hand emergency supplies in case the power goes out. Winds of up to 140 kilometres an hour are expected this afternoon in Taranaki.
The National Emergency Management Agency is asking people not to travel unless absolutely necessary.
State Highway 58 between the Hutt Valley and Porirua is closed, as is State Highway 1 at Marton.
Northbound lanes on State Highway 2 northbound at Melling are also shut.
Ferries are not sailing and most flights in and out of the Capital are cancelled.
The Auckland Harbour Bridge is now closed and lines company Vector is warning people could be without power for days if the weather gets as bad as predicted
***
Meet Trevor Mallard, Donald's cousin, who is the Speaker of the Parliament, who is having a hissy fit over the folks down at parliament
There seems to be nothing he can do about the folk occupying parliament grounds.
First, he tried to get rid of them through police violence;

Then he ordered the sprinklers turned on while it was raining but didn't reckon on the innovative responses of kiwis;
Then he ordered speakers be installed to blare out Barry Manilow and other musak and covid propaganda in a loop.
So let me this get right : The Māori wardens are here protecting the crowd and going around the train stations making sure people are safe but according to Trevor everyone are neo-Nazis?
Curious if he is intentionally this dense or genuinely blinded by his own confirmation bias. To everyone that has woken up to the 'crazy frog' song playing just understand that your own Government is so scared to have to listen to you that they are using psychological warfare to hide your voices. Their main intention is to cause stress and anxiety to make the crowd more susceptible to reacting to the police.
Every step of this is not designed by them for peaceful resolution so you must be extremely intentional in your peacefulness to ensure the optics for you stay positive. If new people are arriving today then perhaps think about what you could bring to support and relieve others who are here.
I am not an organiser, just independent media but definitely feel protective towards all of you after seeing how sad people are about the way they are being treated.
Sending aroha to all of you.
This reporting is from RT
The parliament speaker used sprinklers and blasted annoying music to scare away demonstrators camping outside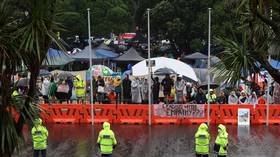 Police stand in the rain as they guard Parliament amid demonstrations against Covid-19 restrictions in Wellington, New Zealand on February 12, 2022.
© 
AFP / 
Marty Melville
Hundreds of anti-vaccine mandate protesters camped outside New Zealand's parliament in the capital city of Wellington throughout Saturday, despite the authorities' unconventional techniques to flush them out.
The parliament speaker, Trevor Mallard, said he ordered the sprinkler system to be turned on to flood the lawn where the protesters set up camp. The use of sprinklers in addition to heavy rain turned the lawn outside the parliament into a muddy field, videos from the scene show.
"I ordered them on," Mallard said as quoted by local media. "No one who is here is here legally, and if they're getting wet from below as well as above, they're likely to be a little bit less comfortable and more likely to go home."
"Some people have suggested we add the vaccine in the water, but I don't think it works that way," he added.
The protesters, however, were not deterred, and were seen digging trenches and installing makeshift piping to redirect the water into storm drains. They also mocked the speaker, putting toy mallard ducks into the puddles, photos show.
With the sprinklers proving ineffective, Mallard came up with a new idea – blasting loud music through the parliament's loudspeaker system on a loop. The playlist included songs by Barry Manilow, 'Macarena' by Los Del Rio, as well as a mix of coronavirus-related ads. 
Mallard told Stuff on Saturday that the methods were approved by local residents and claimed the protest was "clearly being orchestrated by neo-Nazis." He alleged that "young people and old people and disabled people are being abused, having rubbish thrown at them, spat on" by the anti-mandate activists. 
The unconventional tactics received mixed reactions on social media. Some offered recommendations for other annoying songs to play. Others, however, condemned the official's behavior as "childish" and "petty." 
The protest at New Zealand's parliament is continuing for the fifth day, with around 1,000 camping outside, according to local media estimates. The protest kicked off on Tuesday, when two Canada-style 'Freedom Convoys' reached the capital. Dozens of people were arrested outside the parliament in the following days when police tried to dislodge the protesters by force.
I can scarcely imagine what people went through last night
Here is some livestreaming from today
This was about 12:30am this morning, an officer handed out lollies to us.
It was a awesome showing of the human spirit & really moved me. I don't believe the police necessarily agree with this govt but are doing the job they've been assigned nonetheless.
Despite what the MSM are saying I think it is fairly obvious to these police that we are just regular citizens from all over the country who have had our rights trampled, & not dangerous violent conspiracy theorists as Trevor Mallard says…We are them, & they are us.
#UNITYOVERDIVISION
Fruit Bursts were the lollies of the occasion