The real reason Nancy Pelosi went to Taiwan
The real reason Nancy Pelosi went to Taiwan
$3 trillion of trade passes through the Taiwan Strait every year
Throughout the visit of Nancy Pelosi (who has gone on to South Korea where the president has declined to see her) there has been a lot of talk that to my mind misses the mark – from people saying it is just a "wag the dog" moment to distract from domestic troubles to the Chinese have "lost face" and proven themselves to be "paper tigers".
Last night, I stumbled on a video from someone who I would never have suspected could be capable of such analysis.
He talks about what is at stake when (not if) there is a war with China – the supply of computer chips and semiconductors which is dominated by Taiwan as well as the supply of almost everything that we depend on and use, which comes from China. I knew immediately that he had hit upon the unspoken reason for Nancy Pelosi's visit to Taiwan.
Then, I stumbled on this short video which confirmed it all.
House Speaker Nancy Pelosi (D-CA) met with several of Taiwan's chip industry leaders during her visit to Taipei on Tuesday to promote closer commercial ties between the two countries following the House's passage of legislation funding new chip production capabilities in the United States. Pelosi met with Taiwan Semiconductor Manufacturing Co. Chairman Mark Liu during the visit, according to senior lawmakers in Taiwan.
The pair discussed the CHIPS Act, which the House passed last week and sent to President Joe Biden to sign into law. The bill would provide hundreds of billions of dollars to fund U.S. innovation.
The legislation includes a $52 billion subsidy for chipmakers like Intel in hopes of weaning off a total reliance on Taiwan for semiconductors
It has a similar unspoken role in international conflict as energy and oil.
The computer chips and the semiconductors – THAT'S why Pelosi went to Taiwan! – not to distract from attention on her and her husband at home or even to provoke war with China – although these can also be factors.
Tell me where you have seen ANY of the following headlines in either mainstream or even alternative media.
President Joe Biden is set to sign into law a bipartisan bill to invest billions of dollars in domestic semiconductor manufacturing and science research.
Biden had urged Congress to pass the legislation, dubbed the Chips and Science Act, as a matter of necessity for America's economy and national security.
Some House Republicans withdrew their support on the eve of the final vote after Senate Democrats unveiled plans to quickly pass an unrelated partisan reconciliation bill.
After three years of stops and starts, Congress passed a $52 billion package designed to boost semiconductor manufacturing in the U.S. and improve competitiveness with China.
President Joe Biden is expected to signed the bill into law.
While top tech executives say a consistent supply of chips is crucial for technology advances like 5G and in medicine, not all are convinced that domestic manufacturing is critical to their business
About the only mention of all this in mainstream media has been the following from RT.
World's biggest chipmaker TSMC says it may stop supplies if conflict breaks out in Taiwan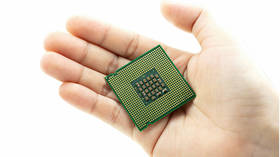 Taiwan Semiconductor Manufacturing Company (TSMC), the world's largest and most valuable chip manufacturer, will become "non-operable" if a war breaks out between Taiwan and China, Chairman Mark Liu has warned in a video-interview, published by CNN on Monday. TSMC makes around 90% of advanced chips produced globally.
"Nobody can control TSMC by force… You will render TSMC factories non-operable. Because these are such sophisticated manufacturing facilities… they depend on the real-time connection with the outside world, with Europe, with Japan, with the US, from materials to chemicals to spare parts," Liu said.
Liu also stressed that chipmaking will no longer be "the most important thing we should be worried about" if a conflict broke out.
He noted, however, that China needs TSMC to continue working, because "our interruption will create an economic turmoil in China, because suddenly their most advanced components supply would disappear" in case of war. Therefore, Liu urges China to "think twice."
"The war can only create problems on all three sides. The war brings no winners, everybody is a loser," he said, referring to China, Taiwan and the global semiconductor market.
Liu also addressed the current conflict in Ukraine, saying that lessons should be learned from it, as the situation there has created a "lose-lose-lose scenario" for the Western world, Russia, and Ukraine. He said China and Taiwan should avoid conflict so that the "engine of the world economy can continue humming."
Liu's interview comes at a time of heightened tensions between Beijing and Taipei, which in part stem from the potential visit by US House Speaker Nancy Pelosi. Taiwan is a self-ruled island nation, which Beijing considers part of its sovereign territory. In a video-call last week, Chinese President Xi Jinping told his US counterpart Joe Biden that America was "playing with fire" by not preventing such visits by US delegations to the region, as Beijing views them as "interference by external forces" in its internal affairs.
The following is from CNN.
Some manufacturers that rely on semiconductors are down to less than five days' worth of inventory, according to a report released Tuesday bythe Commerce Department, in the latest indication of the extent of the computer chip shortage.
The report, based on more than 150 responses to a Commerce Department request for information from businesses that produce and use semiconductors, found that the median supply of chips held by manufacturers has dropped from 40 days' worth in 2019 to less than five days' worth last year.
The limited supply means that disruptions to production overseas — such as those from weather or newCovid-19 outbreaks — could again lead to factory shutdowns and furloughed workers in the United States, according to the report. It notes that inventories are even smaller in "key industries."
"The semiconductor supply chain remains fragile," the report states. "Demand continues to far outstrip supply."
A global supply crunch sparked by the pandemic and extreme weather in Asia has led to shortages and, in some cases, higher prices of cars, iPhones, washing machines and more — at a time when consumers have never been more reliant on tech devices. Last year, General Motors was forced to temporarily shutter production at most of its North American plants because of the chip shortage, and many other automakers slashed their production plans.
US Commerce Secretary Gina Raimondo told CNN in December that the shortage is unlikely to go away until "deep into 2022." The Commerce Department's Tuesday report found that "respondents did not see the problem going away in the next six months."
The Biden administration has been working to prop up the US chip-making industry, both to ease current supply chain woes and reduce America's dependence on foreign production of the crucial components going forward.
The biggest bottleneck in the chip supply chain is capacity at semiconductor fabrication plants, called "fabs," a problem that's not easily solved quickly. Still, some chipmakers have jumped to contribute. Intel, Taiwan Semiconductor Manufacturing Company and Global Foundries have all announced plans to invest billions of dollars on new plants, including multiple in the United States. Just last week, Intel announced plans to invest another $20 billion to build a chip manufacturing complex outside Columbus, Ohio.
President Biden has urged Congress to pass legislation to address global semiconductor shortages. Congress has passed the CHIPS for America Act, which includes $52 billion in subsidies to support domestic semiconductor manufacturing, but has not yet allocated the funds.
"This is about national security, economic security and it's about jobs," Biden said last week of the need to increase US chip production.
In its report Tuesday, the Commerce Department said it had identified certain semiconductor products for which the supply challenges are most acute, including "legacy logic chips" used in cars, medical devices and other products, and "analog chips" used in image sensors.
"We will target our efforts moving forward on collaborating with industry to resolve bottlenecks" for those specific products, the report states.
The report is likely to bolster those calling on Congress to direct resources to the industry.
Jordan Crenshaw, vice president of the US Chamber of Commerce's Technology Engagement Center, said the findings on the ongoing shortage "highlights the critical need for the United States to invest in expanding semiconductor capacity."
"Congress must get to work on fully implementing and funding the CHIPS Act," Crenshaw said in a statement.
The only other outlet talking about this is a little website in Greece, WarNews24/7
Global supply chain chaos is coming
No. 1 target is for China the most advanced chip manufacturing plant in the world, located in Taiwan. Sooner or later this factory will become "inoperable", which will plunge the global supply chain into chaos in America and Europe.
The result will be a global shortage of mobile phones, computers and brake sensors and more.