The "solution" is to give the jab to younger and younger ages
The "solution" is to give the jab to younger and younger ages
MedSafe today received an application from Pfizer for provisional approval of its latest Omicron-targeted vaccine. What does it do and when will it be available? 
What's the new vaccine?
It's called a bivalent vaccine, designed to protect against the coronavirus as we first encountered it, but also against the Omicron forms causing the most Covid-19 infections in New Zealand now.
Because the updated vaccine carries two messenger RNA (mRNA) components of the virus, half of it targets the original strain, and the other half the BA.4 and BA.5 subvariants.
Otago University immunologist associate professor James Ussher said these specifically stimulated populations of antibody-producing B-cells that recognised each of the respective lineages.
MedSafe has also received an application for provisional approval of Pfizer's earlier bivalent vaccine, targeted at the original Omicron type BA.1, and has now completed its evaluation.
How long have these been around?
While relatively new to New Zealand – MedSafe's first application for one was received only last month – bivalent vaccines are already in place in many countries.
The UK approved bivalent vaccines for BA.1 in August – and they have also been cleared in Canada, Europe and Australia.
The US has led the charge on the upgraded BA.4 and BA.5 bivalent vaccines, with its Food and Drug Administration (FDA) approving Moderna and Pfizer boosters in late August.
They are now available to all Americans free of charge to people over the ages of 6 (Moderna) and 5 (Pfizer).
How well do they work?
While there's still little available data on the new vaccine's real-world performance – given it's only recently been rolled out in populations – initial results are promising.
"We're still waiting for data on efficacy, but there is data that suggests there's a modest increase in neutralising antibody levels against the Omicron variants in particular," Ussher said.
This month, Pfizer shared data from a clinical trial that showed a substantial increase in the Omicron BA.4/BA.5 neutralising antibody response above pre-booster levels.
Early data also showed the new vaccine was well tolerated and had a similar safety profile to its original shot.
While there were some concerns over the FDA clearing the vaccine without first testing it in human clinical trials, regulators were able to take into account trial data from the similar BA.1 formulation, along with new trials in mice.
How do the bivalent vaccines compare with each other?
Ussher – who is part of a Kiwi alliance developing New Zealand-made Covid-19 vaccine candidates – said the BA.1 and BA.4/5 bivalent vaccines had not yet been compared head-to-head.
"But we know that the BA.1 bivalent doesn't provide as high levels of neutralising antibodies against the BA.4 and BA.5 subvariants," he said.
"Given that BA.1 has now virtually disappeared, we're now looking at descendants of BA.2, BA.4 and BA.5 – or the ones that are circulating globally today.
"While these vaccines have been turned out remarkably quickly, the virus continues to mutate."
Importantly, the original vaccine that most of our population has received was still holding up relatively well against severe disease and death – even among people who had only received two doses.
That owed to immune memory, specifically T-cells and B-cells able to be activated to fight new infections, which had been shown to linger long after vaccination.
"Protection against infection may wane, but you still remain well protected against severe disease, which at the end of the day is the most important thing."
A recent Ministry of Health analysis showed a 62 percent reduction of risk of death among those who had received two or more doses – and there was evidence boosting lowered that danger even more.
When can Kiwis expect to access the new shots?
Not immediately.
A Ministry of Health spokesperson said MedSafe was awaiting more information from Pfizer on the BA.1 bivalent vaccine, while clinical data to support the BA.4/5 vaccine application was not expected until "later this year at the earliest".
"Medsafe is evaluating these applications under priority."
Provisional approval by MedSafe was also just the first step in the process: advice also had to be sought from our Covid-19 Vaccine Technical Advisory Group, followed by a recommendation for consideration by the director general of health.
After that, the relevant ministers would need to reach a decision to use them before they could be rolled out.
In the meantime, second boosters remained available for people aged over 50 and healthcare workers older than 30 – and recommended for high-risk groups including over 65s, Māori and Pacific people and severely immunocompromised people.
But uptake remained lacking: just over half of more than 700,000 over-65s had received that extra dose, along with only about two in 10 Kiwis aged between 50 and 64.
This story was originally published on NZ Herald.
Update: As expected, the CDC's Advisory Committee on Immunization Practices voted 15-0 on Thursday to add Covid-19 shots to the children's recommended vaccine schedule.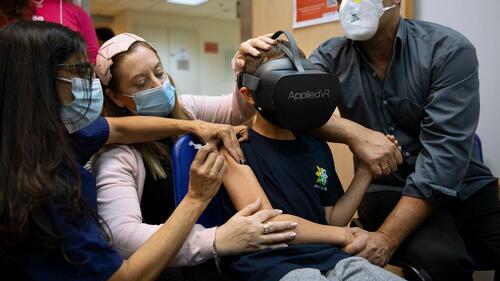 As the Post Millennial notes,
Speaking earlier in the morning, Dr. Patricia Wodi said that the Covid-19 vaccine has been placed as a recommendation from 6 months of age and older.
During a question period, one member of the committee raised questions over the vaccine being included on the schedule when it's been recommended for use under an Emergency Use Authorizations, to which Wodi said they spoke with the Office of General Counsel, who said that it would be okay to add.
The vote comes after the committee approved 15-0 to add the vaccination to the federally funded Vaccine for Kids program, which provides vaccines to children at no or low cost to families.
*  *  *
A Centers for Disease Control and Prevention (CDC) advisory committee is set to vote on Thursday over whether to add the Covid-19 vaccine to the recommended schedule of vaccines for children.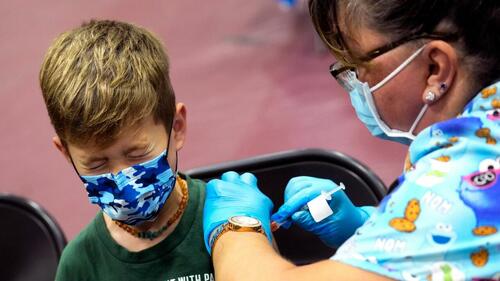 And while left-wing fact checkers were quick to point out that this doesn't automatically mean schools will require students to take the jab – a decision made at the local level – even ABC News admits; "If the CDC does update its list of suggested vaccinations to include the COVID vaccine, which is available to anyone 6 months or older, that will open the door for states to begin making those calls, too."
The CDC also pushed back, stating that it's Thursday meting is an annual gathering to simply update which vaccines doctors should recommend to their patients – with no acknowledgement that most doctors are going to follow it.
"Thursday, CDC's independent advisory committee (ACIP) will vote on an updated childhood immunization schedule. States establish vaccine requirements for school children, not [the Advisory Committee on Immunization Practices] or CDC," the agency wrote in response to a segment by Fox News' Tucker Carlson, who reported that the updated childhood vaccine schedule would soon mean that kids "will not be able to attend school without taking the COVID shot."
"State laws establish vaccination requirements for school children. These laws often apply not only to children attending public schools but also to those attending private schools and day care facilities," the CDC writes on its website, adding "All states provide medical exemptions, and some state laws also offer exemptions for religious and/or philosophical reasons."
Tucker responds:
The CDC complained about our segment on the Covid vaccine being required for kids to attend school. We stand by what we said. Here's our response. https://t.co/R5DqVkzef4 pic.twitter.com/y2srvIgAHf

— Tucker Carlson (@TuckerCarlson) October 20, 2022
On Wednesday, a CDC advisory committee separately decided to add the COVID vaccine to the Vaccines for Children program, which provides government-funded jabs to children who aren't insured or can't afford to pay. 
CDC Votes 15-0 to Add COVID-19 Vax to "Vaccines for Children (VFC)" Program
Source: https://t.co/vPG7a5vS2r pic.twitter.com/fF3pqSsFUL

— Wittgenstein (@backtolife_2023) October 19, 2022
"Equitable access to COVID-19 vaccines for all ages and populations remains critically important," said the CDCs Dr. Sara Oliver at the meeting, ABC News reports. "This includes now, while the vaccines are being supplied by the federal government, and in the future, when we one day move to a commercial program."
Sen Rand Paul (R-KY) slammed the decision, calling it "Appalling!"
This is the same committee that approved booster vaccines for children despite no evidence that COVID boosters reduce transmission, hospitalization, or death among children. Appalling! https://t.co/KWVEM6wI7f

— Rand Paul (@RandPaul) October 19, 2022
Paul had more to say on the topic:
With even Big Pharma tempering their enthusiasm for mandating COVID vaccines on young people, will Fauci-enthusiasts at CDC still vote to mandate COVID vaxx on kids? https://t.co/dwdkAinebT

— Rand Paul (@RandPaul) October 19, 2022
And as Summit News notes, Paul responded recent revelations from Boston University, which recently made headlines for genetically engineering a strain of Covid with an 80% mortality rate in mice.
more deception…And they wonder why no one trusts Fauci and his cronies 🤔 https://t.co/Tz6fh0bh38

— Rand Paul (@RandPaul) October 19, 2022
Others noted that there's little to no data on how the Omicron strain of Covid-19 affects children. 
I'd love to see the data on the Omicron vaccine in children but the Biden admin will not release it. Dr. Jha claims he's (privately) seen it and it's good. Why can't it be made public? https://t.co/ocEyPGtXUj

— Marty Makary MD, MPH (@MartyMakary) October 18, 2022
So – while adding the Covid-19 vaccine to the list of recommended childhood immunizations does not automatically mean kids will be forced to get it if they want to attend school – it's nothing more than a game of semantics when it's clear that most schools will follow the guidance.
These are the pediatric cases of vax myocarditis CDC will acknowledge. They know it's 10x more likely to occur in males than females, and they claim their advice is based on risk-benefit, yet their recommendations do not account for this greatly increased risk in males vs females pic.twitter.com/6ZlGJWf1bV

— Thomas Massie (@RepThomasMassie) October 20, 2022
As Alex Berenson writes in The Burning Platform;
If I were a Republican candidate in a blue state, I would have ads about school Covid vaccine mandates ready to go today, assuming the the CDC vaccine committee is foolish enough to throw this chum in the water. At a time when countries all over the world are now rejecting mRNA shots for kids, can our public health "experts" really be this stupid? Or this beholden to the mRNA companies?
Experience suggests the answer is yes.
EU health chiefs today approved Covid vaccines for babies, in a move likely to spark huge controversy.
The Bloc's drug watchdog gave the green light for children older than six months to get either Pfizer or Moderna's jab.
It comes amid growing fears of another Covid wave this winter.
British authorities have so far held out on approving jabs for infants despite massive pressure, due to concerns that the benefits don't outweigh any potential risks.

Children rarely get seriously ill with the coronavirus, and the majority are thought to have already been infected.
The European Medicines Agency, which signed off on the move today, said that the doses would be 'lower' for infants.
Children in the age bracket whose parents want them to be jabbed with Pfizer's will be offered a dose of 3micrograms.
For comparison, adults in Britain get a dose 10 times stronger. Older children, who are allowed to be vaccinated in the UK, get given a dose of up to 10micrograms.
Slightly stronger doses are recommended by the EMA for children given Moderna's vaccine (25micrograms).
This is half the dose given to older children in Britain, and a quarter of that approved for adults.
Lower doses are given to children to avoid complications, such as myocarditis — the rare condition that spooked health chiefs early on in the pandemic.
The EMA's recommendations, which have already sparked concerns, will be sent to the European Commission for a final decision.
Scores of countries, including the US, China and Israel, already offer vaccines to kids under five, despite huge backlash over the moves.
Professor Paul Hunter, an epidemiologist based at the University of East Anglia, told MailOnline: 'The issue is whether or not they (young children) actually need it.'
Some children in at-risk groups could benefit from a vaccine but virtually all children have had one or more Covid infections by now, he said.
'I do not see value in vaccinating children that young unless they are susceptible to severe disease,' Professor Hunter said.
He noted that medical agencies may rule a vaccine is safe to use in an age group 'but does not necessarily mean it would be used in that context'.
Professor Hunter added: 'Just because it can be used do not mean it will be used.
Comment: And what if vaccine mandates come back in?
'I think we are at a stage of the pandemic where if you have had a number of infections, your risk of severe outcomes is lower.
'Some children may benefit but I would not think this is many.
Comment: That's highly doubtful.
'For example, in the 12 to 15 age group in the UK, only half have taken up a vaccine. So I think uptake in younger groups would not exceed this.
'I would be very surprised if the UK's vaccine committee advised that the vaccine should be used in young children unless there are unusual circumstances.'
Despite fears of winter chaos, infection rates are already beginning to slow down in EU nations.
Outbreaks appear to have stalled in Germany, France and Italy, but data is much less accurate because fewer tests are being carried out.
Comment: So outbreaks have stalled but they are approving vaccines for babies… how does that work?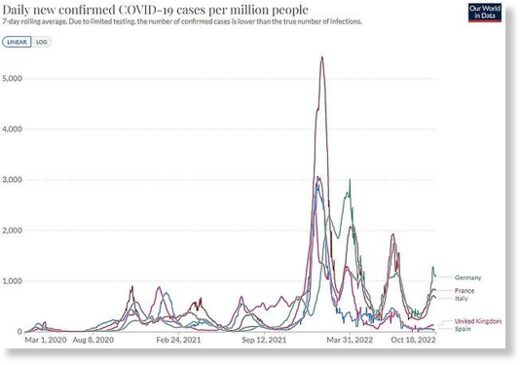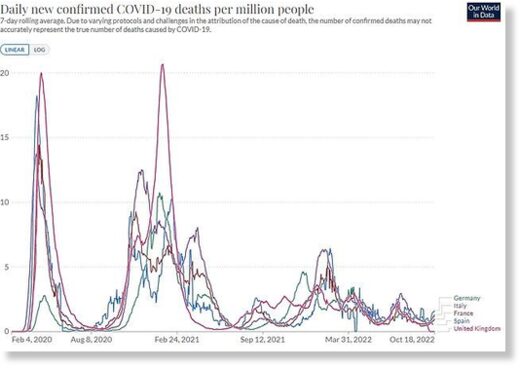 Cases are also on the up in Britain, latest data shows.
Health chiefs have already started to crank up their Covid advice in response to the trend, urging unwell Britons not to see elderly relatives.
Hospitals themselves have already reimposed mask rules for visitors and patients.
Others have brought back social distancing guidelines, in scenes reminiscent of the darkest days of the pandemic.
One in Every 500 Small Children Who Receive the Pfizer Vaccine is Hospitalised By It
One in Every 500 Small Children Who Receive the Pfizer Vaccine is Hospitalised By It, Study Finds
One in every 500 children under five years who received the Pfizer mRNA Covid vaccine was hospitalised with a vaccine injury, and one in 200 had symptoms ongoing for weeks or months afterwards, a study has found.
The study published in JAMA included 7,806 children aged five or younger who were followed up of for an average of 91.4 days following their first Pfizer vaccination. It was a retrospective cohort study done as an authenticated online survey (response rate 41.1%) in spring 2022 which included parents or caregivers who registered children for SARS-CoV-2 vaccination in outpatient care facilities in Germany. It compared the adverse events to those of the same children with other vaccinations in order to control for over-reporting.
It concluded that the symptoms reported after Pfizer vaccination were "comparable overall" to those for other vaccines. Let's see.
Any symptoms: 62% higher

Musculoskeletal (muscles and bones) symptoms: 155% higher

Dermatologic (skin) symptoms: 118% higher

Otolaryngologic (ears, nose and throat) symptoms: 537% higher

Cardiovascular (heart etc.): 36% higher

Gastrointestinal (stomach etc.): 54% higher
It calls these "modestly elevated". (Note that not all are statistically significant and some confidence intervals are wide, see below.)
In 0.5% of the children (40 of 7,806) symptoms were "currently ongoing and thus of unknown significance". This is in a study with a 2-4 month follow-up period. That means 0.5% of children had an adverse effect that lasted for weeks or months. In two cases (0.03%), symptoms were confirmed to have lasted longer than 90 days. Continue reading