The State Duma proposed to launch a nuclear strike on the United States
The State Duma proposed to launch a nuclear strike on the United States
В Госдуме предложили нанести ядерный удар по США
Mike Gabrielian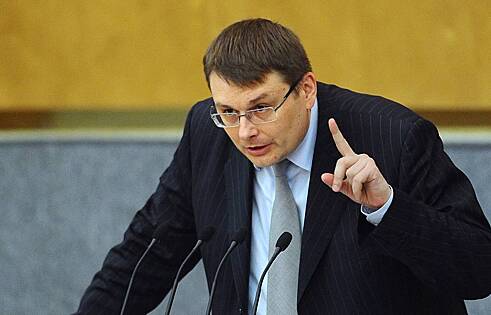 16 January, 2021
A warning strike with Russian nuclear weapons on a US test site in Nevada was proposed by State Duma deputy from United Russia Yevgeny Fedorov . He made such an initiative on the air of the Youtube channel "National Course"
In his opinion, such a step is necessary, since the Americans do not understand the language of negotiations, and are confident in their impunity, planning aggressive actions to move NATO weapons to Russian borders.
"Maybe… Well, I'm fantasizing right now. The launch of our rocket in the state of Nevada, even a nuclear explosion there, at the test site, to demonstrate our determination, without the consent of the Americans, without warning them, of course. So that they do not rush in response, "Fyodorov said.
Such a scenario, according to Fedorov, will lead "to the formation among the Americans, based on their mentality, of a way to negotiate with Russia." This will prove to American citizens that the threat of Russian retaliation against US and NATO actions is not a bluff, and will force them to influence the authorities from within the country.
He noted that there are no civilians at the test site, and if the United States is warned about the impact of the day 2-3, then this will be "a good action to demonstrate the seriousness of intentions"
Other ways of influencing the United States Fedorov called flight missions indicating American cities and strikes on US laboratories with biological weapons.
"This could be a good demonstration of determination," the MP said.
Fedorov also said that Russia will not make concessions to the United States and NATO, despite the economic problems that may threaten it due to US sanctions. Money ceases to play a role when it comes to the fate of Russia. This, in his opinion, was what Russian President Vladimir Putin was talking about :
"Our Fatherland is important to us. If you have to pay for it with money, we will pay. That's how I understand the president!"
Earlier, Russian Foreign Minister Sergei Lavrov said that NATO could deploy additional troops near the borders of Russia, explaining its actions by an allegedly planned military operation against Ukraine.
The diplomat stressed that this would become a "red line" in relations with Western countries that are going to aggravate the situation "in violation of all obligations and common sense", while demanding that Moscow "return its troops to the barracks."
This is from a Ukrainian source. Just read the language.
Anton Krasovsky 'addressing Ukrainians' Screenshot
Anton Krasovsky, director of broadcasting for the Russian state-funded RT channel, has used his chat show to assure Ukrainians, whom he calls 'animals', that Russia will invade on any sign that Ukraine is near joining NATO.  While Krasovsky's blustering about Ukraine being "our Russian land" is, on the whole, spoken with his customary smirk, it comes amid an escalation in warmongering hysteria in the Russian state media reminiscent of the propaganda in 2014.  Ukraine has been accused of planning "the extermination of the civilian population" in Donbas,, while Russia claimed to have "600 thousand moral reasons to announce an operation on forcing peace on Kyiv" (with this being the number of Ukrainians whom Russia has illegally provided with Russian citizenship.)
Krasovsky was speaking with Aleksandr Baunov, a senior fellow from the Carnegie Moscow Center.  When the latter stated that there is a small chance that Ukraine and Georgia will join NATO while Putin is in power in Russia, Krasovsky interrupted with the following smirking tirade, addressing Ukrainians:
"No, we'll send troops into Ukraine, it's our land.  Fuck you!  That's what you'll get [making an indecent gesture], not NATO!  Don't even dream of it, animals!
Baunov just laughs, while Krasovsky continues, saying that it is clear for any Russian that "there is no Ukraine", that it "is our Russian land" and that Ukraine will not decide anything.  A few comments later, Krasovsky says that Ukraine has written, or is writing in its Constitution that it aspires to membership of NATO.  He repeats his indecent gesture and, again addressing Ukrainians, says: 'we'll take away your Constitution", going on to say that they would burn it on Khreshchatyk. "They'll all run to us. Ukrainians, welcome home".
Krasovsky goes on later to shed his smirk and give an apparently impassioned tirade full of indignation about 'Americans' (he uses a derogatory term) supposedly dictating where "on Russian territory" Russia deploys its forces.  A great deal could be said about the deliberate distortions and omissions in his presentation, which Russian viewers would doubtless miss. He then claims to know that the day before Ukraine signs any kind of roadmap to NATO, that Russia will invade and take what he claims is Russian territory 'given' to Ukraine by Joseph Stalin.
The problem with dismissing all of this as arrant nonsense is that Krasovsky is very clearly, whether in smirking or indignant mode, expressing the Kremlin's position (on Putin staying in office after 2024, on the worst disaster being the collapse of the USSR and, most importantly, with respect to Ukraine). 
It is also very much part of the general warmongering and distortions in the Russian state media over several months.  Back in November 2021, notorious Russian propagandist Olga Skabeyeva 'interrupted' her regular talk show '60 minutes', on Russia TV1 to report "breaking, and pretty terrible, news"  This was the supposed appointment of Dmytro Yarosh, commander of the Ukrainian Volunteer Army, as adviser to the Ukrainian Armed Forces Commander in Chief, Valery Zaluzhny.  In 2014, Yarosh was among the most often mentioned figures by Russian state media, with both him and Right Sector, the ultra-nationalist movement that he then headed, constantly demonized.  Skabeyeva & Co. were equally negative about the appointment of Oleksiy Reznikov as Ukraine's Defence Minister.  Skabeyeva claimed that "Zelensky, who promised to stop the war, is directly now planning the destruction of the civilian population".  She went on to assert that "this is now, finally, freeing our hand.  So what else is there to wait for? Nothing."
One need only turn on certain Russian talk shows or state-controlled press agencies to find more of the same.  Back in 2015, Colta.ru spoke with three former employees of mainstream Russian channels on condition of anonymity, and with Stanislav Feofanov, who formerly worked for REN TV.  One of the unnamed ex-employees recounted how their chief editor had gathered them together in February 2014 and told them that the 1970s-80s were child's play to the cold war now beginning.  Those who didn't want to take part were advised to find another job away from information channels.  The anonymous source said that the top managers went to meetings in the Kremlin after which they would turn up at the channel and hold their own sessions with a select few.  From then on instructions would be filtered down.  It was all extremely secretive, with no open discussions.  Exclusive meetings took place, for example, with the presenters who needed to know which terms to use, like 'junta', 'fascist' 'Bandera supporters' etc.  The source pointed to the variations, depending on the political situation.  On the eve of the Minsk negotiations, for example, or when decisions were due about sanctions against Russia, terms like 'junta' would disappear, only to reappear later.  The same applied to subject matter.
It certainly feels as though the same puppeteers are in action now. 
It is also worth noting that Ukrainians in occupied Crimea and Russians have been prosecuted, even imprisoned, for suggesting only that Russia should be forced, through sanctions, to leave Crimea, for drawing an analogy between Hitler and Putin's aggression, etc.  That is classified as 'inciting enmity' or 'calls to actions aimed at encroaching upon Russia's territorial integrity [sic]'  There are no grounds for thinking that Krasovsky will face any consequences for his dehumanizing and warmongering comments about Ukrainians.