The Ukrainian army is collapsing; Defeat at Liman
The Ukrainian army is collapsing; Defeat at Liman
The Armed Forces of Ukraine are collapsing on the battlefield and the defeats are happening so fast, over such a wide area, that today, Ukraine President Volodymyr Zelensky told the country "Ukraine is not eager to talk to Russia's Vladimir Putin but that it has to face the reality that this will likely be necessary to end the war."
Quite a turnaround from just a week ago when Zelensky said Ukraine will never give up any territory, and would "win" against the Russian Army.
Over the past two weeks, the situation for Ukraine has gotten almost dire.   Its armed forces are being decimated on almost every battlefield.  Russian long range artillery is smashing thousands of Ukraine troops, and causing those still alive to surrender.
In fact, the number of Ukraine troops surrendering has gotten so enormous, the Ukraine legislature voted on a Bill allowing military officers to SHOOT SURRENDERING TROOPS to stop the mass-surrenders!
In the brief video below, Ukraine troops who SURRENDERED, report to the world that their commanding officers DID, in fact, SHOOT THEIR OWN TROOPS IN THE BACK to prevent the surrender!
The reality on the battlefield is so dire for Ukraine troops, many seasoned observers believe the Ukrainian Army cannot survive even another two weeks.  
From RT
Top Zelensky adviser concedes loss of Liman, a major Ukrainian stronghold in Donbass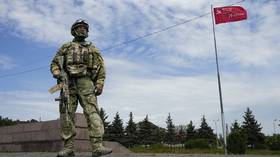 Russian troops have taken over the town of Liman in the northern Donetsk region, the government in Kiev revealed, on Thursday evening. Ukrainian forces have reportedly withdrawn west-southwest towards Slavyansk.
"We have lost the town of Liman," Alexey Arestovich, a key adviser to Ukrainian President Volodymyr Zelensky, admitted in a livestream on Thursday. 
Though Arestovich cited "unconfirmed reports," Russian military correspondent Alexander Kots posted a video of Russian troops in the city shortly thereafter, captioned "Liman is ours." Ukrainian troops "fled" west and southwest, Kots added, while covering their retreat with artillery fire.
The storming of Liman lasted less than a week, with Russian forces entering the city on May 23. There were unconfirmed reports, on Telegram channels, that as many as 500 Ukrainian troops had surrendered. By Wednesday, three quarters of Liman was allegedly under Russian control, with the remaining Ukrainian troops said to be fortifying the industrial zone on the southwestern edge of town.
However, an unverified video posted on TikTok on Wednesday purported to show a group of Ukrainian soldiers clinging to an armored vehicle driving at high speed away from the town, amid an artillery bombardment.
Liman was among the first towns in the Donetsk region to be taken over by militia opposed to the government in Kiev after the 2014 Maidan coup. Ukrainian "anti-terrorist" forces captured it in early June that year, and used their positions to lay siege to Slavyansk, where the separatist militia held on for another month.
News of the Ukrainian defeat at Liman comes amid the ongoing advance of Russian forces from Popasnaya, which threatens to completely cut off thousands of troops loyal to Kiev in the Severodonetsk-Lisichansk pocket.
Russia attacked the neighboring state in late February, following Ukraine's failure to implement the terms of the Minsk agreements, first signed in 2014, and Moscow's eventual recognition of the Donbass republics of Donetsk and Lugansk. The German- and French-brokered protocols were designed to give the breakaway regions special status within the Ukrainian state.
The Kremlin has since demanded that Ukraine officially declare itself a neutral country that will never join the US-led NATO military bloc. Kiev insists the Russian offensive was completely unprovoked and has denied claims it was planning to retake the two republics by force.
The western propaganda


IN DONETSK, DPR PARADED CAPTURED AFU POWS WHO'VE BEEN KILLING THEM FOR 8 YEARS
With Russia's war in Ukraine now in its fourth month, mainstream media consumers have been treated to seemingly endless headlines and analysis of Russia's extensive military losses. At the same time Ukrainian forces have tended to be lionized and their battlefield prowess romanticized, with essentially zero public information so far being given which details up-to-date Ukrainian force casualties, set-backs, and equipment losses.
But for the first time The Washington Post is out with a surprisingly dire and negative assessment of how US-backed and equipped Ukrainian forces are actually fairing. Gone is the rosy idealizing lens through which each and every encounter with the Russians is typically portrayed. WaPo correspondent and author of the new report Sudarsan Raghavan underscores of the true situation that "Ukrainian leaders project an image of military invulnerability against Russia. But commanders offer a more realistic portrait of the war, where outgunned volunteers describe being abandoned by their military brass and facing certain death at the front."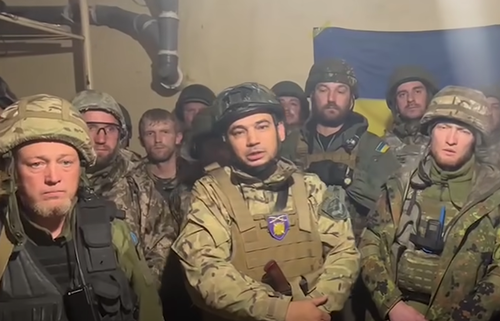 As many careful and less idealistic observers suspected the whole time, a steady stream of both wartime propaganda and one-sided social media feeds where it seems the only tanks being blown up are Russian ones has served to present a very skewed portrayal of the battlefield to the Western public. While it's perhaps easier to get sucked into this pro-Ukraine bias based on the innumerable so-called open source intelligence self-anointed 'experts' on Twitter, this is less so if one wades into Telegram, where a flood of uncensored videos from both sides gives a truer picture, as the fresh report seems to also suggest.
The Washington Post report belatedly admits the avalanche of propaganda based in a pro-Kiev, pro-West narrative from the outset: "Videos of assaults on Russian tanks or positions are posted daily on social media. Artists are creating patriotic posters, billboards and T-shirts. The postal service even released stamps commemorating the sinking of a Russian warship in the Black Sea."
The report then pivots to the reality of an undertrained, poorly commanded and equipped, rag-tag force of mostly volunteers in the East who find themselves increasingly surrounded by the numerically superior Russian military which has penetrated almost the entire Donbas region. "Ukraine, like Russia, has provided scant information about deaths, injuries or losses of military equipment. But after three months of war, this company of 120 men is down to 54 because of deaths, injuries and desertions," the report reads as it follows one particular battalion.
The report's sources speak out despite threat of being court-martialed amid a heavily controlled information flow:
"War breaks people down," said Serhiy Haidai, head of the regional war administration in Luhansk province, acknowledging many volunteers were not properly trained because Ukrainian authorities did not expect Russia to invade. But he maintained that all soldiers are taken care of: "They have enough medical supplies and food. The only thing is there are people that aren't ready to fight."
First major US media I've seen to report catastrophic condition of Ukrainian forces, collapsing Ukrainian morale on the front. Seems obvious we should know the truth about a war our government is so deeply invested in.https://t.co/sYYwdm1p62

— Mark Ames (@MarkAmesExiled) May 26, 2022
The report references a video widely circulating online this week wherein a group the size of a platoon declares they simply can't fight for lack of weaponry, ammunition, food and proper command support:
"We are being sent to certain death," said a volunteer, reading from a prepared script, adding that a similar video was filmed by members of the 115th Brigade 1st Battalion. "We are not alone like this, we are many."

Ukraine's military rebutted the volunteers' claims in their own video posted online, saying the "deserters" had everything they needed to fight: "They thought they came for a vacation," one service member said. "That's why they left their positions."
In the wake of the video, the Ukrainian troops featured are being accused of 'desertion':
Additional videos have surfaced that are similar: units complain even of being left to fight in already impossible conditions with WWI and WWII-era rifles, which can do little up against Russia's far superior firepower.
The stunning WaPo report further documents volunteer groups of men who were previously oil well technicians, salesmen, or other ordinary jobs like farmers being sent to front line positions in the south and east – even though they thought they were first bound to simple security posts in much less intense environs like Lviv. 
"We shot 30 bullets and then they said, 'You can't get more; too expensive,'" one volunteer described. And more: "When we were coming here, we were told that we were going to be in the third line on defense," Lapko said. "Instead, we came to the zero line, the front line. We didn't know where we were going."
The situation has gotten more dire as even water is in short supply amid the most intense Russian push to surround Ukrainian positions in the Donbas to date:
And in recent weeks, he said, the situation has gotten much worse. When their supply chains were cut off for two days by the bombardment, the men were forced to make do with a potato a day.

They spend most days and nights in trenches dug into the forest on the edges of Toshkivka or inside the basements of abandoned houses. "They have no water, nothing there," Lapko said. "Only water that I bring them every other day."
Meanwhile the very noticeable shifting rhetoric issued from prominent officials and pundits of late has strongly suggested not all is well for Ukraine's military…
Notice the rhetoric shift

Now both the NY Times Editorial Board and Henry Kissinger at the WEF are both calling for a negotiated peace for Ukraine even it it means ceding territory to Russia

— Davos Detainee Poso (@JackPosobiec) May 24, 2022
The WaPo further includes the following devastating testimony and assessment:
"Many got shell shock. I don't know how to count them," Lapko said.

The casualties here are largely kept secret to protect morale among troops and the general public.

"On Ukrainian TV we see that there are no losses," Lapko said. "There's no truth."
Many of the casualties suffered by the above referenced volunteer unit were due to lack of logistics available to transport the wounded to hospitals behind the front lines. The report emphasizes that the entirety of the catastrophic conditions of frontline forces has led to officers and enlisted increasingly refusing to follow orders from higher command.
With this fresh and unexpected Washington Post report, the mainstream seems to now belatedly be admitting what only weeks ago could get a person banned from Twitter…
Western mainstream media has, for three months now, fed its audience a never-ending clown car parade of utterly clueless "expert military analysts" who have spun fairy tales of super-hero Ukrainian "freedom fighters" and comically inept Russian conscripts.

3/

— Will Schryver (@imetatronink) May 23, 2022
"Lapko and his men have grown increasingly frustrated and disillusioned with their superiors. His request for the awards has not been approved," the report finds. "His battalion commander demanded that he send 20 of his soldiers to another front line, which meant that he couldn't rotate his men out from Toshkivka. He refused the order."
UKRAINIAN POW SAYS HIS COMMANDER LEFT THEM "FOR A MEETING" AND NEVER CAME BACK
WONDER WHAT'S INSIDE A UKRAINIAN COMMANDER'S BACKPACK? LET'S TAKE A LOOK…
Notice all those passports? He took them away from his soldiers so they can't run away or surrender.Machine translation: The backpack of the commander of one of the Ukrainian nationalist units, who was destroyed by the Special Forces group, while trying to escape from the positions. Kharkov direction.
The corridor was established on Wednesday and is open every day, the Russian military said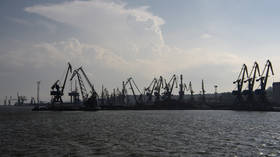 A safe route for ships has been established through the Sea of Azov, according to the Russian military. The passage was opened after Moscow reported sweeping sea mines from the area and making the port of Mariupol safe for operation.
The passage from the Azov Sea to the Black Sea is 115 miles long and two miles wide, according to the military's statements. First opened on Wednesday, it is available for traffic every day between 8:00 am and 7:00 pm local time, according to the Russian defense ministry.
A separate 80-mile-long, three-mile-wide naval corridor in the Black Sea has been maintained by the Russian Navy for some time and remains open for traffic.
Moscow blames Ukraine for making the two seas it shares with Russia unsafe for civilian ships. Kiev ordered the deployment of sea mines near its shores to ward off possible amphibious assaults by Russia.
The mines are of a relatively old design and may detach from their anchors during storms and float freely, posing a threat to shipping. At least one reportedly drifted towards Turkey in late March and was destroyed to protect traffic through the Bosphorus.
On Tuesday, the Russian military reported that it had completed making the port of Mariupol and the waters near it safe. Minesweepers and demolition experts secured 1.5 million square meters of the sea, 50km of the shoreline, port structures and 32 ships that were docked in the port. A total of 12,000 explosives were found and disabled, the report said. The military also floated and removed a Ukrainian patrol boat that was sunk by Ukrainian troops to obstruct the waterway to Mariupol, the Defense Ministry said.
Mariupol was one of Ukraine's busiest ports before the Russian attack against the country. It is located on the northeastern shore of the Azov Sea and is claimed by the Donetsk People's Republic as part of its territory.
The city came under full control of Russian forces earlier this month, after Ukrainian troops that took cover in the Azovstal steelworks surrendered. The plant has its own shore facilities and is located about 6km from the main city port, so while Ukrainian forces were present, the waters near Mariupol were not completely safe.
Russia attacked the neighboring state in late February, following Ukraine's failure to implement the terms of the Minsk agreements, first signed in 2014, and Moscow's eventual recognition of the Donbass republics of Donetsk and Lugansk. The German- and French-brokered protocols were designed to give the breakaway regions special status within the Ukrainian state.
The Kremlin has since demanded that Ukraine officially declare itself a neutral country that will never join the US-led NATO military bloc. Kiev insists the Russian offensive was completely unprovoked and has denied claims it was planning to retake the two republics