The War on Australia
The War on Australia
Premier Daniel Andrews, a politician from the Australian state of Victoria has announced that people who are "fully vaccinated" against Covid-19 will only remain as such if they agree to receive all existing and future booster shots.
In a presentation, Andrews explained that there will be no freedoms for the "unvaccinated" in 2022 – and by unvaccinated, he also means people who stop at one or two jabs.
Andrews stated: "If you make the judgment to not get vaccinated, and you reckon you can wait out us or the public … you won't wait out the virus, because the virus will be here for a long time. And your only protection against it is being vaccinated.
"This will be well into 2022," he added. "Well and truly into 2022."
Regarding those who have received one or two jabs, Andrews added: "Then we're going to be getting into booster issues, so it won't be your first or second dose, it'll be, 'have you had, have you had, your third?' And then the other issue will be, well who knows what variants are coming?"
Those classed as unvaccinated will be excluded from society and unable to participate in both economic and social activities. What are the chances that those who fail to comply will be locked away in the quarantine camps Australia is busy building?
As Australia continues to ease COVID restrictions, three major supermarket chains in the country are preparing to adopt a vaccine mandate that will effectively force 300K workers from across Australia to either get vaccinated, or quit, in accordance with the "no jab, no job" doctrine.
According to the Financial Review, Australia's most widely read financial journal, Woolworth's is leading the charge to impose vaccination mandates on workers across Australia's supermarket sector. So far, rivals Cole's and Aldi have already joined in with their own commitments.
However, even as the mandate is imposed on workers, unvaccinated customers will, of course, still be welcome in all of these stores, since the management and Aussie government have apparently drawn the line at threatening starvation to try and coerce people to accept the jab.
Woolworths' mandate will apply to all staff at its 1,200 retail outlets across its supermarkets and its Big W discount department stores, as well as those working in the group's large warehousing and distribution centers, and its offices.  Cole's and Aldi have issued similar mandates. Woolworth's added that it intends to make Jan. 31 the deadline for full vaccination requirement in NSW, Victoria, ACT, the Northern Territory and Western Australia.
Queensland, South Australia and Tasmania will have a deadline of March 31.
Despite all of Australia's efforts to stamp out COVID, including closing its borders and locking down half the country for most of the winter (summer in the northern hemisphere) – cases have continued to climb, forcing the Australian government to finally relent as the lockdown measures took a massive toll on the country's economy. Technically, Melbourne's lockdown measures have been in place in some form for 245 days, making the lockdown in Australia's second-largest city the longest-lasting lockdown anywhere in the world.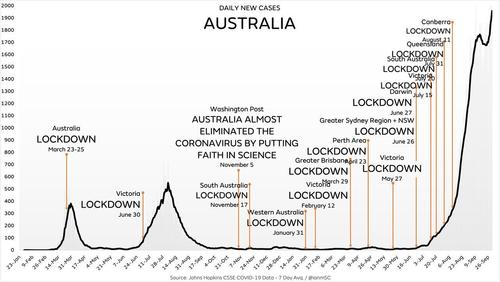 Interestingly, other Aussie grocery chains have decided on a different tack.
Wesfarmers, owner of Kmart, Target and the Bunnings hardware chain, is requiring all new employees to be vaccinated, but unlike its competitors, the company won't make it mandatory for existing employees because. Why? Because, as the company's managing director told the FR, the take-up rate was so high anyway through information sessions, on-site hubs and vaccination-leave arrangements, that coercing its own workers to get the jab simply doesn't make sense.
"I expect we will have a fully vaccinated workforce in the new year," he said.
Enough of them have already gotten, or plan to get, the jab voluntarily. At this point, the leading scientists have finally admitted that the concept of "herd immunity" is now a myth. COVID will most likely be endemic in the human population from here on out.
"Let nature run its course," said Dr Roderick McRae.
PHOTO: Facebook/Gordon Lega
The Victorian President of the Australian Medical Association (AMA) released a statement suggesting that Australians who do not wish to take Covid vaccines should opt-out of the public health system and 'let nature run its course'.
"A whole lot of these people are passionate disbelievers that the virus even exists. And they should notify their nearest and dearest and ensure there's an advanced care directive that says, 'If I am diagnosed with this disease caused by a virus that I don't believe exists, I will not disturb the public hospital system, and I'll let nature run its course'," said Dr Roderick McRae, Victoria President of the AMA.
McRae made the suggestion in relation to what he calls 'Covid-deniers' and 'anti-vaxxers' who might catch Covid when Victoria opens up from lockdown.
The majority of those refusing Covid vaccination self-identify as having taken other vaccines in their lives and are not part of the traditional 'anti-vax' movement. Others wish to wait for a different brand of vaccine such as Novavax due in Australia at the end of 2021. Novavax arrives boasting a higher efficiency rate than mRNA competitors and a stronger safety record.
Regardless of a person's philosophy toward vaccination, Australian citizens are entitled to healthcare under the Medicare system which is built into taxation as a levy of 2% on taxable income.
Currently, all eligible Australians pay for vaccines and Covid testing via public money – even those who have opted not to make use of these pandemic measures.
The AMA were founded in 1962 as a professional association for doctors and medical students divided into state branches. One of their stated purposes is to 'work with governments to maintain and increase the provision of world-class medical care to all Australians' in addition to 'promoting and advancing ethical behaviour by the medical profession'.
McRae has defended his position of encouraging Australians to deny themselves lifesaving medical treatment by saying that the public health system is 'fatigued' from extended lockdown periods and previous outbreaks. The Victorian government, however, remains confident that the health system will be able to cope once Victoria opens.
There is a backlog of elective surgery to process after Victoria cancelled most operations during Covid. McRae said that it isn't fair to make them wait longer when they 'did the right thing' getting vaccinated.
"So these patients continue to suffer some pain or disability for a longer period of time, and they're often patients who've been double vaccinated, they're elderly, and they've done everything right, but their knee replacement is being delayed and the public hospital waiting lists are growing.

"We're all juggling everything the best we can to avoid and prevent deaths. We know as we reopen it's the unvaccinated who are going to get Covid, and they are going to get great hospital treatment with many new experimental drugs, even though they think the vaccine is 'experimental'."
Patient choice has always been at the forefront of Australian medicine. It is common for patients and doctors to decline one treatment in favour of another.
McRae also backed Victoria Premier Daniel Andrews' decision to keep the unvaccinated excluded from society until at least mid-way through 2022.
"Look, I think the mentality in Victoria is to take it slowly and sensibly. So, broadly speaking, there will be good community support. I guess the unvaccinated aren't going to be thrilled by that, but they've had a year and a half of opportunity to digest all of the information that's out there and get vaccinated," said McRae, on Today.