The world of Woke fascism
The world of Woke fascism
Chaplain Claims Church Of England Deemed Him "Risk To Children" For Questioning LGBT Ideology
Authored by Owen Evans via The Epoch Times,
A Christian chaplain who was forced out of his job and reported to a terrorist watchdog for giving a sermon defending the right to question LGBT ideology claims he was also then blacklisted as a safeguarding risk to children by the Church of England (CofE).
Rev. Bernard Randall, 49, from Derbyshire, a former chaplain of Christ's College, Cambridge, is taking Trent College in Derbyshire to an employment tribunal over alleged religious discrimination after he was sacked by the fee-paying CofE school and reported to a government terrorism watchdog.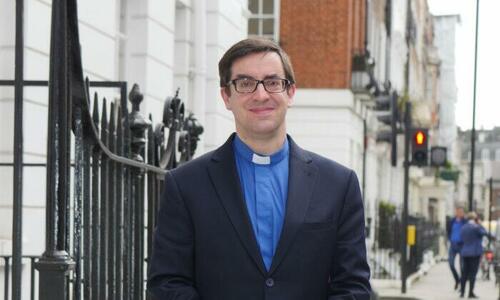 Anglican deacon and broadcaster Fr. Calvin Robinson told The Epoch Times by email that it was "awful the way Rev. Randall had been treated" but that many clergymen are stifled by "woke hierarchy."
Woke Activists
"The woke activists who have captured much of the CofE cannot tolerate any opposition to their agenda, even moderate and considered opposition which encourages debate," said Randall, who is ordained by the CofE, in a statement.
He said that he initially expected support from the church, but instead found that he had been marked as a "risk to children" by church officials for "expressing, moderately" the CofE's own teaching on human sexuality in a CofE chapel.
In 2019, Randall was disciplined and lost his job as a chaplain at Trent College after preaching a sermon that presented the Christian viewpoint on gender identity and LGBT ideology.
He is claiming £120,000 ($138,000) in damages at an employment tribunal that begins on Monday, arguing that Trent College unfairly sacked him because of his religious and philosophical beliefs.
Randall said he had presented the traditional Christian view of human identity and sexuality and told students that they were not compelled to "accept an ideology they disagree with" but should debate and make up their own minds about the issue.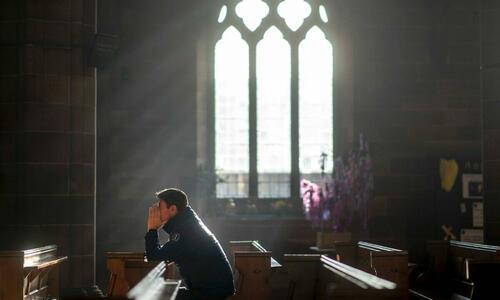 A man prays in a church as shoppers make their last minute purchases on Christmas Eve in Birmingham, England, on Dec. 24, 2018. (Christopher Furlong/Getty Images)
The school reported Randall to Prevent, the government's counter-terrorism watchdog, after he raised concerns at the school about an external LGBT group, Educate and Celebrate, that had encouraged school staff to chant "smash heteronormativity" at a training session.
Police subsequently said that they found that it did not meet the threshold for a Prevent referral, and no further action was taken and no case was recorded on the force system.
His legal team, represented by Christian Concern, alleges that the Bishop of Derby, the Rt. Rev. Libby Lane, refused to allow him to officiate in Church services, and argue that this is an act of discrimination, harassment, and a breach of the Equality Act 2010.
'Implications'
He also claims that he was told that he was a "moderate risk to children" and vulnerable adults in a risk assessment undertaken by the Church of England's safeguarding team in the Diocese of Derby.
His legal team claims that a Data Subject Access request revealed that a senior member of Derby Cathedral suggested that there would be "implications" for anyone associated with the cathedral if they publicly supported Randall in his legal action. They also claim that internal emails revealed cooperation between Trent College and the Diocese of Derby to ensure Randall could not officiate again in the region.
He is also taking separate legal action against the bishop of Derby and the CofE.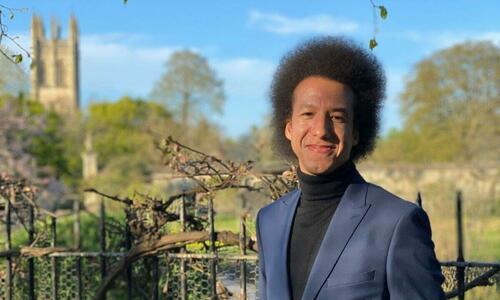 Calvin Robinson in an undated file photo. (Courtesy of Calvin Robinson)
Fr. Calvin Robinson joined the breakaway conservative Global Anglican Future Conference this year after he was cancelled by the CofE because white senior clergy were fearful that he refuted claims that Britain is "institutionally racist" even though he is black.
"It's awful the way Rev. Randall has been treated. The State Church is so afraid of being politically incorrect, it now deems its own teaching as a safeguarding risk. It's absurd," he told The Epoch Times.
"There are many fantastic clergymen being silenced and stifled by a woke hierarchy. I pray for their liberation," he added.
'Stalinesque' Interrogations
Commenting in a statement, Randall said that it had been a "hostile, traumatic and deeply stressful" experience and that "safeguarding" had been weaponised against what the Church believes to be a difficult voice.
He experienced what he described as "Stalinesque" interrogations in which he was told that refusing to capitulate to the allegations and to deny his beliefs made him a risk.
"I do not believe delivering a sermon can be a safeguarding issue. I did not think anything I said was wrong. I certainly didn't make personal attacks. I was told by the safeguarding team at Derby diocese that my sermon and my views, based on C of E teaching, could potentially cause someone anxiety, as if that is abuse," said Randall.

"If the Church of England believes that its own teaching based on the Bible is a safeguarding risk then what does this say about what state it's in?" he added.
The Epoch Times contacted Trent College, the Diocese of Derby, and the CofE for comment.
Enoch Burke refused to address a transitioning male student as "they," citing his Christian beliefs
A teacher in the Republic of Ireland has been 

suspended from teaching and later jailed

 on contempt charges after he refused to address a transgender student by their preferred pronouns.
Enoch Burke was arrested on Monday for violating a court order that barred him from teaching at Wilson's Hospital School in Westmeath, the news site RTE.ie reported. In addition to being barred from teaching, Burke is not allowed to set foot on the property, per the court order.
Judge Michael Quinn later found Burke guilty of violating the High Court's mandate. He was then sent to Mountjoy Prison, where he will remain until either he purges his contempt, or the court gives further orders.
The teacher stood by his refusal even when faced with jail time, telling the judge that "it is insanity" that he would be arrested and taken to prison for refusing to violate his Christian beliefs. "I love my school, with its motto Res Non Verba, 'Actions not words,' but I am here today because I said I would not call a boy a girl," Burke told the court.
The saga began when Burke, who teaches politics and German at the school in Multyfarnham, County Westmeath, refused to address a transgender pupil as "they" instead of "he." He was soon placed on administrative leave by school officials pending the outcome of an investigation and disciplinary process.
Burke refused to stay away from campus, however. He continued to refuse despite an injunction that barred him from teaching or even setting foot on Wilson's campus.
On Friday, the judge issued an order to arrest Burke after he was found sitting in an empty classroom at the school. He was arrested at the school on Monday and taken directly to court, where he told the judge that he would not comply with the injunction.
"I am a teacher and I don't want to go to prison," Burke told the court. "I want to be in my classroom today, that's where I was this morning when I was arrested."
"Transgenderism is against my Christian belief. It is contrary to the scriptures, contrary to the ethos of the Church of Ireland and of my school," he added.
UK television show called 'dystopian' as competition offering to pay energy bills criticised
Twitter users have likened a game show segment on a UK daytime television program – offering viewers to spin a wheel for a chance to get their energy bills to be paid – to the dystopian fiction Netflix series Black Mirror.
A British daytime TV program has been criticised for offering to pay for a viewer's energy bills in a prize wheel segment.
A caller to ITV's This Morning told hosts Phillip Schofield and Holly Willoughby he had "major" concerns about energy prices as households across the UK brace for an enormous price hike.
UK regulator Ofgem has announced an 80 per cent increase in the cap on prices for gas and electricity for October and an average household can expect to pay $509 a month or $6,032 per year – roughly three times the amount of last winter's energy bills.
Authored by John Cody via Remix News,
The alleged death threats from neo-Nazis against Green politician Manoj Subramaniam have made headlines across Germany and led to tension in North Rhine-Westphalia, Germany's largest state by population. However, the councilor from Erkelenz staged the various threats in an elaborate scheme, according to the result of an investigation published by the public prosecutor's office.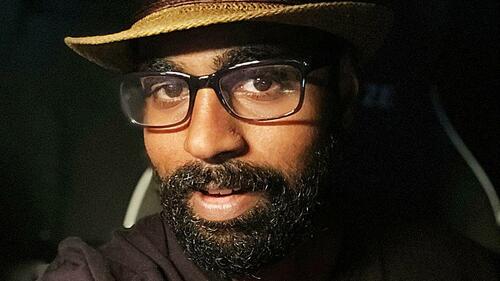 The 33-year-old, whose parents immigrated from Sri Lanka, had submitted numerous complaints.
First, his car windows were smashed, and swastikas sprayed on the vehicle.
Another time, he claimed SS runes and a swastika were drawn on the doorbell of his house.
Then, he revealed that a swastika was scrawled on the sidewalk in front of his apartment and that he found razor blades in the mail.
The politician also received death threats signed by NSU 2.0, referring to the National Socialist Underground (NSU) group that committed a number of murders across Germany for years.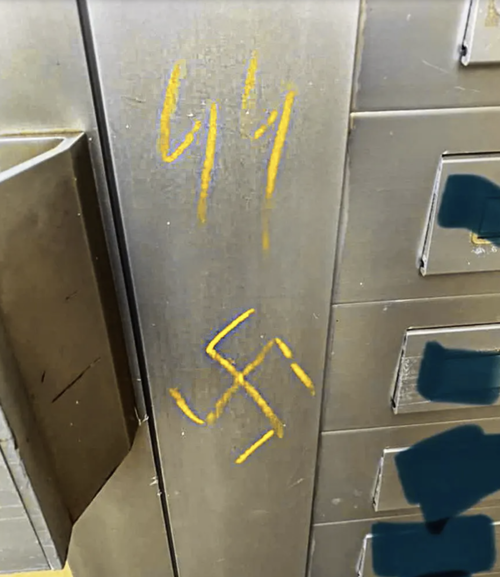 Manoj Subramaniam claimed SS runes and a swastika were drawn on the doorbell of his house
The police took protective measures for the politician, and state security allegedly began intensive investigations, as he asserted. Journalists made the case big and North Rhine-Westphalia Greens parliamentary group leader Verena Schäffer expressed her solidarity.
"Right-wing extremists are threatening political volunteers to silence them. Thank you, Manoj Subramaniam, for not being silent and raising your voice," stated Lamya Kaddor, a member of the Bundestag.
However, the evidence now shows that not a single threat was real, according to German news outlet Focus.
"As part of these investigations, the suspicion was confirmed that the reported crimes did not occur, that they were faked, and that there was no threat. Search measures and an interrogation of the accused have confirmed this suspicion," the Aachen police reported. 
Police and prosecutors are now investigating Subramaniam. The politician resigned his mandate at the weekend and also resigned from the party.
Germany has been beset by a number of hate hoaxes over the last years, including a case involving popular Israeli singer, Gil Ofarim, who prosecutors say lied about an alleged anti-Semitic incident inside the Leipzig Hotel Westin. The case originally sparked an outcry about anti-Semitism in Germany before video disproving his allegations was released.
There was also the Sebnitz case where a mob of skinheads supposedly drowned a toddler only for it to turn into one of the biggest debacles and hate hoaxes in Germany's modern history. There is also the case in Mittweide, where police determined that nobody actually ended up having a swastika carved on their forehead (police later proved the alleged victim in the case did it herself). In Müglen, foreigners were not hunted on the streets despite national press reporting claiming otherwise, and in Chemnitz, the same accusation that sparked a nationwide outcry has never been proven.
In Dresden, an Eritrean asylum seeker was not murdered by right-wing extremists from the Pegida movement, but killed by a fellow Eritrean.
Are you scrolling by because you believe he is racist? Or do you think he is lying?
He is passionate about the racism against British girls. He is vilified and accused of racism himself. Give him a hearing rather than adopt the opinions fed to us from the media.