The "Worst Cyber Attack In Recent World History"
The "Worst Cyber Attack In Recent World History"
Get Ready for "Worst Cyber Attack In Recent World History"! Hackers to Bring Down Europe's Banking

The leader of Killnet, hiding under the nickname Killmilk, confirmed to Lente.ru that preparations for the attack are already underway. It is expected to start within the next 48 hours. The representative of Revil, in turn, stated that "the world has gone crazy", and the reason for this, in his opinion, was money. He also stated that it is the European banking system that governs the EU.
"No money, no problem.
Revil is sufficiently familiar with the European financial infrastructure, "the representative of the group threatened. The spelling and punctuation of the authors of the video is saved The Anonymous Sudan member also noted that European financial institutions will witness "the worst cyberattack in recent world history." He urged them to be ready for the coming strike, and also stated that when it comes, "it will be too late to fix anything.
According to Google-owned cybersecurity firm Mandiant, the attacks appeared to be orchestrated by state-sponsored Chinese hackers who exploited a security loophole in the widely used email security app, Barracuda Networks' Email Security Gateway
U.S. federal agencies are among the latest casualties of an extensive global cyberattack that exploits a flaw in commonly utilized software.
The U.S. Cybersecurity and Infrastructure Security Agency (CISA) has been providing support to an undisclosed number of federal agencies experiencing intrusions through their MOVEit applications, a software impacted by this attack, CNN reported.
CISA is actively seeking to comprehend the extent of the damage and expedite remediation, according to Eric Goldstein, the agency's executive assistant director for cybersecurity.
Uncertainty looms over whether the Russian-speaking ransomware group, which has previously claimed responsibility for multiple victims of the ongoing hacking spree, orchestrated this breach. CISA has not revealed the identity of the attackers or the exact number of federal agencies affected.
This incident adds to an alarming surge of cyberattacks over the past fortnight that has affected state governments, as well as leading U.S. universities. These increasing instances of cybercrimes heighten pressure on federal officials who have committed to curtailing the wave of ransomware attacks crippling schools, hospitals, and local governments nationwide.
According to Google-owned cybersecurity firm Mandiant, the attacks appeared to be orchestrated by state-sponsored Chinese hackers who exploited a security loophole in the widely used email security app, Barracuda Networks' Email Security Gateway.
Charles Carmakal, Mandiant's Chief Technical Officer, classified this cyber espionage operation as "broadest cyber espionage campaign known to be conducted by a China-nexus threat actor since the mass exploitation of Microsoft Exchange in early 2021." The earlier Microsoft Exchange hack left tens of thousands of computers across the globe compromised.
Johns Hopkins University and its health system recently announced that sensitive personal and financial information, inclusive of health billing records, may have been compromised in the hack. In addition, Georgia's statewide university system, which includes the University of Georgia and over a dozen other state colleges, is assessing the impact and severity of the hack.
In a blog post released on Thursday, Google-owned Mandiant expressed a high degree of certainty that the group exploiting the vulnerability in the Barracuda Networks' Email Security Gateway was engaged in "espionage activities backing the People's Republic of China." The firm traced the start of this covert operation back to October, underlining the persistence and far-reaching implications of such a breach.
A Russian hacking group known as C10p claimed responsibility for several hacks, which affected employees from organizations like BBC, British Airways, Shell, and state governments in Minnesota and Illinois, among others. Cybersecurity experts suggest that other groups might now have the required software code to launch similar attacks.
While C10p had set a deadline for victims to negotiate ransom payment, it started to list more victims on its dark web extortion site after the deadline passed. So far, no U.S. federal agencies have been named on the site. This large-scale attack underscores the potential havoc a single software vulnerability can cause when exploited by adept cybercriminals.
The perpetrating hackers, a group known for their favored malware since 2019, began exploiting a new vulnerability in the widespread file-transfer software, MOVEit, in late May. Their indiscriminate approach made numerous organizations susceptible to extortion. Progress, the U.S. company that owns MOVEit, has since advised victims to update their software and issued security guidelines
The incident comes a day after Russian hackers threatened European banks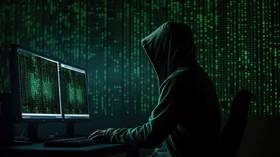 "Several" US government agencies have been targeted in an ongoing global hacking spree, CNN reported on Thursday. While Wasington is not commenting on who is to blame, Russian-speaking groups have taken responsibility for similar intrusions in recent weeks.
The US Cybersecurity and Infrastructure Security Agency "is providing support to several federal agencies that have experienced intrusions," an agency official told the American broadcaster. "We are working urgently to understand impacts and ensure timely remediation."
It is unclear who carried out the attack, and how many agencies were affected.
The attack is the latest in a slew of hacks targeting Western corporations, universities, and governments in the last two weeks. State governments in Minnesota and Illinois have been hit, as have the BBC, British Airways, and oil giant Shell. 
A Russian-speaking group known as Cl0p has taken responsibility for most of the breaches, promising to start publishing data obtained from the affected targets if its ransom demands are not met. According to CNN, the group exploited a vulnerability in a popular file-transfer program called MOVEit to gain access to its targets.
In a video released on Wednesday, the Russian-speaking hacktivist groups Killnet and REvil, as well as another group calling itself Anonymous Sudan, said that they would launch a campaign targeting European banks and financial institutions "without mercy." These organizations have allegedly targeted US and other Western governments in the past, although it is unclear whether they took part in any recent attacks.
Several Agencies of the United States Government are saying publicly this hour (3:11 PM EDT) they are under "Cyber Attack."   NATO Headquarters in Brussels is also claiming to be under "Cyber-Attack" Meanwhile, pro-Ukraine groups are publicly promising to "Blow-Up" the Kerch Strait Bridge to harm Russia.
These are developing stories, check back.
UPDATE 4:04 PM EDT —
I was reminded of an unusual posting on Twitter from the Atlantic Council just ONE WEEK AGO, making clear a "Cyber Attack can trigger Article 5 collective Defense" as seen in the brief video below:
"We have decided that a cyber attack can trigger Article 5…It doesn't matter if an attack is kinetic or cyber, we will assess as allies when it meets the threshold…and it sends a message that we are cyber allies." @jensstoltenberg at #ACFrontPage #NATO2030 pic.twitter.com/vWFs6RQ4xu

— Atlantic Council (@AtlanticCouncil) June 7, 2021
Interesting just one WEEK after the Atlantic Council reminds the world of this fact, lo and behold, there's a cyber attack against NATO.
Gee, how convenient.
Maybe we should start a countdown or take bets to see how long it may be until they blame . . . . hmmmmmm . . . . who might they want to blame . . . . .
oh yes, RUSSIA!
This is so obvious it's disgusting.
These people are treating the possibility of World War 3 as if it's a game.
UPDATE 4:15 PM EDT —
Some people seem to be getting VERY carried away, but I am reporting this to you so you can see what's already being spoken about on Social Media — it's NOT good:
🚨🇺🇸🇷🇺 US, NATO allies are investigating the #Cyberattack.
If it turns out to be Russia-affiliated hackers, it will trigger NATO Article 5. With nearly 300 NATO aircraft already in Europe for #Defender23, it will take few hours to raze Moscow to the ground and arrest Putin.

— Terror Alarm (@Terror_Alarm) June 15, 2023
THIS IS SO OVER-THE-TOP I CANNOT BELIEVE ANY RATIONAL ENTITY WOULD HAVE ACTUALLY PUBLISHED SUCH A THING.  YET, HERE IT IS.
Other headlines
Israel confirms it will give Ukraine 200 Merkerva Tanks.
Stabbed Russia right in the back.
The government of Poland has just issued a statement claiming its Border Guards were "fired upon from the territory of Belarus."
No further details have been released at this hour, 5:28 PM EDT.   Check back for Updates.
President Petr Pavel of the Czech Republic has gone on television and said Russian citizens throughout Europe should be rounded up and put in camps, as was done to the Japanese in the USA during WW2, because their country wages aggressive war!
How NAZI-esque of him!  Just like Hitler did with the Jews!
Putin & Lukashenko Address The West's 'Worst Fears'
This week both Presidents Vladimir Putin and his close ally Alexander Lukashenko have addressed worst case scenarios which could spin out of the Ukraine war. Both in separate interviews have addressed what the West fears most in fresh remarks. It comes as Russian tactical nukes are being delivered to Belarusian bases.
First, Belarus' Lukashenko said in a Wednesday interview on Rossiya-1 television that the Western allies are very afraid that a new, large-scale war will break out in Europe, resulting in "global catastrophe".
"I have met with people playing an important role in this, who make radical, drastic and final decisions in the event of an `if','" Lukashenko said, according to Russian state media translation. "What they fear most is a nuclear disaster, and they have been sincere about this. They are afraid of using nuclear weapons in Ukraine. It's only natural," he added.
He stressed that Belarus certainly seeks to avoid this as well. "We are not seeking that either, and we, too, are afraid. Because this, experts say, could cause a global catastrophe, and this planet may deorbit, if all these weapons explode," Lukashenko said.
His words came the same day he confirmed that Belarus has begun taking delivery Russian tactical nukes on its territory, in line with previous announcements which deeply alarmed the West. According to more of the Belarusian strongman's words in TASS:
According to Lukashenko, Russia may use nukes, if the enemy invades its territory or if this act of aggression threatens the existence of the state. He urged talks as long as there is an opportunity for them, but the West, he said, has been banning Ukraine from engaging in any.
"I am confident and I have it on good information that the overwhelming majority in Ukraine, including the military who has been fighting and getting killed over there, would like to stop this war now," the Belarusian leader maintained. "But then there are those hyped-up top-level officials led by [Ukrainian President] Volodya Zelensky. He is a `hero' now, touring the globe. He is being kissed, hugged and all that. I thought he was smarter," Lukashenko lamented.
Separately, President Putin in the middle of this week voiced something similar, saying that a nightmare scenario is that "the fire of war will engulf the whole of Europe."
Lukashenko says he's receiving "tactical" nuclear weapons from Russia & would use them in case of "aggression" against Belarus.
"We got missiles & bombs from Russia. A bomb 3x more powerful than Hiroshima & Nagasaki … a million people would die immediately."
— Alec Luhn (@AlecLuhn) June 14, 2023
According to the Russian leader's fresh statements reported on by foreign war correspondent and geopolitical analyst Pepe Escobar [emphasis ZH]…
"We were forced to try to end the war that the West started in 2014 by force of arms. And Russia will end this war by force of arms, freeing the entire territory of the former Ukraine from the United States and Ukrainian Nazis. There are no other options," Putin said.
"The Ukrainian army of the US and NATO will be defeated, no matter what new types of weapons it receives from the West. The more weapons there are, the fewer Ukrainians and what used to be Ukraine will remain."
And importantly, he emphasized that "Direct intervention by NATO's European armies will not change the outcome. But in this case, the fire of war will engulf the whole of Europe. It looks like the US is ready for that too."
Putin strongly suggested that Russia too is "ready" for this worst case outcome if the situation unravels further. While Ukraine has thus far received many dozens of main battle tanks from the West, some of which have already been destroyed on the battlefield by Russia's superior combination of arms, it's widely believed the bigger escalation will come with the eventual supply of F-16 fighter jets.
Ukrainian Defense Minister Aleksey Reznikov has told Foreign Policy magazine in a newly published interview that he was told by Kiev's NATO backers to "kill as many Russians" as possible even if Ukraine doesn't get all the weapons it wants. This was early in the conflict, before Western allies had committed large quantities of things like anti-tank and anti-air missiles, as well as main battle tanks.
The interview, titled by FP "Ukraine's Winnable War," presents a case for the West helping Ukraine to retake all of its territory. Reznikov at one point tells FP the following:
"We asked, 'can we have stingers?': he said in the interview published on Tuesday. "We were told, 'No, dig trenches and kill as many Russians as you can before it's over.' People thought our victory was impossible."

Now, Reznikov boasted, Ukraine has been given "Bradleys, Strykers, Abrams, Leopards, and more," and will soon be equipped with American-made F-16 fighter jets…..
NATO is all in to defeat Russia in Ukraine because they want to "send a message" to China and other nations throughout the world that the globalist agenda is not to be defied without extreme consequences.
"President Putin must not win this war, because that will not only be a tragedy for Ukrainians, but also make the world more dangerous," NATO Secretary-General Jens Stoltenberg Stoltenberg said at the White House on Tuesday before a scheduled summit with U.S. 'President' Joe Biden.
"It will send a message to authoritarian leaders all over the world, also in China, that when they use military force, they get what they want, and we will then become more vulnerable. So it's our security interest to support Ukraine," he added.
As the Russia-Ukraine war wages on at an extreme cost to Western countries with untold amounts of death and destruction to the region, NATO is setting their sights on China, preparing for a potential war over Taiwan.
This article comes from the belly of the Deep State, the Rand Corporation
Washington Needs an Endgame in Ukraine
Published in: Foreign Affairs (June 5, 2023)
Russia's invasion of Ukraine in February 2022 was a moment of clarity for the United States and its allies. An urgent mission was before them: to assist Ukraine as it countered Russian aggression and to punish Moscow for its transgressions. While the Western response was clear from the start, the objective — the endgame of this war — has been nebulous.
But it is now time that the United States develop a vision for how the war ends. Fifteen months of fighting has made clear that neither side has the capacity — even with external help — to achieve a decisive military victory over the other. Regardless of how much territory Ukrainian forces can liberate, Russia will maintain the capability to pose a permanent threat to Ukraine. The Ukrainian military will also have the capacity to hold at risk any areas of the country occupied by Russian forces-and to impose costs on military and civilian targets within Russia itself.
Pro-Russian hacktivist group KillNet, Anonymous Sudan, and REvil announced their plans to take down the entire European banking system within the next 48 hours.

"This is not a DDoS attack, the games are over. No money, no weapons, no Kiev regime — this is the formula for the… pic.twitter.com/to5RhxDif6

— Ian Miles Cheong (@stillgray) June 14, 2023