Today might be the day history records as the end of the Unipolar Order
Today might be the day history records as the end of the Unipolar Order
Within the past few hours today, the Organization of Petroleum Exporting Countries (OPEC) has agreed to a cut of one million barrels a day in oil production.   This comes just after Russia announced a cut of its own by 500,000 barrels per day.  
These cuts will now drive UP the price of oil and, by extension, gasoline and Diesel fuel.
Since the illegitimate Biden regime here in the US has drained much of our Strategic Petroleum Reserve, the regime is now UNABLE to counter this loss of daily production.
UPDATE 6:00 PM EDT —
The White House has reportedly responded to OPEC+'s decision to cut crude production by 1 million barrels/day by saying that "output cuts aren't advisable right now," adding that The White House is "focused on prices for American consumers."
Recall too, Biden threatened the Saudis with "consequences" over last October's 2 million barrel oil cut but then he took no action.
Let's see if this new OPEC cut elicits any further response
Update (1800ET): As one would have expected, oil prices are surging at the futures open with WTI up over 7% near $82 – its highest since late Jan…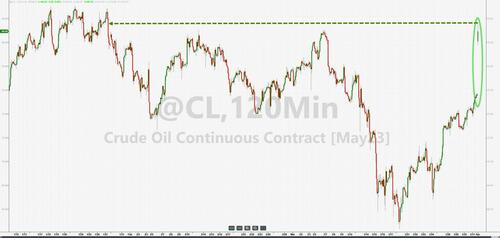 Brent hit $86…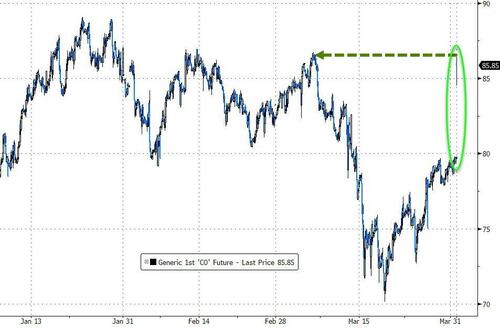 Additionally, Goldman has increased their Dec 2023 Brent Forecast to $95
Nine members of OPEC+ announced today a surprise "voluntary" collective output cut totaling 1,66mn b/d which will take effect from May till the end of 2023.

As we have argued, OPEC+ has very significant pricing power relative to the past, and today's surprise cut is consistent with their new doctrine to act preemptively because they can without significant losses in market share.

As we already assumed that Russia cuts would extend into 2023H2, we are lowering our OPEC+ production end-2023 forecast by 1.1 mb/d.

Incorporating this significantly lower OPEC+ supply, slightly lower demand, and the modest French SPR release, we have nudged up our Brent forecasts by $5/bbl to $95/bbl (vs. 90 previously) for December 2023, and to $100 (vs. 97) for December 2024.
*  *  *
Update (1500ET): The FT reports that, according to people familiar with Saudi Arabia's thinking, Riyadh was irritated last week that the Biden administration publicly ruled out new crude purchases to replenish the strategic stockpile that had been drained last year as the White House battled to tame inflation.
'Fistbump' anyone?
As an aside, we joked just a few days ago that contrary to its earlier reps and warranties that the US would start refilling the SPR if oil dropped below $72, that this won't be happening any time soon if ever…
US Unlikely to Refill Oil Reserve in Second Quarter: Analyst

Or ever… until it's needed

— zerohedge (@zerohedge) March 17, 2023
…and according to the FT, that was the straw that broke the OPEC's back.
Energy secretary Jennifer Granholm's statement that it could take "years" to refill the reserve sent oil prices briefly lower. The White House had previously offered reassurance to Saudi Arabia that it would step in to make purchases for its strategic reserve if prices fell.
Of course, there is always 'the smartest guy we know' for Biden to rely on energy policy…
Is the DOE still subletting energy guru Hunter Biden from Burisma? https://t.co/Uhh6A4BIko

— zerohedge (@zerohedge) April 2, 2023
*  *  *
Update (1330ET): Well we didn't think it would take long.
A spokesperson for the National Security Council at the White House has responded to OPEC+'s decision to cut crude production by 1 million barrels/day by saying that "output cuts aren't advisable right now given market uncertainty," adding that The White House "will continue to work with all producers and consumers to ensure energy markets support economic growth and lower prices for American consumers."
Helima Croft, head of commodity strategy at RBC Capital Markets, said Saudi Arabia was staking out an economic strategy independent of the US, after a deterioration in relations between Riyadh and Washington during the Biden administration.
"It's a Saudi-first policy. They're making new friends, as we saw with China," Croft said, referring to a recent Beijing-brokered diplomatic deal between Saudi Arabia and Iran.

The Kingdom was sending a message to the US that "it's no longer a unipolar world".
Who could have foreseen Saudis turning their back (even more) on Biden? Oh yeah:

Saudis Joins Shanghai Military And Security Block As It Embraces China – April 1

In "Huge" Chinese Push By Aramco, World's Biggest Oil Producer To Build $10BN Petrochemical Complex – March 27

— zerohedge (@zerohedge) April 2, 2023
*  *  *
We asked this question last month: Who cuts first: OPEC+ or Fed? 
Who cuts first: OPEC+ or Fed

— zerohedge (@zerohedge) March 15, 2023
… and more than two weeks later, we finally have an answer:
We have a winner: *SAUDI ARABIA TO CUT OIL OUTPUT BY 500,000 BARRELS/DAY FROM MAY https://t.co/ig84m7bTnC

— zerohedge (@zerohedge) April 2, 2023
In the latest in a long series of slaps on Biden's face, on Sunday OPEC+ unexpectedly announced an oil production reduction of over 1 million barrels per day, limiting output from May. Saudi Arabia spearheaded the cartel's efforts by committing to a 500,000-barrel reduction of its own production.
According to the Saudi Press Agency, a Ministry of Energy official stated the Kingdom of Saudi Arabia will "implement a voluntary cut of 500 thousand barrels per day from May till the end of 2023." 
The cut will be in coordination with other OPEC and non-OPEC participating countries in the declaration of cooperation, the state-run media outlet continued. 
 "This voluntary cut is in addition to the reduction in production agreed at the 33rd OPEC and non-OPEC Ministerial Meeting on October 5, 2022," the paper pointed out. 
Other members, such as Kuwait, the United Arab Emirates, and Algeria, also joined in the reduction efforts.
Previously, Russia had pledged to cut its crude-only output by 500,000 barrels per day in March in response to Western sanctions, including price caps on its oil and petroleum production, and to keep those curbs in place through June, but has now extended its pledged cuts through the end of the year
Here are the reductions per country: 
*SAUDI ARABIA TO CUT OIL OUTPUT BY 500,000 BARRELS/DAY FROM MAY
*KUWAIT TO VOLUNTARY CUT OIL PRODUCTION BY 128,000 BARRELS/DAY
*UAE TO REDUCE OIL PRODUCTION BY 144,000 BARRELS/DAY FROM MAY
*KAZAKHSTAN TO CONTRIBUTE 78K B/D TO OPEC+ OUTPUT CUT: MINISTRY
*IRAQ TO CUT 211,000 B/D OF OIL OUTPUT FROM MAY: MINISTRY
*ALGERIA TO CUT 48K B/D OF OIL OUTPUT FROM MAY TO END 2023: APS
*OMAN TO CONTRIBUTE 40K B/D TO OPEC+ PRODUCTION CUT: DELEGATE
Russia commented on the announcement of production cuts:
"Today the global oil market is going through a period of high volatility and unpredictability due to the ongoing banking crisis in the US and Europe, global economic uncertainty, and unpredictable and short-sighted energy policy decisions.
Saudis said: 
"Ministry of Energy official emphasized that this is a precautionary measure aimed at supporting the stability of the oil market," SPA reports
Brent futures are expected to rise this evening in response to today's news. Prices have been range bound between $86-$73 a barrel for much of 2023.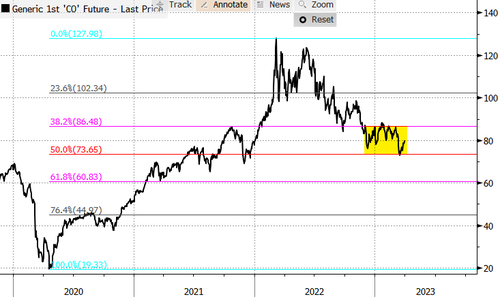 "Opec+ have made a pre-emptive cut to get ahead of any possible demand weakness from the banking crisis that has emerged," said Amrita Sen, director of research at Energy Aspects.
And cue the "disappointment" press release from The White House. 
From Hal Turner
White House spokeswoman Karin Jean-Pierre was asked what the Biden regime was doing about countries switching away from US Dollars and using their own currency as settlement of foreign trade.  Her response was stunning . . . .
"Switching to national currencies is a violation of the rights of American citizens."
The White House then threatened with sanctions those countries that refuse the dollar in mutual settlements.
It's already trending on social media:
"Switching to national currencies is a violation of the rights of American citizens." The White House threatened with sanctions those countries that refuse the dollar in mutual settlements.

Is there no end to the embarrassing statements of our White House? The incompetence of… pic.twitter.com/nqB0KQ8ubF

— dana (@dana916) April 1, 2023
So there you have it.  Countries around the world have, IN FACT, either stated their intention to cease accepting the US Dollar, or have already begun refusing the US Dollar.
The White House has now tacitly acknowledged it.
This is now a slow-moving train wreck for the United States.  Our federal government has abused so many countries with our "economic sanctions" and has done it for so long, that countries around the world have begun rejecting the US dollar as a means of payment for international trade.
If countries no longer accept the US Dollar, then the US Government has no means by which to impose economic sanctions.  The US Government becomes toothless against all those foreign nations.
On top of the economic sanctions abuse, that same US federal government has over-spent by so much, and run-up so much debt, that the world is rapidly losing faith that the US dollar will have __any__ value at all.
What this means for you and me here in the USA, is that hyper-inflation is already on its way.   
Here's why:
For almost 100 years, the US Dollar has been __THE__ currency for the world.   It has been the only reliable currency for everyone.
No matter what country chose to trade with any OTHER country, both countries knew that settling the trade in US dollars preserved the value of their trade and was a rock-solid measure of value.
In order to be able to smoothly carry out those foreign trades, central banks all over the world, kept a supply a US Dollars in their central banks, so trade could be settled.
As of right now, at least six point four TRILLION U.S. Dollars, are resting in the central banks around the world.
As more and more countries cease using the dollar, foreign banks will no longer need to keep those dollars in their central banks.
Those dollars will begin to come home to the USA.
As those dollars come home, the value of the US dollar, against foreign currencies, will begin to drop. (Because nobody will want the Dollars)
Now, we here in the USA don't manufacture much of anything anymore.  Thanks to the corporate imbeciles who pushed us into becoming a "service economy" much of our manufacturing was shipped out to foreign countries.
Then, thanks to the other imbeciles who pushed "Free Trade" we removed Tariffs from foreign goods imported into our country.  The idea was sold to us by the "Free Trade" shysters who claimed that if the US dropped tariffs, then all other countries would drop tariffs and that would mean American-made products would be cheaper overseas, thereby increasing demand, thereby increasing American jobs.
THAT WAS A FRAUD.
The people pushing "Free Trade" had no intention at all of selling American-made products to more foreign countries.  What they ACTUALLY wanted was to ship American JOBS to foreign countries, use the cheap foreign labor, then sell those same products back here in the USA for the same high prices and without Tariffs!  That allowed the manufacturers to pocket the increased profits from using cheap foreign labor but still sell the same good here in the US for the same high price.
In the end, it was only American JOBS that got exported, not American products.
So we now see the result of the "double-whammy."   Hit #1 was when we changed to a "service economy".   Hit #2 was when we bought into the "Free Trade" lie which allowed corporate Boards of Directors to move manufacturing jobs OUT of the USA to pocket the profits from cheap foreign labor.
Which brings us back to the value of the US Dollar.  Since we don't manufacture much here anymore, and have to buy MOST of the things we use from foreign manufacturers', as the value of the dollar plummets, everything we need to buy will become FAR more expensive;  several hundred percent more expensive!!!
This is what YOUR members of the US House of Representatives, and YOUR members of the US Senate have done.  They have abused so many countries with the threat or actual application of economic sanctions, that those countries are now abandoning the US dollar AND, they've so over-spent that people worldwide now see the US Dollar as being UNRELIABLE and heading toward being worthless.
YOUR member of Congress caused this.
YOUR member of the Senate caused this.
When YOU cannot afford food and YOUR family is going hungry . . . or when YOU cannot buy the typical normal things that every family needs . . . .remember that when you see your members of Congress and the Senate on the street.
When you see them, hold them accountable right then and there.