TruNews on covid insanity
TruNews on covid insanity
This TruNews broadcast is one of the best recently and definitely worthwhile listening to.
Today, the Center for Disease Control (CDC), which has no legal mandate to do anything but make recommendations has told Americans what they can, and cannot do.
The Centers for Disease Control and Prevention took a major step on Tuesday toward coaxing Americans into a post-pandemic world, relaxing the rules on mask wearing outdoors as coronavirus cases recede and people increasingly chafe against restrictions.
The mask guidance is modest and carefully written: Americans who are fully vaccinated against the coronavirus no longer need to wear a mask outdoors while walking, running, hiking or biking alone, or when in small gatherings, including with members of their own households. Masks are still necessary in crowded outdoor venues like sports stadiums, the C.D.C. said.
But President Biden hailed it as a landmark moment in the pandemic, wearing a mask as he approached the lectern on a warm spring day on the White House grounds — and pointedly keeping it off as he walked back into the White House when he was done.
Covid Passports Linked to 1933 Sanitary Treaty and 1944 Travel Certificates

Today on TRUNEWS, host Edward Szall reports on how the CDC is doling out freedom on a piecemeal basis as the American population submits to the vaccination mandates. As preschoolers are masked and jabbed, there is an awakening of individuals who refuse to give in to the Covid plan.
The team also digs into the Chinese Communist origins of the World Health Organization.
Watch the broadcast HERE
German

police ransack home of judge in landmark face mask case
27 April, 2021
2020News yesterday reported Weimar District Court judge Christian Dettmar was subjected to a police search of his house, office, private premises, and car, and his cell phone confiscated. Dettmar delivered the April 8, 2021 decision that two Weimar schools were prohibited from requiring students to wear mouth-nose coverings of any kind, in contravention of government COVID policy.
The case marked the first time that evidence was presented before a German court regarding the scientific soundness and necessity of the prescribed anti-COVID measures, reported 2020News.
He wrote: "…the children are not only endangered in their mental, physical and spiritual well-being by the obligation to wear face masks during school hours and to keep their distance from each other and from other persons, but, in addition, they are already being harmed. At the same time, this violates numerous rights of the children and their parents under the law, the constitution and international conventions. This applies in particular to the right to free development of the personality and to physical integrity from Article 2 of the Basic Law as well as to the right from Article 6 of the Basic Law to upbringing and care by the parents (also with regard to measures for preventive health care and 'objects' to be carried by children)…"
The judge agreed with the experts' assessment that the masks were not useful for viral protection, that the PCR test could not detect a disease-causing infection with the necessary certainty, and that asymptomatic transmission played no detectable role epidemiologically with respect to SARS-CoV-2.
A peer-reviewed study published by the International Journal of Environmental Research and Public Health (IJERPH) in the Multidisciplinary Digital Publishing Institute (MDPI) last week concluded that "extended mask-wearing by the general population could lead to relevant effects and consequences in many medical fields."
Effects of mask-wearing examined in the study include increase in breathing resistance, increase in blood carbon, dioxide decrease in blood oxygen saturation, increase in heart rate, decrease in cardiopulmonary capacity, feeling of exhaustion, increase in respiratory rate, difficulty breathing and shortness of breath, headache, dizziness, feeling of dampness and heat, drowsiness (qualitative neurological deficits), decrease in empathy perception, impaired skin barrier function with acne, itching and skin lesions.
"It can be deduced from the results that the effects described in healthy people are all more pronounced in sick people, since their compensatory mechanisms, depending on the severity of the illness, are reduced or even exhausted."
German sources told AFLDS Frontline News that there have been several verdicts ruling the mask and test mandate unconstitutional, "including Weimar and Weilheim, at least."  Several other lawsuits are pending.
There will be a protest in Weimar on Sat. May 1st.
This is what Judge Dettmar said:
Czech vaccines: European rights court backs mandatory pre-school jabs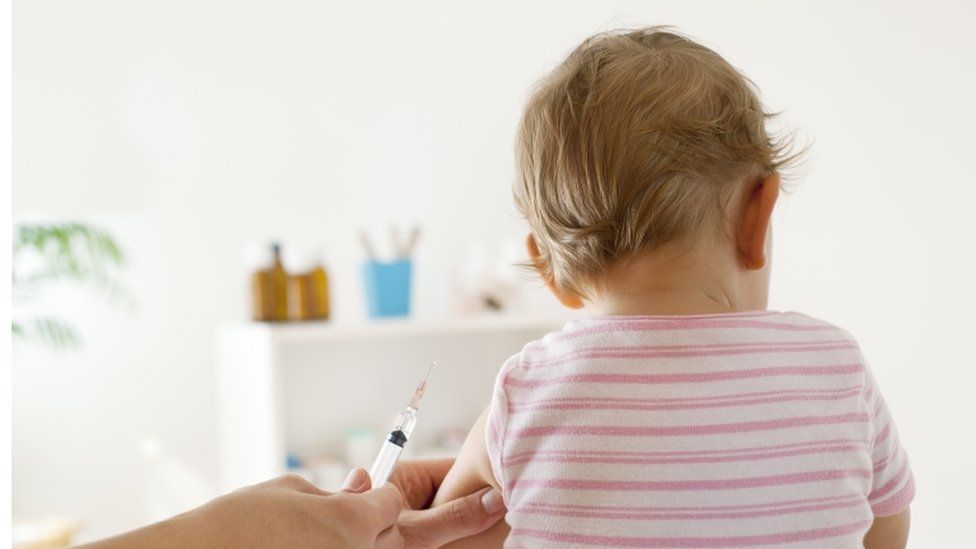 BBC,
8 April, 2021
 The European Court of Human Rights (ECHR) has backed the Czech Republic in its requirement for mandatory pre-school vaccinations.
The case was brought by families who were fined or whose children were refused entry to pre-schools because they had not been vaccinated.
In a landmark ruling, the court found that while the Czech policy interfered with the right to a private life, there was a need to protect public health.
All the cases pre-date the pandemic.
However, the issue of routine childhood vaccinations has come under increasing scrutiny due to the spread of Covid-19.
This is the first ruling from the ECHR on compulsory vaccination against childhood diseases.
The judges backed the Czech legislation by 16 to 1.
"The… measures could be regarded as being 'necessary in a democratic society'" the court said, adding: "The objective has to be that every child is protected against serious diseases, through vaccination or by virtue of herd immunity."
Under the Czech rules, parents are legally obliged to vaccinate their children against a number of childhood diseases unless this is not possible for health reasons.
However, the jabs cannot be forcibly given and unvaccinated children cannot be excluded on this basis once they reach primary school age.
In one of the five cases involving pre-school exclusions, a family refused to allow their daughter to received the measles, mumps and rubella (MMR) jab.
The child joined the school in 2006 but her place was withdrawn two years later when the family doctor informed the headteacher that the child had not received the vaccination. A Czech court later backed the school's decision on the grounds that allowing the child to continue to go to the pre-school could endanger others.
Other parents had been refused pre-school places, while one father was fined for failing to fully vaccinate his children.
The Czech Republic is not the only EU country with mandatory childhood vaccinations.
'No vaccine, no school' in Italy
Last year, a law came into effect in Germany requiring all parents to vaccinate their children against measles or face a fine of up to €2,500 ($3,000; £2,160).
France and Italy have also changed their vaccine rules following a measles outbreak in recent years, while similar suggestions were made in England amid falling uptake of the MMR jab in England in 2018-19.