Truth and lies about vaccine deaths and injuries in New Zealand
Truth and lies about vaccine deaths and injuries in New Zealand
A few days ago PM Jacinda Adern asked for "feedback" on "vaccine" "side-effects". 
The response was a torrent of replies telling the PM of the deaths and injuries resulting from the Pfizer jab.
This is how the PM, who exhorts us to "be kind" responded to the victims and their families.
"Over thirty thousand New Zealanders responded to a facebook post by NZ Prime Minister Jacinda Ardern this week where she asked for feedback on vaccine experiences and vaccine hesistancy.
Many detailed negative health implications of the vaccination including myocarditis, seizures, shingles, blood clots and death. These comments were not responded to and many deleted from her facebook page.
In an interview the following morning mainstream media failed to question her on the matter bar asking if her team had taken down comments which Ms Ardern instead blamed on facebook automation.
Later in a facebook live interview many of the same people asked again as to why she was not responding to them. They had raised grave concerns regarding COVID vaccinations and continued to question what she was going to do about the situation but yet again they were ignored.
When Ms Ardern was finally questioned by a reporter regarding her facebook live, she laughed, suggesting that the group concerned was a single group of anti-vaxxers, posssibly with international  ties and people should just disregard them as they saw fit."
https://www.infonews.co.nz/news.cfm?id=122792
This is the latest "information" from the NZ Ministry of Health. I do not believe it. For context, the CDC has changed the definitions once again so that VACCINATED people who contracted covid-19 in the past 2 weeks are counted as UNVACCINATED.
Just one of the 112 people who have been in hospital in the latest outbreak was fully vaccinated, while 90 had no vaccination.
The Ministry of Health data, current to Monday this week, showed 112 people had been hospitalised in this outbreak, which is about 10 percent of the 1177 community cases since 17 August.
Of the cases, 37 were in fully vaccinated people with only one going to hospital.
Some 974 people without vaccinations, including children under 12 years, have been infected and 93 needed hospital-level care.
Just 3 percent of cases were fully vaccinated when they caught the virus, and less than 1 percent of those who went to hospital.
Fully vaccinated is defined as two weeks after a person's second dose.
Some 83 percent of cases and hospitalisations had not received any vaccine doses at the time of their infection
I have been critical of groups that collect people's comments revealing the degree of vaccine injury amidst a whole lot of general comments.  None of this has been processed so that it can be seen in one central location….until now. I take my hat off to whoever put this video together and recorded the huge and accumulating numbers of dead and injured.
It is an example of the type of research I would like to have done if I was still in my strength.
I am unsure if this is the same person but a hat tip to Laron
See his invaluable collating HERE
Link is here: https://www.facebook.com/groups/164928329141436/
(Claire is the founder of the Voices Of Freedom group in NZ)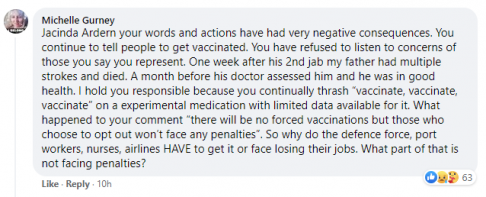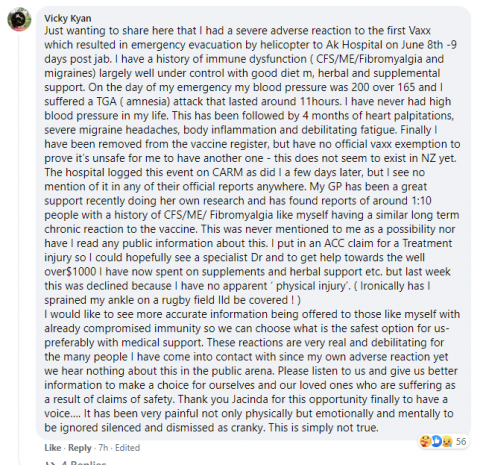 See more HERE