Two new earthquakes hit Türkiye's Hatay province
Two new earthquakes hit Türkiye's Hatay province
BREAKING NEWS: BLUE LIGHT SEEN BY MANY IN SYRIA AND TURKEY SECONDS BEFORE THE 6.4 QUAKE TODAY – "experts" dismissed any connection!
This man explains it..there was BLUE LIGHT coming from the sky seconds just before the quakes.
Many people have seen it in Turkey and Syria and said so…But "experts" quickly said there was no link between the two!
Earthquakes measuring 6.4 and 5.8 in magnitude were recorded in Türkiye on Monday, centering once again in the southern province of Hatay. Local officials report people being buried under rubble after the latest tremors, with rescue teams heading to the sites. The fresh quakes were reportedly also felt in Syria, Lebanon, Cyprus and Israel.
Mediterranean Sea receding since Saturday
ALERT!!! Reports of water in the Mediterranean Sea receding since Saturday
The sea is receding – reports from all over the Mediterranean basin of extreme lows and the receding of the sea since Saturday.
It started on Saturday with an extreme low and since then the situation has worsened – the water line simply receded by more than 20 m when it is not really clear why.
The reports went up in the fishermen's groups and connected to similar reports from all over the Mediterranean and recently also in gram groups with strange reports from Acre.
Syria's Foreign Ministry condemned Tel Aviv after Israeli airstrikes struck Damascus in the early morning of Sunday, killing at least five people and critically wounding 15 others (some reports say as many as 15 were killed). According to state-run news agency SANA, the ministry urged "international action" to prevent further attacks on Syrian soil.
"Syria expects the United Nations Secretariat and Security Council to condemn Israeli aggression and crimes, take the necessary measures to deter them, hold them accountable, punish their perpetrators, and ensure they do not recur." The ministry further remarked that this attack comes in the context of recurring Israeli attacks against civilian targets and coincides with the recent attack by ISIS in Homs, which left at least 53 dead.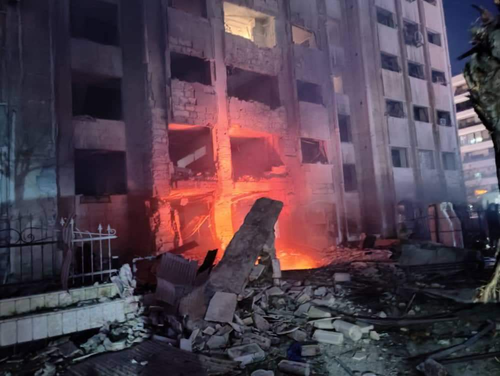 Local reports indicate that the Syrian air defenses incepted most of the missiles, adding that the air strikes also hit locations in Damascus' countryside, including on the outskirts of Shahba and in the north of al-Suwayda in southwestern Syria.
Photos and videos of the bombardment have surfaced on social media, showing severe damage to residential areas and revealing the deceased of the attack, such as Syrian national and pharmacist Lilian Aoudi. Among those who died during the attack include a doctor and an engineer.
"The strike on Sunday is the deadliest Israeli attack in the Syrian capital," the UK-based Syrian Observatory for Human Rights (SOHR) said.
The Israeli air strike assault comes as Syria continues to reel from a devastating earthquake that left close to 6,000 dead and leveled large swathes of the country's northwest region.
Earlier this month, an unnamed Israeli military official told Saudi Arabia's Elaph newspaper that Tel Aviv will not hesitate to bomb Iranian aid deliveries to Syria under claims that Tehran seeks to "take advantage of the tragic situation … to send weapons and equipment to Hezbollah."
As a result of western sanctions, aid deliveries for Syria have been largely hindered compared to the flow of aid entering neighboring Turkiye, forcing Damascus to rely on allied nations like Russia and Iran for assistance.
Israel's newest attack comes just three weeks after its drones bombed three Iranian food trucks loaded with flour and rice as they headed from Iraq into Syria.
Syria frequently accused Israel of attacking its national territory repeatedly. Still, the authorities in Tel Aviv rarely admit to the incursions, although the Israeli national press gives ample coverage to such operations without mentioning the perpetrators